Explore Turkey's Cappadocia on two wheels on this incredible 8-day adventure tour
This relatively wild and challenging journey offers a true taste of Cappadocia's finest landscapes, history and local hospitality without being too technical or physically intense. It connects incredible historical sights, off-the-beaten-track villages and un-missable panoramas with wonderful cycling routes on dirt tracks, quiet roads and smooth flowing off-road trails. The tour is a journey of discovery, spanning much of the region including the Ihlara Canyon, Soganli Valley, and "Fairy Chimney" lunar landscape that stretches from Mustafapasa to Goreme. It's a mix of dirt road adventure bike touring, relaxed cycle touring and some great mountain biking that is suitable for all cyclists. The emphasis is on the discovery, and there are plenty of sights, things to do and unforgettable photo opportunities throughout. This tour is a great choice for small groups, couples and families.
Highlights of the Cappadocia Mountain Biking
Enjoy a mix of spectacular riding, from relaxed cycle touring, to incredible mountain biking and dirt road adventure biking.
Soar high above Cappadocian valleys on a magical hot air balloon ride.
Walk Turkey's Ihlara Canyon, known as Turkey's very own "Grand Canyon!"
Stay in boutique cave hotels and enjoy incredible gastronomy at every step along the route.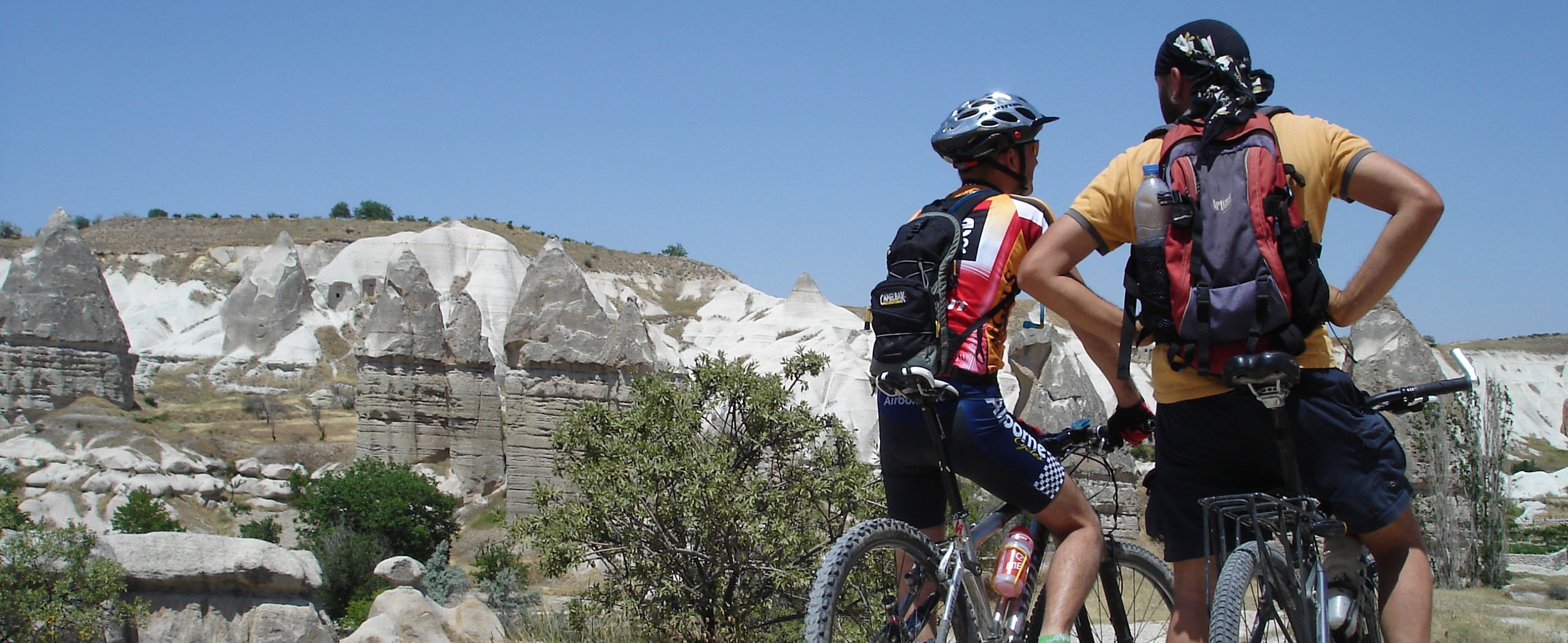 Cappadocia Mountain Biking Itinerary
Day 1

Flight to Nevsehir

Transfer to Goreme. The transfer takes around 40 minutes and 1 hour from Nevsehir and Kayseri respectively. You will settle into the comfort of Goreme's Holiday Cave (Flintstones) Hotel, and will return here at the end of the tour should you need to leave any excess baggage/bike bags etc. There should be time to assemble and /or fit bikes, have dinner and soak up the unforgettable atmosphere here. You can also visit the operator's office, discuss the tour ahead, and check your bikes and spare parts kit.
Overnight Location: Hotel in Goreme
Distance: None
Meals (Guided): Dinner
Meals (Self-guided): None
Day 2

Mamasun Lake to Selime

You'll start with a 1-hour transfer to Mamasun Lake, far away in Cappadocia's southwest corner. This easy first day's ride sets out on a quiet asphalt road to Mamasun Lake, where there's a great opportunity to eat a fresh fish lunch in the roadside restaurants just before the dam. You then follow a beautiful dirt road circuit around the lake with fabulous panoramas over wheat fields and sweeping views of the snow-capped Hasan Volcano. The route continues via Gokce village to Catalsu- an ancient settlement with many old ruined houses and a graveyard that juts out into the lake's blue waters. Continuing around the lakeshore, rejoin the main valley at Kizilkaya, 10km below the base of the main Ihlara Canyon. You pass by superbly grand, ruined old Ottoman houses and an abandoned troglodyte monastery complex on a rough road that leads up the river on a shady trail. Finally, you arrive in Selime where you can explore the incredible rock-cut monastery and Star Wars scenery in the evening light…. Note- the ride can also start and finish in Selime, making it a total of 41km instead of 27km…
Overnight Location: Hotel in Selime
Distance: 27km, 330m of ascent, 260m of descent
Meals (Guided): Breakfast, lunch, dinner
Meals (Self-guided): Breakfast, dinner
Day 3

Selime to Guzelyurt

This is a challenging 2nd day's ride, although as much of the way is on asphalted back roads the distance and elevation are easily conquered! Make an early start, and you can spend some more time exploring the rock-cut churches surrounding Selime, before setting off on a lovely single-track trail through riverside woodlands and then into the Ihlara Canyon. The canyon itself has fantastic views and sheer rock faces on each side and 28 rock-cut churches to explore- a real highlight of the region. After 9km of singletrack MTB riding (one section on foot), you arrive at Belisirma- a great place for a morning drink. Here, you might like to take a (there and back) walk up into the upper part of the canyon. The trail is not suitable for bikes, and there might be groups of day-trippers walking in the other direction, but in any case, it is worth the effort! From Belisirma, you continue on a quiet asphalt road to Ihlara village at the canyon's head (some restaurants and shops are available, only a short detour off the marked route). You follow quiet asphalt and dirt roads via Ihlara village into the wide-open rolling foothills of the Melendes mountains and the village of Kitreli, (where there are local restaurants to have lunch). From here, you ride on quiet asphalt roads to Ilisu village, and then on the dirt road to Guzelyurt- with commanding views over the flatlands and canyon below. After 40km riding, you arrive in Guzelyurt's Monastery Valley- a charming historical part of the town with lots to see including 19th century "Small Hagia Sofia, underground cities (bring a torch!) and rock-cut churches. Tonight you stay in one of Cappadocia's finest "Konak" luxury boutique hotels and enjoy a real taste of Ottoman grandeur. Note- there is a big hill leading up to Kitreli and the ride may be shortened by following the signposted asphalt road direct from Ihlara to Ilisu.
Overnight Location: Hotel in Guzelyurt
Distance: 42km, 1,050m of ascent, 700m of descent
Meals (Guided): Breakfast, lunch, dinner
Meals (Self-guided): Breakfast, dinner
Day 4

Guzelyurt to Soğanlı

Your ride begins from the hotel and takes you up over a 1780m pass at Sivrihisar village with fantastic views over the plains below. The route descends through the old, deserted part of the village to Red Church- one of the oldest Cappadocian Orthodox churches that dates from the 5th or 6th century. From there, you'll cross a relatively flat mountain "yayla"- a green pasture surrounded by mountains where you will see shepherds and their flocks. Following a dirt road across the grassy plain, you pass your first "fairy chimney" rocks before descending to Nar village.

From Nar Village, you climb up through the old village and arrive right on the crater of Nar Lake- an awesome extinct volcanic caldera whose sulphurous waters are an ever-changing chameleon of greens, yellows and blues. You follow a rough dirt track (vertiginous and singletrack in places- caution!) down to the lakeshore- an excellent spot for a picnic lunch. You continue downhill through Sofular Valley to reach the little-visited village of Gaziemir- home to a huge underground city complex that you might like to visit. A taste of unexplored and off-the-beaten-track Anatolian rural life- there's plenty to take in though and lots of photo opportunities! You meet your driver in Gaziemir, and after visiting the underground city there, transfer on to Soganli. In Soganli you stay in the homestead-style traditional cave rooms of Emek Pension and enjoy a delicious meal on the terrace.
Overnight Location: Hotel in Soganli
Distance: 32km, 720m of ascent, 950m of descent
Meals (Guided): Breakfast, lunch, dinner
Meals (Self-guided): Breakfast, dinner
Day 5

Soganli to Mustafapasa

This morning starts with an optional circular bike tour (first on asphalt, then on singletrack trail) around the valley to visit several incredible rock-cut churches. It then continues on a quiet asphalt road past Guzeloz to the lovely little village of Baskoy. From here a tractor track leads up through green trees to Debenbasi at the head of the canyon. From here you set off on easy dirt roads, gradually climbing up over the Sahinefendi Pass before dropping down into the Damsa valley where you'll visit the Roman ruins at Sobessos- unique in Cappadocia with some very fine mosaics. Follow the road north, visiting the Medresse and Selcuk mosque at Taskinpasa and the monastery at Keslik. Amidst awesome scenery, this ride is a perfect balance of restful freewheeling and memorable historic sites. From Cemil, you turn onto a dirt road and follow through paradise scenery of vineyards, fruit trees and first tastes of the "fairy chimney" valleys with great views of the Damsa lake below. Finally, you arrive at Mustafapasa and have time to explore this fascinating historical Greek village before relaxing for the evening in the comfort and splendour of the Old Greek House hotel- one of the region's most enigmatic historic buildings with an excellent dining pedigree too.
Overnight Location: Hotel in Mustafapasa
Distance: 46km, 700m of ascent, 870m of descent
Meals (Guided): Breakfast, lunch, dinner
Meals (Self-guided): Breakfast
Day 6

Mustafapasa to Goreme

Today you set off on a tour of unsurpassed panoramas, through some of Cappadocia's most awesome and memorable terrain. Towering "fairy chimneys"- interestingly shaped giant rock stacks- and sharply ridged, deeply eroded rocky corridors give the landscape a lunar feel. This is balanced perfectly by green, lush valleys overbrimming with fruit trees, vines, and poplars. It's a unique landscape of biblical grandeur, and today's route takes in much of the best sights! From Mustafapasa you follow a very scenic dirt road through Gomeda valley and begin a big climb on a beautiful dirt track that takes us up towards Ibrahimpasa village- a picturesque, unspoiled place with plenty of local charm. You continue to a panoramic viewpoint on Karlitepe high above the Goreme valley and enjoy one of the area's most stunning views. From here a rough tractor track takes you downhill to Uchisar- an unmissable setting with a chance to climb on foot to the top of its imposing rock hewn hill fort.

After a restaurant lunch here you follow an easy but superb dirt road that skirts the canyon edge of Love Valley, with fantastic views of the unbelievable landscape of fairy chimneys and deeply eroded tuff rock scenery. It's also possible to follow a singletrack trail in the valley itself for those with MTB experience! From the bottom of White Valley, you take a sandy dirt road to Goreme- right in the centre of the wonderful touristic heart of the region. There is time to explore the village at leisure, and an optional visit to the Open Air Museum for the region's finest examples of rock-cut churches and frescoes. Goreme is a lively and youthful place, in touch with its roots as a backpacker hub and offering a wide range of cafes, bars and restaurants. It's also right at the centre of an indescribable moonscape of needle-splined tuff ridges, steep-sided canyons and "fairy chimneys"- epic stacks of rock carved with age-old cave houses, churches and beautifully decorated pigeon lofts.
Overnight Location: Hotel in Goreme
Distance: 26km, 700m of ascent, 750m of descent
Meals (Guided): Breakfast, lunch, dinner
Meals (Self-guided): Breakfast
Day 7

Goreme to Goreme

Today you ride on a dirt road to the incredible rock formations and fairy chimneys at Pasabag- with some of Cappadocia's most enigmatic scenery and plenty of chance to explore inside the caves too. There is a superb circuit of Rose Valley and a visit to the immense Church of Columns on the way! Continuing on sandy tracks you climb up through the barren Devrent Valley and enjoy a long downhill track that brings us out at the majestic Sarihan Caravanserai- a 13th century fortified trading post on the Silk Road.

After enjoying a cooling break within the ancient courtyard head off on an easy mountain biking trail that follows a stream (plenty of water crossings- you will get wet!) down to the majestic Kizilirmak river- Turkey's longest and a fresh, fast-flowing torrent of emerald green water. You follow paths beneath shady trees along the riverbank past picnic spots and on to Avanos- a small but cosmopolitan town famous for its quality ceramics. Avanos is a refreshingly modern place, perfect for a leisurely drink in the square or a stroll through its many bazaars and markets. Finally, you take a scenic dirt road tour back to Goreme.
Overnight Location: Hotel in Goreme
Distance: 45km, 740m of ascent, 740m of descent
Meals (Guided): Breakfast, lunch, dinner
Meals (Self-guided): Breakfast
Day 8

Transfer to Nevsehir or Kayseri Airport for onward travel

You'll be transferred back to Nevsehir / Kayseri Airport for a flight home or onwards journey. The tour ends here.
Overnight Location: None
Distance: None
Meals (All departures): Breakfast

Book Now
Cappadocia Mountain Biking Price and Dates
Pricing for this guided road biking tour in the Cappadocia region depends on whether you choose to join an existing group on a specific date or if you prefer a custom tour for your group only, as well as whether you choose a guided or a self-guided tour.

Prices below are per person:
Guided Groups of 6-12: $1,050 USD per person
Self-guided Groups of 2+: $1,050 USD per person
Book Now
Accommodation on Cappadocia Mountain Biking
The accommodation on this tour is mainly based on 3-4 star hotels. Hotels on this trip offer modern conveniences that can make this trip more pleasant.
In some cases, the accommodation listed below may need to be substituted for other comparable accommodations.
Single Rooms and Solo Travelers
Rooms are double occupancy. You can pay a supplement of $250 USD to have a private room in a hotel where possible. Solo travellers may be required to pay a supplement.
Hotels on Standard Tour
What's Included in the Cappadocia Mountain Biking?
Meals
The number of meals included depends on the tour type you choose. The guided tour includes all meals (7 breakfasts, 6 lunches and 7 dinners) while the self-guided option includes 7 breakfasts and 3 dinners. If you booked a self-guided tour, you can also add lunches to your package for an extra charge (please see 'Optional Extras').
Accommodations
Accommodations for 7 nights are included. Accommodations before the tour and after are not included.
Transportation during the Tour
This tour includes pick-up and drop off at an airport in Kayseri. Flights or are not included. Private guided tour includes the services of a fully-equipped support vehicle, while the self-guided tour option includes luggage transfers only.
Also Included
Taxes
Support vehicle with experienced English-speaking driver/fixer/ guide (guided tour)
Luggage transfers
Not included
Flights to and from Turkey
Meals, drinks, or snacks not previously mentioned
Alcoholic or soft drinks during meals
Gratuities for tour guides or other staff if desired
Optional cafe stops
Entrance fees to historical sites and museums
Optional Extras
Single occupancy upgrades
Bike rental (Trek Roscoe 8): $250 USD per person
Upgrade to Half Board (add lunches to self-guided tour package): $75 USD
Additional biking equipment:

Pannier rack: $25 USD
Women's saddle: $25 USD
SPD pedals: $25 USD

Hot air balloon flight: on request
Frequently Asked Questions about Cappadocia Mountain Biking
Middle Earth Travel started business in 2001, owned by some very experienced and established guides, determined to make a living doing what they like best: trekking tours. Over the years we expanded our area of expertise to archaeological, cultural and family tours and have become a leader in biking tours as well, but we still focus on small, private groups and personal guided or self-guided travelling experiences. We are licenced by the Turkish Tourism Ministry and registered by the Union of Turkish Travel Agencies.
Learn More
Is this tour for me?
We rate this tour as a 3 / 5. This tour is suitable for fit beginners. You will be biking through the multi-line roads and off-road touring on quiet country lanes, farm tracks and singletrack trails.
Ask a Question
Got any questions regarding the tour? Interested in promotions for groups or want to customize this tour to fit your needs? We are here to help you!
Ask a question