Highlights Of The Causeway Coastal Route & Donegal Tour
Experience the wildlands of Northern Ireland at Giant's Causeway and Donegal
Discover the most iconic landscapes of Northern Ireland as you visit Glenveagh National Park, the Giant's Causeway, and the Slieve League Cliffs.
Explore the Inishowen Peninsula and the other-worldly sights of Malin Head where scenes from the 2017 Star Wars movie were filmed.
Bask in the majestic landscapes of Donegal as you hike past ancient ruins steeped in history, walk the rocky footpaths, and take in the dazzling Atlantic vistas.
Climb up to the towering Slieve League Cliffs following the routes used by Christian Pilgrims of old and look out over the mountains of Sligo and Donegal Bay.
You're about to hike into the land that time forgot. Shrouded by mist and mystery, the North of Ireland is a rugged and hauntingly beautiful place for your next guided hiking adventure. On this journey, you'll travel over the Causeway Coastal Route for a visit to the Giant's Causeway, then continue along the very northern edge of Ireland and into County Donegal.
There you'll hike over rocky, rolling mountain paths, up to dramatic cliffs for unbelievable views, and deep into a country as wild and remote as any storybook. You'll get to explore the headlands of the north, seeking wildlife, hiking through a land steeped in ancient ruins and lore, and spend each evening in deluxe lodging designed for your comfort. Can you hear the wilds calling? Don't miss it!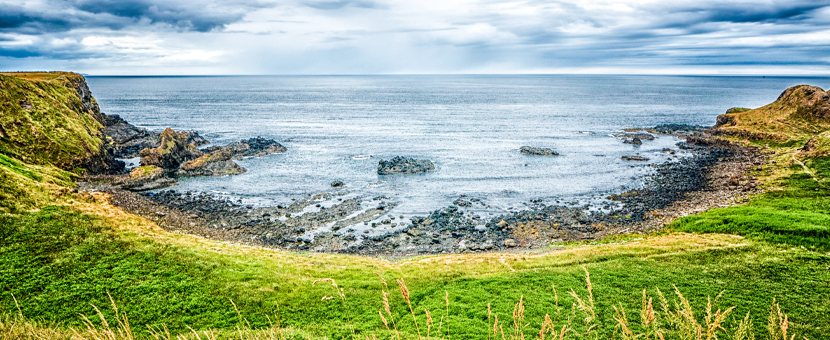 The Causeway Coastal Route & Donegal Tour Itinerary
Day 1

Experience the Giant's Causeway

Two thousand years ago and more, so they say, two giants had a fierce argument. One stood on the Scottish shore, and the other, Finn MacCool, stood on the Irish side. Finn became so furious that he wanted nothing more than to come to blows, so he built a path over the sea to Scotland. Today that path is called the Giant's Causeway, and on your first day of this guided hiking tour you'll get to walk the cliffs of the Causeway Coastal Route as you come to discover the legend for yourself. Whether or not there ever was a fight between giants, the sight of this legendary geological feature will surely bring you a thrill!
Overnight Location: Causeway Hotel in Giant's Causeway
Distance: 2 hours, 5 km
Meals: Lunch, Dinner
Day 2

Boat Ride to Rathlin Island

It's fitting that a hiking tour in Ireland be steeped in the majesty of nature and the mystery of ages past. Today you'll board a boat and head for the shores of the lovely Rathlin Island, home to a large colony of puffins as well as a legend about the famous Scottish king Robert Bruce. It is said that in the year 1306 he was exiled to Rathlin Island by Edward the First of England. During his stay on the island, the King of the Scotts witnessed a spider as it repeatedly attempted to build a web-bridge. Only after many failed attempts did the spider finally triumph. With the spider as his role-model, Bruce returned to his home and did eventually reclaim his crown. Perhaps you'll find an inspiring spider of your own? But if not, the puffins are absolutely adorable!
Overnight Location: Causeway Hotel in Giant's Causeway
Distance: 4 hours, 8 km
Meals: Breakfast, Lunch, Dinner
Day 3

Exploring the Inishowen Peninsula

Step back in time, into the undiscovered Irish wilderness. Here in County Donegal your hiking adventure begins anew as you travel by ferry to the northernmost part of Ireland. The Inishowen Peninsula is bordered on the north by the wild Atlantic, on the west by Lough Swilly Fjord, and on the east by Lough Foyle. On the ferry ride you'll be treated to incredible panoramic vistas before disembarking at your first stop, a World War II era lookout tower. You'll continue on foot from there up a gentle slope onto Crocknasmug Hill where you're surrounded by more majestic views of the coast.
Overnight Location: The Glen House, Donegal
Distance: 3 hours, 8 km
Meals: Breakfast, Lunch, Dinner
Day 4

Journey to Malin Head

You won't mind another day in the ruggedly-beautiful County Donegal, especially when you get to catch a scenic ferry ride and then hike over a landscape so alien it was used in Star Wars Episode VIII! You'll journey across Malin Head, over rocky hills, past ancient archaeological sites, and over jaw-dropping coastal cliffs. Revel in the sheer wild spirit of this land as you experience the "Forgotten County" of Northernmost Ireland.
Overnight Location: The Glen House, Donegal
Distance: 3 hours, 7 km
Meals: Breakfast, Lunch, Dinner
Day 5

Wandering Glenveagh National Park

Follow your guide as you hike through the idyllic Glenveagh National Park on another adventure! As you travel, you'll be surrounded by the haunting beauty of wild mountains, crystal lakes, roaring waterfalls, and the ancient native oaks. Wend your way along in the stillness at the edge of the lake to find the mysterious Glenveagh Castle. Tucked away between the Glenveagh hills, the Castle will surprise you with manicured gardens here in the middle of the wilds. Once you've explored, you'll continue beyond the walls of Glenveagh Castle, as you pass long-deserted villages on a curving track between the Derryveagh mountains.
Overnight Location: Woodhill House, Woodhill
Distance: 4 hours, 8 km
Meals: Breakfast, Lunch, Dinner
Day 6

Climbing the Slieve League Cliffs

You could say the best was saved for last with this final guided hike to the top of the Slieve League Cliffs. These are among the highest cliffs in all of Europe, and over three times the height of the Cliffs of Moher! You'll hike along a seldom-used route known as the Pilgrim's Path, which is a centuries-old byway used by Christian Pilgrims for spiritual journeys. When you reach the top, you'll have to catch your breath at the stunning panoramas spread out before you: the Atlantic and the Peaks of Sligo and Donegal Bay. Afterward, you'll have the opportunity to meet some interesting locals, and after you return to your accommodation there will be a scrumptious farewell dinner to send you off in style!
Overnight Location: Woodhill House, Woodhill
Distance: 4 hours, 6 km
Meals: Breakfast, Lunch, Dinner
Day 7

Visit Yeats' Grave and Departure

Today you'll be traveling out of the wilds of Donegal to County Sligo. Known as "Yeats Country" after the Irish national poet W.B. Yeats, you'll see why the landscapes of Sligo served as such an inspiration to the famous writer. Along your way, you'll stop beneath Sligo's Ben Bulben mountain to visit Yeats' grave. When you're finished there, you'll head to the quaint Sligo town to explore before heading for the train station and your final departure.
Overnight Location: None
Distance: None
Meals: Breakfast
Causeway Coastal Route & Donegal Tour Price and Dates
Pricing for this guided hiking tour to Ireland depends on whether you choose to join an existing group on a specific date or if you prefer a custom tour for your group only.
The best time to travel to Ireland for this walking tour is from March to September
Prices of Private Guided Causeway Coastal Route & Donegal Tour
Have your own private tour with just your group! Please contact us with your preferred date and the number of people in your group and we will create the itinerary just for you.
Date and Price to Join a Group Tour on Causeway Coastal Route & Donegal
Make new friends and join a group on a walking tour in Ireland. Prices below are per person:
Accommodation on Causeway Coastal Route & Donegal Tour
This tour is based in hotels. All the accommodations are picked carefully from the boutique hotels, family-run guesthouses and BnB's that offer great service, location, and amenities.
All of the rooms are double or twin. If you are wishing to stay in a single room during the tour, check the information below.
Single Rooms and Solo Travelers
Solo travellers are usually paired to stay in twin rooms together, however, you can pay a supplement of €250 EUR to have a private room in a hotel. The availability of single rooms is limited and is on a first come first serve basis.
Causeway Hotel in Giant's Causeway
The Causeway Hotel offers a quaint style with many modern amenities. Located just 2.1 miles from the Giant's Causeway it is ideal for visitors looking to explore the local landmarks.
Tucked away in a little valley on the Inishowen Peninsula, the Glen House offers dazzling views of the countryside and beautifully appointed guest suites for your every comfort.
With a picturesque walled garden and a footpath running behind the inn, the Woodhill House offers guests a quiet retreat. Located only a few minutes walk from town.
What's included in the Causeway Coastal Route & Donegal Tour?
Meals
6 breakfasts, 6 lunches, 6 dinners, snacks along the route each day.
Accommodations
Accommodations for 6 nights along the tour are included. Accommodation in Belfast before the tour and in Sligo after the tour is not included.
Transportation during the Tour
All the transportation during the tour is included for you and your luggage.
Also Included
The services of the experienced guide / driver throughout the tour
Activities included in the tour:
Not included
Getting to and from starting and ending points of the tour
Insurance
Personal expenses
Anything not stated as 'included'
Optional Extras
Extra night in Killarney before the tour
Extra night in Limerick after the tour
Frequently Asked Questions about The Causeway Coastal Route & Donegal Tour

Wilderness Ireland is an operator with huge experience in organizing private and fixed-departure adventure tours in Ireland and Northern Ireland. They are known for their exceptional and professional service.
Is this tour for me?
We rate this tour as a 2 / 5. Most of the trails are of good quality and you should expect to walk around 5-6 hours daily.
Get In Touch
SALE! Well, not yet.
Let me know when this trip goes on sale.
Notify me