Treat yourself to a truly magical experience cycling through central Vietnam for 12 days
Central Vietnam from Hanoi to Hoi An comprises some of the most historically significant sites from the Vietnam War. Explore the most breathtaking landscapes by bicycle, like the epic mountain road of Hai Van Pass and fragrant fields stretching from towns to the sea.
Start this 12-day bike journey in Hanoi, the chaotic yet charming city where you have to be super careful crossing the street. Walk around once you arrive, or ignite your adventurous spirit and hop in a tuk for a wild ride through the crazy roads.
Vietnam is not a small country, and since this tour has limited time, you will spend the second night on an overnight train in a sleeper cabin to reach the next destination. Arrive in a whole new world when you reach Phong Nha. You'll see right away the wide river next to town, surrounded by enormous peaks and pillars, and jungle so lush you can smell it. This area has so much to explore—you will spend a couple of days here. This area is home to some of the most incredible caves globally, protected in Phong Nha-Ke Bang National Park.
The second half of this tour includes a visit to the unnerving Vinh Moc Tunnels, where locals spent more than 2,000 days underground to remain in their homeland during the Vietnam War. You'll visit the impressive Imperial Citadel in Hue and a whole day of activities in this town.
Riding south from Hue, you will reach the Hai Van Pass, renowned as one of the most stunning mountain roads you can ride! A support vehicle is available if the rides are ever too challenging. Then make your way to the pleasant and picturesque Hoi An to spend a few days exploring the surrounding area, which includes fragrant agricultural villages, coastlines, and an ancient sanctuary from the Champa Kingdom dating back to the 4th century.
This 12-day cycling tour itinerary is jam-packed with Vietnamese history, culture, natural beauty, and of course, food. You will no doubt make Vietnamese friends along the way—they are so friendly and eager to chat with you! Grab your bike and go for the most magical ride of your life.
Highlights of the Cycling Central Vietnam
Tour the cities of Hanoi and Hoi An, very different in ambiance but equally enchanting in their own ways.
Indulge in Vietnamese cuisine made with fresh and fragrant ingredients, washed down with some bia hoi (fresh beer).
Visit the breathtaking cave system in Phong Nha-Ke Bang National Park with enormous stalactites, stalagmites, and caves wide enough to row a boat along the water inside.
Cycle to historically significant sites from the Vietnam War, like the Vinh Moc Tunnels, also known as the "Underground City."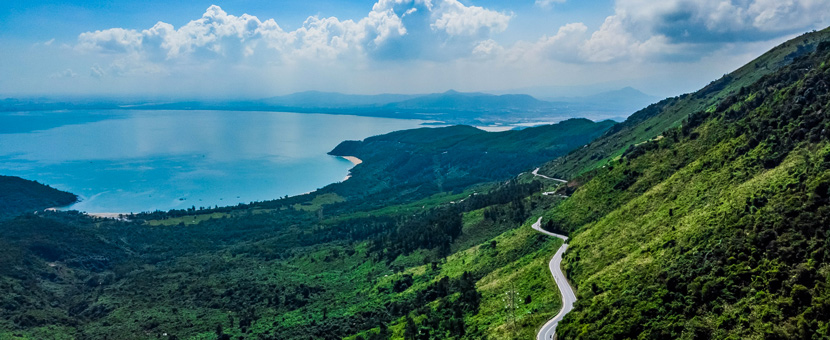 Cycling Central Vietnam Tour Itinerary
Day 1

Arrival in Hanoi

Welcome to Vietnam! When you arrive in Hanoi, make your way to the hotel to meet your guide and group for your upcoming adventure. Taxis are cheap, and tuk tuks are super fun! When you meet everyone at the hotel, you will head together for a welcome dinner at a local restaurant to discuss the itinerary and have a delicious introduction to the Vietnamese cuisine you can look forward to eating in the coming days.
Overnight Location: Hotel in Hanoi
Distance: None
Meals: Dinner
Day 2

Walking Tour of Hanoi

Today after breakfast, you will embark upon a fantastic walking tour of Hanoi. This city is a maze of narrow alleyways, busy multi-lane streets, and markets and food stalls—very stimulating for your senses. Make sure you fuel up on breakfast washed down with ca phe sua da, the iconic Vietnamese iced coffee drink made with sweetened condensed milk. In the morning, you will visit the Ho Chi Minh Mausoleum and learn about a significant period of the nation's history, then lighten things up with a stop at the Temple of Literature, which is considered the first university in Vietnam. The afternoon is dedicated to the Old Quarter of Hanoi. You'll note colonial influence in the architecture juxtaposed with classic Vietnamese sightings like moto-taxi drivers taking naps precariously on their bikes. Throughout the day, you'll begin to understand the blend of calm and chaos that comprises Hanoi. Have dinner with your group before you head to the train station to board an overnight train to tomorrow's destination of Dong Hoi.
Overnight Location: Overnight on train
Distance: None
Meals: Breakfast, Lunch, Dinner
Day 3

Explore the Caves in Phong Nha-Ke Bang

Arrive at the railway station at 7:45 am and meet your guide to accompany you to the hotel in Phong Nha. You'll have a chance to freshen up and have breakfast before starting today's awesome excursion. At 10:30 am, meet your guide for a quick chat about the day's events. First, you'll go to the UNESCO-recognized Phong Nha-Ke Bang National Park, famous for its cave system that is large enough to walk and even take a boat through. Start in the Paradise Cave with a wooden walkway and lighting inside to ease your exploration of this mind-blowing place. In the afternoon, you get to visit a historically significant spot used as a bomb shelter and wine-making cave during the Vietnam War. Despite its harsh history, the people around the Wine Cave perceive it with peace and love. Head back to the hotel in the late afternoon and enjoy a free evening in this magical part of the world.
Overnight Location: Hotel in Phong Nha
Distance: None
Meals: Breakfast, Lunch, Dinner
Day 4

Cycle Tour & Boat Ride in Phong Nha National Park

After a delicious breakfast, you'll set out for the day to explore Phong Nha and its surrounding villages in the valley. Ride along the Son River on the roads used by locals. You'll stop in the Bong Lai valley to meet some farmers and learn about their agricultural practices in the rice and peanut fields—two hugely essential ingredients in Vietnamese cuisine. After lunch, continue cycling towards Phong Nha National Park to embark on a magical boat journey on an idyllic river running through the park's cave system. You'll be astounded by the scenery here: vibrant blue waters next to stalactites of enormous sizes, all surrounded by lush flora. Head back to the hotel after this dreamlike excursion and get a great night's sleep.
Overnight Location: Hotel in Phong Nha
Distance: 3 hours, 30 km
Meals: Breakfast, Lunch, Dinner
Day 5

Ride Along Ho Chi Minh Trail

Today, you'll cycle to historically significant sites, starting from the beginning of the Ho Chi Minh Trail, constructed by the Viet Cong beginning in 1959 and used to transport soldiers and supplies from the north to the south. Ride alongside rubber plantations and through the region that was demilitarized between 1954 and 1972. Keep heading down the paved roads and make a stop at the Vinh Moc tunnels, also known as the "Underground City," named as such because locals spent nearly 2,000 days underground during the Vietnam War to escape potential danger. Enjoy a seaside meal, then hop in a private transfer to Hue in the afternoon. Spend the rest of the day at your leisure, then settle in for sleep in Hue.
Overnight Location: Hotel in Hue
Distance: 5 hours, 45–55 km
Meals: Breakfast, Lunch, Dinner
Day 6

Cycle Tour of Hue

Get ready for a jam-packed day cycle-touring Hue! Meet your guide in the morning after breakfast, then head to the Imperial Citadel, an incredible impressive fortress with great walls, ornate gates, temples, and gorgeous gardens. Finding shade to ride under, you'll visit Phu Mong Village, replete with stunning architecture, then continue to a quiet garden house where you'll share tea with the hosts and enjoy fresh fruits from their garden. Next, you ride to the spiritual site of Thien Mu Pagoda, then cross the river by boat to cycle to your lunch with a bonus foot bath in Thuy Bieu Village. Cruise along the Perfume River in the afternoon and stop at a local craft market to learn about incense and traditional hat production. The last stretch of the cycling tour brings you to Tu Doc Tomb, after which you'll visit a fishing village then pause to have dinner at a nearby restaurant, with the sun setting on the water before you. Your driver will pick you and your bike up and take you to the hotel to crash for the night.
Overnight Location: Hotel in Hue
Distance: 5 hours, 45 km
Meals: Breakfast, Lunch, Dinner
Day 7

Ride to Tam Giang Lagoon

In the morning before the day's heat, head out to Vietnam's largest lagoon, Tam Giang Lagoon. Enjoy the serenity on the ride, and when you arrive. Sit by the shores and admire the beautiful colours reflecting off its turquoise waters. Take a short boat ride and meet some fishermen who will show you their traditional net fishing technique before you stop for lunch in a local eatery. Receive a transfer back to Hue and have the rest of the afternoon and evening to yourself.
Overnight Location: Hotel in Hue
Distance: 2–3 hours, 35 km
Meals: Breakfast, Lunch, Dinner
Day 8

Boat Ride to Tonle Sap & Floating Villages

After breakfast, you will set out directly from the hotel and ride towards some small villages with ornate and fantastic architecture near the Tam Giang Lagoon that you visited yesterday. In the late morning, visit the Vinh Ve Museum, which offers insight into the local traditions and culture. Continue riding through the countryside of greenery and rice fields, then take a short ferry to reach your lunch spot at Tu Hien Beach. Once you have digested, continue pedaling along an easy flat route to reach the support vehicle where you can choose to continue riding on your own or take a ride. Settle into the hotel in Lang Co for a well-earned sleep.
Overnight Location: Hotel in Lang Co
Distance: 4–5 hours, 65 km
Meals: Breakfast, Lunch, Dinner
Day 9

Cycle Over Hai Van Pass

Perhaps one of the most famous mountain roads in southeast Asia, Hai Van Pass connects Hue to Hoi An, and today you will ride over it! Make sure you get a hearty breakfast—today's route will be challenging. As you start the ascent to the highest point, you will see why this mountain pass is thought to be one of the most beautiful coastal mountain roads in the world. Winding and hugging cliffs on one side, sweeping beach views on the other, you will pass by waterfalls, jungles, and the weather will likely be a little bit misty, which just adds to the area's magic. At the summit, take a break and sip a well-deserved ca phe as you admire the stunning vistas. From the highest point, you can either take a ride in the support vehicle or continue to human-power your way to Hoi An. The enchanting Hoi An awaits!
Overnight Location: Hotel in Hoi An
Distance: 4 hours, 30 km, 496 m of ascent (496 m of descent if you ride down)
Meals: Breakfast, Lunch, Dinner
Day 10

Bike Tour of Hoi An

Wake up for breakfast and prepare to explore the charming city of Hoi An by bike—don't forget your camera because this place is supremely picturesque! Cruise around the Old Town, where you'll note the unique blend of Japanese, Chinese, and French colonial cultures in the architecture and vibrantly-coloured houses. Explore the outskirts of Hoi An that's dotted with villages of carpenters, artisans, and farmers, and stop to engage with the locals and learn about their crafts. You will take your bike on a short ferry ride to reach Tra Que Village, known for its diverse produce and agriculture, where you'll enjoy a fresh meal of seafood and local fare. Return to the hotel after lunch and spend the afternoon as you please—you could easily spend hours wandering aimlessly around Hoi An's Old Town. Get a good night's sleep for a longer ride tomorrow.
Overnight Location: Hotel in Hoi An
Distance: 3 hours, 35 km
Meals: Breakfast, Lunch, Dinner
Day 11

My Son Sanctuary

During the morning, cruise around Hoi An then meet at a pier to head on a boat tour with a couple of fun stops. First, you'll engage with a local carpenter who will show you his handmade wooden furniture. Cycle a little further down the route to a cute house to learn how to make rice paper for those delicious Vietnamese salad rolls you have undoubtedly been eating! Keep riding into the rural landscapes once more and stop for lunch. A cultural afternoon awaits once you're ready to get on your bike: a visit to My Son Sanctuary, an archaeological site with ruins built between the 4th and 13th centuries. It's an impressive complex with 70 buildings reminding visitors of the Champa civilization that once lived there. Meander through lush jungle paths connecting each site and soak in the sanctuary's palpable spiritual magic. At the end of the visit, you can choose to cycle to the hotel taking the same road or hop in the support vehicle to give your legs a break. Enjoy your last night with your group with a few bia hoi (fresh beer) and a feast of Vietnamese cuisine.
Overnight Location: Hotel in Hoi An
Distance: 4 hours, 40 km, 30 m of ascent
Meals: Breakfast, Lunch, Dinner
Day 12

Farewell

Enjoy your final Vietnamese breakfast in Hoi An before checking out of the hotel. You will make your own way to Danang Airport, or wherever you're going after this cycling adventure.
Overnight Location: None
Distance: None
Meals: Breakfast

Book Now
Cycling Central Vietnam Tour Price and Dates
This guided tour in Vietnam is always run as a custom tour for your group only and the price always depends on the number of people in your group.
The best time to travel to Vietnam for hiking and biking is from October to March, as well as April and May (hot season), and June to August (green season with occasional rains).
Dates and Prices to join a group on Cycling Central Vietnam Tour
Have your own private tour with just your group! Prices below are per person:
Accommodation on Cycling Central Vietnam Tour
This tour is based in 3- and 4-star hotels with modern amenities that make this trip more comfortable. Rooms are double occupancy, and single travelers will pay a supplement.
In some cases, the accommodation listed below may need to be substituted for other comparable accommodations.
Single Rooms and Solo Travelers
You can pay a supplement of $305 USD to have a private room in a hotel while traveling with your group. Contact us and we can try and match single travelers up, where possible.
Hotels on Standard Tour
Larosa Hotel in Hanoi ★★★
Larosa Hotel offers a comfortable place to rest after a day of sightseeing. It has a superb walking score and modern amenities for a great stay.
The overnight train is scheduled to depart Hanoi at 22:20 and arrive in Dong Hoi the following morning at 07:45. Sleep in a non-private, 4-berth soft-sleeper cabin.
Saigon Phong Nha Hotel in Phong Nha ★★★★
Your cozy home-away-from-home hotel awaits in Phong Nha. Situated next to a river, you will have wonderful rural views of the lush landscape.
High-class and modern amenities—the Mondial Hotel is the perfect place to relax. This charming hotel has luxurious rooms and excellent staff.
Lang Co Beach Resort in Lang Co
Enjoy the elegant and traditional charm of this seaside resort. No need to choose between the beach and the mountains here: this place has both!
Hoi An Coco River Resort & Spa in Hoi An
This Resort makes your tropical dreams come true: palm trees, pool, river views, and stylish, airy interiors. Enjoy superb service during your stay.
What's included in the Cycling Central Vietnam Tour?
Meals
All 11 breakfasts, 10 lunches, and 11 dinners are included.
Accommodations
Accommodation for 11 nights is included in the tour.
Transportation during the Tour
Transport for your luggage is included throughout the tour. A support vehicle will be available on cycling days in case of an emergency.
Also Included
Bicycle + helmet on cycling days
Entrance and sightseeing fees
Boat trips mentioned in the itinerary
Local English-speaking guides
Snacks and water on cycling days
Not included
Meals and drinks not mentioned in itinerary
Flights
Insurance
Visa fees upon arrival in Vietnam
Anything not mentioned as "Included"
Tips + personal expenses
Optional Extras
Extra night in Hanoi
Extra night in Hoi An
Frequently Asked Questions about Cycling Central Vietnam
Easia Active is a subsidiary of Easia Travel, a boutique tour operator based in South-East Asia, and dedicated to sharing the best active adventures in Vietnam, Laos, Cambodia, Myanmar and Thailand. Easia Travel was founded in 2000 in Vietnam, with a vision to "Make Asia Easy for You!" by allowing guests to experience the best of Asia. Find great hiking, cycling and other active adventures in SE Asia with Easia Active.
Learn More
Is this tour for me?
We rate this tour as a 3 / 5. You should be comfortable riding a bicycle for up to 5 hours daily on moderate terrain.
Ask a Question
Got any questions regarding the tour? Interested in promotions for groups or want to customize this tour to fit your needs? We are here to help you!
Ask a question
SALE! Well, not yet.
Let me know when this trip goes on sale.
Notify me