Navigate the Andes on horseback from Argentina to Chile on this 6-day adventure tour
Imagine yourself immersed in the vast wilderness of the Andes for 6 days. On this tour, you stay in remote mountain shelters each night after long days on horseback traversing your way from Argentina to Chile. That's the essence of this 6-day horseback riding tour.
During the tour, you'll be guided by local experts on horseback through epic landscapes of deep gorges, pristine rivers, gigantic peaks, and glaciers. Start southwest of Mendoza, Argentina, and get a fix of history and culture in Manzano Histórico before heading into the wilderness. Once you're in the mountains, you'll spend each day drawing nearer to the Chilean border, getting well-acquainted with your new horse companion. Keep your eyes peeled for enormous condors flying above and other wild animals along the way.
This tour gives you a glimpse of gaucho culture, which is the way of life for the Argentine cowboys in this area. You'll meet them and other adventurers in the various refugios each night, where you gather for feasts of asado (barbeque) and wine. No doubt, there will be stories, songs, and laughter around the bonfire and under the stars.
Live your horseback-riding dream on this incredible journey crossing the Andes over 6 unforgettable days.
Highlights of the Crossing the Andes on Horseback Tour
Spend your evenings in mountain refuges, sharing stories around a bonfire with gauchos, the Argentine cowboys who live at the foothills of the Andes.
Indulge in the delectable gastronomy that Argentina and Chile have to offer—like the asado, a traditional Argentine barbeque, accompanied by some of the best wine in the world.
Ride on horseback through the vast wilderness of the Andes mountains, replete with river crossings and views of peaks up to 6,565 m / 21,539 ft as far as the eye can see.
Rejuvenate in thermal pools and mineral springs to rest your weary muscles from long days on horseback.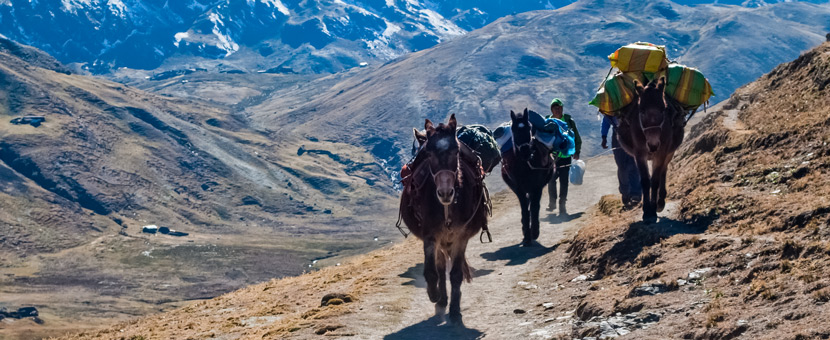 Crossing the Andes on Horseback Tour
Day 1

Transfer to Refugio Portinari

Welcome to Argentina! You should have made your way to Mendoza the day before today, as you'll meet your guide early this morning. The group will be transferred to Manzano Histórico (literally the "Historical Apple"), known to be one of the best wine regions in southwest Mendoza. Take a tour of the museum here and wander the streets dotted with monuments and steeped in history. Continue west towards the Andes in a private car to Refugio Portinari, run by the Argentine Gendarmerie. You'll register with the authorities, clear customs for the journey, and meet other guides and mule drivers. Spend the first night of the tour around a bonfire and sleep at the Refugio Portinari.
Overnight Location: Refugio Portinari in Scaravelli
Distance: None
Meals: Lunch, Dinner
Day 2

Ride to Portillo Argentino

Begin the day with a hearty breakfast and meet and prepare your horses for the first and longest day of riding. Start with two hours of ascent to earn astounding panoramic views of the Andes from Portillo Argentino, a viewpoint of 4,380 m / 14,370 ft. Descend into a stunning valley to reach the Tunuyán River running through it. Near the river sits the Refugio Real de la Cruz, where you'll tie up your horses and gather for a well-earned dinner. It's common in these mountain shelters to meet other adventurers and porters who can regale you with stories about the area, and some songs, if you're lucky. Get a good night's sleep in the refuge with the sounds of the adjacent river lulling you to sleep.
Overnight Location: Refugio Real de la Cruz in Tunuyán
Distance: 8 hours riding
Meals: Breakfast, Lunch, Dinner
Day 3

Rest Day and Gaucho Presentation

Today will be an active rest day. You will have free time to either relax or explore the surroundings on a short guided hike to learn about the vegetation and wildlife in this region of the Andes. Gather for lunch, and while you digest, enjoy a demonstration by the local gauchos. These Argentine cowboys will impress you with their skills using lassos and boleadoras, a leather and stone weapon native to the area. Spend a quiet evening resting up for a big day tomorrow.
Overnight Location: Refugio Real de la Cruz in Tunuyán
Distance: None
Meals: Breakfast, Lunch, Dinner
Day 4

Explore Mount Tupungato

Get ready to mount the horses again as you continue west through the Andes. After breakfast, channel your inner cowboy—your journey will start by crossing the Tunuyán River, an iconic moment, to say the least! Continue climbing towards Mount Tupungato, a volcanic peak at 6,800 m / 22,310 ft, where you'll be rewarded with epic views of the Andes stretching to the horizon. Follow alongside the Palomares stream until reaching El Caletón, the last of the campsites on the Argentine side. Depending on the weather, the group can indulge and relax with a spa-like dip in a mineral stream nearby. Set up camp in tents and sleep under the dazzling starry sky.
Overnight Location: Camping in El Caletón
Distance: Flexible
Meals: Breakfast, Lunch, Dinner
Day 5

Cross into Chile & summit to Portillo de Piuquenes

Once you finish breakfast, prepare your horses to ride towards the Argentine–Chilean border. Near the border, you'll summit Portillo de Piuquenes, a striking viewpoint at 4,030 m / 13,222 ft. You'll have to bid farewell to your Argentine horses here because they are not permitted to cross the border with you. Meet your new horses and Chilean guides who will lead you the rest of the way. Follow your guides through the Chilean side of the Andes and cross the Yeso River. After the river crossing, you'll meet a private transfer and head to San Gabriel to clear customs in Chile. Spend your last night in a gorgeous cabin complex near Termas del Plomo, a collection of natural hot springs among the wild Andes.
Overnight Location: Cabin in Termas del Plomo
Distance: Flexible
Meals: Breakfast, Lunch
Day 6

Adios

Sadly, it's time to say adios to your group and your guides. You'll receive a transfer to Santiago de Chile to complete the tour. If you would like a transfer to Mendoza, please contact us to discuss it.
Overnight Location: None
Distance: None
Meals: Breakfast

Book Now
Crossing the Andes on Horseback Tour Price and Dates
The price of this guided tour in Chile and Argentina depends on whether you are joining a group of if you are choosing a custom tour for your group only.
The best time to travel to Chile and Argentina for horseback riding is from November to March.
Private Guided Crossing the Andes on Horseback Tour
Have your own private tour with just your group! Please contact us with your preferred date and the number of people in your group and we will create the itinerary just for you.
Join a Group on Guided Crossing the Andes on Horseback Tour
Have your own private tour with just your group! Prices below are per person:
Book Now
Accommodation on Crossing the Andes on Horseback Tour
During this tour, you will stay in mountain shelters called refugios. The shelters are rustic and have basic amenities. You'll also spend a night camping in tents, and the last night will be in a cabin. Please note, that the rooms in refuges might be dormitory style.
In some cases, the accommodation listed below may need to be substituted for other comparable accommodations.
Single Rooms and Solo Travelers
You can pay a supplement to have a private room while traveling with your group. Contact us and we can try and match single travelers up, where possible.
Hotels on Standard Tour
Refugio Portinari in Scaravelli
Rustic and remote, this refuge is full of Andean mountain spirit and has some of the best views in the area.
Refugio Real de la Cruz in Tunuyán
Tucked away in the beautiful Andean mountains, this refuge provides a cozy shelter.
Rest easy each night in North Face's V25 tent with solar panels, lights, and a 12v charger. You'll be cozy and warm in this fully-equipped mountain shelter.
Cabin near Termas del Plomo
Beautiful views, clean and spacious rooms and friendly hosts will make sure you have a great stay.
What's included in the Crossing the Andes on Horseback Tour?
Meals
5 breakfasts, 5 lunches, and 4 dinners are included.
Accommodations
Accommodation for 5 nights is included in the tour.
Transportation during the Tour
Transport for your luggage is included throughout the tour. You'll also receive a transfer from your hotel in Mendoza and transfer to your hotel in Santiago de Chile.
Also Included
Equipment, such as dining tent with tables, chairs, and tableware, high mountain tents for camping
Specialized guides, experts in the baqueanos area, cooking services
Horses in excellent condition and easy to ride
Mule transfer with 12 kg of equipment per person
Dinner with the group in Chile
Satellite phone (only for use in case of contingencies)
Detailed information of flora, fauna, and history of each place on the tour
Not included
Personal equipment (clothes, sleeping bag, sleeping pad)
Flights
Insurance
Anything not mentioned as "Included"
Personal expenses
Drinks
Farewell dinner
Any costs resulting from the cancellation of the program before and during the trip
Optional Extras
Extra night in Mendoza, Argentina
Extra night in Santiago de Chile, Chile
Return from Chile back to Mendoza
Frequently Asked Questions about Crossing the Andes on Horseback Tour
Andes Vertical is a boutique adventure tour operator based in Mendoza, Argentina, founded in 2005. With a focus on sharing the best of this part of the Andes, Andes Vertical specializes in mountaineering, trekking, and horseback adventures in the stunning Andes outside Mendoza. Explore a less-visited part of the Andes, and see why this part of Argentina and Chile are becoming more popular.
Learn More
Is this tour for me?
We rate this tour as a 3 / 5. You should be comfortable riding a horse for up to 8 hours daily.
Ask a Question
Got any questions regarding the tour? Interested in promotions for groups or want to customize this tour to fit your needs? We are here to help you!
Ask a question
SALE! Well, not yet.
Let me know when this trip goes on sale.
Notify me