Traverse the Andes from Mendoza to the Maipo Valley on this 6-day trekking adventure tour
Three words: Trekking Across Andes. Doesn't that sound like a dream come true? This 5-day guided tour can turn that dream into a reality. Spend your days exploring the high-altitude trails among this astonishing mountain range, then rest amid nature in a tent each night.
The trek from southwest Mendoza to the Maipo Valley in Chile is divided over 5 days, with one rest day incorporated in the middle. You'll start in the foothills of the Andes near Manzano Histórico, then hike west through peaks and valleys until reaching the Chilean border. Your guide will lead you to summits up to 4,380 m / 14,370 ft and magnificent viewpoints to catch a glimpse of Mount Tupungato, one of the higher volcanic peaks in the Andes at 6,800 m / 22,310 ft.
With all your camping gear included and mules to carry most of the luggage, you don't have to worry about the small details on this guided tour. Immerse yourself in this wild world, traversing the timeless mountain range by day and camping among it at night. If you're physically fit, looking for a challenge, and want to explore the Andes region, this human-powered adventure is an unforgettable journey. How many people can say that they trekked across the Andes?
Highlights of the Trekking Across the Andes Tour
Set up camp each night among untouched nature beneath unspoiled starry skies—the ultimate nature bath!
Trek through high mountain passes, valleys, and rivers, winding through the Andes, getting views of enormous, majestic peaks until the horizon.
Spend a rest day next to the Tunuyán River, where you might spot wild inhabitants like armadillos, foxes, rodents, and wild birds flying overhead.
Spoil yourself with some well-deserved Argentine and Chilean wine from some of the top regions in the world.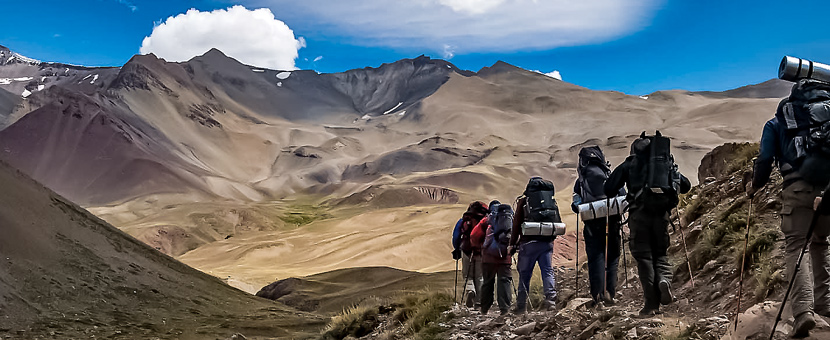 Trekking Across the Andes Tour
Day 1

Visit Manzano Histórico and Hike to Scaravelli

Welcome to Argentina! Meet your guide in the morning for private transport to a historical area southwest of Mendoza, known as Manzano Histórico. It's considered one of the best wine regions in Argentina, so why not have a quick taste before heading on your hike? After the quick town tour, you'll be driven to Refugio Portinari, run by the Argentine Gendarmerie, to clear customs and register to trek through the Andes. Then begins the journey on foot: hike for about 8 km into the mountains until you reach Refugio Scaravelli to set up camp for your first night under the stars.
Overnight Location: Camping in Scaravelli
Distance: 4 hours, 8 km, 680 m of ascent
Meals: Lunch, Dinner
Day 2

Climb Portillo Argentino (4,380 m) and Descend into Tunuyán Valley

Wake up surrounded by nature and gather for breakfast with your crew—you have a big day ahead! Following your expert guide, you will ascend Portillo Argentino, where you'll be awarded a view of the Andes from 4,380 m / 14,370 ft. The rest of the trail is mostly downhill, so you can focus on admiring views of the Tunuyán Valley, keeping an eye out for condors flying above. Hiking for approximately 8–9 hours will have you ready to set up camp once you reach Refugio Real de la Cruz. Enjoy a well-earned dinner and reminisce about the epic day you just had before going to sleep in your tent.
Overnight Location: Camping at Refugio Real de la Cruz in Tunuyán
Distance: 8–9 hours, 16 km, 1,180 m of ascent, 1,510 m of descent
Meals: Breakfast, Lunch, Dinner
Day 3

Rest Day by Tunuyán River with Optional Short Hike to Duck Lagoon

Enjoy the morning at your leisure—today is a rest day. You can spend your day as you wish, exploring the nearby Tunuyán River, relaxing by the campsite, or going on a short guided hike to Laguna de los Patos (Duck Lagoon). Whichever activity you choose today, return for dinner and another night's sleep in your tent in the Tunuyán Valley.
Overnight Location: Camping at Refugio Real de la Cruz in Tunuyán
Distance: Flexible
Meals: Breakfast, Lunch, Dinner
Day 4

Cross Tunuyán River and View Mount Tupungato (6,800 m)

Well-rested from yesterday, you'll be back on your feet again today. Get your camera ready for some astounding views of gigantic peaks in the Andes. After breakfast, pack up your camp and head west across the Tunuyán River with the assistance of some trusty steeds. As you hike above the treeline through wild landscapes of dry grasslands on blue peaks, you'll be afforded a view of Mount Tupungato, a volcano that reaches 6,800 m / 22,310 ft—an impressive beast to be near. Continue alongside rivers and streams until you reach your campsite. Enjoy the serenity of another remote destination to set up camp.
Overnight Location: Camping in El Caletón or Real de la Oveja
Distance: 5–7 hours, 13 km, 530 m of ascent
Meals: Breakfast, Lunch, Dinner
Day 5

Hike to Portillo de Piuquenes (4,030 m) and the border crossing into Chile

Your last day has arrived, and with it comes another big challenge. Heading west after breakfast, you hike to Portillo de Piuquenes, a stunning viewpoint that straddles the border at 4,030 m / 13,222 ft. Have lunch at the Argentine–Chilean border, where you'll switch guides and mules as they are not permitted to cross the border with you. Hike into Chile following El Plomo river, getting a feel for a new country with similar landscapes but different vibes. At the end of the journey, pay a visit to the customs office to register the end of the expedition. Spend the night in a comfortable cabin for a well-deserved rest.
Overnight Location: Cabin in Parque del Yeso or Termas del Plomo
Distance: 7–9 hours, 14–16 km, 580 m of ascent, 1,030 m of descent
Meals: Breakfast, Lunch, Dinner
Day 6

Adios

Sadly, it's time to say adios to your group and your guides. You'll receive a transfer to Santiago de Chile to complete the tour.
Overnight Location: None
Distance: None
Meals: Breakfast

Book Now
Trekking Across the Andes Tour Price and Dates
The price of this guided tour in Chile and Argentina depends on whether you are joining a group of if you are choosing a custom tour for your group only.
The best time to travel to Chile and Argentina for trekking is from November to March.
Private Guided Trekking Across the Andes Tour
Have your own private tour with just your group! Please contact us with your preferred date and the number of people in your group and we will create the itinerary just for you.
Join a Group on Trekking Across the Andes Tour
Have your own private tour with just your group! Prices below are per person:
Book Now
Accommodation on Trekking Across the Andes Tour
During this tour, you will camp in a geodesic tent with room for 2–3 people. You'll spend the last night in a cozy cabin. In some cases, the accommodation listed below may need to be substituted for other comparable accommodations.
Single Rooms and Solo Travelers
You can pay a supplement to have a private tent. Contact us and we can try and match single travelers up, where possible.
Hotels on Standard Tour
Rest easy each night in North Face's V25 tent with solar panels, lights, and a 12v charger. You'll be cozy and warm in this fully-equipped mountain shelter.
Beautiful views, clean and spacious rooms and friendly hosts will make sure you have a great stay in the Maipo Canyon.
What's included in the Trekking Across the Andes Tour?
Meals
All 5 breakfasts, 4 lunches, and 5 dinners are included.
Accommodations
Accommodation for 4 nights is included in the tour.
Transportation during the Tour
Transport for your luggage by mule is included throughout the trek. You'll also receive a transfer from your hotel in Mendoza and transfer to your hotel in Santiago de Chile.
Also Included
Transfer to Mendoza City to start the trek
Transport of equipment on mules, up to 10 kg per person
Complete camping equipment
Dining tent with tables, chairs, and tableware
First Aid equipment
Satellite phone (only for use in case of emergencies)
Not included
Personal equipment
Flights
Insurance
Anything not mentioned as "Included"
Personal expenses
Drinks in restaurants
Rescue expenses
Return transfer from Santiago de Chile to Mendoza
Optional Extras
Extra night in Mendoza, Argentina
Extra night in Santiago de Chile, Chile
Frequently Asked Questions about Trekking Across the Andes Tour
Andes Vertical is a boutique adventure tour operator based in Mendoza, Argentina, founded in 2005. With a focus on sharing the best of this part of the Andes, Andes Vertical specializes in mountaineering, trekking, and horseback adventures in the stunning Andes outside Mendoza. Explore a less-visited part of the Andes, and see why this part of Argentina and Chile are becoming more popular.
Learn More
Is this tour for me?
We rate this tour as a 4 / 5. You should be comfortable hiking for up to 9 hours daily on moderately tricky terrain at high altitudes.
Ask a Question
Got any questions regarding the tour? Interested in promotions for groups or want to customize this tour to fit your needs? We are here to help you!
Ask a question
SALE! Well, not yet.
Let me know when this trip goes on sale.
Notify me