Discover authentic China on this 16-day guided cycling tour
Cycling in China can be spectacular, and this guided tour allows you to bike through the countryside before moving on to some of the touristic highlights, like Xi'an, the Great Wall and Beijing.
You will cycle over 500 km through peaceful Chinese countryside, allowing you to see another side of China away from the busy coastal cities. Here you will enjoy learning more about the Chinese culture and regional cuisine. Once done here, you will then take time to explore buzzing cities and world-famous ancient sites. From the Great Wall of China, to the Terracotta Warriors and the gorgeous Forbidden City, this is an immersive experience into the heart of China.
The services of an English-speaking tour guide and support vehicle will ensure that your stay is as safe and comfortable as possible. You will stay in high quality accommodation, interact with local people and visit beautiful nature reserves.
You will also have the chance to take a river cruise and explore an ancient cave system by boat. This 16-day guided tour really does have it all!
Highlights of the China by Bike Tour
Discover authentic Chinese culture as you sample its cuisine, culture and some of the beautiful places in China.
Cycle through sleepy villages, nature reserves and quiet country roads to catch a glimpse of the rapidly disappearing rural China.
Immerse yourself in local history as you visit the iconic Terracotta Warriors at Xi'an and world-famous Great Wall of China.
Explore the vibrant streets of Beijing as you discover the Forbidden City, Tiananmen Square and the Wild Goose Pagoda.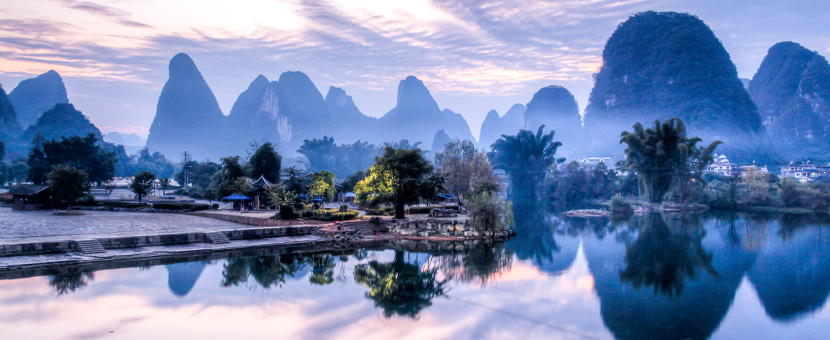 China by Bike Tour Itinerary
Day 1

Guangzhou

Today you will arrive in Guangzhou, the starting point for your Chinese adventure. You will meet your guide at the hotel, where you will have an early evening meeting to get to know your guide and ask any questions that you might have. After the meeting, you will enjoy a welcome dinner with the group before settling down for a good night's rest at your hotel.
Overnight Location: Hotel in Guangzhou
Distance: None
Meals: Dinner
Day 2

Cycling to Zhaoqing

Prepare yourself for your first day of cycling as you take the journey to Zhaoqing by bike. In the afternoon you will explore the gorgeous Mt. Dinghu nature reserve, a UNESCO site that buzzes with the sound of birds and crashing water. After admiring the lake, mountains and rare plant species you will head to your hotel where you will spend the night.
Overnight Location: Hotel in Zhaoqing
Distance: 30 km
Meals: Breakfast, Lunch
Day 3

Ride to Guangning

After transferring out of the town by coach, you will arrive in the peaceful countryside where you will set off for an 80km cycle to Guangning. You will pass through sleepy villages, some of them now abandoned due to the rapid urbanisation that is unfolding all around you. Arriving in the small town of Guangning, you will check in to a lovely hotel right in the heart of the friendly community.
Overnight Location: Hotel in Guangning
Distance: 80 km
Meals: Breakfast, Lunch
Day 4

Cycle to Mingjing

You will continue to cycle through charming rural landscapes as you head out for Mingjing. You will stop along the way to explore a local cave by boat, resting your legs as you listen to the soothing sound of water lapping against the hull. Afterwards, you will get back on your bike to finish your journey to Huang Hua Gu Guesthouse.
Overnight Location: Guesthouse in Ming Jing
Distance: 70 km
Meals: Breakfast, Lunch
Day 5

Ride to Yangshan

Today you will cycle to Yangshan, covering a further 80km. Your legs will be adjusting to the long distances by now and the group that you are travelling with are sure to feel like old friends already. Soak up the lovely Chinese countryside as you sail along the quiet roads to reach your hotel in Yangshan.
Overnight Location: Hotel in Yangshan
Distance: 80 km
Meals: Breakfast, Lunch
Day 6

Cycling to Liannan

You will have the opportunity to experience authentic Chinese culture as you visit a couple of Yao mountain villages on todays bike ride. The Yao people are subsistence farmers who often live in bamboo houses and continue to uphold their ancient traditions. After learning more about their lives, you will check in to your hotel for a well-earned rest.
Overnight Location: Hotel in Liannan
Distance: 80 km
Meals: Breakfast, Lunch
Day 7

Onwards to Lianshan

After breakfast you will walk through the mountains to visit a traditional Yao village and soak up some magnificent views. Afterwards, you will cycle to Lianshan where you will stay in charming accommodation nestled right between a lake and mountain. Settling down after your first week of cycling, you are sure to sleep soundly tonight.
Overnight Location: Hotel in Lianshan
Distance: 60 km
Meals: Breakfast, Lunch
Day 8

Cycling to Zhongshan

After enjoying a delicious breakfast at your hotel, you will head out on the country roads to Zhongshan. You will cover a further 80km today, as you wind through the peaceful rural roads and explore the landscapes of China with an intimacy that most tourists completely miss.
Overnight Location: Hotel in Zhongshan
Distance: 80 km
Meals: Breakfast, Lunch
Day 9

Cycle around Yangshuo

You will transfer the 150km journey to Yangshuo. After checking in to your hotel you will stretch your legs by taking a laid-back cycle around the local area, covering about 30km of nice and easy terrain with plenty of picturesque views for you to enjoy.
Overnight Location: Hotel in Yangshuo
Distance: 30 km
Meals: Breakfast, Lunch
Day 10

Explore Yangshuo

You will stay in the same hotel again tonight, giving you the chance to explore the wonderful local surroundings. First you will cycle to Moonhill, which you are welcome to climb to enjoy some breathtaking views of the local area. Later you will take part in a relaxing cruise on the Li River before heading back to the hotel to unwind.
Overnight Location: Hotel in Yangshuo
Distance: None
Meals: Breakfast, Dinner
Day 11

Xian

There is some free time set aside this morning so you can explore the local area at your own pace or enjoy some down time. Later, you will transfer to the airport to catch a flight to Xian. You will be welcomed at the airport and transfer to your hotel for the evening.
Overnight Location: Hotel in Xi'an
Distance: None
Meals: Breakfast, Lunch
Day 12

Terracotta Warriors

You will begin the day with a guided walk on Lishan mountain, where you will catch a glimpse of the emperor's tomb below. After your hike you will take a guided tour of the Terracotta Warriors. Each of these 6,000 incredible soldiers were hand sculpted by clay to protect the emperor in the after life, each with individual facial features, battle armour and even different heights. Afterwards you will have a chance to explore the ancient Muslim quarter of Xian and enjoy some Islamic cuisine in the city.
Overnight Location: Hotel in Xian
Distance: None
Meals: Breakfast, Lunch
Day 13

Exploring Xian

Today you will explore the ancient city of Xi'an, the historical ending point of the Great Silk Road. You will visit the Shaanxi Historical Museum in the morning before checking out the Wild Goose Pagoda and the impressive city wall with its deep moat. You will spend the night on the soft sleeper train to Beijing.
Overnight Location: Sleeper train to Beijing
Distance: 14 km
Meals: Breakfast, Lunch
Day 14

Exploring Beijing

Having spent a surprisingly comfortable night on the soft sleeper train, you will arrive in the vibrant capital city. After freshening up and taking your breakfast in the hotel you will set out to explore Beijing, starting with a visit to Mao's Mausoleum and the iconic Tiananmen Square. You will also look around the gorgeous Forbidden City and take a relaxing bike ride through the historical Hutong area.
Overnight Location: Hotel in Beijing
Distance: Varies
Meals: Breakfast, Lunch
Day 15

Visiting the Great Wall

Today you will visit one of the most spectacular sites in China. You will spend the whole day touring the Mutianyu section of the Great Wall. Admire the weathered watchtowers perching proudly along the wall as you walk through mountainous landscapes, high above the lush foliage. You will return to Beijing in the evening where you will spend your final night of the holiday.
Overnight Location: Hotel in Beijing
Distance: None
Meals: Breakfast, Dinner
Day 16

Departure

It's time to say goodbye to your group and guide as your amazing cycling and culture trip has sadly come to a close. After enjoying one final breakfast at your hotel in Beijing you will prepare to head out for your onward journey.
Overnight Location: None
Distance: None
Meals: Breakfast

Book Now
China by Bike Tour Prices and Dates
This guided biking tour from Guangzhou to Beijing is always run as a custom tour for your group only and the price depends on the size of your group.

The prices below are per person sharing a double or a triple room:
Guided Groups of 2: $4,350 USD per person
Guided Groups of 3-4: $3,495 USD per person
Guided Groups of 5: $2,995 USD per person
Guided Groups of 6: $2,950 USD per person
Guided Groups of 7+: on request
Book Now
Accommodation on China by Bike Tour
You will stay at a range of different accommodations during this trip, ranging from friendly local guesthouses, an overnight sleeper train and high-quality hotels in the city. You can expect a minimum of 2-3* facilities throughout your stay.
Prices are based on double occupancy of a room, though single travellers can arrange a private room in exchange for a supplement.
Single Rooms and Solo Travelers
You can pay a supplement of $525 USD to have a private room in a hotel.
Hotels on Standard Tour
From family-run guesthouses high in the mountains to modern hotels in the center of Beijing, you enjoy a wide range of accommodation on this trip.
What's included in China by Bike Tour?
Meals
For 16-day tour, 15 breakfasts, 12 lunches and 3 dinners are included.
For 13-day tour, 12 breakfasts, 10 lunches and 2 dinners are included.
For 11-day tour, 10 breakfasts, 8 lunches and 2 dinners are included.
Accommodations
All the accommodations for the duration of the tour are included.
Transportation during the Tour
Transportation is included for you and your luggage throughout the tour. Please note, that 11 and 13-day tours do not include airport transfers.
Also Included
Cycling leader during the biking days
National guide escorting to Xi'an and Beijing (for groups of 6 and more)
Support vehicle for passengers and luggage
Cycling equipment:

Bike helmet
Mountain bike rental (27 speed)

Drinking water
Not included
Getting to and from starting and ending points of the tour
Visa
Personal Insurance
Personal expenses
Anything not stated as 'included'
Optional Extras
Additional night in Guangzhou before the tour
Additional night in Beijing, Xi'an, Yangshuo or Guilin after the tour
Upgrading to e-bike - $150 USD
Upgrading standard cabin to deluxe cabin on a sleeper train - $230 USD (per cabin for 2)
Additional unused bed in a sleeper train - $89 USD per bed
Frequently Asked Questions about China by Bike Tour
China Adventure Travel has over 30 years of experience in tour operation. They specialize in adventure travel, including cycling, hiking, and tailor-made adventure tours. Their philosophy is to develop a trip in China that you won't ever forget.
Besides adventure tours, China Adventure Travel also offers cultural tours and cultural exchange programs. They consider excellent leadership to be the soul of a trip, so their guides are chosen carefully for their expertise.
They pay great attention to every detail of your trip, and recognize that great service is a culmination of many smaller efforts.
Learn More
Is this tour for me?
We rate this tour 4/5. This is a challenging bike tour, with sustained moderately high mileage. This is best suited to experienced cyclists. Less experienced cyclists can pay a supplement for the use of an electric bike, which greatly helps on this tour. However, a reasonable level of fitness is required as you will be cycling up to 80 km a day and spending several hours on your feet as you visit monuments and explore the cities.
Local Guide
Ask a Question
Got any questions regarding the tour? Interested in promotions for groups or want to customize this tour to fit your needs? We are here to help you!
Ask a question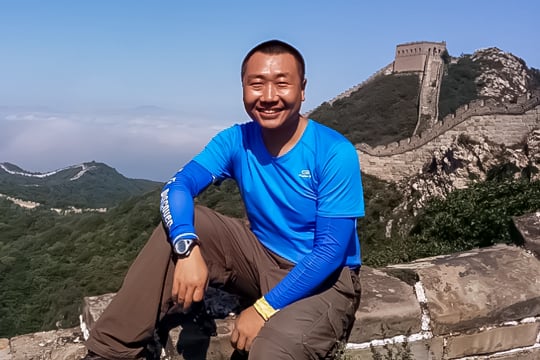 Charles has been working with China Adventure Travel since graduating from university. He's patient, personable, and willing to take on any challenge. Guests love his warm smiles and pleasant personality. He's also an exceptional violinist!
Q & A
Q:

What's the best part about leading tours in China?

A:

China is such a big, developing country. Guiding in China allows you to witness the development of our motherland. We bring different tourists to the same place but we can always find something new to share. It's such an amazing thing.

Q:

What are guests most surprised about when visiting China?

A:

China has well-developed cities like Beijing and Shanghai, but also quite under-developed areas and remote villages far from the cities. It's all about contrast.

Q:

What is one local dish or drink that anyone visiting China should try?

A:

Too many! China is a country famous for its food. Try Beijing duck, dumplings of all kinds, hot pot, spicy food in Sichuan, noodles in Xian, Cantonese dim sum, and more. We've got a long list.