Cycle 3 countries and 4 national parks on this 8-day self-guided cycling tour
Discover the Green Heart of Western Europe on the 8-day self-guided Cycle Holland, Belgium, and Germany tour.
On this cross-border cycling adventure through 4 spectacular national parks, you'll ride on premium paths on quiet back roads along the banks of the Meuse and Roer rivers. The cycling loop has you beginning and ending in Vlodrop, with an all-star lineup of historic towns and cities along the way. Visit and stay in the Burgundian town of Maastricht and pedal the spellbinding landscapes of the High Fens nature reserve to Einuhr. Each stop along the route is full of intrigue and charm, inviting you to explore ancient sites like the thirteenth-century Abbey of Val Dieu near Aubel. Overnight stays in Genk, Eupen, Düren, and more promise the warmth of German hospitality, and 3- and 4-star accommodations along the route will ensure you want for nothing during each stay.
Enjoy the natural beauty and cultural highlights of Holland, Belgium, and Germany on this epic cycling adventure in Western Europe!
Highlights of the Cycle Holland, Belgium, and Germany
Explore the "Green Heart of Western Europe" on two wheels at your own pace.
Discover the spellbinding natural landscapes of the Dutch-Belgian province of Limburg and Germany's majestic Eifel range.
Cycle the banks of the winding Meuse River and admire the serenity on the banks of the famous Rhine.
Zig-zag your way through 3 of Europe's top cycling destinations, enjoying the freedom of this international ride.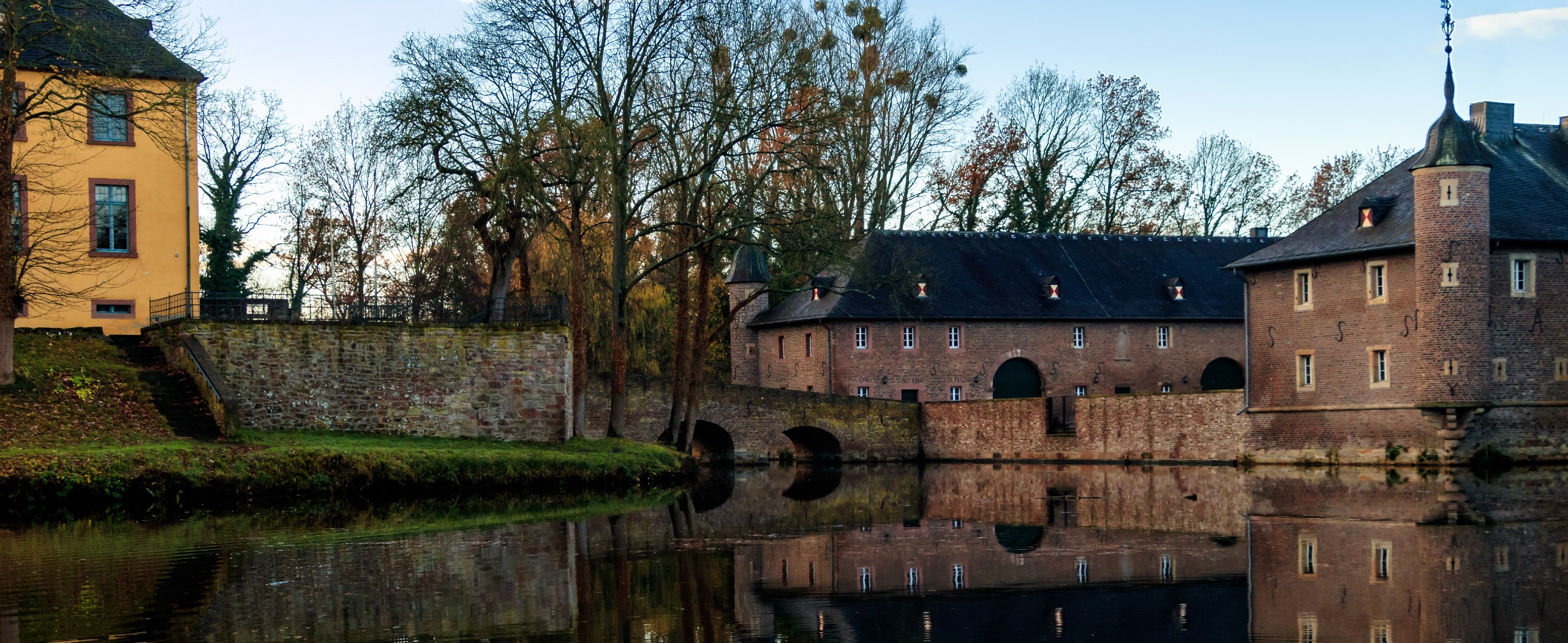 Cycle Holland, Belgium, and Germany Itinerary
Day 1

Arrive

Find yourself welcomed by open arms in Vlodrop, where you'll be greeted at your hotel with a hot coffee and a delightful Dutch pastry. Settle into your room, then perhaps head out on a short test ride to nearby Roermond. If you're feeling like relaxing after a long flight, unwind in the hotel's pool and sauna complex for some R&R.
Overnight Location: Hotel in Vlodrop
Distance: None
Meals: None
Day 2

Introduction to the Roer and the Meuse

This morning, you'll rise ready for an exciting first day of cycling! Enjoy a hearty breakfast, then set out on the first leg of the tour to Genk.

The route's early stages have you tracing the Roer and the Meuse, making for the perfect introduction to these majestic, snaking rivers. You'll first ride to Masseik, marking your crossing into Belgium. Continue through the Hoge Kempen National Park's beautiful landscapes, soon reaching today's destination, Genk.
Overnight Location: Hotel in Genk
Distance: 42km
Meals: Breakfast
Day 3

From Nature to Culture

A phrase that best captures today's journey is "from nature to culture." Depart this morning via Bilzen, taking in the spectacular castle complex known as Alden Biesen, then continue the route via quiet country roads.

Cruise through the lovely border village of Kanne, then press on Maastricht, a stunning Burgundian city brimming with culture and with tons to see and do. Settle into your accommodations here, then set out to take in the city sights, perhaps checking out the iconic Vrijthof and Maas bridges for some great photos.
Overnight Location: Hotel in Maastricht
Distance: 52km
Meals: Breakfast
Day 4

Cycle the Voer Region to Eupen

Say farewell to lovely Maastricht this morning following breakfast and get ready for another spellbinding ride today to Eupen. Heading south this morning, you'll want to hop off your bike in Eijsden to take in the beauty of this small village before continuing past the Belgian border into the Voer region.

Some challenging climbs present themselves later in the route, but the rewards of superb vistas make it well worth the effort. Stop off in the Abbey of Val Dieu for a fascinating dose of cultural sightseeing, then continue the route to Eupen, where you'll find tonight's hotel.
Overnight Location: Hotel in Eupen
Distance: 64km
Meals: Breakfast
Day 5

Cycle the Rolling Hills of High Fens to Einruhr

Majestic scenes await on today's route, which takes you through the stunning landscapes of the High Fens nature reserve. Pedal the green hills of the reserve, challenging yourself to some sizeable climbs, then enjoy a downhill ride to the idyllic town of Monschau. Spend some time exploring the lovely quaint streets of Monschau, perhaps popping into a café for a divine slice of Limburg pie before continuing the route along the Roer to Einruhr, where you'll spend the night.
Overnight Location: Hotel in Einruhr
Distance: 52km
Meals: Breakfast
Day 6

Trace the De Roer to Düren

Continue to revel in the natural beauty of the Eifel this morning as you blaze a trail towards Düren. With the De Roer as your trusted guide, you'll enjoy excellent cycle paths to the Flachland. Several charming villages come and go on the ride to Düren, and you can enjoy the freedom to pause in as many or as few as you'd like. Press on to tonight's accommodations in Düren and enjoy a relaxing evening here.
Overnight Location: Hotel in Düren
Distance: 50km
Meals: Breakfast
Day 7

Cycle to Vlodrop via Jülich

Your final ride of the tour has you returning to the banks of the Roer this morning, a sight you've become very familiar and likely very fond of in recent days. Enjoy a pleasant ride to the marvellous city of Jülich and stop for lunch. Then, continue the route to Vlodrop, where you'll spend one final night on the tour.

Enjoy a celebratory farewell dinner this evening, commemorating an epic week of cycling in Holland, Belgium, and Germany!
Overnight Location: Hotel in Vlodrop
Distance: 73m
Meals: Breakfast
Day 8

Depart

Indulge in a final breakfast at your hotel this morning, then check out to depart as your cycling adventure comes to an end.
Overnight Location: None
Distance: None
Meals: Breakfast

Book Now
Cycle Holland, Belgium, and Germany Prices and Dates
This self-guided cycling tour is run as a custom tour, and the price per person depends on how many people are in your group.

The departures are available on every Sunday (except 22nd of August) and the prices below are per person:

Price per person staying in a single room: $975 USD
Price per person sharing a double room: $675 USD
Book Now
Accommodation on Cycle Holland, Belgium, and Germany
This tour is based on hotels. Hotels on this trip are 3- and 4-star and offer modern conveniences that can make this trip more pleasant. Guests may have access to amenities such as swimming pools, steam rooms, or private decks to lounge on.
In some cases, the accommodation listed below may need to be substituted for other comparable accommodations.
Single Rooms and Solo Travellers
Rooms are double occupancy. You can pay a supplement of $295 USD to have a private room in a hotel where possible. Solo travellers may be required to pay a supplement.
Hotels on Standard Tour
What's Included in the Cycle Holland, Belgium, and Germany Tour?
Meals
7 breakfasts are included. You can also upgrade your tour package to the Half Board for an extra charge of $275 USD per person.
Accommodations
Accommodations for 7 nights are included. Accommodations before and after the tour in Vlodrop are not included but can be added as a supplement.
Transportation during the Tour
Luggage transportation during the tour is included. Airport transfers are not included but can be booked in advance as a supplement.
Also Included
Welcome greeting with coffee and pastries
Maps and route descriptions
Not included
Bike rental (Hybrid or E-Bike)
Guide services
Flights to and from Amsterdam
Airport transfers
GPS
Entrance fees and excursions
Meals, drinks, or snacks not previously mentioned
Gratuities for tour guides or other staff if desired
Optional Extras
Bike rental:

Hybrid bike: $125 USD
E-Bike: $175 USD

Additional nights before or after the tour/li>
Airport transfers
Boat trip on the Rursee
Single occupancy upgrades
Upgrade to Half Board: $275 USD
Optional activities or excursions
Frequently Asked Questions about Cycle Holland, Belgium, and Germany
Trying to choose your next adventure? Go cycling with Fietsrelax! For more than 30 years,
Fietsrelax has provided thousands of cyclists with original "bike & relax" experiences. Enjoy
sporty pedalling adventures and relaxed pedalling break-outs on their individualized cycling
holidays.There's something for everyone and so much to discover.
Learn More
Is this tour for me?
We rate this tour as a 2 / 5. You should be comfortable cycling distances of up to 75 kilometres in a day, with plenty of opportunities for breaks and refreshments. The terrain is a mix of hilly and flat, with some stretches on unpaved roads.
Ask a Question
Got any questions regarding the tour? Interested in promotions for groups or want to customize this tour to fit your needs? We are here to help you!
Ask a question