Appreciate magical Vietnam for 14 days of authentic exploration
Two weeks in Vietnam may not be enough, but it's a start. The 14-day Explore Vietnam South to North Tour starts in Ho Chi Minh City in the south and traverses north to end in Hanoi. Hitting the highlights along the way like Hoi An, Hue, Phong Nha, and Lan Ha Bay, this tour provides an efficient itinerary that connects you with the fabulous cities and landscapes of Vietnam from top to bottom.
During the Explore Vietnam South to North Tour, you'll get a full spectrum of Vietnamese culture, from its ancient history in the citadels to the more modern stories from the Vietnam War. Sprinkle in the wondrous natural glory of the country like the Phong Nha cave system, Tam Giang Lagoon, and Bach Ma National Park and top it off with the oh-so-delectable cuisine, and you have yourself one heck of a trip. While you're in Vietnam, don't forget to taste the classic ca phe sua da—Vietnamese iced coffee. You'll have the opportunity to engage with the locals and discover for yourself that they are some of the friendliest and cheekiest folk in Southeast Asia. The Explore Vietnam South to North Tour is the perfect way to soak up Vietnam in an unforgettable, action-packed two weeks.
Highlights of the Explore Vietnam South to North Tour
Relax in a boat journey along the Son River and enter the Phong Nha cave by water.
Wander the gorgeous alleys of Hoi An, noting the harmony of many cultures in one charming place.
Visit the Cu Chi and Vinh Mon Tunnels, both used by civilians during the Vietnam War.
Sightsee in the chaotic and splendid Ho Chi Minh City, Hue, and Hanoi.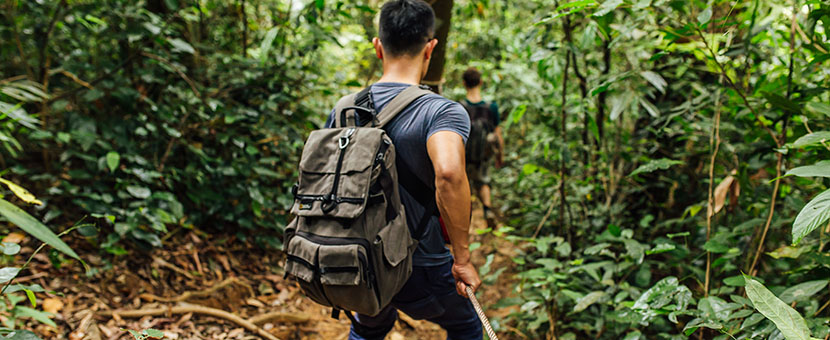 Explore Vietnam South to North Tour
Day 1

Arrival in Ho Chi Minh City

Welcome to Vietnam! Find a transfer to the hotel on your own accord and get settled after check-in. Explore if you have time before dinner, when you'll meet your group and guide to eat at a local restaurant and get information on the two weeks ahead.
Overnight Location: Hotel in Ho Chi Minh City
Distance: None
Meals: Dinner
Day 2

City Tour and Cu Chi Tunnels

Enjoy breakfast and prepare for an intriguing morning visiting the Cu Chi Tunnels, used during the Vietnam War. The enormity will astound you, reaching 200 kilometres at its largest and resembling an underground city. After the in-depth tour, you'll taste a local Cu Chi dish of boiled cassava or khoai my luoc. After the tunnels, return to the chaotic city and begin a sightseeing walking tour of Ho Chi Minh City. Highlights include the impressive Post Office, Notre-Dame Cathedral, and Dong Khoi Street lined with fancy shops inside French colonial buildings. You'll be happy to return to the hotel to relax after this full day of activities.
Note: The Cu Chi Tunnels are not recommended for people with claustrophobia.
Overnight Location: Hotel in Ho Chi Minh City
Distance: City tour: 4 hours
Meals: Breakfast
Day 3

Fly to Danang and Explore Hoi An

After breakfast, your group will receive a transfer to the airport to fly to Danang. By flying to Danang, you avoid about 17 hours of land travel! Meet your driver at the airport and head to the UNESCO-recognized city of Hoi An, a beautiful blend of Japanese, Chinese, French, and Vietnamese influences. There's a photo opportunity around every corner! After checking in to your hotel, the group leaves for a gastronomic tour of the town. Tasty highlights such as the white-rose dumpling, cao lau noodle dish, bahn mi baguette sandwich, and green bean cake are sure to satisfy. Return to the hotel for a good night's sleep.
Overnight Location: Hotel in Hoi An
Distance: None
Meals: Breakfast, dinner
Day 4

Hoi An Cycle Tour

Gather with your group for breakfast and fuel up for a day of cycling. Depart from the hotel through Old Town Hoi An, a car-free network of narrow roads and alleys, then continue towards the smaller villages on the outskirts of town. The day is filled with stops to view the handicrafts of local artisans like carpenters and weavers. Pedal further and hop on a short ferry to reach Tra Que Village, known for its plentiful agriculture. Stop here and enjoy a traditionally-prepared meal made from the freshest ingredients. Head back to Hoi An and enjoy a free afternoon and evening to explore on your own.
Overnight Location: Hotel in Hoi An
Distance: 35 km, 5.5 hours including stops
Meals: Breakfast, lunch
Day 5

Hike Bach Ma National Park

Say your bittersweet goodbyes to Hoi An and load into the van to keep going north. The drive is especially impressive as you wind over Hai Van Pass with incredible Pacific Ocean views below. After the drive, you'll arrive at Bach Ma National Park and embark on a delightful journey through magnificent landscapes of misty peaks, lush flora, and hidden lagoons. Continue the fairy-tale hike to stop for a dip in a lake and to get up-close to Do Quyen Waterfall—spectacular in spring when the flowers are blooming. Exit the park and hop back into the van to reach Hue.
Overnight Location: Hotel in Hue
Distance: 8 km, 4.5 hours
Meals: Breakfast, lunch
Day 6

Sightseeing in Hue

Hue holds a remarkable amount of history, and you'll see this through all the sights visited today. After breakfast, begin the walking tour at the Imperial Citadel, built in 1804, in central Hue. A tranquil stop awaits as you continue to a typical Hue garden house constructed using geomancy principles. The afternoon includes visits to the Tu Duc mausoleum and the Tu Hieu pagoda, buzzing with monks to this day. Finally, head back to the hotel to relax for the evening after.
Overnight Location: Hotel in Hue
Distance: None
Meals: Breakfast, lunch
Day 7

Cycle and Boat Tour in Tam Giang Lagoon

Once you've finished breakfast, an exciting day at Southeast Asia's largest lagoon will begin. Tam Giang Lagoon epitomizes serenity, which you'll note as soon as you pedal closer to it. Riding along its shores, soak in the peaceful vibes of this area, then stop in a village for a local lunch. In the afternoon, climb aboard a boat to explore the pristine waters and have a chance to partake in the traditional fishing technique used by fishermen here. Return to Hue after a full day exploring Tam Giang, and savour some free time in Hue.
Overnight Location: Hotel in Hue
Distance: 35 km, 2–3 hours
Meals: Breakfast, lunch
Day 8

Travel to Phong Nha

Move on from Hue this morning and head north to the phenomenal area of Phong Nha. On the way, stop over at the Vinh Moc Tunnels in the demilitarized zone (DMZ). This tunnel system, inhabited during the Vietnam War, was occupied for two years by locals to escape the war. Process this visit as you continue to Phong Nha, reaching the hotel in the afternoon.
Overnight Location: Hotel in Phong Nha
Distance: None
Meals: Breakfast, lunch
Day 9

Hike in Phong Nha Ka Bang National Park

Wake up in Phong Nha, a town where you could imagine a dinosaur sauntering around a corner at any moment. After breakfast, the crew will head out for a cave expedition in Phong Nha Ka Bang National Park. This natural wonder is a UNESCO World Heritage Site, which you'll explore on foot and paddling in a kayak through its network of river systems within the mountain. Unforgettable! Return to the hotel for a free evening to relive the spelunking memories of the day.
Overnight Location: Hotel in Phong Nha
Distance: 2 km, 1 hour
Meals: Breakfast, lunch
Day 10

Phong Nha Cycle Tour and Fly to Hanoi

Fill up on breakfast and ca phe sua da and set out to cycle the countryside. Today's route runs through peanut plantations, a pertinent ingredient in local cuisine, then connects to the Ho Chi Minh Trail used by soldiers during the Vietnam War to transport supplies between the northern and southern battlefields. Pedal alongside stunning river landscapes, then return to Phong Nha for lunch. Before leaving Phong Nha, you'll get another look at the caves during a short boat trip on the Son River. In the evening, pack up and head to the airport for a flight to Hanoi. A guide will meet you in Hanoi and accompany you to the hotel.
Overnight Location: Hotel in Hanoi
Distance: 30 km, 5 hours including stops
Meals: Breakfast, lunch
Day 11

Hanoi City Tour

Hanoi stimulates all the senses in its harmonious chaos and calm. Begin the day with a visit to Vun Art, a local handicraft community, to discover their mission and see their wares from fabric painting to silk production. Head back to central Hanoi for lunch and commence the exhilarating sightseeing tour. First, visit the Ho Chi Minh Mausoleum and explore the museum created from his old residence. Keep walking and find the Temple of Literature, renowned as Vietnam's first university, built in 1070. Spend the later afternoon meandering the Old Quarter's narrow alleyways and test out one (or many) of the unique coffee shops. Return to the hotel to sleep (if you're not too buzzed from all the coffee sampling!).
Overnight Location: Hotel in Hanoi
Distance: None
Meals: Breakfast, lunch
Day 12

Lan Ha Bay Cruise and Overnight Aboard

Channel your inner captain and climb aboard a ship! You'll spend a glorious day and night onboard floating in Lan Ha Bay, the lesser-known area but equally as breathtaking as the neighbouring Ha Long Bay. Indulge in freshly-caught seafood meals as you gaze at the remarkable limestone peaks jutting out from blue-green waters. Stay on the deck until the evening to view one of those wish-this-moment-would-never-end sunsets. Finally, get cozy in a sleeper cabin onboard and let the sea gently rock you to sleep.
Overnight Location: Overnight on Boat in Lan Ha Bay
Distance: None
Meals: Breakfast, lunch, dinner
Day 13

Lan Ha Bay Sunrise and Return to Hanoi

Rise early to witness a fantastic sunrise while you sip your Vietnamese coffee. The captain will navigate through the pristine waters among the majestic peaks and head back to the mainland. Meet your driver at the pier and return to Hanoi. Spend your last evening in Vietnam browsing the streets for souvenirs or returning to your favourite coffee shop for one more drink. Fill up on the iconic street food before heading back to the hotel for rest.
Overnight Location: Hotel in Hanoi
Distance: None
Meals: Breakfast, lunch
Day 14

Farewell, Vietnam

Say your goodbyes to your guide and group during your final breakfast together. Organize your own transportation to the airport or the next stop on your journey.
Overnight Location: None
Distance: None
Meals: Breakfast

Book Now
Explore Vietnam South to North Tour Price and Dates
This guided tour in Vietnam is always run as a fixed-departure tour for mixed groups and the price only depends on whether any optional extras are added to the package.
The best time to travel to Vietnam is from October to March, as well as April and May (hot season), and June to August (green season with occasional rains).
Dates and Prices to Join a Group on Explore Vietnam South to North Tour
Make new friends by joining a group adventure tour to Vietnam! The prices below are per person and apply to a 3-star hotel package. Please note, that you can upgrade to 4-star hotels for an additional fee of $470 USD per person.
Accommodation on the Explore Vietnam South to North Tour
This tour is based in 3 and 3.5-star hotels and one night aboard a boat. The hotels have modern amenities that make this trip more comfortable. The boat offers a private sleeper cabin. Rooms are based on double occupancy, and solo travellers will pay a supplement.
In some cases, the accommodation listed below may need to be substituted for other comparable accommodations.
Single Rooms and Solo Travelers
You can pay a supplement of $365 USD-$585 USD (depending on chosen hotel category) to have a private room in a hotel while travelling with your group. Contact us and we can try and match single travellers up where possible.
Hotels on Standard Tour
What's included in the Explore Vietnam South to North Tour?
Meals
13 breakfasts, 10 lunches, and 3 dinners are included.
Accommodations
Accommodation for 13 nights is included.
Transportation during the Tour
Transport for you and your luggage is included throughout the tour.
Also Included
Entrance fees for visits mentioned in the itinerary
Boat rides mentioned in itinerary
Bike and helmet rental
Cruise on Lan Ha Bay
Guided activities throughout the tour
Not included
Meals and drinks not mentioned in itinerary
International and airport taxes
Domestic flights
Visa fees upon arrival in Vietnam
Insurance
Anything not mentioned as "included"
Tips and personal expenses
Optional Extras
Extra night in Ho Chi Minh City
Extra night in Hanoi
Upgrading to 4-star hotels
Airport transfers
Frequently Asked Questions about Explore Vietnam South to North Tour
Easia Active is a subsidiary of Easia Travel, a boutique tour operator based in South-East Asia, and dedicated to sharing the best active adventures in Vietnam, Laos, Cambodia, Myanmar and Thailand. Easia Travel was founded in 2000 in Vietnam, with a vision to "Make Asia Easy for You!" by allowing guests to experience the best of Asia. Find great hiking, cycling and other active adventures in SE Asia with Easia Active.
Learn More
Is this tour for me?
We rate this tour as a 2 / 5. You should be comfortable hiking on modest terrain for up to 4.5 hours and cycling for up to 5.5 hours.
Ask a Question
Got any questions regarding the tour? Interested in promotions for groups or want to customize this tour to fit your needs? We are here to help you!
Ask a question
SALE! Well, not yet.
Let me know when this trip goes on sale.
Notify me