Escape into nature in the pristine landscapes of Slovenia on this amazing cycling holiday
Slovenia offers an abundance of pristine natural beauty across its varied landscapes, and discovering it all by bike is the perfect adventure. The Exploring Slovenia by Bike tour is the perfect way to discover all the incredible beauty of this green country and learn about its fascinating history.
You'll get a little taste of everything on this tour! On your bike riding adventures, you'll pedal through majestic mountains, picturesque alpine towns, and emerald valleys. You'll feel the river spray on your face on an exciting whitewater rafting excursion on the Soča River, and then taste the incredible red wines produced in the Karst region. Add time in historic villages, breathtaking caverns, and local farms, and you'll realize that this tour offers a true exploration of the best of Slovenia.
Highlights of the Exploring Slovenia by Bike
Cycle through an amazing variety of landscapes, including the amazing Alps, the emerald Soča Valley, and the Brda wine region.
Discover why they call Bovec Slovenia's adventure capital on an exciting whitewater rafting excursion.
Visit the incredible Škocjan Caves and take a tour through these enormous underground caverns.
Enjoy the local hospitality and discover Slovenian culture by staying in small locally-run hotels.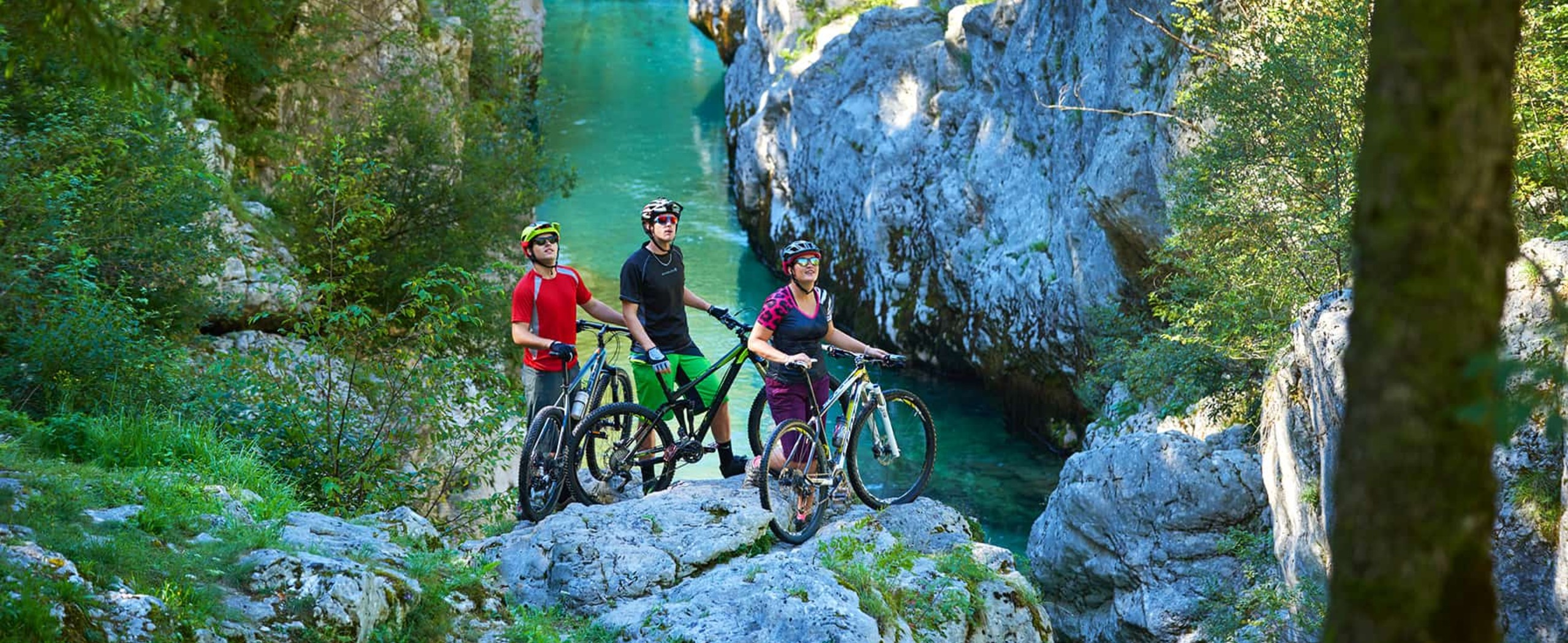 Exploring Slovenia by Bike Itinerary
Day 1

Welcome to Triglav National Park

A transfer will take you from Ljubljana to your hotel in Bohinj. You'll have a brief welcome meeting where you'll receive your route information, bike, and equipment. Then you have the rest of the afternoon to explore the beautiful Triglav National Park. Take a stroll through town or take your bike for a test ride around the lake!
Overnight Location: Hotel in Bohinj
Distance: None
Meals: None
Day 2

Explore Spectacular Lake Bohinj

Today you have the whole day to explore beautiful Lake Bohinj. You can take a 3-hour bike ride around the lake, or ride to Ukanc and make the short hike to Savica waterfalls.

For a change of perspective, take the cable car up Mt Vogel and take in the awesome panoramic views.
Overnight Location: Hotel in Bohinj
Distance: 50-60km
Meals: Breakfast
Day 3

Travel by Train and Bike to Lake Bled

This morning you'll pedal your way along a lovely cycling path through charming towns to Bohinjska Bistrica. Take the train to Lake Bled and ride to your hotel.

Once you're checked in, you'll want to go out and explore the magical town of Bled. Take a boat ride to visit the beautiful island with its historic church or take a walk along the stunning lakeshore. If you hike to the viewpoint on Osojnica Hill you'll be treated to a breathtaking view of this fairytale town.
Overnight Location: Hotel in Bled
Meals: Breakfast
Day 4

Follow the Railroad Path Through the Alps

You have the first big ride of your trip today! Cycle from Bled through the stunning Radovna Valley. As you ride further into the hills, the ride will be mostly uphill as you ascend 340m. Next, you'll follow the old railroad path to Kranjska Gora, an alpine resort town at the feet of the Julian Alps.
Overnight Location: Hotel in Kranjska Gora
Meals: Breakfast
Day 5

Mountain Pass and Emerald Valley

Before you start your ride today, you'll take a transfer to the Vršič Pass. Enjoy the views from Slovenia's highest mountain pass and then you'll start your ride in the village of Trenta. Cycle through the verdant hills along the emerald Soča River as it winds through gorges and shallow gravel beds.

You'll spend the night in Bovec, in the Soča Valley which is renowned for being a mecca for outdoor adventure.
Overnight Location: Hotel in Bovec
Distance: 50-60km
Meals: Breakfast
Day 6

Rapids and Waterfall Adventures

Today you'll get to see the vibrant coloured water of the Soča up close on an exciting whitewater rafting excursion! When you get off your raft, your bikes will be waiting so you can continue right along. You'll enjoy the easy route to Tolmin and may want to stop in Kobarid to visit the WWII museum. You can also take a quick hike to see the spectacular Kozjak Waterfalls before you continue cycling to Tolmin.
Overnight Location: Hotel in Tolmin
Distance: 50-60km
Meals: Breakfast
Day 7

Wine Country Bike Ride

This morning you'll start your bike ride out of the valley and into the rolling hills of Brda. Everywhere you look you'll see sprawling vineyards and quaint villages. Tonight, you'll be able to indulge in a dinner of local produce with a wine tasting of the regional wines
Overnight Location: Guesthouse in Medana
Distance: 50-60km
Meals: Breakfast, dinner
Day 8

Cycle to the Caves of the Karst Region

Start your day with a tranquil morning ride through the vineyards and orchards that carpet the region. You'll ride to the train station in Nova Gorica and take the train to Divača.

When you get back on your bike, you'll notice you're pedaling through a completely different landscape now that you're in the Karst region. Take a tour of the Škocjan Caves, whose enormous cathedral-like ceilings and limestone formations are so impressive they were given a UNESCO designation.

Your final destination today is Lipica, home of the famous white Lipizzaner horses.
Overnight Location: Hotel in Lipica
Distance: 50-60km
Meals: Breakfast
Day 9

Ride through the Karst Towns

On your last biking day of the tour, you'll be cycling across the limestone plateau of the Karst region. Stop to sample some of the Teran red wine and prosciutto that are local specialties.

Take your time as you ride between the towns on your way to the Branik train station. Here you'll retrieve the rest of your luggage and return your bikes before you take the train to Ljubljana.
Overnight Location: Hotel in Ljubljana
Distance: 50-60km
Meals: Breakfast
Day 10

Tour Concludes in Ljubljana

After breakfast, take a walk to explore lively Ljubljana. When it's time, a transfer will take you to the airport to depart. Safe travels!
Overnight Location: None
Distance: None
Meals: None

Book Now
Exploring Slovenia by Bike Price and Dates
This self-guided biking tour of Slovenia is run as a custom tour and the price per person is fixed.
The best time to visit Slovenia for this tour is the warmer months of May-September. You can add luggage transfers for a surcharge ($225 USD per person, up to $475 USD per group).
Private Self-Guided Exploring Slovenia by Bike
Have your own private tour with just your group! Prices below are per person:

Self-guided groups of 2+: $1,275 USD
Book Now
Accommodation on Exploring Slovenia by Bike
This tour is based in hotels. You'll be staying in 3-star hotels that are locally run so you can experience true Slovenian hospitality. The itinerary includes some unique stays, including a night at a local farm where you'll get a taste of rural life and local delicacies.
In some cases, the accommodation listed below may need to be substituted for other comparable accommodations.
Single Rooms and Solo Travellers
Rooms are double occupancy. You can pay a supplement of $225 USD to have a private room in a hotel where possible. Solo travellers will be required to pay a supplement.
Hotels on Standard Tour
A 3 or 4-star hotel in Bohinj will be your first home base on the tour, letting you prepare with plenty of modern amenities.
This iconic town is a must-visit for anyone travelling to Slovenia. Lake Bled has a stunning castle built on a lush island. Get your camera out!
Enjoy the night in a comfortable room at a 3-star hotel in a convenient location.
Stay in a comfortable 3-star hotel in Bovec. You'll enjoy being close to restaurants and shops in town your views of the incredible mountain scenery.
Enjoy the night in a comfortable room at a 3-star hotel in a convenient location.
Spend the night at a tourist farm where you'll enjoy traditional delicacies served with locally grown produce.
Stay in a small, locally run 3-star hotel and enjoy a great location and warm hospitality.
Stay at a comfortable small hotel with a 3 or 4-star rating, close to local sites and amenities.
What's Included in the Exploring Slovenia by Bike Tour?
Meals
9 breakfasts and 1 dinner with wine tasting are included.
Accommodations
Accommodations for 9 nights are included. Accommodations before and after the tour in Ljubljana are not included but can be added as a supplement.
Transportation during the Tour
Your transportation is included as outlined in the itinerary, including train tickets and airport transfers. Your luggage will be held for you and brought to you in Ljubljana, and you'll be responsible for carrying your gear between destinations. Luggage transfers can be added for an additional fee if you don't wish to carry it on your bike ($225 USD per person, or up to $475 USD per group).
Also Included
Introductory meeting on Day 1
Bike rental (Trek Hybrid bike with 2 side panniers, helmet, lock, pump, spare tire tube and repair kit)
A self-guided booklet with a detailed itinerary and route guide, which will include train tickets, accommodations, and transfer vouchers
Maps with marked routes and GPS routes
Activities during the tour:

Whitewater rafting tour in Bovec
Entrance to Škocjan Caves
Private transfer from Ljubljana to Bohinj

Private transfers and tickets:

Private transfer from Kranjska Gora to Trenta
Private transfer from Tolmin to Nova Gorica
Train tickets from Bohinjska Bistrica to Bled
Train tickets from Nova Gorica to Divača

24/7 support services
Tourist tax and VAT
Not included
Guide services
Meals, drinks, or snacks not previously mentioned
Luggage transport between hotels: 180 EUR per person, up to 380 EUR per group
Flights
Travel insurance
Visas if required
Personal expenses
Park entrance fees
Gratuities for tour guides or other staff if desired
Optional Extras
Additional nights before or after the tour in Ljubljana
Single occupancy upgrades
Upgrade to e-bike rental (Specialized Turbo Vado 3.0): $50 USD per day
Luggage transfer ($225 USD per person, or up to $475 USD per group)
Optional activities or excursions
Frequently Asked Questions about Exploring Slovenia by Bike
Life Adventures has been running unique adventure tours in Slovenia and Croatia since 1998.
With a young, energetic team behind the scenes, Life Adventures creates unforgettable
journeys for all kinds of travellers. They began with the simple desire to show the beauty of
Slovenia and Croatia to everyone, and now, they've offered amazing adventure tours to
countless travellers.
Stand in the sunshine in the Alps, hike through emerald green valleys, or paddle down rushing
rivers. However you want to explore, Life Adventures has the expertise needed to run an
engaging, hassle-free holiday that you'll never forget!
Learn More
Is this tour for me?
We rate this tour as a 3/5. You should be prepared to cycle for three or more hours each day. The paths are generally well-maintained bike trails and paths, and the tour doesn't include any technical terrain.
Ask a Question
Got any questions regarding the tour? Interested in promotions for groups or want to customize this tour to fit your needs? We are here to help you!
Ask a question