Combine Lake Tahoe snow and Hawaiian sea and sun into one incredible trip
If you've ever struggled to decide between a winter ski holiday or a trip to the beach, this tour declares that you can have both! The California and Hawaii Multisport Self-Drive Tour is a 14-day self-guided tour that begins in the snowy playground of Lake Tahoe and ends on the sandy beaches of Hawaii.
Spend the first week of your tour in Northern California, where you'll have time to explore San Francisco before you head into the mountains. Take the scenic drive into the mountains to the alpine Lake Tahoe and spend your days skiing, snowshoeing, and enjoying the mountain village. After four amazing days in the mountains, it's time to head back to the city so you can fly to tropical Hawaii. Begin with a surf lesson at Waikiki Beach and soak in the surfer culture of Oahu. Then you'll fly to the Big Island where you can visit Volcanoes National Park, discover the multicoloured beaches, and snorkel with the turtles and manta rays. Visit two iconic American vacation spots in one action-packed trip on this tour of a lifetime!
Highlights of the California and Hawaii Multisport Self-Drive Tour
Explore the iconic San Francisco sights, like the Golden Gate Bridge and a visit to Fisherman's Wharf.
Ski the slopes in Tahoe, where you'll enjoy powder and incredible views of alpine lakes.
Take a surf lesson on beautiful Waikiki Beach and practice your new skills on the south Oahu coast.
Discover the coloured beaches and volcanoes as you explore both coasts of Hawaii's Big Island.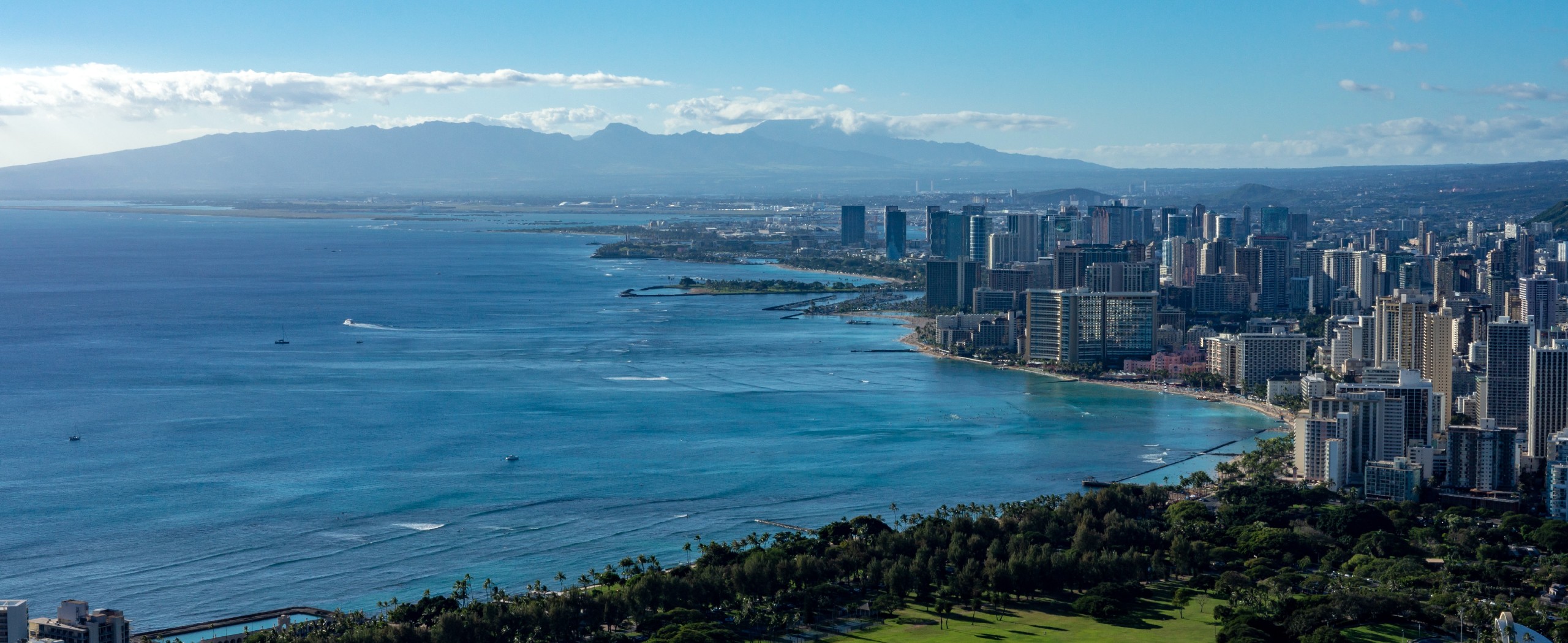 California and Hawaii Multisport Self-Drive Tour Itinerary
Day 1

Start Your Tour in San Francisco

Pick up your rental car when you arrive in San Francisco and check in to your hotel. Explore the city and visit Pier 39 at Fisherman's Wharf for clam chowder and a visit to the local colony of sea lions.
Overnight Location: Hotel in San Francisco
Distance: None
Meals: None
Day 2

Lake Tahoe Road Trip

Spend the morning visiting more of the San Francisco highlights, including Golden Gate Bridge, Alcatraz, and the famous row of Victorian houses known as the "painted ladies."

Enjoy the drive through California's wine country and into the mountains, where you'll find Lake Tahoe. In the afternoon you can go snowshoeing to visit the unique Scandanavian-inspired Vikinghsholm Castle and enjoy the amazing view of Emerald Bay. You could also visit Hansen's Resort for an afternoon of tubing or tobogganing.
Overnight Location: Hotel in Lake Tahoe
Distance: 198 miles
Meals: None
Day 3

Gondola to Heavenly

In the morning you can take the gondola from Lake Tahoe to the ski lifts at Heavenly Village. Enjoy skiing the slopes between California and Nevada at an altitude of 9800 feet. You can also get some thrills on the tobogganing runs or the mountain coaster.

If you'd prefer a more relaxing afternoon, you can take the scenic gondola ride and enjoy the mountain views from the lodge!
Overnight Location: Hotel in Lake Tahoe
Distance: None
Meals: None
Day 4

Ski Day

There are plenty of ski resorts in the area for you to choose from today. A great option is Squaw Valley and Alpine Meadows, two connected resorts combining their hills for a massive ski area with runs for all levels of skiers. Ski the steepest slopes in the area at Squaw Valley, where they hosted the Olympics in 1960, or visit the quieter hills at Alpine Meadows.
Overnight Location:
Distance: None
Meals: None
Day 5

Journey to Sacramento

On your way to Sacramento, you'll pass Kirkwood Ski Resort. Stop here for a few runs since they're famous for their heavy snowfalls and excellent powder. When you arrive in Sacramento you can take a free guided tour of the Capitol buildings or visit Old Sacramento, where you'll find wooden boardwalks and frontier shops and restaurants.
Overnight Location: Hotel in Sacramento
Distance: 200km
Meals: None
Day 6

Explore San Francisco

Today you'll return to San Francisco, so take the opportunity to visit anything you may have missed during your first visit. You can visit Telegraph Hill and climb the Coit Tower for a panoramic city view, or stop by the historic China Town. Spend some time at the Presidio, an enormous park at Golden Gate Bridge where you'll also find the beautiful Palace of Fine Art. If you're in the mood for a museum, you can visit the San Francisco Museum of Modern Art or the Cable Car Museum.
Overnight Location: Hotel in San Francisco
Distance: 90 miles
Meals: None
Day 7

Say Aloha to Hawaii

Catch your flight to Honolulu and leave winter behind! On your first day in Hawaii, you can take a walk on the Waikiki Historic Trail to learn about the history of the city and enjoy the beautiful coast. You can also hike to the top of Diamond Head Crater for spectacular views of the whole island! Or, perhaps you want to post up on the golden sand with a mai tai in hand… We wouldn't blame you.
Overnight Location: Hotel in Honolulu
Distance: Flexible
Meals: None
Day 8

Surfing at Waikiki Beach

Hawaii is known as a surfing mecca, so today you'll visit Waikiki Beach for your own surfing adventure. Start the day with a private lesson to learn the basics or brush up on your skills. Then you can rent a surfboard and practice all day under the gorgeous Hawaiian sun!

Enjoy a spectacular sunset at the beach and then discover one of Honolulu's many incredible restaurants for dinner.
Overnight Location: Hotel in Honolulu
Distance: None
Meals: None
Day 9

Visit Oahu's South and North Shore

Today you can rent a board and hit the surf at the southern shores of Oahu, where the protected waters offer smaller waves for you to enjoy. Then, visit the North Shore to see how the pros do it! Watch world-class surfers from around the world carve the enormous waves as the sun warms your skin.

Enjoy the relaxed vibe at Haleiwa village and don't leave this little surfer town without indulging in a fruit-flavoured shaved ice. Other ways to spend the day include snorkelling in Hanauma Bay or visiting Pearl Harbor.

End the day with a traditional Luau at the Polynesian Cultural Center for an authentic Hawaiian experience you'll never forget.
Overnight Location: Hotel in Honolulu
Distance: None
Meals: None
Day 10

Discover the Volcano on Big Island

Catch a flight to the Island of Hawaii, also known as the Big Island, and head to Volcanoes National Park. Start with a visit to the Jaggar Museum to learn about the volcanic activity on the island, then take a drive around the crater. As you drive the Chain of Craters Road from the crater to the ocean you might be lucky enough to see some lava flowing! Participate in some of the park ranger programs or follow the short paths to explore this unusual park.
Overnight Location: Hotel in Volcano National Park
Distance: 47km
Meals: None
Day 11

Southern or Northern Route to Kona

Today you can choose between two routes to cross the island to Kona. The northern route will take you to Hilo where you can visit its historic downtown, then drive to Akaka Falls State Park to see the beautiful waterfalls. If you take the south route, you'll go through Lava State Park, where you'll discover the forest that was petrified by lava during the 1790 eruption. You can also visit the black and green sand beaches and the Pu'uhonua o Honaunau National Historical Park, which is a sacred site to the Hawaiian people.
Overnight Location: Hotel in Kailua Kona
Distance: 165km
Meals: None
Day 12

Explore Kailua Kona

Enjoy a delicious local coffee this morning from one of the region's coffee plantations. You have the entire day to explore however you'd like. You can take a kayaking trip to discover the Captain Cook monument or visit the Kaloko-Honokohau Historical park to learn about the history and culture of Hawaii. Visit some of the many beautiful beaches with different colours of sand, and look for wildlife like turtles, fish, and manta rays as you swim in the gorgeous water.
Overnight Location: Hotel in Kailua Kona
Distance: None
Meals: None
Day 13

Discover the Beaches of Big Island

Today you have a huge variety of beaches to explore. Swim the quiet waters of Kailua Bay or go to the Magic Sand or Honl's Beach for some bodyboarding. Keauhou and Kamakahonu Bay are both amazing spots to go snorkelling, or you can visit the largest white sand beach on the island at Hapuna Beach State Park.

End your day with an excursion to Mauna Kea where you can watch a spectacular sunset.
Overnight Location: Hotel in Kailua Kona
Distance: None
Meals: None
Day 14

Tour Concludes

If you have time before your flight, you can make a final trip into town. Your tour officially ends and you can begin your onward travel.
Overnight Location: None
Distance: None
Meals: None

Book Now
California and Hawaii Multisport Self-Drive Tour Price and Dates
This self-guided tour of California and Hawaii is run as private tour for your group only, and the price per person depends on how many people are in your group.

Prices below are per person:
Self-guided groups of 2+: $2,095 USD per person
Book Now
Accommodation on the California and Hawaii Multisport Self-Drive Tour
This tour is based in hotels. Hotels on this trip are 3-star and they offer comfortable rooms with modern conveniences in great locations with easy access to local amenities.
In some cases, the accommodation listed below may need to be substituted for other comparable accommodations.
Single Rooms and Solo Travellers
Rooms are double occupancy. Single rooms, including those for solo travelers, are by request and may incur an additional fee.
Hotels on Standard Tour
Hotel in San Francisco, California
For your first night in San Francisco, you'll get comfortable at a 3-star hotel to prepare for the tour ahead.
Hotel in Lake Tahoe, California
Lake Tahoe is a stunner, and you'll be close to all the action in your nicely located hotel.
Hotel in Sacramento, California
After so much great skiing, you'll be ready to hit the hay in your Sacramento hotel.
Hotel in San Francisco, California
For your first night in San Francisco, you'll get comfortable at a 3-star hotel to prepare for the tour ahead.
Hotel in Honolulu, Hawaii
Welcome to Hawaii! Toss your bags in your welcoming hotel and get to the beach.
Hotel in Volcanoes National Park, Island of Hawaii
The fascinating Volcanoes National Park will be your home for the night, with an accommodating hotel to welcome you.
Hotel in Kailua Kona, Island of Hawaii
For your final nights, you'll enjoy a well-equipped hotel in Kailua Kona.
What's Included in the California and Hawaii Multisport Self-Drive Tour?
Meals
There are no meals included in this tour.
Accommodations
Accommodations for 13 nights are included. Accommodations before the tour in San Francisco and after the tour in Kona are not included but can be added as a supplement.
Transportation during the Tour
This is a self-drive tour, so you'll be provided with a rental vehicle for the duration of the itinerary. Flights between San Francisco to Hawaii and in between the islands in Hawaii are not included.
Also Included
Standard vehicle rental, Category B
1-hour private surf lessons at Waikiki Beach
US taxes
24/7 access to helpline
Not included
Guides
Flights
Meals, drinks, or snacks not previously mentioned
Travel insurance
Personal expenses
Optional activities
Entrance fees to parks
Gratuities for tour guides or other staff if desired
Vehicle Insurance
Fuel
Optional Extras
Additional nights before or after the tour
Single occupancy upgrades
Optional activities or excursions
Kirkwood and Heavenly ski rentals and ticket packages
Frequently Asked Questions about California and Hawaii Multisport Self-Drive Tour
In the two decades since Toundra Voyages Inc. was founded in 1998, the company has become North America's go-to travel agency in customized independent and group tourism.
Tounda takes a flexible, responsive approach to developing adventure travel tours. By listening to the wants and wishes of travellers, they've been able to create memorable, affordable tours complemented by impeccable service.
Toundra's mission is to create and organize tailor-made travel. They select, adapt, and personalize travel experiences in North America for each and every guest, ensuring your adventure is one you'll never forget.
Meeting your expectations is just the beginning of what Toundra aims to accomplish. Exceeding them by providing exceptional experiences in beautiful North America is their standard, and their track record of knockout customer service and customized tour planning speaks for itself.
Learn More
Is this tour for me?
We rate this tour as a 2/5. This tour has a focus on outdoor activities including skiing, snowshoeing, hiking, surfing, and snorkelling. However, you can choose how you want to spend your time and the level of difficulty. Surf lessons are private so they are suitable for beginners and advanced surfers, and ski hills have runs appropriate for all skill levels. You can tailor your experiences to suit your level, but you should be generally active to get the most out of this tour.
Ask a Question
Got any questions regarding the tour? Interested in promotions for groups or want to customize this tour to fit your needs? We are here to help you!
Ask a question