Hike across beautiful Elba Island on a self-guided tour on the GTE Trail
Take 7 days to complete the great crossing or " Grande Traversata Elbana" (GTE) on this self-guided tour. As you traverse Tuscany's oceanic gem, Elba Island, you'll discover the stellar beaches, forested trails, and sky-high viewpoints that make hiking this region unforgettable.
Elba Island offers beautiful, challenging hikes that often finish at the Mediterranean Sea. Perfect, right? On this tour, you'll hike from one end of the island to the other while enjoying amazing views of the mountains and the coast of Tuscany that lie across the sparkling waters of the ocean. The Grand Traverse of Elba Island (GTE) is simply magical!
Highlights of the The Grand Traverse of Elba Island (GTE)
Traverse Elba Island, one of Tuscany's gems, discovering perfect beaches and green-clad mountains.
Enjoy the spectacular views across the water, interesting landscapes, and ancient churches along your route.
Take advantage of your hotel's coastal locations to visit the spectacular waterfronts, including the gorgeous Procchio Beach.
Explore the charming mountain village of Marciana and try the delicious local cuisine.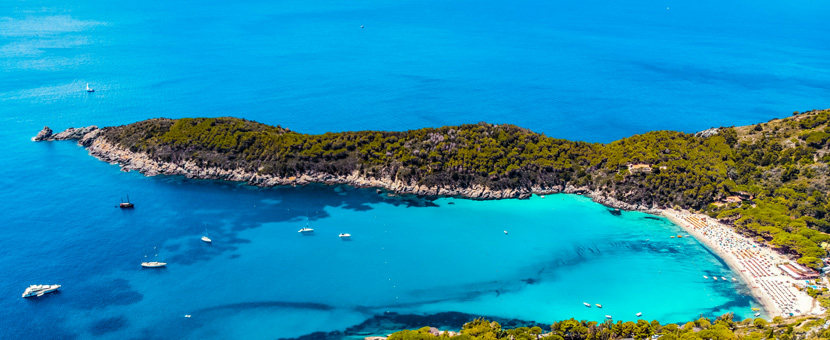 The Grand Traverse of Elba Island (GTE) Tour Itinerary
Day 1

Warm-Up Hike in Cavo

Take the ferry from Piombino to Cavo and check-in at your hotel. Once you're settled in you can take a hike after lunch to warm up your legs. The Capo Vita hike is a short but beautiful walk, perfect to get acclimated to the region.

Rest well tonight, as tomorrow's hike is the longest of the tour.
Overnight Location: Hotel in Cavo
Distance: 2 hours, 4 km
Meals: Dinner
Day 2

Begin the Grande Traversata Elbana

Today you'll begin your crossing of the Grande Traversata Elbana or GTE. The first leg will be the longest and most strenuous of your hikes. It begins in Cavo and leaves the coastal town to cross the Monte Grosso and Cima del Monte mountains. Along the way, you'll enjoy spectacular views of the coast and the Tuscan shores.

In the afternoon you'll visit the chapel of Santa Caterina and the miner's town Rio nell'Elba. When you reach Porto Azzurro, you can reward yourself with a swim in the beautiful crystal waters of the bay.
Overnight Location: Hotel in Porto Azzurro
Distance: 6 hours, 20 km, 900m of ascent, 900m of descent
Meals: Breakfast and dinner
Day 3

Walk Through the Centre of Elba

After yesterday's efforts, you'll appreciate the easier trails today. The route is long but it follows peaceful gravel roads and pleasant forest paths as you walk up the centre of the island. You'll have some beautiful views of Portoferraio and the island of Montecristo from various points along your route.

Finish your hike with a beach walk (and maybe a swim!) along the longest beach on the island to reach your hotel.
Overnight Location: Hotel in Procchio
Distance: 6 hours, 22 km, 750m of descent
Meals: Breakfast and dinner
Day 4

Walking the Highest Points of the Island

Your hike today will be strenuous, as you'll be climbing near Monte Capanne, up to about 1,000 meters above sea level. As you climb the rocky trails today you'll pass through a butterfly sanctuary, so keep your eyes peeled for these fluttering critters.

You'll eventually find yourself in Marciana. Spend some time exploring this quaint mountain village before walking down to your hotel in Marciana Marina. You can also shorten your walk if you'd rather take the public bus from Marciana to Marciana Marina.
Overnight Location: Hotel in Marciana Marina
Distance: 5 hours, 18 km, 1000m of ascent, 600m of descent
Meals: Breakfast and dinner
Day 5

Follow Historic Paths to Pomonte

To rejoin the GTE Trail, you'll want to take the bus back up to Marciana. After your first few kilometres, you'll reach an ancient church where Napoleon once stayed. You'll also find a freshwater fountain where you can fill up for your hike.

Along the trail today you'll see rock formations that resemble statues, and you'll be walking the ancient paths that have connected the mountain towns for hundreds of years. You'll end your day in the village of Pomonte, where your hotel and luggage await.
Overnight Location: Hotel in Pomonte
Distance: 3 hours, 13 km, 300m of ascent, 800m of descent
Meals: Breakfast and dinner
Day 6

Explore Pomonte

At the end of the GTE, Pomonte offers beautiful places to swim and explore. Today you have a free day to choose your own hike to enjoy the valley. The "Sentiero delle Cantine" is a great option, as this hike takes you through ancient farms and former vineyards.

If you're hiked out, feel free to enjoy the water today instead.
Overnight Location: Hotel in Pomonte
Distance: 3 hours, 6 km, 400m of ascent, 400m of descent
Meals: Breakfast and dinner
Day 7

Final Day in Pomonte

Your tour ends today after breakfast. A transfer will take you to the Portoferraio ferry port where you'll take the boat back to the mainland. Addio!
Overnight Location: None
Distance: None
Meals: Breakfast

Book Now
The Grand Traverse of Elba Island (GTE) Tour Price and Dates
This self-guided walking tour in Italy is run as a private tour for your group only and the price depends on the time of the year.

The prices below are per person:
Self-guided groups of 2+: $950 USD per person
Self-guided groups of 2+ in high season (June 15th - 30th and September 1st - 15th): $1,075 USD per person
Book Now
Accommodation on The Grand Traverse of Elba Island (GTE) Tour
This tour is based on 2 to 4-star hotel accommodations. The hotels offer comfortable rooms with great locations.
In some cases, the accommodation listed below may need to be substituted for other comparable accommodations.
Single Rooms and Solo Travellers
Rooms are double occupancy. Please contact us if you wish to add a single occupancy upgrade or solo traveller supplement.
Hotels on Standard Tour
Enjoy a night in a well-situated hotel that offers easy access to the many hiking trails for you to explore in Cavo.
Spend the night in the lovely harbour town of Porto Azzurro. Your hotel will be 2 to 4-star.
Your hotel in Procchio is situated near the longest beach on the island, so be sure to leave some time to go for a stroll and a swim.
Spend the night at a comfortable hotel in Marciana Marina. You'll want to spend all your time exploring the beautiful coast and enjoying the water.
Enjoy comfortable midrange accommodations at the western shore of the island in Pomonte. Here you'll find endless trails to explore.
What's Included in The Grand Traverse of Elba Island (GTE) Tour?
Meals
6 breakfasts and 6 dinners are included on this tour. Your dinners will usually be three courses and do not include your beverages.
Accommodations
Accommodations for 6 nights are included. Accommodations before the tour in Cavo and after the tour in Pomonte are not included but can be added to extend your stay.
Transportation during the Tour
Transport for your luggage between your hotels is included as per the itinerary. Transportation to the ferry in Portoferraio is also included at the end of your tour.
Also Included
Roadbook with detailed trail descriptions
Hiking map of Elba
Public bus from Marciana to Marciana Marina and back
Not included
Arrival and departure ferry transportation to Elba Island
City tourist tax, which is paid to the hotel on arrival (usually nominal)
Travel insurance
Lunches, drinks and snacks not previously mentioned
Visas if required
Personal equipment
Fees not mentioned as included
Admissions or entrance fees
Gratuities for drivers, servers, or hotel staff if desired
Optional Extras
Airport transfers at the beginning and end of the tour can be pre-booked
Additional nights can be added at any of the locations throughout the itinerary
Single room upgrades
Solo traveller supplements
Frequently Asked Questions about The Grand Traverse of Elba Island (GTE)
Arbaspàa was formed in 2001, and headquartered in Manarola, with a second office in La Spezia. They are committed to providing guests with the best experience exploring the most incredible places in Liguaria.
Learn More
Is this tour for me?
We rate this tour as a 4/5. This tour consists of hikes that are up to 22 km per day. The routes are strenuous through mountainous and hilly terrain, and the trails can be steep and narrow. You should be a fit hiker to get the most out of this tour.
Ask a Question
Got any questions regarding the tour? Interested in promotions for groups or want to customize this tour to fit your needs? We are here to help you!
Ask a question