Explore remote Iceland and Greenland on foot
Extremely remote trekking in little-visited locations—if these words excite you, the 11-day Ultimate Iceland and Greenland Trekking Tour will too! Spend the first half of the tour hiking along the world-class Laugavegur Trail in southwest Iceland, then fly over the Denmark Strait and experience the rugged and untouched East Greenland backpacking through the fjords. Expect to see a whole spectrum of landscapes, including black-sand deserts, yellow rhyolite mountains, red-rock canyons, freezing seas dotted with icebergs, tall granite peaks, and deep fjords. You'll trek your way across them all following your qualified guide and spending each night in either mountain huts or two-person tents. If you want to leave your comfort zone behind and head to Iceland and Greenland for an ultimate trekking experience, the Ultimate Iceland and Greenland Trekking Tour awaits.
Highlights of the Ultimate Iceland and Greenland Trekking Tour
Trek a total of 118 km across remote and wild hiking regions in Iceland and Greenland.
Visit the third-largest geothermal area in the world in the Landmannalaugar valley.
Hike such remote routes in Greenland that you're unlikely to see any other people for days (except your group, of course).
Visit an Inuit village in Greenland and learn how they thrive in this remote area.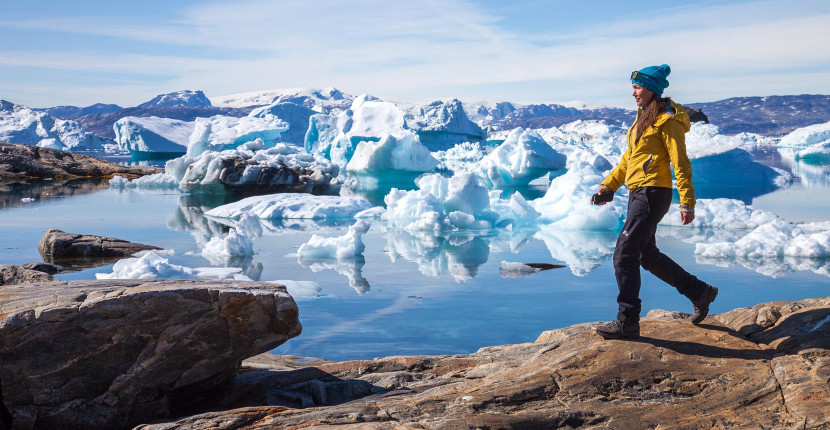 Ultimate Iceland and Greenland Trekking Tour Itinerary
Day 1

Trek to Hrafntinnusker

Welcome to Iceland! Meet your guide and group at the Reykjavík bus station to depart for the trailhead. On the way, you can gaze out the window at the amazing landscapes that you'll be exploring over the next week. Arrive at Landmannalaugar by noon, have lunch, then head onto the first section of the Laugavegur Trail. This area is in a geothermal hotspot, which you'll notice as you pass several steaming hot springs. Your first mountain hut accommodation awaits in Hrafntinnusker. Set down your packs and relax as your guides prepare your first Icelandic dinner. Settle into your cozy dorm room for a good night's sleep.
Overnight Location: Mountain hut
Distance: 12 km, 4–5 hours, 470 m of ascent/descent
Meals: Dinner
Day 2

Trek to Álftavatn Lake

After you wake up, gather for breakfast with your group. Today's route heads south through the gullies of Jökultungur, packed with hundreds of steaming mineral springs and mud pools. Continue on the path to an exceptional viewpoint to see the vast Mýrdalsjökull and Eyjafjallajökull glaciers. Arrive at the lakeside hut in Álftavatn by the late afternoon. Take some time this evening to meander around the lake. Then, find a secluded spot and watch a magical sunset. Rest well after dinner, and prepare for a big day tomorrow.
Overnight Location: Mountain hut
Distance: 12 km, 4–5 hours, 490 m of ascent/descent
Meals: Breakfast, lunch, dinner
Day 3

Hike to Emstrur Region

Rise in time for sunrise, then enjoy a hearty breakfast. Heading south on the Laugavegur Trail, you enter into the enchanting black-sand deserts and see a striking green volcano. As you continue, the landscapes will change again as you come across the Emstrur region of rolling green hills with snowy peaks in the background. Before reaching your hut accommodation, stop at the Markafljót Canyon to visit this remarkable cave that cuts into the rock for 200 metres. Once you settle into the hut, have a delicious dinner, and maybe walk out to check out the stars when it gets dark.
Overnight Location: Mountain hut
Distance: 16 km, 6–7 hours, 40 m of ascent/descent
Meals: Breakfast, lunch, dinner
Day 4

Trek to Þórsmörk (Woods of Thor)

After breakfast, you'll set out for another incredible day of hiking through Icelandic nature. Start the day exploring the valleys and gorges of Emstrur. Admire the changing scenery as you come upon birch forests and fields of colourful blossoms in Þórsmörk. Follow your guides to your hut accommodation for the night, feast on dinner, then hit the hay.
Overnight Location: Mountain hut
Distance: 17 km, 6–7 hours, 300 m of ascent/descent
Meals: Breakfast, lunch, dinner
Day 5

Return to Rekjavík

Your legs will get a break today. Start the day on an easy route exploring the nearby trails in Þórsmörk. Your group can choose from a few different options, including the Sönghellir Cave with fantastic acoustics, or hike to the summit of a nearby mountain for some final views of the Laugavegur Trail. In the afternoon, the group returns to Reykjavík for a night in the city before departing for Greenland tomorrow. Spend the night in a guesthouse in Reykjavík.
Overnight Location: Guesthouse in Reykjavík
Distance: 2–5 hours
Meals: Breakfast, lunch
Day 6

Fly to Greenland and Camp at Qinertivaq Fjord

In the late morning, you will be transferred to Reykjavík Airport to depart for Greenland. The flight is about 2 hours to Kulusuk Airport, and after landing, you'll walk into the village of Kulusuk—a village with a population of about 300. Your group will depart on a speed boat through icy waters dotted with icebergs in the late afternoon. Once you reach the Qintertivaq Fjord, you'll disembark and set up camp at the base of the fjord—a breathtaking campsite!
Overnight Location: Camping
Distance: Walk: 1 hour; Boat: 1.5 hours
Meals: Breakfast, lunch, dinner
Day 7

Trek to Trout Lake and Semilik Icefjord

Rise and shine for your first full day in Greenland. After a campsite breakfast prepared by your guides, start the hike towards Sun Gate Mountain near Trout Lake, seeing an ethereal reflection of the mountains in its waters. Continue through a narrow valley with tall granite peaks on both sides. Look out for arctic flora here, like willows, arctic craw berries, and native arctic flowers. Head into the Semilik Icefjord packed with icebergs varying in size—the scenery will take your breath away. Follow your guide to your campsite for the night and enjoy the divine beauty around you.
Overnight Location: Camping
Distance: 17 km, 7 hours, 300 m of ascent, 300 m of ascent/descent
Meals: Breakfast, lunch, dinner
Day 8

Hike to Paarnakajiit Peninsula

Wake up to views of the impressive icefjord and begin the journey down a small path with precarious slopes. Come upon a tiny sandy beach dotted with small icebergs—not your regular beach vacation! Crossing over a river, you'll follow your guide into the arctic tundra wetlands until reaching the Paarnakajiit peninsula. Set up camp in this remote location, where you are sure to witness a spectacular sunset as it lowers behind the sea of icebergs around you.
Overnight Location: Camping
Distance: 14 km, 6–7 hours, 200 m of ascent, 200 m of ascent/descent
Meals: Breakfast, lunch, dinner
Day 9

Trek to Amitsivartiva Narrow Fjord

After a hearty breakfast, begin today's trek. First, you'll hike near a narrow lake, then come upon a shallow fjord packed with small icebergs. Hiking across flat moorlands, you'll eventually meet up with a river, leading you to a beautiful blue-green lake. Cross a narrow part of the river and continue walking until you arrive at Amitsivartiva Narrow Fjord to build camp and spend the night.
Overnight Location: Camping
Distance: 12 km, 6 hours, 150 m of ascent, 150 m of ascent/descent
Meals: Breakfast, lunch, dinner
Day 10

Visit Tiniteqilaaq Village and Return to Kulusuk

Fill up on breakfast, because your day starts with a climb! Hiking above the Sermilik Icefjord on a mountain ridge will give you outstanding views over the enormous icefjord to the west and jagged peaks to the east. The views continue to impress as you walk along the ridge, eventually coming upon the tiny village of Tiniteqilaaq. The guide will accompany you on a short visit to this village with only 200 inhabitants. After the visit, hop on a boat destined for Kulusuk and spend your last night of the tour in a cozy hostel. Perhaps your crew wants to share a beverage or two to celebrate the end of the tour—appreciate your last night together and all you've accomplished.
Overnight Location: Hostel in Kulusuk
Distance: 14 km, 7 hours, 500 m of ascent, 500 m of ascent/descent
Meals: Breakfast, lunch, dinner
Day 11

Fly to Reykjavík and Farewell

Have a final breakfast with your group in Kulusuk, then head to the airport for your return flight to Reyjavík. The tour ends at the Reykjavík airport, where you can bid farewell to your new friends and continue to the next leg of your journey, whether that's home or elsewhere.
Overnight Location: None
Distance: None
Meals: Breakfast

Book Now
Ultimate Iceland and Greenland Trekking Tour Price and Dates
This guided tour in Iceland and Greenland is always run as a group tour on fixed dates, therefore the price is fixed.

Important note: This tour is not available in 2022. Please contact us for availability of 2023.
Book Now
Accommodation on the Ultimate Iceland and Greenland Trekking Tour
On this tour, you will stay in traditional mountain huts, spend 4 nights camping, 1 night in a guesthouse, and 1 night in a hostel. The mountain huts are basic but do provide running water, flushable toilets or outhouses, and fully-equipped kitchens. You can choose to bring your own sleeping bag or rent one from the tour company. The huts are divided into dormitories with single and twin beds. Two-person tents will be provided for camping nights. The guesthouse and hostel have basic amenities for a comfortable stay.
In some cases, the accommodation listed below may need to be substituted for other comparable accommodations.
Single Rooms and Solo Travelers
Single rooms are not available on this tour as mountain huts only have shared dormitories.
Hotels on Standard Tour
Stay in a shared mountain hut. You'll have access to basic amenities and shared dormitories for a comfortable night in the wilderness.
What's included in the Ultimate Iceland and Greenland Trekking Tour?
Meals
10 breakfasts, 10 lunches, and 9 dinners are included.
Accommodations
Accommodation for 10 nights is included in the tour.
Transportation during the Tour
Transportation for your luggage is included during the tour. Bus transport is included at the beginning and end of the trek to and from Reykjavík. The tour also includes flights between Iceland and Greenland, transfer to the Reykjavík Airport on Day 6, and boat transfers in Greenland.
Also Included
English-speaking experienced and qualified guide
Two-person tents for camping
Not included
Sleeping bag (available to rent)
Showers in mountain huts (available for a fee)
Dinner in Reykjavík on Day 5
Personal expenses and gratuities
Travel insurance
Any international flights outside of tour itinerary
Anything not mentioned as "Included"
Optional Extras
Sleeping bag rental
Transfers from accommodation to bus stop in Reykjavík
Extra nights in Reykjavík before or after the tour
Frequently Asked Questions about Ultimate Iceland and Greenland Trekking Tour
Icelandic Mountain Guides are a boutique adventure tour company that has been sharing the best of Iceland's beautiful wilderness since 1994. Their passion for nature and adventure drives them to provide quality, fun and educational experiences for their guests. They are also committed to the environment, carbon neutralizing all of their day tours.
Learn More
Is this tour for me?
We rate this tour as a 4 / 5. You should be comfortable hiking for up to 7 hours, sleeping in remote mountain huts, and camping during the tour.
Ask a Question
Got any questions regarding the tour? Interested in promotions for groups or want to customize this tour to fit your needs? We are here to help you!
Ask a question