Hike the enchanting volcanic trails all over Iceland on this 7-day adventure tour
The 7-day Volcanic Trail Trekking Tour is an Icelandic adventure that brings you into a world of ancient lava formation, mossy peaks, black-sand terrain, and through the depths of grand canyons.
Follow your experienced guide through Vatnajökull National Park and connect to the famous Laugavegur Trail. Rugged landscapes abound in this area of Iceland, full of craters, canyons, and mystical scenery that will amaze you.
With many long days of hiking, you'll welcome the opportunity to recharge in a natural hot spring on Day 5, giving you the extra energy you need to complete the loop. Your group and guide will undoubtedly bond as you trek through the vast, untouched, unbelievable nature in Iceland. The Volcanic Trails Trekking Tour is an unforgettable adventure!
Highlights of the Volcanic Trails Trekking Tour
Enjoy the tranquility of Vatnajökull National Park and the majestic mossy landscapes.
Observe moss-covered lava fields extending to the horizon from the top of Mt. Sveinstindur.
Hike through a lava forest where the rock formations have hardened into "trees."
Spend each night in rustic accommodation far removed from civilization. Just you and the outdoors!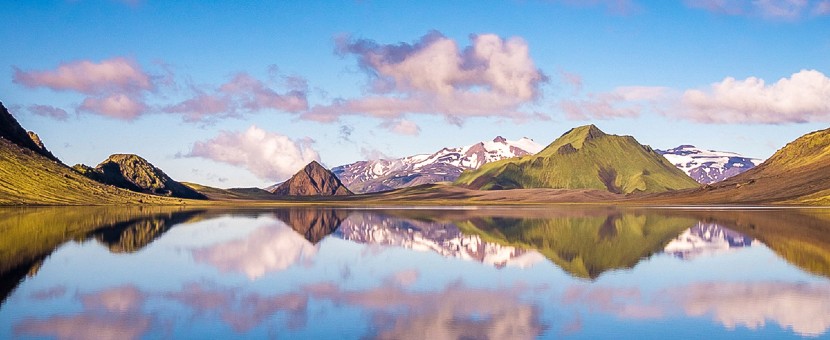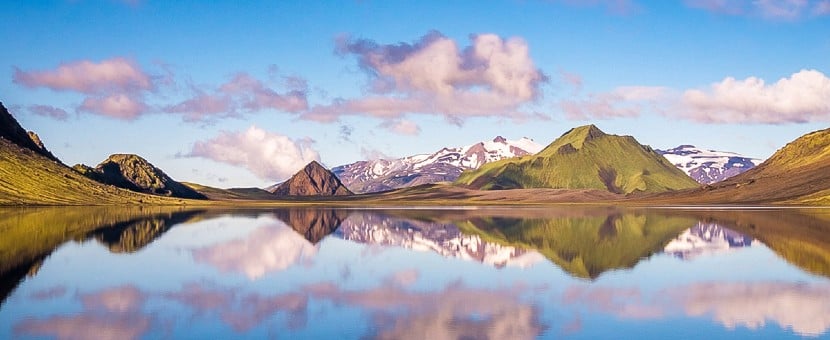 Volcanic Trails Trekking Tour Itinerary
Day 1

Reykjavík to Sveinstindur

Welcome to Iceland! Head to the Reykjavík bus station to meet your guide and group and hop on the bus towards the trailhead. When you start the trek, be prepared to be astounded by the epic landscapes of high peaks and icy lakes. Today, you'll climb Mt. Sveinstindur (the Explorer's Peak), leading to views overlooking volcanic lands dotted with lakes and mossy peaks. Hike up to Vatnajökull glacier, then descend to your rustic mountain hut on the other side. Enjoy an Icelandic dinner prepared by your guide and get a good night's sleep immersed in this enchanting land.
Overnight Location: Mountain hut
Distance: 6 km, 480 m of ascent/descent
Meals: Dinner
Day 2

Hike to Skælingar

After breakfast in the hut, set out to explore some authentically volcanic terrain. Start by following the Skaftá River, rushing with rapids and waterfalls, leading to an incredible canyon. The land comprises black lava patches, vibrant moss, and varying geological formations. Finish the day in the Skælingar area, known for its lava forest of "trees" formed from ancient lava deposits. You'll reach a remote hut near the Skaftá River and settle in for the night.
Overnight Location: Mountain hut
Distance: 16–18 km, 6–8 hours, 250 m of ascent/descent
Meals: Breakfast, Lunch, Dinner
Day 3

Trek to Eldgjá (Canyon of Fire)

Once you've finished breakfast, pack up for a truly adventurous day. Walk along volcanic trails of hardened lava covered in moss, then descend into Eldgjá, the Canyon of Fire—an impressive geological formation of high cliffs, vivid green moss, and cascading waterfalls. Continue to Hólaskjól to reach your mountain hut accommodation, enjoy dinner, and get some rest after a long hiking day.
Overnight Location: Mountain hut
Distance: 18 km, 6–8 hours, 350 m of ascent/descent
Meals: Breakfast, Lunch, Dinner
Day 4

Hike to Álftavötn

Continuing on your volcanic trail exploration, you'll hike to the Áftavötn region filled with lakes formed from past eruptions. Following along a stunning river, you'll cross over landscapes that seem like different planets. Enjoy a shorter hike today, and take a moment to recharge once you reach the traditional hut for the night. The serenity of your surroundings lends well to meditation and relaxation.
Overnight Location: Mountain hut
Distance: 7–10 km, 5–6 hours, 150 m of ascent/descent
Meals: Breakfast, Lunch, Dinner
Day 5

Strútslaug Hot Spring and Trek to Strútur

Fuel up on breakfast for a big day. Follow your guide into the magical terrain and notice the changing landscapes from meadows to black-sand deserts with vivid moss streaks. In the afternoon, rejuvenate your muscles in the inviting Strútslaug natural hot spring. Forge on after the warm dip to the mountain hut in Strútur, with vast views of the green hills surrounding you.
Overnight Location: Mountain hut
Distance: 24 km, 7–8 hours, 300 m of ascent/descent
Meals: Breakfast, Lunch, Dinner
Day 6

Hike to Hvanngil

After breakfast, set out for your last full day of your volcanic trails trek. Begin the day walking across a black sand plain, then be prepared to ford a few rivers. Upon entering the Hvanngil valley, you'll begin to see green meadows to the horizon with some rocky peaks jutting out from the earth. Follow your guide to the hut and relax as dinner is prepared. Enjoy your final night with your group in the Icelandic wilderness, and congratulate yourselves on all you've accomplished over the last week.
Overnight Location: Mountain hut
Distance: 14–18 km, 5–6 hours, 150 m of ascent/descent
Meals: Breakfast, Lunch, Dinner
Day 7

Álftavatn (Laugavegur Trail) and Return to Reykjavík

Rise early and catch the sunrise over the mossy plains around the hut. Enjoy a final breakfast, then hike to meet up with a section of the famous Laugavegur Trail. Climbing over a small pass, you'll reach views of Álftavatn (Swan Lake), which is your final destination of today's trail. Once you get to the lake, you'll receive a transfer to your accommodation in Reykjavík. Bid farewell to your group here—high-fives all around!
Overnight Location: None
Distance: None
Meals: Breakfast

Book Now
Volcanic Trails Trekking Tour Price and Dates
This guided tour in Iceland is always run as a group tour on select dates, therefore the price per person is fixed.

Prices below are per person:
Book Now
Accommodation on the Volcanic Trails Trekking Tour
This tour is based in traditional mountain huts. The huts are basic but do provide running water, flushable toilets, or outhouses, and fully equipped kitchens. You can choose to bring your own sleeping bag or rent one from the tour company. The huts are divided into dormitories with single and twin beds.
In some cases, the accommodation listed below may need to be substituted for other comparable accommodations.
Single Rooms and Solo Travelers
Single rooms are not available on this tour as mountain huts only have shared dormitories.
Hotels on Standard Tour
Stay warm and dry in expedition-style two-person tents. Set up camp in the most spectacular and remote sites.
What's included in the Volcanic Trails Trekking Tour?
Meals
All 6 breakfasts, 7 lunches, and 6 dinners are included.
Accommodations
Accommodation for 6 nights is included in the tour.
Transportation during the Tour
Transportation for your luggage is included during the tour. Bus tickets are included at the beginning of the trek from Reykjavík, and private transport is included to return to Reykjavík at the end.
Also Included
English-speaking mountain guide
Not included
Sleeping bag (rental available)
Shower in mountain hut (available for a fee)
Personal expenses and gratuities
Travel insurance
Flights
Anything not mentioned as "included"
Optional Extras
Sleeping bag rental: $75 USD per person
Hiking poles rental: $25 USD per person
Extra nights in Reykjavík before or after the tour:

Guesthouse accommodation: $195 USD per person in a dbl room, or $295 USD per person in a single room
3-star hotel accommodation: $250 USD per person in a dbl room, or $450 USD per person in a single room
Frequently Asked Questions about Volcanic Trails Trekking Tour
Icelandic Mountain Guides are a boutique adventure tour company that has been sharing the best of Iceland's beautiful wilderness since 1994. Their passion for nature and adventure drives them to provide quality, fun and educational experiences for their guests. They are also committed to the environment, carbon neutralizing all of their day tours.
Learn More
Is this tour for me?
We rate this tour as a 4 / 5. You should be comfortable hiking for up to 8 hours and sleeping in remote mountain huts during the tour.
Ask a Question
Got any questions regarding the tour? Interested in promotions for groups or want to customize this tour to fit your needs? We are here to help you!
Ask a question