Discover the rolling landscapes and vast history spanning England's countryside
Explore the best of Northern England on this self-guided walking tour that combines the Lake District and part of Hadrian's Wall Path.
The Hadrian's Wall and English Lake District walking tour will have you walking through history and ruins, or basking in the glistening lakes spanning England's beautiful north.
The first half of this journey will take you—by foot—along Hadrian's Wall, where undulations carved out in the hilly landscape and the history of the 2,000-year-old Hadrian's Wall combine to form one unforgettable experience. In the second half of the tour, you will spend time soaking in England's Lake District, a prized and rare natural hotspot that has attracted vacation-goers for over 300 years.
Highlights of the Hadrian's Wall & the Lake District
Discover the remnants of Roman ruins dotting England as you embark on a pilgrimage along Hadrian's Wall.
Enjoy the England's incredible Lake District, home to some of the best walking in all of Europe.
Explore the depths of Keswick's vast scenery on a cruise on Derwentwater or by walking the nearby hills.
Spend pleasant evenings relaxing in the quiet, charming atmosphere of local pubs.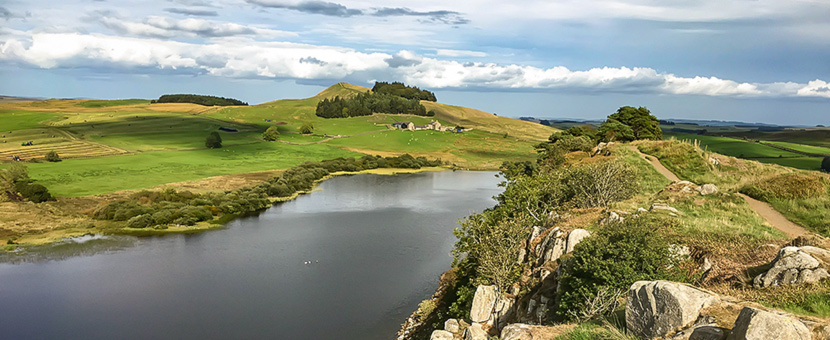 Hadrian's Wall and The English Lake District Tour Itinerary
Day 1

Carlisle to Banks

Begin this seven-day exploration of England's countryside in Carlisle! Start your 21 km trek to Banks in the early morning. Opt to check out a historical masterpiece—Carlisle Castle—for a £9.00 entry fee (paid locally) before you hit the trail. Keep in mind that this activity is time dependant. This portion of the walk will take you through fields of farmland, propelling your chances of encountering a collection of animals en route. Spend the night relaxing in Banks.
Overnight Location: Hotel in Banks
Distance: 21 km
Meals: None
Day 2

Walk to Once Brewed

Munch on breakfast, tie up your laces and get ready for a day of winding through farmland. But today's journey will also introduce you to some remnants of ancient Roman history. Stumble upon the most preserved turret on the west end of Hadrian's Wall at the beginning of your journey. Pass by another ancient relic—Thirwall Castle—en route. Recharge in Once Brewed overnight.
Overnight Location: Hotel in Once Brewed
Distance: 21 km
Meals: Breakfast
Day 3

Walk to Chollerford

Expect to encounter an explosion of ruins on today's 20-km promenade. Begin your day with breakfast before you commence on a journey that will have you marvelling at how Hadrian's Wall falls with the undulations engraved in the landscape while scenic views blanket the space below. Admire the turrets, fortresses, and other Roman remains as you walk. Check into your hotel in Chollerford and enjoy a pleasant, chilled-out evening.
Overnight Location: Hotel in Chollerford
Distance: 20 km
Meals: Breakfast
Day 4

Transfer to Keswick

Take a mid-morning transfer from Chollerford to Keswick. Reach the quaint town of Keswick and be captivated by this pretty town. Enjoy a wander in the charming town of Keswick. If you're keen, try and fit in a quick hike, such as to nearby Catbells, an 8 mile roundtrip. Spend the night at a hotel in Keswick.
Overnight Location: Hotel in Keswick
Distance: None
Meals: Breakfast
Day 5

Explore the Lake District

Spend the day soaking up valuable lakeside activities! You have the option of enjoying one of the many nearby walks or to tap into luxury and go on a cruise on Derwentwater! Enjoy a spectacle of views, including a glimpse of the fourth-highest mountain in England. Discover the vast vistas and significant natural attractions spanning the area on this cruise. Spend the evening exploring and chilling in Keswick.
Overnight Location: Hotel in Keswick
Distance: Optional
Meals: Breakfast
Day 6

Explore the Lake District

Today is another day to explore a new walking route in the Lake District. Jump on a local bus to one of the many exceptional walks. Return to Keswick and spend the remainder of the day basking in Keswick's laidback atmosphere and marvelling at the enjoyable views tucked into the corner of England's countryside.
Overnight Location: Hotel in Keswick
Distance: Optional
Meals: Breakfast
Day 7

Farewell

Eat breakfast, say your goodbyes, and depart Keswick.
Overnight Location: None
Distance: None
Meals: Breakfast

Book Now
Hadrian's Wall and The English Lake District Tour Price and Dates
This self-guided walking tour in England is always run as a custom tour for your group only and the price is fixed per person staying in a double room. Single rooms are also possible on request for an extra charge. Please note, that booking this tour on short notice might increase the tour price, as the accommodation options here are limited and on high demand. The best time to travel to England for this walking tour is from mid-April to the end of October.

Price per person staying in a double room - $925 USD
Book Now
Accommodation on Hadrian's Wall and The English Lake District Tour
This tour includes accommodation in cozy guest houses and hotels. Each room offers modern amenities that will help to elevate your level of comfort after a long day of hiking. Expect to stay in a room with another member of the tour or upgrade to single occupancy for an additional fee.
Note that specific accommodation may vary based on availability but will be substituted with accommodations of a similar standard.
Single Rooms and Solo Travelers
Single rooms for this tour are on request, and the price depends on the season, availability, and the number of days left until your travel. Please inquire to find out more.
Hotels on Standard Tour
What's included in the Hadrian's Wall and The English Lake District Tour?
Meals
6 breakfasts are included.
Accommodations
Accommodations for 6 nights along the tour are included.
Transportation during the Tour
Transport for your luggage is included throughout the tour. You must make a way to the start of the trail yourself and you will have to pay for public transport transfers during the tour.
Also Included
Detailed route guide
Taxes
Not included
Guide services
Insurance
Personal expenses
Transport
Cruise on Derwentwater
Anything not stated as 'included'
Public transport from Chollerford to Keswick
Optional Extras
Entry to the Carlisle Castle - $25 USD per person
Extra night before or after the tour
Transport from Newcastle to start the tour
Frequently Asked Questions about Hadrian's Wall & the Lake District
EasyWays is a boutique adventure tour operator, specializing in self-guided walking tours in Scotland and Northern England. They are founded on the close attention to detail that comes from knowing Scotland inside and out. With extensive knowledge of the country and the people, they can advise accurately on each walking tour to choose the right adventure for their clients.
EasyWays can also offer classic Scottish experiences to complement their walking tours, including distillery visits, Highland Games tickets, and visits to cultural and historical places of significance.
EasyWays has also expanded into Spain and Italy to offer more walking tours than ever before.
Learn More
Is this tour for me?
We rate this tour as a 3 / 5. Although the distances of this tour are not very long, the terrain is uneven with constant elevation gain and loss. You can alter your walks in the Lake District to suit your requirements.
Local Guide
Ask a Question
Got any questions regarding the tour? Interested in promotions for groups or want to customize this tour to fit your needs? We are here to help you!
Ask a question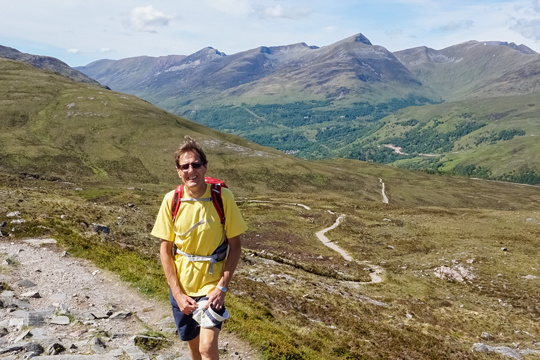 Q & A
Q:

What are guests most surprised about when visiting Scotland?

A:

Overseas clients are already aware of the fantastic scenery, but I feel they are bowled over by the friendliness and ease of conversation with the locals.

Q:

What is one experience anyone visiting Scotland should have?

A:

So many to choose from, but a walk through the vastness of Glencoe and out over the Devil's Staircase.

Q:

What is the most challenging trip you've taken?

A:

Taking a group through Tuscany on the Via Francigena to end at Siena at the time of the Palio, the famous horse ride through the city.