England Tours
Ever considered signing up for some England tours? What are you waiting for?! This green and pleasant land is a natural and cultural paradise just waiting to be explored. With beautiful rolling hills, dramatic mountains, quaint market towns and picture-perfect villages, there are England tours to suit all travel tastes. While many visitors to the UK confine themselves to London and the surrounding area, there's plenty to discover all over the country. From the wild coasts of Cornwall to the rolling hills of the Cotswolds and the towering peaks of the Lake District, England tours have so much to offer!
Taking a Trip to England
Taking a trip to England is a magical experience for those who enjoy the outdoors, and many of the greatest adventure tours in England follow networks of walking and cycling trails that crisscross the country, some of which are centuries old. When you join any England tours you'll be walking in the footsteps of pilgrims and merchants that travelled this ancient land many hundreds of years ago.
However, if you plan on taking a trip to England the organization phase can be a complicated and confusing activity! To help you navigate all the different options on offer, we've put together some helpful information about the range of England tours you can choose from. Whether you want a short guided tour or a much longer self-guided tour, here are some of our top recommendations for adventure tours in England.
When is the Best Time to Travel to England?
The best time to travel to England depends entirely on what you are hoping to accomplish on your trip; however, many people consider the best time to travel to England to be during the summer months of May to September. During this window you will experience warmer and sunnier weather conditions that are perfectly suited to exploring the outdoors, although this also coincides with the most popular time to visit for tourists of all varieties. If you want to avoid the crowds and don't mind cooler, rainy weather, then the winter months, as well as the shoulder seasons of spring and autumn, are also good options to visit England.
England Map
Although it isn't a particularly large country, it can be hard to fully visualize England and its different counties - especially if you are looking at the entirety of the United Kingdom. We've put together this simple England Map to provide an overview of the country with the hopes of providing a clearer picture for you during the planning phase of your next England trip!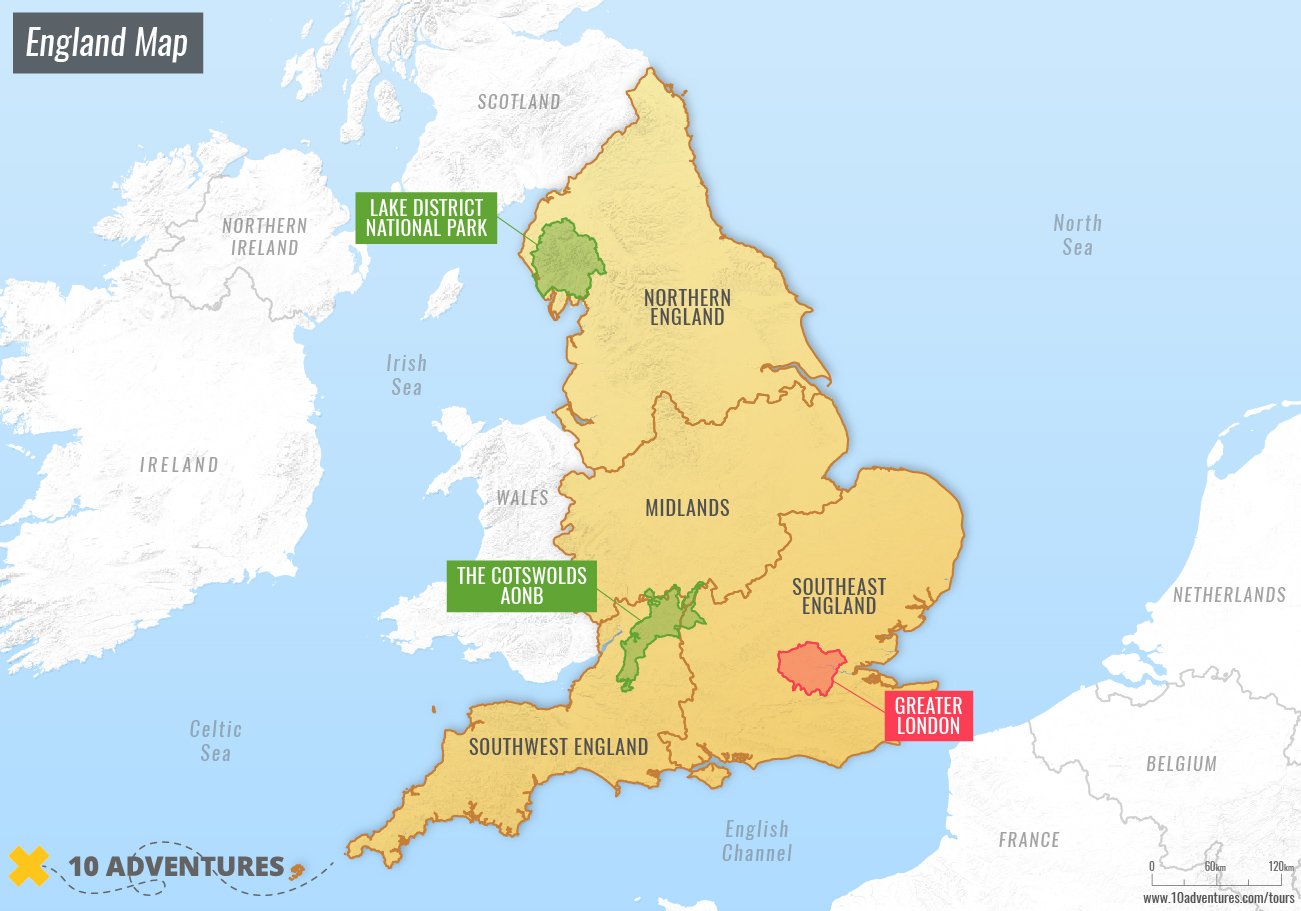 Popular Activities in England
The picturesque English countryside is home to a variety of different landscapes and terrains, all of which are home to a number of fun activities. If you are looking for the most popular activities in England to try out on your next trip, be sure to check out these options below:
Walking Tours in England
Walking tours in England are almost a right of passage for any outdoor enthusiast looking to visit the country. Whether you want to explore the utterly stunning Lake District, the imposing terrain of the Peak District, or any of the dramatic coastal areas surrounding the country, there is no shortage of incredible walking tours in England that are waiting to be explored.
Bike Tours in England
From narrow village streets lined with stone cottages to quiet roadways set in the rolling green hills of the English countryside, there are countless bike tours in England that will make for the perfect holiday. Book yours today to uncover the natural beauty of England.
Where to go in England
With so many amazingly scenic destinations, it can be hard to decide on where to go in England. That's why we've split it up into a number of smaller sub-regions, allowing you to better explore the different parts of the country with the hopes of making it easier when it comes to actually choosing where to go in England.
Tours in Northern England
Exploring the landscapes from the Solway Firth to the North Sea and everything in between, tours in Northern England are an exceptional experience that highlight the natural beauty of England's northern reaches. With iconic destinations like Northumberland National Park, and North York Moors National Park, and Yorkshire Dales National Park, you can rest assured that you will never run out of adventures on a tour in Northern England.
Tours in the Midlands
Covering the central counties of Shropshire, Staffordshire, West Midlands, Warwickshire, Worcestershire, and Herefordshire, tours in the Midlands offer a vast swathe of the English countryside to explore. Whether you want to navigate this picturesque region on foot or by bike, tours in the Midlands will make for an exciting excursion on your next trip to England.
Tours in Southwest England
Featuring some of the most dramatic coastal areas in the entire country, tours in Southwest England are a life changing experience if you enjoy spending time by the edge of the sea. From the iconic fishing villages of Cornwall to the Jurassic Coast of Devon and Dorset, you might not want to leave after spending time on these tours of Southwest England!
Tours in Southeast England
Home to the various counties surrounding London, Southeast England is understandably a popular place for visitors looking to get out of the city. Whether you are looking to simply get out into the countryside or want to head to the coast for some incredible views of the sea, there are plenty of things to do on tours in Southeast England.
Tours in the Lake District
Travelling through some of the most rugged and beautiful scenic landscapes in all of the British Isles, tours in the Lake District are a truly incredible experience. Glacial lakes, dramatic fell mountains, peaceful valleys, and bustling market towns characterize the terrain here – what are you waiting for?!
Tours in the Cotswolds
Tours in the Cotswolds are the perfect adventure if you want to experience some of the most picturesque landscapes and charming villages in the world. From quaint stone cottages to rolling green hills, you might need to stop and pick your jaw up off the floor while out on these amazing tours in the Cotswolds.
Frequently Asked Questions About England
What is the best way to tour England?
Taking the train around England is a great way to efficiently see much of the country; however, if you want to fully experience all that the country has to offer, a road trip is the best way to tour England.
How many days should I spend in England?
While 4-5 days will allow you to see plenty of must-visit sights, an extended visit of 2 weeks or more will allow you to better experience all that England has to offer.
What is the prettiest town in England?
With its charming stone cottages, narrow lanes, and vibrant greenery, Castle Combe in the Cotswolds is often referred to as the prettiest town in England.
what is the number one tourist attraction in England?
In terms of overall tourist numbers, the number one tourist attraction is the Tower of London, which was built in 1078 and hosts nearly 3 million visitors per year.
What is the prettiest county in England?
While there are a number of picturesque counties in the United Kingdom, Cornwall is often cited as the prettiest county in England.
England Tour Highlights
The Cotswolds
Home to some of the prettiest landscapes in the whole of England, the Cotswolds Area of Outstanding Natural Beauty is the perfect destination for a relaxing holiday filled with plenty of opportunities for exploring the outdoors. The region has a rich history that dates back beyond the medieval period and is home to picturesque waterways and market towns like Stow-on-the-Wold. From walking through the rolling green hills of the English countryside to meandering along narrow village streets that are lined with charming stone cottages, you won't have a single moment of boredom while out on a tour of the Cotswolds.
Peak District National Park
Situated within the counties of Derbyshire, Staffordshire, and Cheshire in the heart of England, Peak District National Park is home to some of the most picturesque landscapes in the entire country. Characterized by rolling hills, serene valleys, and windswept moorlands, the Peak District is a popular destination for outdoor enthusiasts of all varieties. Whether you want to walk and cycle through its rugged terrain or spend time visiting the many historical sites in the region, such as Chatsworth House and Haddon Hall, there are plenty of adventures to undertake in Peak District National Park.
Find Other Amazing Adventure Tours in Europe
Join our newsletter
Get a weekly dose of discounts and inspiration for adventure lovers
Showing 1 to 20 of 32 adventure tours
What travellers say
Why
book

with 10 Adventures?
Your trip. Your way.
Make lifelong memories with the people you care about most. We specialize in custom & private active travel experiences.
Travel made easy.
Spend your time making memories, not planning them. Enjoy a stress-free vacation and leave the trip logistics to us.
You matter to us.
No bots here. A real human is always a click or a call away to ensure you get the adventure of your dreams.
Travel authentically.
Immerse yourself in the destination with highly-vetted, local tour operators who love to showcase where they live.