Spend 16 days immersed in the highlights of China experiencing it by bike and on foot
This amazing guided tour allows you to explore some of the highlights of China under your own power. You will get to hike along the Great Wall and in other stunning parts of China, then you will get to cycle through the charming Chinese countryside.
The Hike & Bike China tour is absolutely packed with adventures. You will explore major cities, visit ancient archeological sites and stay in isolated mountain villages as you walk and cycle your way through the ever-changing landscapes of China.
You will travel to magnificent historical sites, hike on sacred mountains and cycle through traditional villages on this amazing 16-day guided adventure tour.
There will also be some free time to explore at your own pace and plenty of opportunities to sample the delicious local cuisine. You will be picked up from the airport by your guide, who will look after you during your stay so you do not have to worry about any of the logistics.
Highlights of the Hike & Bike China
Enjoy lush green vegetation and beautiful ancient watchtowers as you hike along the Great Wall of China.
Visit an abundance of historical sites, from the terracotta warriors to the forbidden city to ancient Muslim architecture.
Discover the real China as you cycle through sleepy mountain villages, bustling towns, and forests of bamboo.
Immerse yourself in authentic Chinese culture by attending a traditional tea ceremony and tasting delicious local dishes.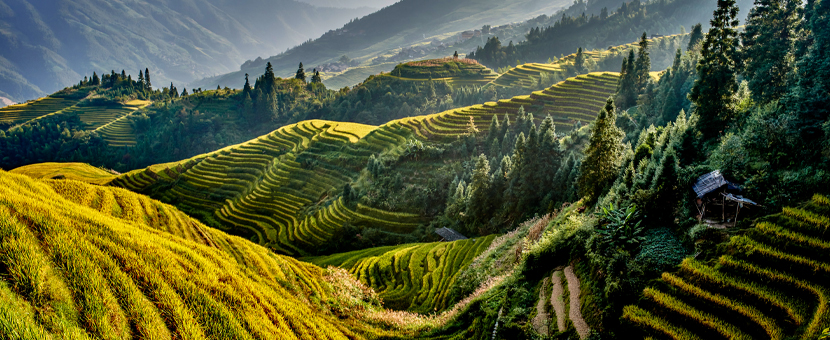 Hike & Bike China Tour Itinerary
Day 1

Beijing

Today you will arrive in the vibrant city of Beijing. You will be greeted at the airport and driven directly to your hotel, excellently placed in the center of the city. At the hotel, you will meet your guide and enjoy a relaxing walk around the local area to get your bearings. Enjoy some delicious traditional cuisine at a local restaurant before settling into your hotel for a good night's sleep ahead of your amazing Chinese adventure.
Overnight Location: Hotel in Beijing
Distance: None
Meals: Dinner
Day 2

Explore Beijing

You will immerse yourself in the city of Beijing as you visit the world-famous Tiananmen Square, the old quarter and the 15th century Forbidden city, the former center of the Chinese government and the current UNESCO world heritage site. Admire the stark contrast between modern developments and stunning ancient buildings as you enjoy the sights, sounds and smells of the vibrant capital city. You will do plenty of walking today so make sure you wear comfortable shoes.
Overnight Location: Hotel in Beijing
Distance: 5-10 km
Meals: Breakfast, Lunch
Day 3

Walk the Great Wall

Today you will leave the city of Beijing behind you as you travel to the iconic Great Wall of China, still standing 600 years after it was built in the Ming Dynasty. This is the biggest man-made feature in the world. You will spend 3-4 hours hiking today, enjoying the rich history and striking beauty of this wonderful historical site.
Overnight Location: Hotel in Gubeikou
Distance: 3 - 4 hours, 6 km, 210 m of ascent
Meals: Breakfast, Lunch, Dinner
Day 4

Hike to Jinshanling

You will spend the day hiking the Great Wall with your guide, enjoying its eye-catching watchtowers, lush green foliage and traditional villages that you pass along the way. This was such an important strategic site that two walls were built side by side in case the first should fail. You will be able to visit both the inner and outer walls before arriving in your village guesthouse.
Overnight Location: Hotel in Jinshanling
Distance: 6.5 - 7.5 hours, 12 km, 480 m of ascent
Meals: Breakfast, Lunch, Dinner
Day 5

Hike to Simatai West

After a delicious breakfast in your guest house, you will continue your Great Wall hike from Jinshanling to Simatai West. The terrain will be mostly paved, but there are a few steep sections to watch out for. After a day of admiring the stunning views and gorgeous ancient architecture, you will enjoy your lunch at a local farmer's restaurant before being driven back to Beijing for the next stage of your adventure.
Overnight Location: Hotel in Beijing
Distance: 4 - 5 hours, 8 km, 280 m of ascent
Meals: Breakfast, Lunch, Dinner
Day 6

Train to Huashan

You will have some free time to enjoy Beijing at your own pace this morning. In the afternoon you will travel by high-speed train to the small city of Huashan where you will spend the next two nights. Huashan lies next to China's most sacred mountains and will be a perfect base from which to explore the stunning craggy landscapes.
Overnight Location: Hotel in Huashan
Distance: None
Meals: Breakfast, Lunch, Dinner
Day 7

Hike Mount Huashan

You will spend the day hiking on the steep and craggy paths of Mount Huashan. The terrain is physically challenging, but the guide will adjust the route according to the fitness and desires of the group as well as the weather conditions on the day. After exploring the stunning mountain trails, you will take the gondola back to the base of the mountain before heading to your hotel for a well-earned meal.
Overnight Location: Hotel in Huashan
Distance: 7 - 8 hours, 12 km, 2,000 m of ascent
Meals: Breakfast, Lunch, Dinner
Day 8

The Terracotta Warriors

Today you will visit the world-famous site of the ancient Terracotta Warriors. You will view 2,000 of the 6,000 warriors, each individually sculpted with unique battle armor and facial features and buried with an ancient emperor to protect him in the afterlife. Afterwards, you will take a tour of the Muslim quarter of Xi'an, visiting its great mosque, towers, and street food markets.
Overnight Location: Hotel in Xian
Distance: 5 km
Meals: Breakfast, Lunch
Day 9

Travelling to Ping'an

You will travel to the mountain village of Ping'an, famous for its traditional terraced fields of rice and stunning rural landscapes. You will stay in this gorgeous village for 2 nights, travelling by internal flight to Guilin and then onward to Ping'an by bus.
Overnight Location: Hotel in Xian
Distance: None
Meals: Breakfast, Lunch, Dinner
Day 10

Walking to Da Zhai

Dive into the Chinese countryside as you walk in the mountains to the village of Dazhai. This village is picturesque, with wooden houses stilts and panoramic views of rice terraces. Although you will be walking high in the mountains, the terrain that you cover isn't particularly steep. After a full day of walking, you will transfer back to your hotel in Longji for the night.
Overnight Location: Hotel in Longji
Distance: 6 - 7 hours, 9 km, 250 m of ascent
Meals: Breakfast, Lunch, Dinner
Day 11

Cycling to Shiertan

You will begin your day with a wonderful downhill stretch through the mountains, passing rivers and sleepy traditional villages. Later you will pass through bamboo forests and tea plantations with views of pretty settlements clinging to the mountainside. You will stay in a lovely riverside hotel, where you can eat your dinner al fresco by the water's edge.
Overnight Location: Hotel in Shiertan
Distance: 61 km biking, 60-700 m of ascent
Meals: Breakfast, Lunch, Dinner
Day 12

Cycling to Guilin

You start the day with a downhill cycle to reach your breakfast in the village of Wantian. After sampling the wonton soup and homemade steamed buns you will pass the buzzing local market before cycling into the peaceful Chinese countryside. Stopping to enjoy a traditional tea ceremony on the route, you will push on through sleepy villages, forest paths and reservoirs before arriving in the pretty city of Guilin to spend the evening relaxing, enjoying local cuisine and exploring the shops and markets.
Overnight Location: Hotel in Guilin
Distance: 83 km biking; 80-350 m of ascent
Meals: Breakfast, Lunch
Day 13

Cycling to Xing Ping

You will continue to discover the authentic side of China as you spend the day cycling to Xing Ping. Following the Li River, you will pass through several river towns with their cobbled streets and eat a delicious lunch prepared by a local farmer in his field. Following the bamboo along the river's edge, you will cover steeper terrain in the afternoon, exploring the mountain roads with their stunning views of rice fields to arrive in Xing Ping for the evening.
Overnight Location: Hotel in Xing Ping
Distance: 65 km biking, 50-150 m of ascent
Meals: Breakfast, Lunch
Day 14

Cycling to Yangshuo

After a short cycle along the Li River, you will load your bike onto a bamboo raft and ride along the river in style, sitting back to enjoy the stunning views of the karst mountains. After a short, steep climb to Xianggongshan, you will ride along the ridge, passing pretty orchards and joining up with the Dargon river. After enjoying a meal in a local farmer's restaurant, you can take a dip in the river or head straight back to the quiet river paths that take you on to Yangshuo.
Overnight Location: Hotel in Yangshuo
Distance: None
Meals: Breakfast, Lunch
Day 15

Shanghai

You will travel to the major city of Shanghai by flight. On arrival, you can explore the shops on the famous Nanjing Road or discover the history of the Bund, a beautiful waterfront promenade on the banks of the River Huangpu. After immersing yourself in the bustling streets of Shanghai, you will settle down in your hotel for your final night on your Chinese adventure tour.
Overnight Location: Hotel in Shanghai
Distance: 3 – 5 km
Meals: Breakfast, Lunch
Day 16

Farewell

All good things must come to an end! It is time to say goodbye to your guide and fellow travelers, after an amazing trip exploring the cities, mountains, and rivers of China. You will be driven back to the hotel by private transfer to ensure a safe and stress-free onward journey.
Overnight Location: None
Distance: None
Meals: Breakfast

Book Now
Hike & Bike China Tour Price and Dates
This guided hiking and biking tour in China depends is always run as a custom tour for your group only and the price depends on the size of your group.

The prices below are per person sharing a double or a triple room:
Guided Groups of 2: $5,350 USD per person
Guided Groups of 3: $4,375 USD per person
Guided Groups of 4-5: $3,725 USD per person
Guided Groups of 6: $3,525 USD per person
Guided Groups of 7+: on request
Book Now
Accommodation on Hike & Bike China Tour
You will stay in a range of different accommodation as you travel through different cities, towns and riverside villages in China. You can expect the services of 2-3-star hotels throughout your stay. Prices are based on double occupancy, but single travelers can arrange a private room for a supplement.
Single Rooms and Solo Travelers
You can pay a supplement of $500 USD to have a private room in a hotel. Contact us and we can try and match single travelers up, where possible.
Hotels on Standard Tour
From family-run guesthouses high in the mountains to modern hotels in the center of Beijing, you enjoy a wide range of accommodation on this trip.
What's included in the Hike & Bike China Tour?
Meals
15 breakfasts, 14 lunches and 9 dinners are included.
Accommodations
The accommodation for 15 nights along the tour is included.
Transportation during the Tour
Transportation for you and your luggage are included. Group airport transfer is included too.
Also Included
English-speaking guide throughout the tour
Taxes and entrance fees
Bike rental (including helmet)
All activities mentioned in the itinerary
Not included
Flights to and from China
Some meals
Personal expenses and tips
Insurance
Anything not stated as 'included'
Optional Extras
Extra night before or after the tour
Frequently Asked Questions about Hike & Bike China
China Adventure Travel has over 30 years of experience in tour operation. They specialize in adventure travel, including cycling, hiking, and tailor-made adventure tours. Their philosophy is to develop a trip in China that you won't ever forget.
Besides adventure tours, China Adventure Travel also offers cultural tours and cultural exchange programs. They consider excellent leadership to be the soul of a trip, so their guides are chosen carefully for their expertise.
They pay great attention to every detail of your trip, and recognize that great service is a culmination of many smaller efforts.
Learn More
Is this tour for me?
We rate this tour as a 4 / 5. You will hike and cycle long distances, covering challenging terrain and will require a good level of mental and physical fitness. The itinerary can be customized to reduce the difficulty.
Local Guide
Ask a Question
Got any questions regarding the tour? Interested in promotions for groups or want to customize this tour to fit your needs? We are here to help you!
Ask a question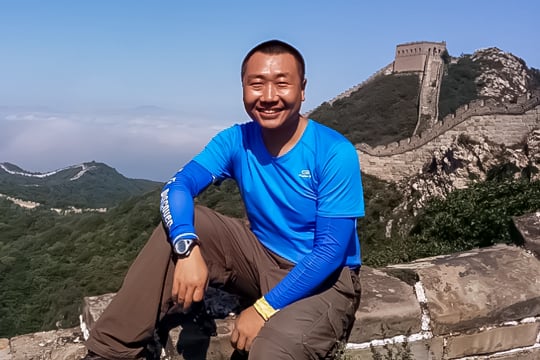 Charles has been working with China Adventure Travel since graduating from university. He's patient, personable, and willing to take on any challenge. Guests love his warm smiles and pleasant personality. He's also an exceptional violinist!
Q & A
Q:

What's the best part about leading tours in China?

A:

China is such a big, developing country. Guiding in China allows you to witness the development of our motherland. We bring different tourists to the same place but we can always find something new to share. It's such an amazing thing.

Q:

What are guests most surprised about when visiting China?

A:

China has well-developed cities like Beijing and Shanghai, but also quite under-developed areas and remote villages far from the cities. It's all about contrast.

Q:

What is one local dish or drink that anyone visiting China should try?

A:

Too many! China is a country famous for its food. Try Beijing duck, dumplings of all kinds, hot pot, spicy food in Sichuan, noodles in Xian, Cantonese dim sum, and more. We've got a long list.