Hike and Island hop through the stunning scenery of Ireland's West Coast
Come explore the roots of an ancient culture on a guided adventure hike you'll remember forever. Spend a week hiking and exploring the best of Ireland's West Coast.
Experience the place where the rugged west coast of Ireland meets the wilds of the North Atlantic, where you'll walk through the crumbling castles and ruined abbeys, hike the Burren, and witness the cliffs of Moher as they fall into the crashing waves.
You'll hop to different islands on your guided adventure through Ireland's west coast and discover the local culture. You'll visit remote Irish-speaking communities, sample authentic local food, learn about the history and mythology of the region, and bask in the stunning landscapes and fresh Atlantic air. Don't miss this amazing opportunity!
Highlights Of Hiking & Island Hopping - Ireland's West Coast Tour
Explore four different islands from the ancient Gaelic-speaking communities on the Aran Islands to abandoned pirate strongholds on Clare Island
Take a glorious evening stroll along the Cliffs of Moher as you bask in the views of the wind-tossed Atlantic
Discover The Burren National Park, a rough and rugged place of alien landscapes and stark beauty said to have inspired Tolkien himself
Look for stunning coastal views and plenty of seals as you walk the ocean trails of Inisbofin Island and explore the Dún More Cliffs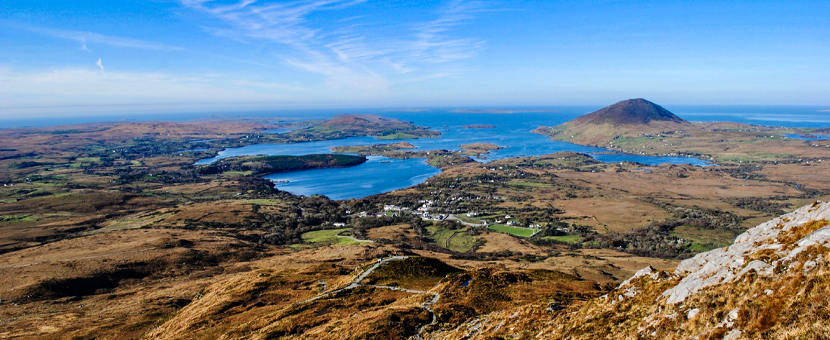 Hiking & Island Hopping - Ireland's West Coast Tour Itinerary
Day 1

Explore The Burren National Park

Your guided island-hopping hiking tour begins in Galway, known as the City of the Tribes. But you'll soon leave the city far behind as you head south on the Wild Atlantic Way to enter a strange and alien landscape. The Burren National park is a bizarre place with rugged, stark beauty. It was said to have inspired Tolkien as he wrote about his iconic Middle Earth. Make sure to watch for nature-made bouquets of wildflowers growing in unexpected places as you walk the stony ground.
Overnight Location: Doolin Inn, Doolin
Distance: 4 hours, 5.5 km
Meals: Lunch, Dinner
Day 2

Hop to the Aran Islands and Walk the Cliffs of Moher

Let the island-hopping begin! Board a boat and sail to the secluded island of Inish Meain, one of the Aran Islands, where you'll have a chance to explore a locale with over 7,000 years of history! This is one of the few remaining spots on earth where you can still hear the Irish language spoken. You'll hike along quiet roads and footpaths and finish your day with an evening walk to the Cliffs of Moher. Enjoy the breathtaking views of the Atlantic amid the quiet of twilight.
Overnight Location: Doolin Inn, Doolin
Distance: 4-5 hours, 13 km
Meals: Breakfast, Lunch
Day 3

Hike to Garumna Island in Connemara Gaeltacht

You'll resume your island-hopping tour deep in the midst of the Connemara Gaeltacht (Irish-speaking region) on a small peninsula. You'll be hiking to a seldom-visited place known as Garumna Island. You'll wend your way through small roads and footpaths as you seek out the Trawbaun graveyard. There you'll find a beautifully maintained church dating from medieval times. Stroll along the shores of Greatman's Bay as you pass rocky coast and coral beaches, and set as the backdrop to it all: dazzling views of Connemara's Mamturk and Twelve Bens mountain ranges.
Overnight Location: Clifden Coach House, Clifden
Distance: 4.5 hours, 8 km
Meals: Breakfast, Lunch
Day 4

Visit to Inisbofin Island

Just the name of this Island sounds like a hiking trek through a fantasy adventure, but lucky you! You're really there. As you continue on your guided hiking tour, you'll be treated to some of the most iconic Atlantic Coast scenery. From the awesome sights of the blowholes exploding with sea spray, to the sea arch, to the sea stacks where the native colony of seals resides, you won't be disappointed. And if that still isn't enough, you'll follow the meandering track over grassy paths and banks of turf and find the Dún More Cliffs and gorgeous Trá Gheal beach along the way.
Overnight Location: Clifden Coach House, Clifden
Distance: 6 hours, 16 km
Meals: Breakfast, Lunch
Day 5

Walking the Shores of Killary Fjord

Today's guided hike is known as one of Ireland's most amazing coastal hikes. You'll begin with an easy walk along Killary Fjord through rock-strewn, low-cut grass. In the distance, you'll be treated to views of sandy white beaches with the sea beyond. Keep a lookout for dolphins and seabirds on the surface of the sea as you walk. You'll also learn about the rich history of the area as your guide takes you through a village abandoned during the famine-era.
Overnight Location: The Wyatt Hotel, Westport
Distance: 4 hours, 12 km
Meals: Breakfast, Lunch
Day 6

Discovering the Pirates Lair on Clare Island

This will be the last of the islands on your guided Island-hopping adventure, but what a way to finish! Long ago, in the 1500s, Ireland's North Atlantic coastline was dominated by a pirate queen known as Grace O'Malley. She ruled the sea from her base at Clew Bay, the entrance to which is guarded by Clare Island. You'll explore the ancient queen's castle and wander the rugged cliffs, secluded beaches, and crumbling ruins of this island hideaway. Your hike will track along the cliffs from the lighthouse to the highest point of the island and then return to the beach for well-earned relaxation.
Overnight Location: The Wyatt Hotel, Westport
Distance: 4-5 hours, 11 km
Meals: Breakfast, Lunch, Dinner
Day 7

Pilgrimage at the Foot of Croagh Patrick

For the final destination of your guided hiking tour, you'll be visiting the holy mountain of Croagh Patrick. The monumental sight of the pilgrimage mountain overshadows the entire surrounding landscape. As you hike through, you'll pause for a short walk in the very shadow of the holy peak, and then continue along the sheep track, through the heather and the bogs, and onward on the last few miles of the old pilgrimage route. Your last stop will be a picturesque old Augustinian friary en route to the final destination in the town of Westport.
Overnight Location: None
Distance: 1.5 hours, 4 km
Meals: Breakfast

Book Now
Hiking & Island Hopping - Ireland's West Coast Tour Price and Dates
This guided walking tour to Ireland's West Coast is run as a fixed-departure tour where you'd be joining a group, however, custom private tours can be organized for those willing to travel with their group only (please contact us with your preferred date and the number of people in your group and we will create the itinerary just for you).
Prices below are per person sharing a double or a triple room:
Accommodation on Hiking & Island Hopping - Ireland's West Coast Tour
After a day of romping through the wilds of Ireland on foot and by boat, come relax by a roaring fire on cold nights, or on the outdoor terraces if it's warm out.
Whether you've just been to see the Burren, the Aran Islands, or Connemara, you'll appreciate the accommodations on this trip. Tucked deep amidst Ireland's most beautiful wild country, you'll find them both unique and friendly to explorers.
Single Rooms and Solo Travelers
You can pay a supplement of $275 USD to have a private room in a hotel. Contact us and we can try and match single travelers up, where possible.
Hotels on Standard Tour
With all the personality, charm, and service of a country inn, paired with the exceptional quality and professionalism of a hotel, you'll feel right at home here.
Clifden Coach House, Clifden
A friendly, cozy, and comfortable inn with personal service and attention to detail. Excellent food and service, with a great location and amenities.
The Wyatt Hotel, Westport
Right in the middle of beautiful Westport town, you'll find this charming boutique hotel. The hotel offers many amenities, beautifully decorated rooms, an Irish pub, and an award-winning restaurant.
What's included in the Hiking & Island Hopping - Ireland's West Coast Tour?
Meals
6 breakfasts, 6 lunches, 2 dinners, snacks along the route each day.
Accommodations
Accommodations for 6 nights along the tour. Accommodations before the tour in Galway and after the tour in Westport are not included.
Transportation during the Tour
Transport for you and your luggage is included throughout the tour. All boat tickets are included too.
Also Included
The services of the experienced guide/driver throughout the tour
Activities included in the tour
Excursions and entrance fees to objects mentioned in the program
Group safety equipment
Not included
Getting to and from starting and ending points of the tour
Insurance
Personal expenses
Anything not stated as 'included'
Optional Extras
Extra night in Galway before the tour
Extra night in Westport after the tour
Frequently Asked Questions about Hiking & Island Hopping - Ireland's West Coast
At Wilderness Ireland, you can find an inspiring range of small-group and tailor-made tours, journeys, and wilderness experiences. The tours explore Ireland's most remote and beautiful regions, from the wild Atlantic Way to the Ancient East and everything in between.
Wilderness Ireland is run by a passionate team of local guides and expert trip designers who work together to create unforgettable active adventure holidays. They focus not only on Ireland's top sights, but also in rural, remote corners of the beautiful country.
Every tour focuses on a personalized approach with high-quality customer service for each tour. They hand-pick beautiful accommodations, authentic local experiences, and standout wilderness locations. Their guides know Ireland inside and out and have years of experience in offering you an unforgettable trip.
Learn More
Is this tour for me?
We rate this tour as a 2 / 5. You will be hiking up to 6 hours and 12 km daily on rough terrain.
Local Guide
Ask a Question
Got any questions regarding the tour? Interested in promotions for groups or want to customize this tour to fit your needs? We are here to help you!
Ask a question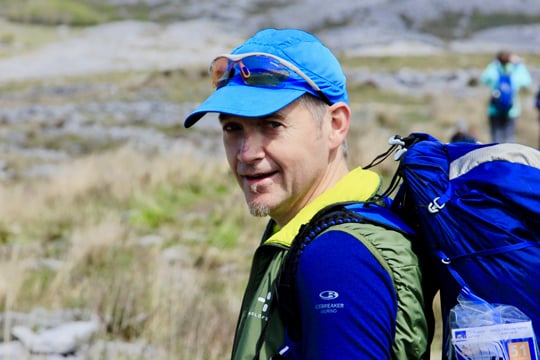 Paul has been guiding professionally for 4 years, but unofficially guiding friends and family for 20 years. He loves making friends out of strangers and seeing the excitement in their faces as they kayak, cycle, walk, and explore. He never gets tired of the abundant mountain and sea views.
Q & A
Q:

What is your favourite tour to lead?

A:

Whichever one I'm doing that day! In all seriousness though, go west. My favourite trip is Island Hopping on Ireland's West Coast, since you really have the chance to see Ireland at its most amazing - 4 incredible islands as well as Connemara and Burren national parks. It's nearly too good to be true.

Q:

What are guests most amazed about when visiting Ireland?

A:

No doubt everyone is amazed by the scenery- the empty white beaches, lush green mountains, the abundance of castles and the ancient graves older than the pyramids of Giza. The Burren has 27 kinds of orchids alone, and that's just the start of the incredible flora and fauna!

Q:

What has been your most unforgettable moment while guiding?

A:

Helping someone who swore they couldn't get to the top of Croagh Patrick Mountain and seeing their pride at the top! I also love when you're at ancient structures like Poulenabrone and you're explaining the history and myths of the place while you're actually standing right there. It's as amazing for me as for them!