Hike the unspoilt natural and archeological beauty of Italy's Egadi Islands
Dive into the rich biodiversity and ancient cultures and traditions of western Sicily and the surrounding Egadi Islands on this 8-day trekking tour. Starting and ending in Palermo, the tour allows its guests to experience rich landscapes and visit some salty spots in the area.
First, get to know the wilderness of the Egadi islands, rocky and lightly-forested outcrops of turquoise waters. You'll trek and explore the islands of Favignana, Levanzo, Marettimo, and Mothia, which each have a unique piece of Egadi magic from castles to cave paintings. A visit to the salt flats near Trapani will impress you with spectacular landscapes and a chance to learn about the traditional salt extraction methods. This tour brings you to a place with immaculately preserved nature at the Riserva della Zingaro, Sicily's first nature reserve. Finally, you'll have a chance to bask in the timeless medieval charm of Erice and walk through the ancient temples of Segesta.
This tour hits the mark for both hiking through the Mediterranean wilderness and diving into the area's history and traditions—and there's no shortage of seaside views and picturesque landscapes!
Highlights of the Hiking Palermo and the Egadi Islands
Trek through a natural paradise on four islands amid the cobalt Tyrrhenian Sea.
Learn about a myriad of distinct civilizations that once lived in western Sicily.
Experience the breathtaking scenery of Sicily's first established nature reserve.
Hike to ancient temples, churches, and medieval towns all over the region.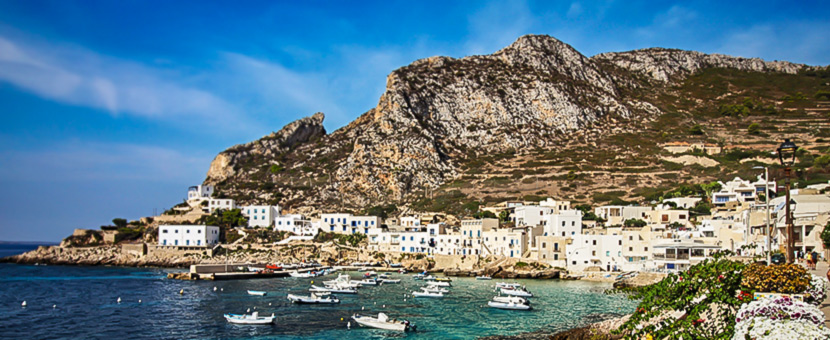 Hiking Palermo and the Egadi Islands Itinerary
Day 1

Arrival in Palermo

Your guide will meet you at the airport on Palermo, and you'll head to the hotel to meet your group and discuss the week ahead. If you arrive with time to spare, feel free to roam throughout the spectacular capital of Sicily, noting its rich culture comprised of centuries of various civilizations from Arab, Greek, Roman, and modern Sicilian. Get your camera out for the vivid markets in the historic centre. Have dinner with your group, and get some sleep for the week of adventure ahead.
Overnight Location: Hotel in Palermo
Distance: None
Meals: Dinner
Day 2

Explore Favignana

After breakfast in Palermo, you'll depart for the small island of Favignana to trek up to the Santa Caterina castle. Impressive views await at the top—think clear, turquoise water at the base of beautiful rocky coastlines as far as the eye can see. If you take this tour in warmer weather, you'll have the option to cycle around the island to explore its quarries and caves where you can swim in the refreshing water. Settle into a hotel in Favignana for the night.
Overnight Location: Hotel in Favignana
Distance: 2.5 hours, 300 m of ascent, 300 m of descent
Meals: Breakfast, Lunch, Dinner
Day 3

Discover Marettimo

Into the wild! Head to one of the more remote islands in the Egadi archipelago: Marettimo. You'll spend about 2 hours trekking on this small island from the port up to the old Spanish fortress, Castello di Punto Troia. The lush vegetation here adds a pop of greenery, making the sea views that much more picturesque. Rest in the hotel back on Favignana.

N.B. The trail on Marettimo hugs a cliff and is crumbling in some places. Take extra caution and use proper trekking boots and equipment.
Overnight Location: Hotel in Favignana
Distance: 2 hours, 150 m of ascent, 150 m of descent
Meals: Breakfast, Lunch, Dinner
Day 4

Trek on Levanzo

Embark on an excursion to Levanzo, a tiny island north of Favignana. The trek will lead you to the peak of the island; then you'll traverse through a wooded area, eventually stopping at the Grotta del Genovese, which is home to some prehistoric cave paintings. Head back to the hotel for your last night on Favignana.
Overnight Location: Hotel in Favignana
Distance: 4 hours, 250 m of ascent, 250 m of descent
Meals: Breakfast, Lunch, Dinner
Day 5

Saltpans, Mothia and Erice

Get acquainted with a different landscape as you head to the Salt pans of Marsala near Trapani. Learn about salt extraction traditions and techniques in this heavily milled area. After you've admired the salt mills, you'll travel to Mothia for a guided tour of another island rich with resplendent flora, fauna, and archaeology. End the day by strolling through the medieval charm of Erice before settling in for the night in Trapani.
Overnight Location: Hotel in Trapani
Distance: None
Meals: Breakfast, Lunch, Dinner
Day 6

Riserva della Zingaro

Spend the day touring the private coves and rocky trails of Sicily's first natural reserve, Riserva della Zingaro. Just a short transfer away from Trapani, the proposed trek immerses you in a gorgeous landscape with typical Mediterranean vegetation that spills into the cobalt sea. An idyllic spot to have lunch! After exploring the reserve, the group heads back to Trapani for dinner and rest.
Overnight Location: Hotel in Trapani
Distance: 4 hours, 243 m of ascent, 243 m of descent
Meals: Breakfast, Lunch, Dinner
Day 7

Ruins of Segesta

A testament to the numerous civilizations that have existed in Sicily, you'll explore the ancient city of Segesta. Discover the ancient temples and theatres in the area, either on your own or with opting an authorized guide at the site. Have dinner back in Palermo and settle into your hotel to reflect on the week.
Overnight Location: Hotel in Palermo
Distance: None
Meals: Breakfast, Lunch, Dinner
Day 8

Departure from Palermo

Enjoy your final breakfast with your group before heading to the airport in Palermo to bid farewell.
Overnight Location: None
Distance: None
Meals: Breakfast

Book Now
Hiking Palermo and the Egadi Islands Tour Price and Dates
This guided trekking tour in Western Sicily is always run as a custom tour for your group only, and the price depends on the number of people in your group.
The recommended time to travel to Sicily for this trek is from April to June and from September to mid-October.
Prices of Private Guided Hiking Palermo and the Egadi Islands Tour
Have your own private tour with just your group! Prices below are per person:
Guided Groups of 2: $2,925 USD per person
Guided Groups of 3-4: $2,325 USD per person
Guided Groups of 5+: $2,025 USD per person
Book Now
Accommodation on Hiking Palermo and the Egadi Islands Tour
Hotels on this trip are 2- and 3-star and offer modern conveniences that can make this trip more pleasant. Rooms are double occupancy, and single travelers will pay a supplement.
In some cases, the accommodation listed below may need to be substituted for other comparable accommodations.
Single Rooms and Solo Travelers
You can pay a supplement of $295 USD to have a private room in a hotel while traveling with your group. Contact us, and we can try and match single travelers up, where possible.
Hotels on Standard Tour
What's included in the Hiking Palermo and the Egadi Islands Tour?
Meals
7 breakfasts, 6 lunches, 7 dinners are included.
Accommodations
Accommodations for 7 nights along the tour are included.
Transportation during the Tour
Transport for you and your luggage is included throughout the tour in a private minibus, including the airport transfers.
Also Included
English-speaking guide services
All taxes
Not included
Flights to and from Sicily
Drinks during the meals
Entrance fees to museums and archeological sites
Anything not mentioned as "Included"
Personal expenses
Insurance
Optional Extras
Extra night before or after the tour
Frequently Asked Questions about Hiking Palermo and the Egadi Islands
Is this tour for me?
We rate this tour as a 2 / 5. Although the hikes on this tour are not strenuous, you should be fit enough to be on your feet for several hours daily.
Ask a Question
Got any questions regarding the tour? Interested in promotions for groups or want to customize this tour to fit your needs? We are here to help you!
Ask a question