Travel across the Himalayas of India by 4x4 vehicle
Escape your usual in favour of the Himalayas for 15 days on the Himalayan Sightseeing Tour. You'll discover the postcard-painted, mountain-tucked villages teetering on the edge of the Himalayas on this spectacular sightseeing tour. Amid the jetting peaks and rolling layers of green sit an array of gompas, monasteries, temples, and a collection of other monumental buildings rich with historical tales. This sightseeing tour, which takes you from Delhi to Amritsar to Leh (and more), traverses the famed Himalayas lining India's horizon by Jeep.
Spend 15 days strolling through the villages and towns dotting this tour, all imposed by the unforgettable, jaw-dropping, hard-to-ignore background painted by the Himalayas. The Himalayan Sightseeing Tour is not to be missed!
Highlights of the Himalayan Sightseeing Tour
Discover villages and cities nestled into the Himalayas, such as Leh, Alchi, Amritsar, and Dharamsala.
Experience the spirituality and zen of the monasteries, especially when you witness the prayer ritual at Thikse Gompa.
Explore New and Old Delhi at the end of your tour—it's the bustling city where magnificent architectural wonders await!
Spend one night at a tented camp in Sarchu and let the sweet sounds of nature lull you to sleep.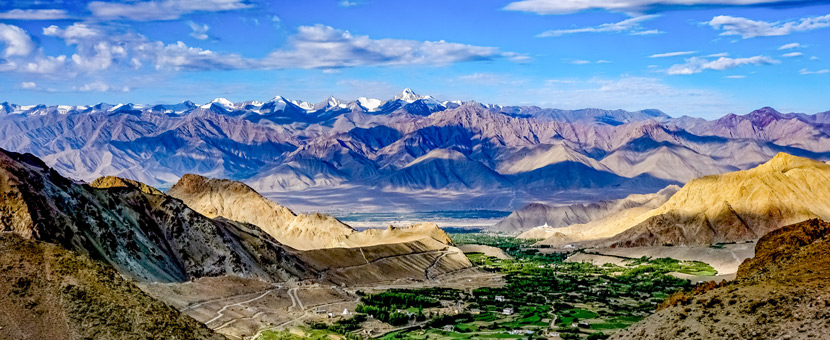 Himalayan Sightseeing Tour Itinerary
Day 1

Arrive in Delhi

Meet and greet a tour representative at the airport before you transfer to your hotel. Spend the rest of the day relaxing or exploring Delhi at your leisure. Enjoy a refreshing night at your hotel before the tour begins.
Overnight Location: Hotel in Delhi
Distance: None
Meals: Dinner
Day 2

Train to Amritsar

Get up nice and early to board your train from Delhi to Amritsar. You'll take the Shatabdi Express at 7:40 am and arrive in Delhi around 1:20 pm, granting you with the afternoon to explore Amritsar, the spiritual centre for the Sikh religion. In the afternoon, you'll head to the Golden Temple, a golden spectacle that's certainly photo worthy. You can always opt to go to the Golden Temple in the early evening to watch the closing ceremony of the holy Granth Sahib.
Overnight Location: Hotel in Amritsar
Distance: None
Meals: Breakfast, dinner
Day 3

Travel to Dharamsala

After enjoying breakfast, you'll transfer to Dharamsala. En route, you'll stop at an ancient ruin from the 8th century, Masrur Temples. Admire the 15 rock-cut temples jetting out of the ground and overlooking the body of water below. Continue your drive to Dharamsala, where the snow-swept Dhauladhar ranges provide a picturesque backdrop. It's also the headquarters for the Dalai Lama.
Overnight Location: Hotel in Dharamsala
Distance: None
Meals: Breakfast, dinner
Day 4

Sightseeing around Dharamsala

Enjoy a tasty breakfast before heading to Mcleodganj, a town with a large Tibetan population, for remarkable sights. Check out the golden roof on the Dip-Tse Chok Ling Gompa, as well as the library and museum. But note that isn't an ordinary library! It holds Tibet's original manuscripts. Once you've finished exploring this town, you'll go to St. John's Church, tucked into the wilderness.
Overnight Location: Hotel in Dharamsala
Distance: None
Meals: Breakfast, dinner
Day 5

Go to Palampur

Say goodbye to Dharamsala and begin a 4-hour drive to Palampur, a lush city surrounded by tea gardens and layers of pine trees. On your way, stop at the Norbulingka Institute to see Buddhist lessons unfold.
Overnight Location: Hotel in Palampur
Distance: None
Meals: Breakfast, lunch, dinner
Day 6

Explore Manali

Enjoy breakfast before transferring to Manali, a quaint town that thrives with activity in the summer. After checking into your hotel, you'll spend the afternoon visiting the Hadimba temple, nestled in nature, and Naggar Castle, a medieval monument. Then, rest your feet at your hotel for the night.
Overnight Location: Hotel in Manali
Distance: None
Meals: Breakfast, lunch, dinner
Day 7

Sarchu

After breakfast, embark on an 8-hour drive to Sarchu, winding past stunning views en route. You'll drive across the memorable 21 loops, also known as the "Gatta Loops." Spend the night immersed in nature.
Overnight Location: Tented camp in Sarchu
Distance: None
Meals: Breakfast, lunch, dinner
Day 8

Travel to Leh

Wake up after a relaxing night in the Himalayan wild and get ready for another scenic drive to Leh. Today marks the longest road trip of the tour, but the views spanning Leh make the car ride worth it!
Overnight Location: Hotel in Leh
Distance: None
Meals: Breakfast, lunch, dinner
Day 9

Visit Hemis, Traktok Gompa, and Stok Palace

Enjoy a chilled-out, slow morning before you explore Leh, the joint capital of the Ladakh region, which is located in the western Himalayas. Then, you'll embark on your sightseeing tour! Begin with a short drive to the largest monastery in Ladakh: the 17th-century built Hemis Monastery. After, head to Traktok Gompa, which is constructed around a cave, and still encompasses some frescoes. Your last stop includes a visit to Stok Palace, where the banished royal family once lived.
Overnight Location: Hotel in Leh
Distance: None
Meals: Breakfast, lunch, dinner
Day 10

Check out Thikse Gompa, Shey, Leh Palace, Shanti Stupa

Today you'll continue exploring the architectural wonders and spiritual juggernauts around Leh. Start with an early morning excursion to Thikse Gompa, where the monks perform a prayer ritual (Puja) at sunrise. Enjoy a delicious breakfast at a local restaurant after! Continue with a visit to Shey, the former ancient capital of Ladakh. After lunch at your hotel, admire the Leh Palace casting a shadow over the charming city. Next, stop by the ever-so majestic Shanti Stupa! Spend the evening walking around the Leh Market, which sells antiques, souvenirs, jewelry, and more.
Overnight Location: Hotel in Leh
Distance: None
Meals: Breakfast, lunch, dinner
Day 11

Visit Phyang and Likir Monasteries

Consume breakfast before departing to Alchi, where more monuments await. En route, visit the Phyang Monastery, which datesback to the 16th century, and the Likir Monastery, where a 9-storey statue of Buddha soars above the land.
Overnight Location: Hotel in Alchi
Distance: None
Meals: Breakfast, lunch, dinner
Day 12

Day trip to Lamayuru

After breakfast, head to Lamayuru monastery, perched on the top of a stony hill. Enjoy a delicious lunch before embarking on a brief 30-minute walk to the Monastery of Rizong, also home to the nunnery of Zulichen.
Overnight Location: Hotel in Alchi
Distance: None
Meals: Breakfast, lunch, dinner
Day 13

Check out Alchi Monastery, Spituk Gompa

Head back to Leh today! Before you go, stop at the Alchi Monastery and admire the massive clay-painted Buddha structures here. This monastery dates back to the 11th century. Just before you reach Leh, stop at the Spituk Gompa.
Overnight Location: Hotel in Leh
Distance: None
Meals: Breakfast, lunch, dinner
Day 14

Fly to Delhi

Wake up early for a 7:40 am flight from Leh to Delhi. Arrive in Delhi around 9 am, where a representative will greet you at the airport. Transfer to your hotel before embarking on a half-day sightseeing tour around Old Delhi. Visit Jama Masjid, discover the Chandni Chowk, one of the best bazaars in Asia via Rickshaw, stop by the cremation site of Mahatma Gandhi at Raj Ghat, and more!
Overnight Location: Hotel in Delhi
Distance: None
Meals: Breakfast, dinner
Day 15

Sightseeing around New Delhi

Spend a slow morning at your leisure before checking out of the hotel by noon. Your luggage will stay in the hotel lobby while you explore New Delhi. Check out the ancient, unrusted Qutub Minar, drive by the India Gate and the president's residence. Enjoy a final dinner at your hotel before departing to the airport for your early morning flight.
Overnight Location: None
Distance: None
Meals: Breakfast, dinner

Book Now
Himalayan Sightseeing Tour Price and Dates
This guided trekking tour to Ladakh in India is always run as a custom tour for your group only and the price depends on the size of your group.
The best time to travel to Ladakh in India for trekking is from April to September.
Private Guided Himalayan Sightseeing Tour
Have your own private tour with just your group! Prices below are per person:
Guided Groups of 2: $2,195 USD per person
Guided Groups of 3: $1,850 USD per person
Guided Groups of 4-6: $1,995 USD per person
Guided Groups of 7-9: $1,875 USD per person
Book Now
Accommodation on Himalayan Sightseeing Tour
This tour will have you staying in a combination of hotels, guest houses, and one tented camp. When you're staying at a hotel, expect to stay in 3-4-star lodges. The hotels provided come with modern amenities that elevate your comfort. Do note that rooms are double occupancy, but you can always upgrade to single occupancy for an additional fee. Single travellers are also required to pay a supplement.
In some cases, the accommodation listed below may be swapped for other similar accommodations.
Single Rooms and Solo Travelers
You can pay a supplement of $525 USD to have a private room in a hotel. It's also possible to match single travellers up.
Hotels on Standard Tour
Hotel The Royal Plaza in Delhi ★★★★
Enjoy a sprinkle of luxury here. During your stay, let your body unwind in the indoor or outdoor pool or head to the spa for an added boost of relaxation.
Holiday Inn in Amritsar ★★★★
Bask in total comfort and swank at the Holiday Inn! Replenish your body with a dip in the pool or a refreshing beverage at the bar.
Chonor House in Dharamsala ★★★
This charming hotel boasts of Tibetan themes, an on-site restaurant, breakfast buffet, and WiFi. It has the necessities to keep you comfortable.
The Mirage in Palampur (Homestay)
Tucked high into the mountains, this home stay grants guests with a charming coziness while still immersing you in nature. Enjoy the pool while you're here!
Banon Resorts in Manali ★★★
Nestled amid nature, this hotel offers a dose of luxury and a whole lot of comfort! Enjoy the tennis court, WiFi, breakfast buffet, and on-site restaurant during your stay.
Enjoy sleeping under the stars! You'll camp in beautiful locations along the trail, where all necessary equipment will be provided.
Hotel The Royal Plaza in Delhi ★★★★
Enjoy a sprinkle of luxury here. During your stay, let your body unwind in the indoor or outdoor pool or head to the spa for an added boost of relaxation.
What's included in the Himalayan Sightseeing Tour?
Meals
14 breakfasts, 10 lunches, and 14 dinners are included.
Accommodations
Accommodations for 14 nights are included.
Transportation during the Tour
Transportation is included for transfers to the different locations, pick-up, and drop-off spots throughout the tour. Please note that the flight from Leh do Delhi is not included and can be added to the package during the booking process.
Also Included
Guide services
Entrance fees to special areas where required
Not included
Flights to and from Delhi
Additional nights before or after the tour
Tour guide gratuity
Personal necessities such as drinks during mealtimes and laundry
Optional Extras
You can upgrade to single occupancy for a fee
Flights between Delhi and Leh: $216 USD per person (price might vary based on availability)
Sleeping bag rental: $13 USD per day
Frequently Asked Questions about Himalayan Sightseeing Tour
Trans India Holidays was founded nearly 30 years ago in New Dehli, India. They grew their team from four dedicated travellers to 100 energetic guides and trip planners.
Trans India strives to provide the best possible value for client's money, continually searching for ways they can upgrade their service and experiences.
Offering a range of tour styles, Trans India operates cultural, religious, adventure, wildlife, culinary, family-friendly, and sporting tours.
Looking after each little detail from the perfect hotel room to booking your tee time for you, Trans India knows how to make a holiday in India as unforgettable as possible.
Learn More
Is this tour for me?
This tour is rated as a 2 / 5. Expect high altitudes on this tour, but the excursions are no more difficult than pleasant strolls in and around the various monuments and towns.
Local Guide
Ask a Question
Got any questions regarding the tour? Interested in promotions for groups or want to customize this tour to fit your needs? We are here to help you!
Ask a question
SALE! Well, not yet.
Let me know when this trip goes on sale.
Notify me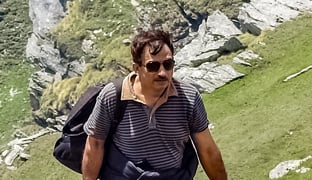 Rajiv has been working as a guide since 1996, and fell in love with sharing the ancient cultural and social roots of India with travellers. Rajiv believes that the diversity of India's different regions in terms of food, language, and culture makes travelling the country an experience like no other. Rajiv runs all kinds of tours, but especially enjoys trekking tours. He's climbed mountains up to 8,000 feet in -10 degrees with groups and considers those to be his greatest achievements as a guide.
Q & A
Q:

What is your favourite trip to lead?

A:

I enjoy giving people walking tours of the city, because that's the best way to give a vivid introduction to the country and also because there is an element of surprise on the streets. It cannot be controlled or planned, and I immensely enjoy presenting that world to them.

Q:

What is one experience anybody visiting your country should have?

A:

Learning to cook traditional Indian food.

Q:

What is one local dish or drink that visitors absolutely have to try?

A:

Masala Dosa, it's very tasty.

Q:

What is the best part about guiding?

A:

Providing them with more than they expected and noticing and taking care of any discomforts the guests might experience. Sometimes the guests don't say it, so as a guide you have to be very attentive to that.