Bond as a family as you cycle through North and South Holland on this 8-day tour
Dive into a family cycling holiday that paves the way for unforgettable memories and a week of well-rounded fun. The 8-day self-guided Holland Family Cycling Tour: Beaches, Dunes, and Cities is the perfect opportunity to explore the provinces of North and South Holland by bike, striking the perfect balance of activity and relaxation.
This kid-friendly cycling tour will delight the whole family with an expertly curated cycling route that's approachable and enjoyable for all levels. Beginning in the historical city of Haarlem, you'll set off towards the coast, enjoying a scenic beachside ride to lovely Noordwijk. Make a pit stop in the seaside resort, Zandvoort, before continuing alongside the rolling dunes that line the coast. Spend a day exploring Noordwijk, checking out the fascinating Space Expo or cruising through the green countryside. A tour of Holland wouldn't be complete without a trip to Amsterdam, and this tour allows you to spend a whole day exploring the magnetic city at your leisure. A final ride back to Haarlem closes the loop, completing the perfect tour of the North and South Holland provinces.
Stay in dynamic Stay Okay hostels along the way, each with its own unique charm and style. Family rooms in each hostel offer a comfortable stay, ensuring everyone is well-rested for exhilarating days spent on the bike.
From afternoons spent building castles in the sand to mesmerizing rides through enchanted woodlands, this tour has it all. Leave the trip planning to the experts. Book the Holland Family Cycling Tour, and enjoy a stress-free week of epic family cycling adventures!
Highlights of the Holland Family Cycling Tour: Beaches, Dunes, and Cities
Enjoy exhilarating days on your bike, pedalling with kid-friendly cycling routes in the provinces of North and South Holland.
Discover historic cities like Haarlem and feel the magnetic energy of Amsterdam with a day of exciting sightseeing.
Feel the cool sea breeze as you pedal the sunny coast lined with sandy dunes and swaying beach grass.
Visit the fascinating Space Expo in Noordwijk, where you'll be swept up in a world of astronauts, satellites, and rockets.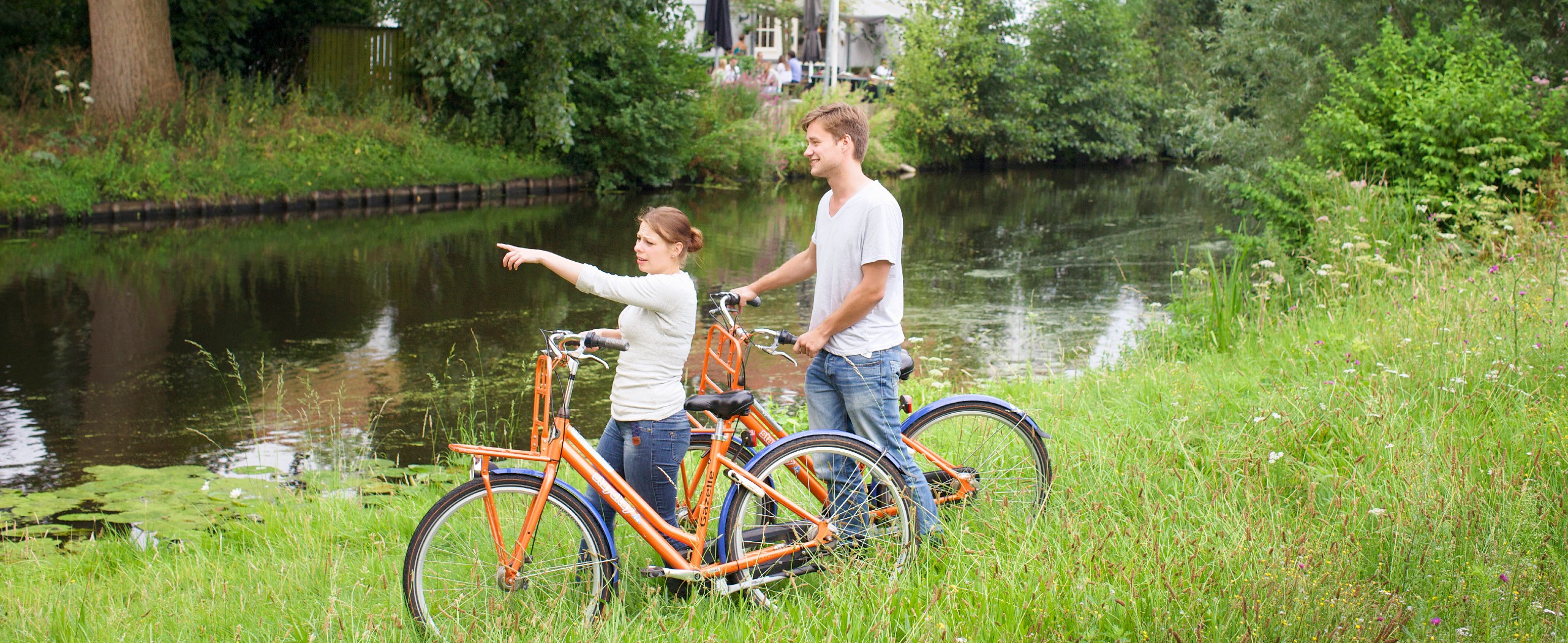 Holland Family Cycling Tour: Beaches, Dunes, and Cities Tour Itinerary
Day 1

Arrive

A world of fun awaits you in Haarlem, where your family cycling adventure begins. Check into your hostel, located on the city's outskirts right next to the lovely Schoterbos Park. The park boasts community gardens and a beehive exhibition, perfect for the kids!

Once settled into your accommodations, take a stroll to explore the historic center of Haarlem, where you'll find several fascinating museums perfect for all ages.
Overnight Location: Hostel in Haarlem
Distance: None
Meals: None
Day 2

Cycling Loop via Haarlem

A beautiful ride awaits the whole family today as you set out on your bikes to enjoy a scenic loop from Haarlem. Pedalling towards the coast this morning, you'll spot the dunes before the sea and the tall sea grass swaying in the wind. Hop off your bikes on the sandy shores to hunt for seashells or build a fortress in the sand. The loop will take you through several pretty towns today, including Overveen, Zandvoort, and Bloemendaal.

Continue the loop to return to Haarlem and enjoy the evening at your leisure.
Overnight Location: Hostel in Haarlem
Distance: 30km
Meals: Breakfast, Lunch
Day 3

Cycle Woods and Dunes to Noordwijk

Today's enchanting ride to Noordwijk will be a highlight of the tour. A mix of enchanting woods and soft dunes pave the way to Zandvoort, where you can hop off your bikes to explore the stunning seaside resort.

Back on the bike, continue to trace the coastline to Noordwijk, where you'll find your next hostel perched at the edge of pretty woodlands and dunes.
Overnight Location: Hostel in Noordwijk
Distance: 28km
Meals: Breakfast, Lunch
Day 4

Space Expo at Noordwijk

What kid doesn't love space? Today, the whole family can embark on an exciting excursion to the fabulous Noordwijk Space Expo. A world of astronauts, satellites, and rocket ships awaits your discovery at this interactive expo where fun and learning go hand in hand.

Alternatively, head out on a scenic ride through the countryside that surrounds Noordwijk. If you happen to be travelling in April or May, you'll be able to take in the mesmerizing tulip fields in full bloom—a remarkable sight!

In the afternoon, stroll down to the beach for a swim or post up on the sand for a family picnic. Whatever you get up to in Noordwijk, you're sure to enjoy this charming seaside town.
Overnight Location: Hostel in Noordwijk
Distance: 28km
Meals: Breakfast, Lunch
Day 5

Ride to Amsterdam

Enjoy some final moments in Noordwijk this morning, then pack up after breakfast for the marvellous ride to the highly anticipated capital, Amsterdam. With the whole family in tow, you'll navigate the Amsterdamse Bos woods as the pretty banks of the River Amstel guide you to the city.

For those cycling with young children, there's an option to ride to Nieuw Vennep train station, where you can catch the train to Amsterdam Central Station and then enjoy a short ride to your accommodation.

You'll find your next Stay Okay hostel just as delightful as those visited thus far, tucked away in a quiet eastern neighbourhood of the city, just a 15-minute ride to the hustle and bustle of downtown. Once settled at the hostel, head out to explore the intricate maze of canals and lush green parks. It won't take long to discover that Amsterdam was made for exploring by bike.
Overnight Location: Hostel in Amsterdam
Distance: 52km
Meals: Breakfast, Lunch
Day 6

Tour Amsterdam

Today's itinerary gives you an entire day dedicated to exploring beautiful Amsterdam, which you got a taste of yesterday. Still, with so much to explore, you'll fill another day easily.

Delve into the heart of the city today, exploring its vibrant neighbourhoods and waterfront jewels. Perhaps check out one of the city's famous museums, like Rijksmuseum, where you'll uncover Rembrandt's famous painting, "The Night Watch." Or ride to Oosterdok, where you'll revel in the views of a magnificent 17th-century sailing ship replica.

The options here are endless, and you'll discover infinite reasons to fall in love with this spectacular city.
Overnight Location: Hostel in Amsterdam
Distance: Flexible
Meals: Breakfast, Lunch
Day 7

Cycle to Haarlem via Spaarnwoude

Your final day of cycling has arrived, so be sure to savour every moment of today's journey. This morning, you'll leave the buzz of the city behind as you cruise into the peaceful countryside to the gorgeous village of Spaarndam. Admire the unique village houses that sit atop an ancient dam spanning the River Spaarne and take in Europe's oldest functioning shipping lock, built in 1280.

Continue the route to Haarlem, where you'll enjoy another night at the Stay Okay Hostel. Enjoy the last evening of the tour, reminiscing on the magical memories made in the last week.
Overnight Location: Hostel in Haarlem
Distance: 27km
Meals: Breakfast, Lunch
Day 8

Depart

This morning, your tour comes to an end. Enjoy a final breakfast in Haarlem, then pack up to head home.
Overnight Location: None
Distance: None
Meals: Breakfast

Book Now
Holland Family Cycling Tour: Beaches, Dunes, and Cities Tour Prices and Dates
This self-guided family bike tour is run as a custom tour, and the price per person depends on how many people are in your group.
The best time to travel to North and South Holland for this cycling tour is mid-April to October, when the weather is at its best. July and August see the greatest number of tourists. This tour is available from April to September, allowing you the option to travel during the spring, summer, or early fall.
Please note, that there is a surcharge of $25 USD per person for departures on Mondays and Tuesdays.
Private Self-Guided Holland Family Cycling Tour: Beaches, Dunes, and Cities
Have your own private tour with just your group! Prices below are per person:
Price per person sharing a double room: $475 USD
Book Now
Accommodation on the Holland Family Cycling Tour: Beaches, Dunes, and Cities Tour
This tour is based in Stay Okay hostels. The family-friendly hostels are comfortable and welcoming, with several unique amenities designed with children in mind. Accommodations are well-located and offer private family rooms with ensuite bathrooms. When you arrive at the Stay Okay hostels, you'll receive a sheet package to make your own bed, and you can rent towels at reception.
Hotels on Standard Tour
What's Included in the Holland Family Cycling Tour: Beaches, Dunes, and Cities Tour?
Meals
7 breakfasts are included. You can also upgrade to half board for $195 USD per person supplement.
Accommodations
Accommodations for 7 nights are included. Accommodations before and after the tour in Haarlem are not included but can be added as a supplement.
Transportation during the Tour
Transportation for you and your luggage are included throughout the tour (luggage is 1 piece per person, max 20 kilos). Your bike rental and airport transfers are not included but can be booked in advance as a supplement.
Also Included
Maps and route descriptions
Tourist information on all places of interest
Tourist taxes
Phone hotline (also available on weekends)
Not included
Guide services
Flights to and from Amsterdam
Bike rental
Ferry tickets
GPS
Meals, drinks, or snacks not previously mentioned
Entrance fees and excursions
Gratuities for tour guides or other staff if desired
Optional Extras
Bike rental:

Child bike: $75 USD
Hybrid bike: $95 USD
E-Bike: $195 USD

Upgrade the meal basis to half board: $195 USD
Additional services and biking equipment rental:

Bike theft insurance: $25 USD per bike
Child seat: $50 USD per seat
Bike road assistance: $25 USD per bike

Additional nights before or after the tour
Airport transfers
Single occupancy upgrades
Optional activities or excursions
Frequently Asked Questions about Holland Family Cycling Tour: Beaches, Dunes, and Cities
Is this tour for me?
We rate this tour as a 1 / 5. The tour is designed to be enjoyed by the whole family, kids included, so routes are generally shorter and can be customized to reduce distances in some cases. You should be comfortable cycling up to 30 kilometres in a day, with plenty of opportunities for breaks and refreshments. The terrain is almost entirely flat, making for a pleasant and easy ride.
Ask a Question
Got any questions regarding the tour? Interested in promotions for groups or want to customize this tour to fit your needs? We are here to help you!
Ask a question