Lead yourself through the green landscapes and charming villages of South Holland by bike
Cycle in a real-life Dutch picture book on this 5-day self-guided cycling tour of Holland's beautiful Green Heart.
Tucked between the major cities of Amsterdam, Rotterdam, Utrecht, and The Hague lies Holland's Green Heart (Groene Hart), a spellbinding rural oasis made up of low-lying peat meadows, enchanting woods, vast lakes, and charming Dutch villages. This nature-lovers paradise provides an ideal setting for a cycling tour, where each day unfolds under beautiful blue skies amidst serene pastoral landscapes complete with grazing cattle.
Beginning in the city of Utrecht, you'll explore its peaceful inner-city canals and gorgeous districts like the Museum Quarter. Then, you'll ride to the Netherlands' dynamic capital, Amsterdam. Following a full day of revelling in the city rich in history, culture, and impressive architecture, you'll continue, crossing the Green Heart to the "cheese town" of Gouda. After filling up on the sights, cheese, and waffles of Gouda, you'll return to Utrecht, where the tour concludes.
Your journey will take you through the serene Dutch countryside, inviting you to explore charming, quaint villages, each steeped in rich culture and tradition. The landscape is remarkable and peppered with rivers, polders, lovely woods, and old stately homes, and castles.
A flat route makes for easy cycling on quiet roads and trails, ensuring you have ample opportunities to revel in the idyllic settings. Accommodations on the tour are comfortable 3-star and 4-star hotels, keeping you well-rested for exciting days on the bike.
Discover the beating heart of Holland and experience some of the most beautiful landscapes the country has to offer. Don't miss out—book your spot on Holland's Green Heart Cycling Tour today!
Highlights of the Holland's Green Heart Cycling Tour
Cycle a mesmerizing loop from Utrecht, embarking on joy rides on the easy flat terrain of Holland's Green Heart.
Pedal alongside low-lying peat meadows, delightful woods, vast polders, and sparkling lakes.
Enjoy exciting stops along the way in the "cheese town" of Gouda and the magnetic capital, Amsterdam.
Pedal the tranquil inner canals of Utrecht and explore the city's gorgeous Museum Quarter.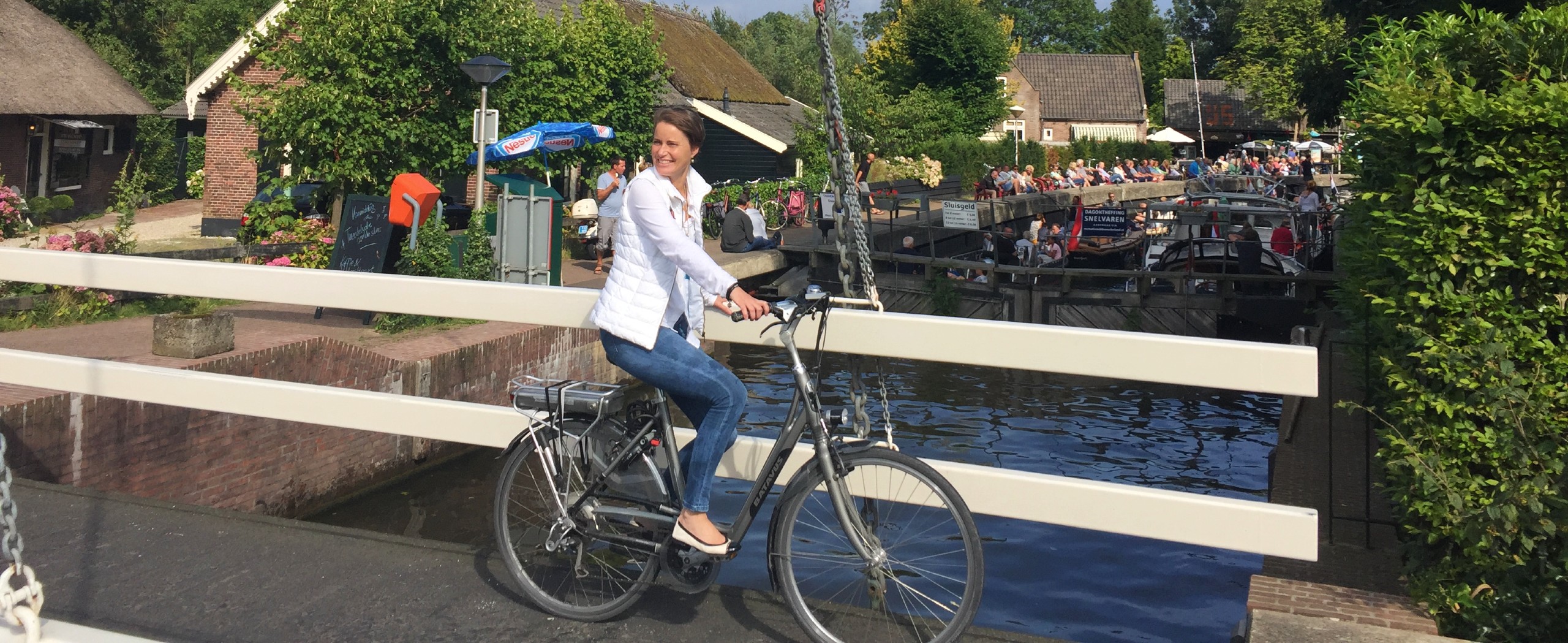 Holland's Green Heart Cycling Tour Itinerary
Day 1

Arrive

Your cycling tour of Holland's Green Heart begins in Utrecht, a beautiful city defined by its lively atmosphere, roots as an ancient university town, and its impressive city center. If your arrival time permits, head to explore the city on foot after checking into your hotel. Take a detour from the city's major streets, and you'll find yourself in a charming labyrinth of narrow lanes connecting hidden courtyards.

Enjoy the first evening of your tour here, and get ready for an exciting day on two wheels tomorrow.
Overnight Location: Hotel Utrecht
Distance: None
Meals: None
Day 2

Cycle the River Vecht and Amsterdam

Rise this morning, as the anticipation builds for your first day on two wheels exploring Holland's Green Heart. Enjoy breakfast at your hotel, then set out along the banks of the pretty River Vecht. You'll take in several stately 17th- and 18th-century homes along the route this morning, characteristic of the area and complete with stunning garden pavilions.

Arrive in Amsterdam, and find yourself in a world of innumerable inner-city canals, hundreds of bridges, and bikes—lots of bikes! Amsterdam is a city for exploring and savouring. It's brimming with art, culture, and fascinating history. For a different perspective of the capital, perhaps take a canal boat tour to admire the unique canal houses or post up on a patio to people watch and revel in the magnetic city spirit.
Overnight Location: Hotel in Amsterdam
Distance: 63km
Meals: Breakfast
Day 3

Cycle the Rural Green Heart

Today, you'll embark on a mesmerizing ride across the Green Heart, passing wondrous ancient Dutch towns and villages along the way.

Arrive in Gouda, also known as the "cheese town," which has plenty more to offer than just delicious cheese. As you meander the city streets, don't miss the Gothic town hall, which dates to the year 1450, and the impressive stained glass windows in St. John's Church. If you're fortunate enough to land in Gouda on a Wednesday, you'll want to check out the Thursday morning cheese market, which is sure to give any gouda you've had in the past a real run for its money.

Beyond its famed cheese, Gouda is also famous for its artisan candles and delicious waffles. Soak in the charm of this unique town, enjoying all it has to offer.

Please note, there is an option to split this day by booking an extra night in Woerden, cutting the riding distance from 80 kilometres to 30 kilometres and 49 kilometres over two days.
Overnight Location: Hotel in Gouda
Distance: 80km
Meals: Breakfast
Day 4

Ride to Utrecht

Admire the endless rivers, polders, woods, marshes, and lakes of the Green Heart this morning as you continue the loop back to Utrecht.

Once back in Utrecht, take a stroll in the city's beautiful Museum Quarter or enjoy some shopping on its quieter streets.

Enjoy one final evening of the tour in Utrecht, reminiscing on the memories made in Holland's beautiful Green Heart in recent days.
Overnight Location: Hotel in Utrecht
Distance: 67km
Meals: Breakfast
Day 5

Depart

This morning after breakfast, your tour comes to an end. Check out and head to the airport to depart.
Overnight Location: None
Distance: None
Meals: Breakfast

Book Now
Holland's Green Heart Cycling Tour Prices and Dates
This self-guided cycling tour in the Netherlands is run as a custom tour, and the price per person depends on how many people are in your group. Note there is a surcharge of $25 USD to stay in Amsterdam on a Saturday (departures on Friday).

Prices below are per person:

Price per person staying in a single room: $595 USD
Price per person sharing a double room: $475 USD
Book Now
Accommodation on the Holland's Green Heart Cycling Tour
This tour is based on hotels. Hotels on this tour are 3-star and 4-star and offer either basic or modern amenities to ensure you have a pleasant and comfortable stay. Accommodations are well-located and offer private rooms with ensuite bathrooms.
Single Rooms and Solo Travellers
Rooms are double occupancy. You can pay a supplement of $150 USD to have a private room in a hotel where possible. Solo travellers may be required to pay a supplement.
Hotels on Standard Tour
What's Included in the Holland's Green Heart Cycling Tour?
Meals
4 breakfasts are included. 4 dinners can be added for a supplement of 130 EUR.
Accommodations
Accommodations for 4 nights are included. Accommodations before and after the tour in Utrecht are not included but can be added as a supplement.
Transportation during the Tour
Transportation for you and your luggage are included throughout the tour. Your bike rental and airport transfers are not included but can be booked in advance as a supplement.
Also Included
Detailed route notes and maps
Tourist information on all places of interest
GPS tracks (on request)
Tourist city tax
24/7 emergency phone support
Luggage transfers
Not included
Bike rental and GPS
Guide services
Flights to and from Amsterdam
Meals, drinks, or snacks not previously mentioned
Gratuities for tour guides or other staff if desired
Optional Extras
Bike rental:

Child bike: $50 USD
Hybrid bike: $75 USD
Premium hybrid bike: $95 USD
E-Bike: $125 USD

Additional nights before or after the tour
Upgrade to half board: $150 USD per person
Additional services and biking equipment rental:

Child seat: $25 USD
Bike theft insurance: $25 USD
E-bike/premium bike theft insurance: $50 USD
Child trailer: $75 USD
Helmet: $25 USD
GPS: $25 USD

Airport transfers
Single occupancy upgrades
Optional activities or excursions
Frequently Asked Questions about Holland's Green Heart Cycling Tour
Is this tour for me?
We rate this tour a 3 / 5. You should be comfortable riding up to 80 kilometres in a day. The terrain is completely flat, making for a nice, easy ride.
Ask a Question
Got any questions regarding the tour? Interested in promotions for groups or want to customize this tour to fit your needs? We are here to help you!
Ask a question