Discover the unspoiled, unexplored natural beauty blanketing India's northeast
Escape everyday life for a magical, enchanting immersion into the storybook realm of the Himalayas, where the unforgettable sights provide a once-in-a-lifetime experience. This 9-day guided tour through India's northeast carries you to unexplored wonders: a park home to an abundance of wildlife (tigers, one-horned rhinos), roaring waterfalls, and glimmering lakes. But the charm doesn't end at the staggering Himalayan scenery.
It continues with city explorations in Kolkata, where monumental temples await, and in vibrant Shillong. The India's Northeast Sightseeing Tour unveils that India is much more than vibrant culture with jaw-dropping, architecturally pleasing temples, but it's a country with one of the most stunning natural backdrops in the world. Outdoor enthusiasts who crave ancient tales and historical buildings while they're exploring and discovering a new culture will love this tour.
Highlights of the India's Northeast Sightseeing Tour
Look out for exotic, rare wildlife roaming Kaziranga National Park, like one-horned rhinos and tigers.
Bask in the picturesque, charming beauty of Shillong, where gardens, waterfalls, lakes, and green rolling hills await.
Enjoy the many cultural, architectural, and scenic wonders packed into Kolkata, like the Jain Temples.
Embark on a day trip to Cherrapunjee and admire the roaring waterfalls cascading down cliffs cloaked in vibrant green flora.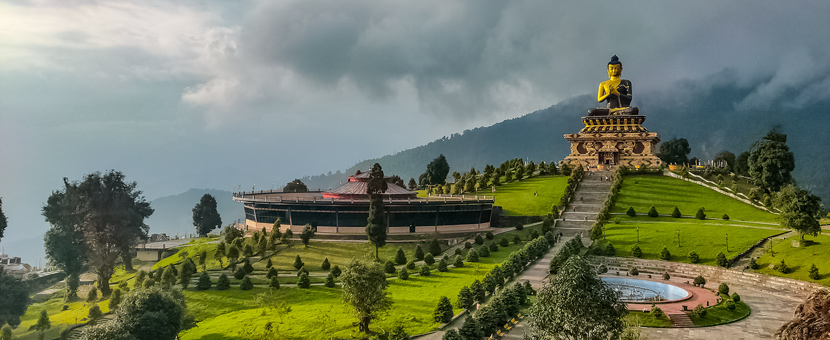 India's Northeast Sightseeing Tour
Day 1

Arrive in Kolkata

Meet and greet a tour representative upon arrival and transfer to your hotel. Admire the charm and history of this lovely city.
Overnight Location: Hotel in Kolkata
Meals: Breakfast
Day 2

Explore Kolkata

Enjoy a delicious breakfast before embarking on a guided sightseeing tour around Kolkata. Admire the ever-so stunning Jain Temples and the Hindu temple dedicated to Goddess Kali. Check out the traditional pottery village, Kumartuli, and meander College Street and Eden Gardens. This sightseeing tour also includes stops at Victoria Memorial, Raj Bhawan, and Howrah Bridge.
Overnight Location: Hotel in Kolkata
Meals: Breakfast
Day 3

Travel to Kaziranga National Park

After breakfast, head to the airport for your flight to Guwahati. Hop into a car and transfer on a 5-hour journey to Kaziranga National Park, where tigers, elephants, river dolphins, and birds thrive. This national park is also home to the one-horned rhino.
Overnight Location: Hotel in Kaziranga National Park
Meals: Breakfast, dinner
Day 4

Safari in Kaziranga National Park

Go on an elephant ride and a Jeep safari after breakfast. In the afternoon, you'll head out for another safari in the jungle.
Overnight Location: Hotel in Kaziranga National Park
Distance: None
Meals: Breakfast, dinner
Day 5

Safari in Kaziranga National Park

Get another chance to view wildlife today! Go on either an elephant ride or Jeep safari in the morning and embark on another game drive during the afternoon.
Overnight Location: Hotel in Kaziranga National Park
Meals: Breakfast, dinner
Day 6

Travel to Shillong

Enjoy a tasty breakfast before travelling to Shillong. Admire the aerial views as you twist along the road! As you arrive in Shillong, marvel at the picturesque hill station, which is also known as the "Abode of Clouds." This unspoiled town boasts waterfalls, gardens, lakes, and rolling hills cloaked in green.
Overnight Location: Hotel in Shillong
Meals: Breakfast, dinner
Day 7

Day trip to Cherrapunjee

Eat an early breakfast before heading to Cherrapunjee for a day trip. En route, you'll visit Elephant Falls. Then, you'll check out an array of other natural attractions: Nohsngithiang Falls, Mawsmai Caves, Arwah Caves and Nohkalikai Falls. Enjoy a relaxing evening in Shillong.
Overnight Location: Hotel in Shillong
Meals: Breakfast, dinner
Day 8

Discover Shillong

Get to know the combination of natural attractions and intriguing monuments spanning Shillong today. Visit Wards Lake, Don Bosco Museum, The Catholic Cathedral, Lady Hydari Park, and the place tailor-made for foodies: Police Bazaar.
Overnight Location: Hotel in Shillong
Meals: Breakfast, dinner
Day 9

Transfer to the airport

Enjoy breakfast before heading to the airport for your flight to Netaji Subhas Chandra Bose International Airport in Kolkata. The tour ends here.
Overnight Location: None
Distance: None
Meals: Breakfast

Book Now
India's Northeast Sightseeing Tour Price and Dates
This guided tour to the northeast of India is always run as a custom tour for your group only and the price depends on the number of people in your group. Please note that the prices might increase during the holiday seasons.
The best time to travel to Northeast India for sightseeing is between October and May, the dry season.
Private Guided India's Northeast Sightseeing Tour
Have your own private tour with just your group! Prices below are per person:
Guided Groups of 2-5: $1,605 USD per person
Book Now
Accommodation on India's Northeast Sightseeing Tour
This tour will have you staying in 2.5-5-star hotels that offer modern necessities to keep you comfortable. Do note that rooms are double occupancy, but you can upgrade to single occupancy for an additional fee. Single travellers are also required to pay a supplement.
In some cases, the accommodation listed below may be swapped for other similar accommodations.
Single Rooms and Solo Travelers
You can pay a supplement to have a private room in a hotel (please inquire to find out the cost). It's often also possible to match single travellers up.
Hotels on Standard Tour
The Park in Kolkata ★★★★★
Let your body totally relax at this hotel, which is decked out with urban glamour. Dance in one of the 4 nightclubs, enjoy the pool, and more!
Wild Grass Lodge in Kaziranga National Park ★★★
The Wild Grass Lodge may offer simple amenities, but its chill, friendly vibes and lush location makes for a memorable stay.
Blueberry Inn Hotel in Shillong
The Blueberry Inn offers guests a charming, cozy stay! Enjoy the WiFi, on-site restaurant, breakfast buffet, and bar and lounge while you're here.
What's included in the India's Northeast Sightseeing Tour?
Meals
8 breakfasts and 6 dinners are included on this tour.
Accommodations
Accommodations for 8 nights are included on this tour.
Transportation during the Tour
Ground transportation is included throughout the tour. Please note that one domestic flight is needed for this tour. You can either book this in advance or contact us to include add it to your tour package. You should budget around $120 USD for this flight.
Also Included
Not included
Flights to and from Kolkata
Accommodations before and after the tour
Tour guide gratuity
Personal necessities such as drinks during mealtimes and laundry
Lunches
Domestic flights
Optional Extras
Single occupancy upgrades
Additional nights before or after the tour
Upgrades to deluxe accommodation
Frequently Asked Questions about India's Northeast Sightseeing Tour
Trans India Holidays was founded nearly 30 years ago in New Dehli, India. They grew their team from four dedicated travellers to 100 energetic guides and trip planners.
Trans India strives to provide the best possible value for client's money, continually searching for ways they can upgrade their service and experiences.
Offering a range of tour styles, Trans India operates cultural, religious, adventure, wildlife, culinary, family-friendly, and sporting tours.
Looking after each little detail from the perfect hotel room to booking your tee time for you, Trans India knows how to make a holiday in India as unforgettable as possible.
Learn More
Is this tour for me?
We rate this tour as a 1 / 5. It's suitable for any level of fitness.
Local Guide
Ask a Question
Got any questions regarding the tour? Interested in promotions for groups or want to customize this tour to fit your needs? We are here to help you!
Ask a question
SALE! Well, not yet.
Let me know when this trip goes on sale.
Notify me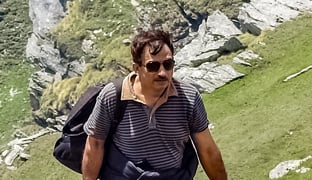 Rajiv has been working as a guide since 1996, and fell in love with sharing the ancient cultural and social roots of India with travellers. Rajiv believes that the diversity of India's different regions in terms of food, language, and culture makes travelling the country an experience like no other. Rajiv runs all kinds of tours, but especially enjoys trekking tours. He's climbed mountains up to 8,000 feet in -10 degrees with groups and considers those to be his greatest achievements as a guide.
Q & A
Q:

What is your favourite trip to lead?

A:

I enjoy giving people walking tours of the city, because that's the best way to give a vivid introduction to the country and also because there is an element of surprise on the streets. It cannot be controlled or planned, and I immensely enjoy presenting that world to them.

Q:

What is one experience anybody visiting your country should have?

A:

Learning to cook traditional Indian food.

Q:

What is one local dish or drink that visitors absolutely have to try?

A:

Masala Dosa, it's very tasty.

Q:

What is the best part about guiding?

A:

Providing them with more than they expected and noticing and taking care of any discomforts the guests might experience. Sometimes the guests don't say it, so as a guide you have to be very attentive to that.