Trek throughout seven geologically fascinating islands in the Aeolian archipelago
Discover the wild, colourful, and historical wonders of this Sicilian archipelago. This guided hiking tour will take you to volcanic craters, lush trails with panoramic views, and stunning villages on rocky cliff sides—an idyllic journey, to say the least.
But we don't want to say "the least," so let's elaborate.
The Aeolian archipelago, a UNESCO-protected heritage site, comprises seven stunning islands. Throughout the guided hiking tour, you'll learn about the ancient history of the area, hike to breathtaking viewpoints, and be immersed in Sicilian culture. And why not indulge in some cool treats during your free time?
The trip starts in Milazzo, one of the most beautiful seaside villages in Italy. You'll then take the road (or sea) less travelled and head to the remote islands of Alicudi and Filicudi, where you'll find uninhibited views and rocky coastlines spilling into the cobalt sea. On Alicudi, you'll get around by foot—or get out of your comfort zone and go by donkey!
Then you head to Lipari, which will be the group's home base for two nights. From here, you can explore hiking trails that reach outlooks to the surrounding islands, delight in some natural hot springs therapy, visit the medieval fortress, and stop by the Marina Corta plaza to enjoy a well-deserved ice cream.
The following days include excursions to the islands of Salina, Panarea, and Stromboli. On "green" Salina, the proposed hiking trail winds through lush vegetation, eventually reaching the summit of the Aeolian Islands. You'll get well-acquainted with an active volcano on the stopover on Stromboli, so don't forget your camera! The last stop is Catania—a town where the buildings are constructed from volcanic rock, and the nightlife is as hot as lava.
If you're searching for a trip that offers stunning views, lush vegetation, Mediterranean culture, and epic hikes, you've found it. This 8-day guided hiking tour of the Aeolian Islands should be on your list.
Highlights of the Island Hopping in the Aeolian Islands Tour
Hike through lush vegetation, volcanic craters, and geological wonders in the midst of the Mediterranean.
Get a taste of Sicilian culture and history in the island villages, fortresses, and churches.
Soak up the luxurious lifestyle lived by the ancient Romans by bathing in natural thermal baths.
Relax and recover in some of the most stunning seaside villages in Sicily.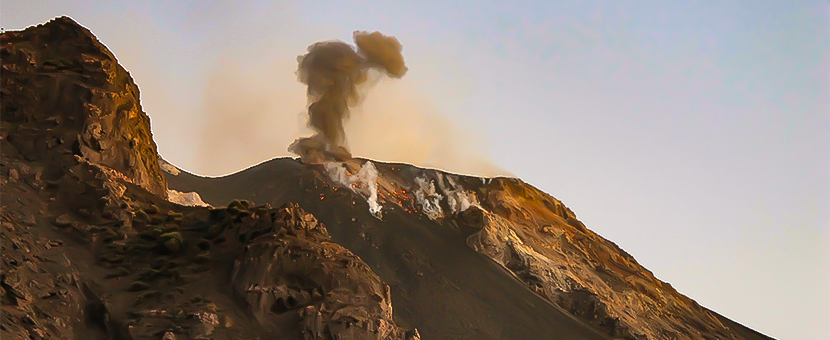 Island Hopping in the Aeolian Islands Tour Itinerary
Day 1

Arrival in Catania

Welcome to Sicily! Upon arriving at the airport, you will meet your guide and head to the stunning seaside town of Milazzo. Stroll on the boardwalk, indulge in an ice cream, and bask in the beach-town atmosphere. Hit up your choice of restaurants and get a good night's sleep before your week of adventure.
Overnight Location: Hotel in Milazzo
Distance: None
Meals: None
Day 2

All aboard for Alicudi

If you want off-the-beaten-path, this is it. You'll hike on the remote island of Alicudi today—so remote that the most common mode of transport is the donkey! The trek winds through the wilderness of the island, leading up to the Church of San Bartolo built in 1821. Make sure you have your camera to capture the breathtaking scenery of the surrounding islands. After stopping for a packed lunch midday, you'll descend and hop on a boat for the hotel in Filicudi to spend the night.
Overnight Location: Hotel in Filicudi
Distance: 3 hours, 403 m of ascent, 403 m of descent
Meals: Breakfast, Lunch, Dinner
Day 3

Monte Fossa delle Felci on Filicudi

On Day 3, you'll hike to the peak of Monte Fossa delle Felci on a trail packed with a variety of flora. Once you're at the top, you can expect to see magnificent views of Alicudi and La Canna rock jutting out of the sea. The group will have dinner and spend the night in Filicudi.
Overnight Location: Hotel in Filicudi
Distance: 5 hours, 771 m of ascent, 771 of descent
Meals: Breakfast, Lunch, Dinner
Day 4

Trek to San Calogero hot springs

After breakfast, the group will board a boat to Lipari, a popular spot in the Aeolian Islands, and one that is home to numerous minerals and stones. A visit to the medieval fortress will teach you about the islands, and the Mediterranean as a whole thanks to its history dating back to the Middle Ages. Your trek starts in Quattropani, passes along the quarries, and ends up at an ancient Roman hangout spot: the San Calogero hot springs. Relax and take in your surroundings before heading back to Lipari for dinner and rest.
Overnight Location: Hotel in Lipari
Distance: 4 hours, 300 m of ascent, 200 m of descent
Meals: Breakfast, Lunch, Dinner
Day 5

Hike in the hills on Salina

On a day excursion from Lipari, the group goes to Salina, known for its lush Mediterranean vegetation and twin hills. Get a head start on the ascent to the highest peak in the archipelago with a transfer to Val di Chiesa, then start climbing Monte Fossa delle Felci (yes, named identically to the peak on Filicudi). The "green island" of Salina boasts a variety of beautiful plant species to admire as you enjoy lunch midday. Rest up in Lipari at night for a big day ahead!
Overnight Location: Hotel in Lipari
Distance: 5 hours, 622 m of ascent, 962 m of descent
Meals: Breakfast, Lunch, Dinner
Day 6

Panarea stopover and Stromboli volcano trek

On the way to Stromboli, the group will have a chance to visit Panarea, one of the more luxurious islands in the archipelago. The climb to Stromboli will be guided by a volcanologist to ensure you absorb all you can when you visit this wonder. You'll spend the afternoon here and have a picnic dinner at the volcano's peak. Unforgettable! Spend the night in Stromboli and reflect on your epic day (and also get a well-deserved rest).

N.B. Access to the paths is subject to rules established by the Civil Protection, which vary depending on the volcano's activity.
Overnight Location: Hotel in Stromboli
Distance: 6.5 hours, 830 m of ascent, 830 m of descent
Meals: Breakfast, Dinner
Day 7

Cratere della Fossa on Vulcano

After a week of adventure, and especially yesterday's trek, today will feel a little easier. Today you have time to explore another island in the Aeolian archipelago: Vulcano. Your guide will show you the path to the Cratere della Fossa with its fascinating fumaroles and other crystalized geological formations. Take some time to enjoy a light lunch, and spend your afternoon relaxing on the beach or indulging in some natural therapy in the nearby mud baths. The group will be transferred to Catania, where you can take advantage of the buzzing nightlife on your last night or cozy up in the hotel and recover from your wild week!
Overnight Location: Hotel in Catania
Distance: 3 hours, 390 m of ascent, 390 m of descent
Meals: Breakfast, Lunch
Day 8

Farewell

Have breakfast with your pals and pack up. Head to the airport in Catania to bid farewell to your week of exploring seven islands in the Aeolian archipelago.
Overnight Location: None
Distance: None
Meals: Breakfast

Book Now
Island Hopping in the Aeolian Islands Tour Price and Dates
This guided trekking tour in the Aeolian Islands is always run as a private tour for your group only and the price depends on the number of people in your group.

Prices below are per person:
Guided Groups of 2: $2,225 USD per person
Guided Groups of 3-4: $1,750 USD per person
Guided Groups of 5+: $1,525 USD per person
Book Now
Accommodation on Island Hopping in the Aeolian Islands Tour
Hotels on this trip are 2 and 3-star and offer modern conveniences that can make this trip more pleasant. Rooms are double occupancy, and single travelers will pay a supplement.
In some cases, accommodation listed below may need to be substituted for other, comparable accommodations.
Single Rooms and Solo Travelers
You can pay a supplement of $275 USD to have a private room in a hotel while traveling with your group. Contact us and we can try and match single travelers up, where possible.
Hotels on Standard Tour
What's included in the Island Hopping in the Aeolian Islands Tour?
Meals
7 breakfasts, 5 lunches, 5 dinners, snacks along the route each day.
Accommodations
Accommodations for 7 nights along the tour are included.
Transportation during the Tour
Transport for you and your luggage is included throughout the tour in a private minivan. This includes airport transfer (one for your whole group) and boat transfers too.
Also Included
English-speaking tour leader
Visit to Stromboli with a volcanology guide
Not included
Drinks with meals
Entrance to archeological and culture sites
Personal expenses
Anything not stated as "included"
Frequently Asked Questions about Island Hopping in the Aeolian Islands Tour
Since 2005, Mediterranea Trekking has offered excellent trekking, biking, and sailing tours in Sicily. The tour operator employs an experienced team of licensed and professional guides. Mediterranea Trekking maintains sustainable practices to lessen its impact on the environment and provide guests with an eco-friendly experience. 
Learn More
Is this tour for me?
We rate this tour as a 3 / 5. Although the terrain is not very difficult, you should be prepared to be on your feet for up to 7 hours daily.
Ask a Question
Got any questions regarding the tour? Interested in promotions for groups or want to customize this tour to fit your needs? We are here to help you!
Ask a question