Discover the beauty of Slovenia on a guided hiking tour through Triglav National Park
Step into a traditional alpine culture in the Julian Alps by taking a 3-day/ 2-night trekking tour. Hike through the heart of this stunning part of Slovenia. Hiking through Triglav National Park and staying in mountain huts allows you to experience unique parts of the Julian Alps that are inaccessible by car or day hikes.
The fully equipped huts allow for many different levels of hiking experience to share in the beauty of the Julian Alps and the culture of hiking in Slovenia. Along the tour taste delicious products from local shepherds as well as the vibrant Slovenia culture.
Highlights Of Julian Alps Hut-to-Hut Trek
Discover some of the best views in the Slovenian Alps.
Experience traditional Slovenian food and hut culture.
Explore the 7 Lakes Valley in Triglav National Park.
Take a refreshing dip in Lake Bohinj.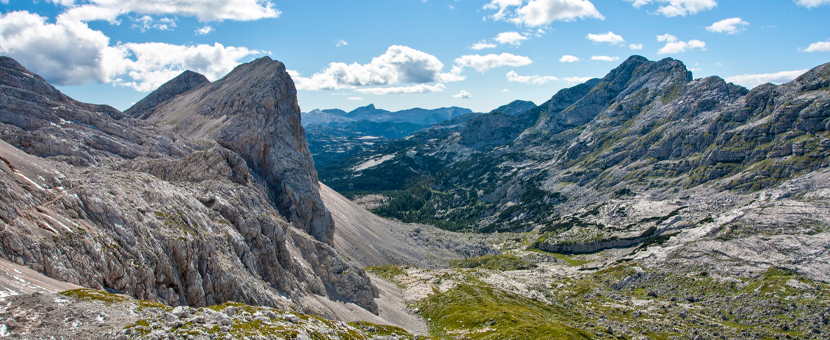 Slovenian Alps Hut-to-Hut Trek Itinerary
Day 1

The trek begins in the Julian Alps

Take a transfer to Lake Bohinj where you will begin your guided tour through the Julian Alps into Triglav National Park. After 10 km and an elevation gain of 900 m, you will arrive at the first of two mountain huts. This hut is situated at the base of Mount Triglav and is fully equipped. A meal and bedding will be provided so there is no need to bring much except any essentials such as a change of clothes and toiletries. Once at the hut there is the option to climb to a nearby peak which provides stunning views of the Julian Alps and Triglav National Park.
Overnight Location: Mountain Refuge
Distance: 6 hours, 10 km, 900 m of ascent, 250 m of descent
Meals: Dinner
Day 2

Trekking through the Valley of the 7 Lakes

Today is the longest and hardest day of the whole guided tour, covering 14 km and an elevation gain of 700 m. Your guide takes you through the alpine with the option to ascend an additional peak with 250 m elevation gain. Followed by a descent to the Valley of the 7 Lakes. Hiking through the Valley of the 7 Lakes is like hiking through geological history, your knowledgeable guide will share plentiful information about the region and you will have a chance to come across some fossils in the rocks. The day ends at another fully equipped mountain hut, with a simple but delicious local dinner and a comfortable place to sleep.
Overnight Location: Mountain Refuge
Distance: 7 hours, 14 km, 700 m of ascent, 750 m of descent
Meals: Breakfast, dinner
Day 3

Lake Bohinj and final day of hiking in the Julian Alps

Today you will begin your hike down from some of the highest peaks in the Julian Alps and make your way to an alpine pasture. Once there you may be able to try some local products. From there you will make your way to Lake Bohinj and enjoy a swim in its crystal-clear waters followed by transport back to Ljubljana or Bled.
Overnight Location: None
Distance: 4 hours, 10 km, 200 m of ascent, 800 m of descent
Meals: Breakfast

Book Now
Julian Alps Hut-to-Hut Trek Price and Dates
This guided tour in Slovenia is run as a group tour, however, this tour can also be arranged as a private tour (please contact us with your preferred dates and group size to get your quote). This tour is available from July to September.
Prices below are per person:
Day of Week
Price per Person *
* Single Supplement may apply
Accommodation on Slovenian Alps Hut-to-Hut Trek
This tour is based in traditional mountain huts. The huts are basic but do provide everything you will need for the night such as food and blankets as well as one-time-use bedsheets. It is recommended that you bring a cotton sleeping bag liner if you are sensitive to any materials. The huts are divided into rooms of 4, 6, or 12 and there is no option for a single supplement.
Single Rooms and Solo Travelers
Single rooms on this tour are not available as mountain huts only have shared accommodations.
Hotels on Standard Tour
Equipped traditional mountain huts are basic but do provide everything you will need for the night such as food and blankets as well as one-time-use bedsheets.
What's included in the Slovenian Alps Hut-to-Hut Trek?
Meals
This tour includes half board in mountain huts (2 breakfasts and 2 dinners).
Accommodations
Accommodation for 2 nights in mountain huts is included.
Transportation during the Tour
You will be picked up in either Ljubljana or Bled and transferred to Lake Bohinj on the first day of this tour, also returned to the same place after the hike (this service is included).
Also Included
Not included
Flights to get to Ljubljana or Bled.
Accommodations and meals on the tour
Tips
Summit climb of Mt. Triglav
Alcoholic drinks
Anything not stated as included
Insurance
Not included
Guided hike to Mt Triglav $425 USD for the group of max 4 people
Frequently Asked Questions about Julian Alps Hut-to-Hut Trek
Slotrips loves creating travel experiences in Slovenia. They're passionate about what their country has to offer and they thrive on positive feedback from their guests. Slotrips specializes in hiking and biking tours not just in Slovenia, but also in neighboring countries. They are a top-rated agency and have been since shortly after their creation in 2007.
Slotrips started as a hobby at the hands of a passionate Slovenian named Miha. Initially, the agency was just a wealth of travel information. Eventually, this was converted into a full-service travel agency.
Travelling from hidden corners of the country to stunning natural sites, Slotrips turned their passion into their mission, and they're always searching for new opportunities to offer travellers. Each trip begins with a thorough discussion of the client's wants and needs to design a personalized trip sure to impress.
Learn More
Is this tour for me?
We rate this tour as a 4/5. You will be trekking up to 7 hours daily on rough terrain.
Local Guide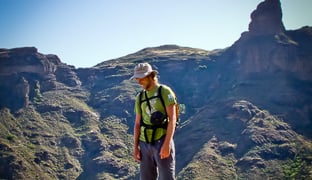 Ask a Question
Got any questions regarding the tour? Interested in promotions for groups or want to customize this tour to fit your needs? We are here to help you!
Ask a question