Discover the immaculate scenery at every bend in Slovenia's Julian Trail
Slovenia is one of Europe's true hidden gems just waiting to be discovered! On this 15-day self-guided hiking trip, you'll explore the best of Slovenia's mountainous northwest where the Julian Alps dominate the landscape.
Kick off the adventure in Kranjska Gora, about an hour northwest of the capital city Ljubljana. Hike east through the foothills of the Karavanke mountain range as you overnight in settlements known for their ironworks and beekeeping. Then turn west and overnight on the shores of Lake Bled, Slovenia's most popular natural feature. From here, ascend into the alpine pastures of the Pokljuka Plateau before descending onto the spectacular coastline of Lake Bohinj. Continue through hilly meadows and twisting mountain trails, spotting old military fortifications being reclaimed by nature. Hike through the upper flanks of the Baška grapa before descending the valley and strolling along the delightful Soča River, its aquamarine colour enchanting all who visit. Overnight in Kobarid and marvel at the rugged gorges cut over thousands of years by the river. Log pod Mangartom is a spectacularly scenic enclave nestled at the foot of snow-capped mountains – an amazing place to stay! A crossing of the Predil Pass brings you into Italy for a brief visit, the town of Tarvisio as your host. Your final day takes you back across the border to Kranjska Gora, completing the loop.
Every day on this trail offers new spectacular scenery far from the summer crowds. It's a true European alpine experience!
Highlights of the Julian Alps Walking Tour
Row a boat out across glassy waters to the island church of Lake Bled.
Explore the dreamy alpine meadows of the Pokljuka Plateau.
Relax on the peaceful shores and among the crystal-clear waters of Lake Bohinj.
Sleep at the foot of twelve mountain peaks in the settlement of Log pod Mangartom.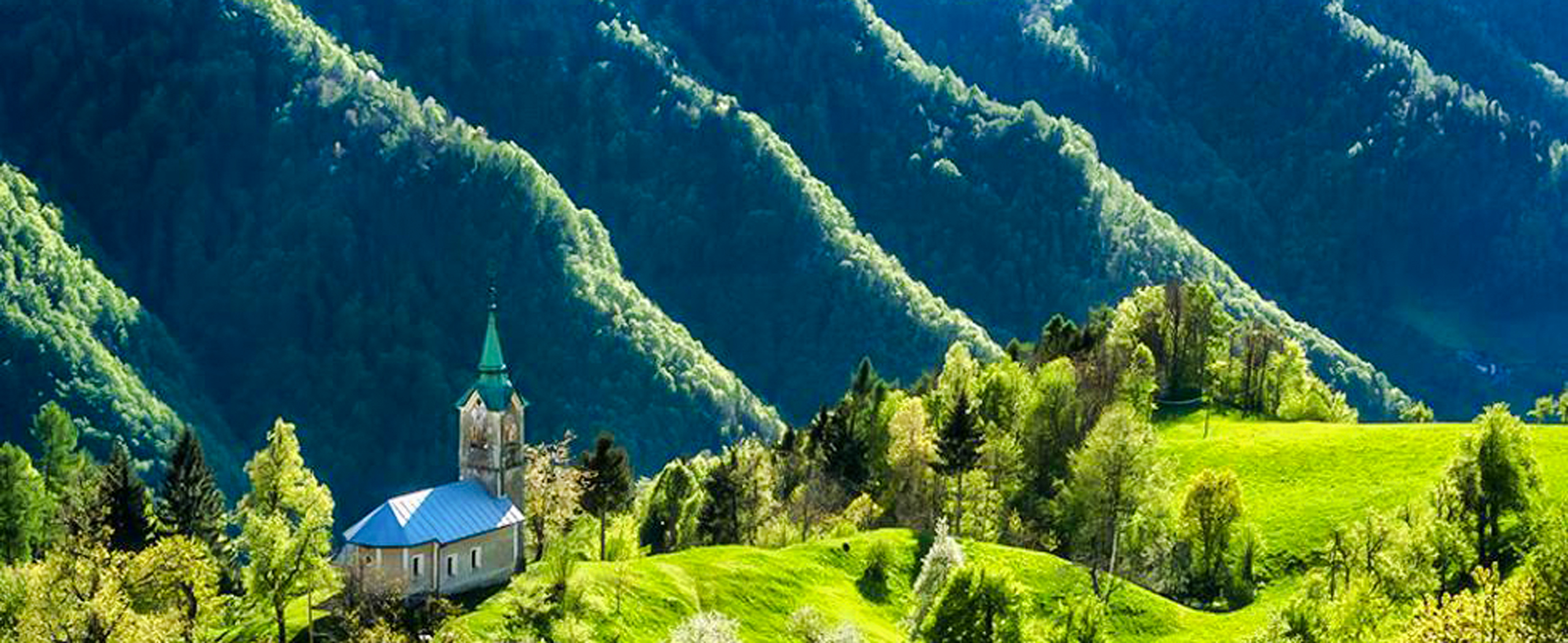 Julian Alps Walking Tour Itinerary
Day 1

Departure from Kranjska Gora

Set off from the popular tourist enclave of Kranjska Gora on your first day of hiking. Today's route takes you into the Sava Dolinka Valley, which leads you to Mojstrana, your destination for the evening. The valley acts as a connector between these two beloved tourism towns, Kranjska favoured in the winter and Mojstrana in the summer.

After the hike, you can cycle to the nearby Peričnik Waterfall in the Vrata Valley if you're looking for extra sightseeing!
Overnight Location: Lodge in Mojstrana
Distance: 5-6 hours, 18.2km, 275m of ascent, 448m of descent
Meals: None
Day 2

The Industry of Jesenice

Continue east through the foothills of the Karavanke range as you follow the Sava River. Your route leads you through an old mining trail as you approach your destination of Jesenice, known for its ironworks. This was an important town for industrial production during the World Wars.
Overnight Location: Lodge in Jesenice
Distance: 4-5 hours, 20.6km, 690m of ascent, 785m of descent
Meals: Breakfast
Day 3

In the Shadow of Stol

After breakfast, set off and continue along the Sava River, eventually crossing it in your way to Begunje na Gorenjskem. Along the way, you'll pass through a handful of villages that lie under the watchful gaze of Stol, the tallest mountain in the Karavankes. Beekeeping is a prominent trade in these parts.
Overnight Location: Lodge in Begunje na Gorenjskem
Distance: 4-5 hours, 16.7km, 464m of ascent, 460m of descent
Meals: Breakfast
Day 4

The Jewel of Lake Bled

Today's route is relatively flat as you work back towards the west and the renowned resort town of Bled. Visit Radovljica, known as the cultural capital of the Julian Alps, before arriving at the breathtaking Lake Bled.

This beautiful setting is Slovenia's most popular attraction, and for good reason. The aquamarine waters hold a tiny island with an even smaller church, and Bled Castle overlooks the entire scene from high atop a cliff. It's an endlessly photographic spot!
Overnight Location: Lodge in Bled
Distance: 3-4 hours, 15.1km, 95m of ascent, 160m of descent
Meals: Breakfast
Day 5

The Pokljuka Plateau

It's an ascent into a series of mountain plateaus today, as you bid Bled goodbye and head west. Work through the narrow walls of the Pokljuka Gorge, then start to hike upwards as you cross the Kranjska Planina and Planina Javornik pastures. Some of these ascents are steep, but the views are more than worth it!
Overnight Location: Lodge in Goreljek
Distance: 6-7 hours, 21km, 866m of ascent, 95m of descent
Meals: Breakfast
Day 6

Descend to Lake Bohinj

From the dreamy alpine plateaus, set off on a descent through the meadows and forests of Pokljuka. Reaching the Upper Bohinj Valley, continue your walk through the settlements of Češnjica, Srednja vas and Studor before reaching Lake Bohinj. As Slovenia's largest lake, this gorgeous environment is a popular place for locals who enjoy its clear waters and peaceful shores.
Overnight Location: Lodge near Lake Bohinj
Distance: 4-5 hours, 22km, 315m of ascent, 1038m of descent
Meals: Breakfast
Day 7

Stroll Through the Dobrava Meadows

It's a relatively short day today as you leave the shores of Lake Bohinj behind and hike towards Bohinjska Bistrica, the administrative centre of the region. Your route brings you along a series of unpaved roads and paths, crossing the broad Dobrava meadows with lovely vistas of the open green landscape.
Overnight Location: Lodge in Bohinjska Bistrica
Distance: 2-3 hours, 11km, 105m of ascent, 152m of descent
Meals: Breakfast
Day 8

Crossing the Vrh Bače Pass

Make the most of today's breakfast– a nice long day of hiking awaits! Head out onto a trail that leads through the Vrh Bače Pass. Old military paths and strategic fortifications can be seen on this route, which provides stunning alpine vistas at every turn.
Overnight Location: Lodge in Podbrdo
Distance: 7-8 ½ hours, 13.5km, 770m of ascent, 785m of descent
Meals: Breakfast
Day 9

Through the Baška Valley

A lovely day of hiking through the higher reaches of the Baška grapa, a 30-kilometre valley that rises on either side of the Bača River. Pass through dreamlike tiny villages perched upon its slopes, hidden away from travellers who take the main roads and railways through the valley's lower flanks.
Overnight Location: Lodge in Grahovo ob Bači
Distance: 5-6 hours, 17.2km, 1110m of ascent, 1208m of descent
Meals: Breakfast
Day 10

Stories of the Soča River

Continue through the lower reaches of the valley today as you head towards the nearby Soča Valley and its breathtaking river. Its beautiful blue-green colour is unreal! The storybook town of Most an Soči makes an excellent visit, boasting a rich history dating back to prehistoric times. Your overnight location is just up the river from here.
Overnight Location: Lodge in Tolmin
Distance: 6-7 hours, 20.2km, 856m of ascent, 969m of descent
Meals: Breakfast
Day 11

Walking the Sunny Side of the River

It's a flat and easy walk today along the valley floor. Your route is entirely (as the locals say) on the "sunny side" of the Soča River. Stroll through a number of picturesque villages until you reach Kobarid, where a WWI battle was famously documented by Ernest Hemingway in A Farewell to Arms.
Overnight Location: Lodge in Kobarid
Distance: 3-4 hours, 16.1km, 126m of ascent, 78m of descent
Meals: Breakfast
Day 12

A River Runs Through It

Today's hike continues along the Soča River, passing through the settlements of Kobarid and Trnovo. Explore the rugged features of the gorge which the water cuts through. This stretch shows the river at its wildest and most dramatic!
Overnight Location: Lodge in Bovec
Distance: 6-7 hours, 20.4km, 412m of ascent, 198m of descent
Meals: Breakfast
Day 13

Surrounded by Mountains

This shorter hike brings you to Log pod Mangartom, one of Slovenia's most scenic little settlements. Home to a handful of tiny villages and hamlets, this area is surrounded by no less than 15 mountains with over 2,000m of elevation to their name. You'll feel as if you've stepped into another world!
Overnight Location: Lodge in Log pod Mangartom
Distance: 3-4 hours, 11.3km, 340m of ascent, 151m of descent
Meals: Breakfast
Day 14

An Italian Overnight

Conquer a final mountain pass on today's hike, which takes you up and over the Predil Pass into Italy. Spot the monument of a dying lion erected in remembrance of Austrian soldiers lost during the Napoleonic wars. Descend into the town of Tarvisio for a quick taste of Italy!
Overnight Location: Lodge in Tarvisio
Distance: 4-5 ½ hours, 17.6km, 664m of ascent, 558m of descent
Meals: Breakfast
Day 15

Return to Kranjska Gora

After a tasty Italian breakfast, head back on the trail for your return trip to Kranjska Gora, completing the loop. Pass through numerous charming villages and alpine centres before saying goodbye to the brilliant Julian Alps.

Depart the region via your own arrangements, or book your own accommodation to spend the night before departing the next day.
Overnight Location: None
Distance: 4-5 ½ hours, 19km, 181m of ascent, 129m of descent
Meals: Breakfast

Book Now
Julian Alps Walking Tour Price and Dates
This self-guided walking tour of Slovenia is run as a private tour for your group and the price depends on the number of people travelling and whether you need any optional extras, such as luggage transfers or hotel upgrades.

You can add luggage transfer to your package by choosing either luggage transfers between towns every 4 days ($425 USD per group), or luggage transfers on every day ($825 USD per group).

Prices below are per person:

Price per person staying in a single room: $1,475 USD
Price per person sharing a double room: $1,150 USD
Book Now
Accommodation on the Julian Alps Walking Tour Hiking Tour
This tour is based in comfortable lodges. Each property offers warm rooms with an ensuite washroom and daily breakfast. You can upgrade the accommodations for an extra charge of $295 USD per person if you are willing to stay in 3-star hotels instead.
Single Rooms and Solo Travellers
Rooms are double occupancy. You can pay a supplement of $280 USD to have a single room where available. Solo travellers are required to pay a supplement.
Hotels on Standard Tour
A comfortable private room and hot breakfast provide an excellent start to your Julian Alps journey.
The town may specialize in hard metals, but you'll enjoy a soft bed to spend the night.
Lodge in Begunje na Gorenjskem
You might enjoy some fresh-from-the-hive honey during your breakfast in this charming village!
Spend the day exploring Slovenia's most famous setting and then rest up in comfortable accommodations.
Your overnight home high on an alpine plateau is the stuff of dreams!
Another gorgeous lakeside setting is your home for the night.
Lodge in Bohinjska Bistrica
The hub for the Bohinj region is the perfect place to rest up and enjoy a delicious breakfast before continuing your journey.
After a long day of hiking, a cozy room is just what you need, with a refuelling breakfast waiting in the morning.
Alpine hospitality surrounds you in tonight's welcoming accommodations.
On the terrace overlooking two rivers, there are few overnight spots as scenic as this one!
Step back in time with a stay in Kobarid, where Hemingway documented the Italian retreat over one hundred years ago.
After a dramatic day of exploring a river gorge, settle into a warm room and indulge in a delicious Slovenian breakfast in the morning.
Lodge in Log pod Mangartom
One of the most scenic villages in Slovenia – if not the entire world – welcomes you tonight!
A brief overnight across the Italian border gives you just a taste of this Slovenian neighbour on your final night.
What's Included in the Julian Alps Walking Tour?
Meals
14 breakfasts are included.
Accommodations
Accommodations for 14 nights are included.
Transportation during the Tour
No transportation is included in this tour. Luggage transport from hotel to hotel can be added for an additional fee. You can either choose luggage transfers between towns every 4 days for 350 EUR per group, or luggage transfers on every day (700 EUR per group).
Also Included
Introductory briefing with welcome drink on Day 1
Complete booklet with daily itineraries, route descriptions, and all necessary vouchers
Detailed maps with marked routes and GPS marked route
Emergency contact number and 24/7 support
Main luggage storage (for luggage not brought on the hiking trip)
Tourist tax & VAT
Not included
Flights
Guide services
Airport transfers
Meals, drinks, or snacks not previously mentioned
Fees for any optional activities
Optional Extras
Private airport transfers
Additional nights before/after the tour
Accommodation upgrades to 3-star hotels: $350 USD per person
Luggage transfers:

3 transfers between towns every 4 days: $425 USD per group
Transfers on each day: $825 USD per group

GPS device rental
Walking equipment (walking poles, small backpack, basic rain jacket)
Frequently Asked Questions about Julian Alps Walking Tour
Life Adventures has been running unique adventure tours in Slovenia and Croatia since 1998.
With a young, energetic team behind the scenes, Life Adventures creates unforgettable
journeys for all kinds of travellers. They began with the simple desire to show the beauty of
Slovenia and Croatia to everyone, and now, they've offered amazing adventure tours to
countless travellers.
Stand in the sunshine in the Alps, hike through emerald green valleys, or paddle down rushing
rivers. However you want to explore, Life Adventures has the expertise needed to run an
engaging, hassle-free holiday that you'll never forget!
Learn More
Is this tour for me?
We rate this tour as a 3/5. The trail is well-maintained and the surfaces are not particularly difficult to navigate. However, some of the days require relatively long hikes and certain portions involve considerable elevation change, so a reasonable level of fitness is required. Good boots are essential, and previous hiking experience is recommended.
Ask a Question
Got any questions regarding the tour? Interested in promotions for groups or want to customize this tour to fit your needs? We are here to help you!
Ask a question