Ride the classic bike paths of Kerry and explore the coast of Ireland by bike
What better way to explore the Irish coast than on a guided bike tour. You won't want to miss out on this cycling adventure through the Peninsulas of Kerry, Ireland. Explore three separate and distinct landscapes as you ride through o Beara, Iveragh, and Dingle Peninsulas and uncover the secrets of each.
You'll bike famous routes and obscure ones, take in famous vistas, and discover hidden gems as you ride the varied roads of Kerry. Ride the little-known landscapes of rugged Beara, the ancient historical sites of Dingle, the dazzling peaks of the Ring of Kerry, and the untouched lakes of Killarney. You'll get to enjoy Ireland in a way few experience it, all while staying in luxurious accommodations and taking in the local culture!
Highlights Of Kerry Peninsulas Biking Tour
Cycle through the unique peninsulas of Kerry, while stopping to explore the highlights.
Ride some of Ireland's favorite bike routes as you pass through Moll's Gap, the Gap of Dunloe, and cycle over Healy Pass.
Ride over a scenic portion of the Ring of Kerry as you cycle past the tallest mountains in Ireland and go on to explore Killarney National Park.
Traverse a loop around Slea Head and visit the western tip of Ireland. Along the way you'll discover hidden coves and sacred places.
Kerry Peninsulas Biking Tour Itinerary
Day 1

Arrival and Exploring Kenmare

After meeting the staff in Limerick, you'll depart heading south into the dazzling landscapes of County Kerry en route to the Beara Peninsula. Ride the gentle green hills and past cozy hamlets, monastery ruins, and maybe a few thatched-roof cottages. Beginning in the village of Kenmare, you'll cycle down quaint country roads to find stunning bayside vistas.
Overnight Location: The Lodge, Kenmare
Distance: 23 km
Meals: Lunch, Dinner
Day 2

Sea to Sea Bike Ride over the Beara Peninsula

Today you'll find the road less traveled on your guided cycling tour over the Beara Peninsula. Experience one of the best-kept secrets in Kerry as you cycle from the rough southern coast of the Peninsula towards the north over Healy Pass. Let the majestic panorama sweep over you as you look over Bantry Bay and then down into Kenmare Bay where you'll finish the route at your accommodation.
Overnight Location: The Lodge, Kenmare
Distance: 66 km
Meals: Breakfast, Lunch
Day 3

Cycle through MacGillycuddy's Reeks Mountains

Leaving behind the Beara Peninsula, you'll now ride through the Iveragh Peninsula. Here you'll cycle along part of the famous Ring of Kerry. You'll travel through the tallest mountain range in Ireland as you pass by the magnificent MacGillicuddy's Reeks mountains. From there you'll wind your way past Carrauntoohill, the highest peak in Ireland, as you follow Oisin's Way. This path was named after a warrior-poet from Irish Mythology and will take you all the way to Killarney National Park.
Overnight Location: Victoria House Hotel, Killarney
Distance: 68 km
Meals: Breakfast, Lunch
Day 4

Ride through Killarney National Park and the Gap of Dunloe

It's time for a classic bike ride today! Your cycling adventure continues with the famous Kerry ride that will spirit you through Moll's Gap, revealing the majestic panoramas above the MacGillycuddy's Reeks that you just rode through yesterday. Continuing on, you'll cycle between the rocky pass known as the Gap of Dunloe and see the Wishing Bridge before the view opens up into the magnificent vistas over the lakes of Killarney and Killarney National park. While you ride, look for the traditional horse-carts, called jarveys.
Overnight Location: Victoria House Hotel, Killarney
Distance: 60 km
Meals: Breakfast, Lunch
Day 5

Cycle over the Dingle Peninsula

Already on to the last peninsula. How time flies! The fun continues as you take off to explore the Dingle Peninsula. This will feel like a restful day by comparison as you put the steep climbs behind you and settle into the rhythms of the gently sloping coastal roads. Hop off the bike and stretch your legs on white sandy beaches and rock-strewn shorelines. As you may know, Ireland's whiskey is world-famous, so after your ride today, you'll have the opportunity to enjoy a whiskey tasting given by a true expert. Afterward you can hang out and experience the local vibe with Dingle's live music, which is a truly authentic traditional Irish experience.
Overnight Location: Bambury's Guesthouse, Dingle
Distance: 27 km
Meals: Breakfast, Lunch
Day 6

Ride to the Western Tip of Ireland: Slea Head

Unless you're planning to board a boat, Slea Head is as far west as you can go in Ireland. Your guided cycling tour continues today with a loop around this spectacular headland. Settle in and cycle on as you open up to the dazzling natural beauty all around you. You'll see the distant Blasket Islands, evacuated over half a century ago, then go on to discover the ancient clochán (beehive huts) used by monks of old. You'll continue from there to find stone chapels and secret coves as you continue around Slea Head. That evening, you'll feast in celebration of the end of an amazing journey.
Overnight Location: Bambury's Guesthouse, Dingle
Distance: 50 km
Meals: Breakfast, Lunch, Dinner
Day 7

Departure from Limerick

Take your time in the morning, and once you've enjoyed your breakfast, you'll head north for Limerick. You'll stop along the way to appreciate what the locale has to offer in the way of beautiful beaches and historical sites, and then you'll be at the station and on your way.
Overnight Location: None
Distance: None
Meals: Breakfast

Book Now
Kerry Peninsulas Biking Tour Price and Dates
Pricing for this guided road biking tour to Kerry Peninsulas depends on whether you choose to join an existing group on a specific date or if you prefer a custom tour for your group only.
The best time to travel to Ireland for this biking tour is during the summer.
Prices of Private Guided Kerry Peninsulas Biking Tour
Book Now
Have your own private tour with just your group! Please contact us with your preferred date and the number of people in your group and we will create the itinerary just for you.
Dates and Prices to Join a Group Tour on Kerry Peninsulas Biking Tour
Make new friends and join a group to road bike the Kerry Peninsulas. Prices below are per person:
Accommodation on Kerry Peninsulas Biking Tour
This tour is based in Deluxe Hotels. The accommodation varies between cozy guesthouses, beautiful manors and boutique hotels that are carefully picked for this tour.
These accommodations provide wonderful service, great amenities, and a beautiful location.
Single Rooms and Solo Travelers
You can pay a supplement $325 USD to have a private room in a hotel. Contact us and we can try and match single travelers up, where possible.
Hotels on Standard Tour
You'll love the atmosphere of this beautiful bed and breakfast. Close to local landmarks and offering plenty of amenities, your stay here is sure to please.
Victoria House Hotel, Killarney
Overlooking the Killarney National Park, you'll find a traditional experience at this boutique family-run accommodation. They pride themselves on service and hospitality.
Bambury's Guesthouse, Dingle
Just a short stroll from the center of Dingle Town you'll find this renowned guesthouse. It's surrounded by some of the most beautiful scenery in Ireland and provides plenty of amenities.
What's included in the Kerry Peninsulas Biking Tour?
Meals
6 breakfasts, 6 lunches, 2 dinners, snacks along the route each day.
Accommodations
Accommodations for 6 nights along the tour. Accommodations before and after the tour in Limerick are not included.
Transportation during the Tour
Transport for you, your luggage and your bike are included throughout the tour.
Also Included
The services of the experienced guide / driver throughout the tour
Support vehicle during the biking, equipped with group support equipment
Whiskey tasting tour
All the activities mentioned in the itinerary
Not included
Getting to and from Limerick
Insurance
Personal expenses
Anything not stated as 'included'
Optional Extras
Extra night in Limerick before and after the tour
Bike rental:

Road Bike - $225 USD per person
E-bike - $475 USD per person
Frequently Asked Questions about Kerry Peninsulas Biking Tour
At Wilderness Ireland, you can find an inspiring range of small-group and tailor-made tours, journeys, and wilderness experiences. The tours explore Ireland's most remote and beautiful regions, from the wild Atlantic Way to the Ancient East and everything in between.
Wilderness Ireland is run by a passionate team of local guides and expert trip designers who work together to create unforgettable active adventure holidays. They focus not only on Ireland's top sights, but also in rural, remote corners of the beautiful country.
Every tour focuses on a personalized approach with high-quality customer service for each tour. They hand-pick beautiful accommodations, authentic local experiences, and standout wilderness locations. Their guides know Ireland inside and out and have years of experience in offering you an unforgettable trip.
Learn More
Is this tour for me?
We rate this tour as a 3 / 5. You will be riding up to 75 km daily on hilly terrain at around 20 km/h. You should be comfortable doing this distance, though you can rent an E-Bike, which makes these distances easier.
Local Guide
Ask a Question
Got any questions regarding the tour? Interested in promotions for groups or want to customize this tour to fit your needs? We are here to help you!
Ask a question
SALE! Well, not yet.
Let me know when this trip goes on sale.
Notify me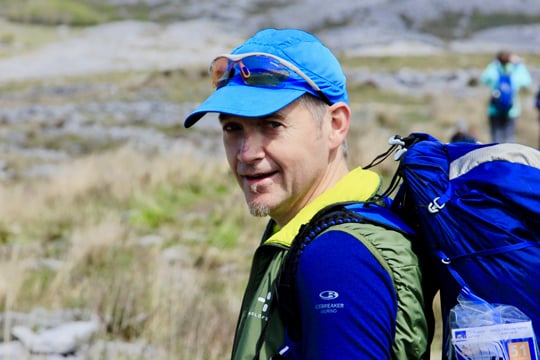 Paul has been guiding professionally for 4 years, but unofficially guiding friends and family for 20 years. He loves making friends out of strangers and seeing the excitement in their faces as they kayak, cycle, walk, and explore. He never gets tired of the abundant mountain and sea views.
Q & A
Q:

What is your favourite tour to lead?

A:

Whichever one I'm doing that day! In all seriousness though, go west. My favourite trip is Island Hopping on Ireland's West Coast, since you really have the chance to see Ireland at its most amazing - 4 incredible islands as well as Connemara and Burren national parks. It's nearly too good to be true.

Q:

What are guests most amazed about when visiting Ireland?

A:

No doubt everyone is amazed by the scenery- the empty white beaches, lush green mountains, the abundance of castles and the ancient graves older than the pyramids of Giza. The Burren has 27 kinds of orchids alone, and that's just the start of the incredible flora and fauna!

Q:

What has been your most unforgettable moment while guiding?

A:

Helping someone who swore they couldn't get to the top of Croagh Patrick Mountain and seeing their pride at the top! I also love when you're at ancient structures like Poulenabrone and you're explaining the history and myths of the place while you're actually standing right there. It's as amazing for me as for them!