Spend 11 days reaching new heights in the Balkans on this guided hiking tour
There's never enough time to do all the travelling you want to do, but if you want to explore Albania, Kosovo, and North Macedonia, this 11-day hiking tour will show you the highlights (and you can always return another time!).
Land in Tirana, Albania, to meet your hiking group and get acquainted with this multifaceted country. You'll notice influences from a myriad of occupations from the Ottoman Empire to the more recent communist regime. For the first 3 days of the itinerary, you'll be exploring Albania's trails that lead to jagged peaks and through the mountains commonly referred to as the Albanian Alps or the Accursed Mountains. Dip into Montenegro for half a day to climb its highest peak and then cross the border back into Albania. In these areas, you'll be hiking through alpine meadows and next to enormous jagged peaks, some of which may still be snow-capped.
Once you head into Kosovo, the adventure centres more around city tours and trails at lower elevations. Take a rest day to explore Prizren on your own, and have a locally-guided city tour in Pristina, the capital. Move into North Macedonia where your trail views will include more bodies of water as you walk around Lake Ohrid, and into Matka Canyon. When you visit the canyon, you'll have an optional boat excursion to the deepest underwater cave in Europe. Wrap up the tour by discovering several North Macedonian villages, engaging with locals, and tasting traditional cuisine and drink.
Put your planning brain to rest and take this 11-day guided hiking tour through a few extraordinary Balkan countries.
Highlights of the Albania, Kosovo and North Macedonia Hiking Tour
Hike along a section of the Peak of the Balkans trail, a 192 km trekking route.
Take a few city tours in some of the Balkan's oldest towns with centuries of history.
Discover on foot the trails and many villages on the perimeter of the stunning Lake Ohrid.
Admire the panoramic views from the summit of Montenegro's highest peak at 2,534 m / 8,314 ft.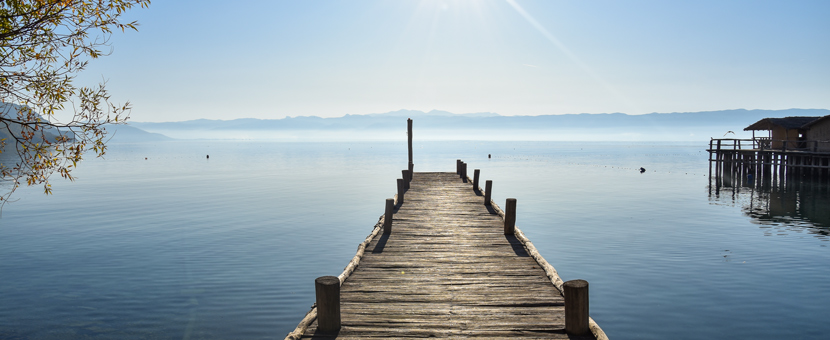 Albania, Kosovo and North Macedonia Hiking Tour Itinerary
Day 1

Arrival in Tirana

Welcome to Albania! You will meet your guide at the airport in Tirana and be transferred to the northern Albanian town of Shkodra. Take some time to stroll about this charming lakeside town. Some historical and cultural highlights include the fortress atop the city, mosques, museums, and relics of the Ottoman empire.
Overnight Location: Hotel in Shkodra
Distance: None
Meals: Dinner
Day 2

Hike in Maranaj Park

After fuelling up on a hearty Albanian breakfast, get a transfer to the village of Domen. Find the trailhead for today's hike in Maranaj Park to summit a mountain of the same name, reaching 1,527 m / 5,010 ft that offers exceptional views of the surroundings. Green mountains and rocky terrain abound in this protected area. Take your time exploring the peak and snapping pictures. Descend to Domen from where your guide will take you to Theth for a night in a cozy guesthouse.
Overnight Location: Guesthouse in Theth
Distance: 7-8 hours, 16km, 1,390m of ascent
Meals: Breakfast, Lunch, Dinner
Day 3

Explore the Albanian Alps

Enjoy breakfast at the guesthouse in Theth, then prepare for a climb towards Valbona Pass through the Albanian Alps, also known as the Accursed Mountains. In winter, these mountains are covered with snow, but when the snow melts, they become one of the country's most sensational hiking destination. A network of trails awaits your exploration in this area! After reaching Valbona Pass at 1,795 m / 5,889 ft, you'll begin the descent and meet a driver for a transfer to Kukaj—in the middle of Valbona National Park surrounded by a few of Albania's highest peaks—to spend the night in a guesthouse.
Overnight Location: Guesthouse in Kukaj
Distance: 7-9 hours, 12.4 km, 1,180m of ascent
Meals: Breakfast, Lunch, Dinner
Day 4

Summit Zla Kolata in Montenegro

Wake up in Albania and get ready for a big day: you'll hike into neighbouring Montenegro and back. Today's route includes a hike up to 2,030 m / 6,660 ft to stop for a packed lunch amid spectacular jagged peaks and epic views. You'll head into trails among evergreen forests until hiking past the treeline and on to Montenegro's highest peak of Zla Kolata at 2,534 m / 8,314 ft. The trail leads back to Albania after Bori Pass and descends through alpine meadows, finally reaching Cerem, a remote village where you'll enjoy a well-earned rest. Get a transfer to Peja, Kosovo, after a long day of hiking to spend the night in a comfy hotel.
Overnight Location: Hotel in Peja
Distance: 7-8-hour, 15 km, 1,197m of ascent
Meals: Breakfast, Lunch, Dinner
Day 5

Walk the Peak of the Balkans Trail

After breakfast in Peja, head out to hike a section of the Peak of the Balkans Trail—a 192-km transnational route. Once you return, you'll be transferred to the enchanting town of Prizren. Spend the evening aimlessly wandering and marveling at the town's mountain backdrop, and skyline varied with mosques, orthodox, and catholic church outlines.
Overnight Location: Hotel in Prizren
Distance: 7-8 hours, 16 km, 1,265m of ascent
Meals: Breakfast, Lunch, Dinner
Day 6

Rest Day for Sightseeing in Prizren

Today, you get a rest from hiking and have a free day to explore Prizren at your leisure. Some of the highlights include the religious buildings, as mentioned above, and the architecture remaining from the Ottoman Empire. Prizren is renowned for its coffee culture—it will be easy to stay caffeinated as you explore the town.
Overnight Location: Hotel in Prizren
Distance: 7-8 hours, 15 km, 671 m of ascent
Meals: Breakfast, Lunch, Dinner
Day 7

City Tour of Pristina

After breakfast (and coffee) in Prizren, you'll be transferred to Pristina, Kosovo's capital. Meet a local guide for a thorough walking tour to learn about the intriguing history that constitutes the city. Enjoy some leisure time to discover the Bazars and shops, finding a few souvenirs. Meet the group for dinner at a local restaurant then get a transfer to Skopje, North Macedonia, to spend the night.
Overnight Location: Hotel in Skopje
Distance: None
Meals: Breakfast, Lunch, Dinner
Day 8

Mount Vodno and Matka Canyon

Enjoy breakfast in the capital of North Macedonia and set out for an active day. First, you will be transferred to Mount Vodno, where you'll take the cable car up the mountain, which brings into view the religious structure atop the city: The Millennium Cross. The trail starts from here towards Matka Canyon, a spectacular area of huge rocks surrounding the Treska River. During the canyon excursion, you'll have an option to visit Vrelo Cave, one of the deepest underwater caves in Europe. Continue to Mavrovo, a village in the western part of the country, for the night.
Overnight Location: Hut in Mavrovo
Distance: 5-6 hours, 12km, 220m of ascent
Meals: Breakfast, Lunch, Dinner
Day 9

Explore Carevec Peak and Nearby Villages

The group can decide whether it wants to hike to Carevec Peak or to get a short transfer to the viewpoint. Get an amazing view of the countryside and snap a few pictures before you start the hike towards the remote villages of Galicnik and Jance. On the way, you'll be awarded views of Lake Debar, a humanmade lake constructed as part of a hydroelectric project in the area. From there, you'll head further into the countryside, finally reaching the small mountainside village of Jance. Take a quick break here then receive a transfer to the lakeside town of Ohrid for the night.
Overnight Location: Hotel in Ohrid
Distance: 7-9 hours, 21.2km, 1,130 m of ascent
Meals: Breakfast, Lunch, Dinner
Day 10

Discover Velestovo, Konjsko, and Elsani

Epic lake views await today as you head to a few villages after breakfast. First, you'll get transferred to Velestovo, a small mountainside village just south of Ohrid with incredible views of Lake Ohrid and the landscapes around. Continue to Lake Prespa to Konjsko village and enjoy the lake's serenity with a few nearby ruins to explore. The next village you'll explore is Elsani, where you can catch more stunning lake views and some mountain breeze to cool off. Take as many photos as you can on your last full day of this tour. Back in Ohrid, you'll have a final group dinner before getting some well-deserved rest.
Overnight Location: Hotel in Ohrid
Distance: 4-5 hours, 8 km, 200 m of ascent
Meals: Breakfast, Lunch, Dinner
Day 11

Farewell

Have a farewell breakfast with your new friends then pack up. Get a transfer to the airport when you're ready to go!
Overnight Location: None
Distance: None
Meals: Breakfast

Book Now
Albania, Kosovo and North Macedonia Hiking Tour Price and Dates
This guided tour in Albania, Kosovo, and North Macedonia is always run as a custom tour for your group only and the price always depends on the number of people in your group.
The best time to travel to Albania, Kosovo, and North Macedonia for hiking is from mid-April to September.
Private Guided Albania, Kosovo and North Macedonia Hiking Tour
Have your own private tour with just your group! Prices below are per person:
Guided Groups of 2-3: $3,375 USD
Guided Groups of 4-5: $2,195 USD
Guided Groups of 6+: $1,775 USD
Book Now
Accommodation on Albania, Kosovo and North Macedonia Hiking Tour
The hotels on this trip are 3- and 4-star. You will also stay in guesthouses for 2 nights and a mountain hut for 1 night. Rooms are double occupancy, and single travelers will pay a supplement.
In some cases, the accommodation listed below may need to be substituted for other comparable accommodations.
Single Rooms and Solo Travelers
You can pay a supplement $295 USD to have a private room in a hotel while traveling with your group. Contact us and we can try and match single travelers up, where possible.
Hotels on Standard Tour
What's included in the Albania, Kosovo and North Macedonia Hiking Tour?
Meals
10 breakfasts, 9 lunches, and 10 dinners are included.
Accommodations
Accommodation for 10 nights is included in the tour.
Transportation during the Tour
Transport for you and your luggage is included throughout the tour, as well as airport transfers.
Also Included
English-speaking guide services
Map of North Macedonia, Ohrid, and Skopje
Boat ride in Matka Canyon
Luggage transfer with horses
Not included
Flights
Insurance
All entrance fees at sites (average €2 per site)
Visas and vaccinations
Anything not mentioned as "Included"
Personal expenses
Optional Extras
Extra night in Tirana at the start of the tour
Extra night in Skopje at the end of the tour
Optional activities
Frequently Asked Questions about Albania, Kosovo and North Macedonia Hiking Tour
At Experience Balkan, it's all about providing exceptional service. Based in Ohrid, Macedonia, Experience Balkan are committed to providing travel services of the highest quality, and have earned the highest possible licensing as a result.
Experience Balkan was established in 2017 and has since fostered impressive diversity both within their team and in their offerings. They aim to narrow the gap between different people and promote harmony and collectivity through travel.
Experience Balkan offers hiking, trekking, mountain biking, snowshoeing, and ski touring adventures in the Balkan countries. Their greatest joy is providing new experiences to happy clients.
Learn More
Is this tour for me?
We rate this tour as a 4 / 5. You should be comfortable hiking on moderate elevation gain and up to 6-7 hours. Several days have significant elevation gains. This tour can be modified for those wishing a less strenuous trip.
Local Guide
Ask a Question
Got any questions regarding the tour? Interested in promotions for groups or want to customize this tour to fit your needs? We are here to help you!
Ask a question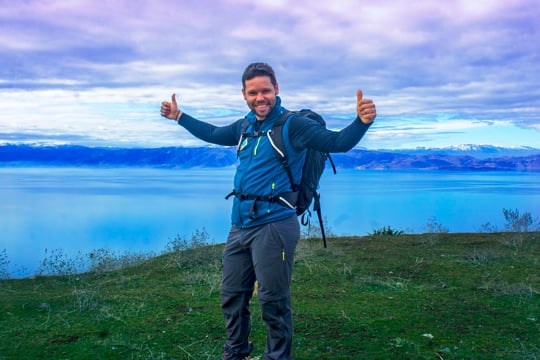 Dimitri
Ohrid, North Macedonia
Dimitri has been a certified mountain guide since 2010. He started out as a cultural and mountain guide and holds several different certifications. Dimitri loves meeting new people and seeing the look on their faces when they reach mountain peaks. Besides mountaineering, Dimitri loves to be on the water and enjoys sailing and paragliding over the local lakes.
Q & A
Q:

What is your #1 travel destination?

A:

I love the Dolomites in the Italian Alps. I really want to return!

Q:

What has been the most challenging adventure you've done?

A:

My most challenging adventure was climbing Cinque Torri (Five Towers) of Punta Fiames. Climbing the Three Peaks of Lavaredo was also extremely difficult. Both of these were in the Dolomites.

Q:

What do your guests like most about the trips you lead?

A:

Because some of our tours are multi-country, a lot of travellers love that they get to visit more than one country in a tour. Also, since Macedonia is a lesser-explored destination, they are surprised by the beautiful places they get to see.