Trek among the highest peaks of the Andes on this 5-day circuit tour
Spend five memorable days among the majestic wilderness of the Andes on the Mount Penitentes Circuit Trek. At its pinnacle, this trek brings you to the foot of South America's highest peak. You'll wind through pristine valleys filled with streams, waterfalls, and epic mountain views.
Take the first day of the tour to acclimate to the area by hiking around Aconcagua Provincial Park near Mendoza, Argentina. Over the next two days, you'll camp at the base of Mount Aconcagua, a peak that reaches an impressive 6,961m/22,837 ft. Once you traverse Serrata Pass at 4,000m/12,123 ft, you descend into the valleys, drawing closer to the Chilean border. You'll be spoiled with otherworldly views the entire journey, including a look at the fourth-highest volcano in the world, Mount Tupungato.
This region in the Andes is incredibly well-protected—keep your eyes out for diverse wildlife and intriguing vegetation. Your English-speaking guide will be happy to discuss the local flora and fauna. If it's on your list to get close to the highest peak in South America, this is your tour! Follow your expert guide into this remote and unique destination and make some unforgettable memories!
Highlights of the Mount Penitentes Circuit Trek
Hike past the highest peak in the Andes, Mount Aconcagua, at 6,961m/22,837 ft.
Traverse Serrata Pass at 4,000m/12,123 ft, and admire the uninterrupted panoramic views of the great mountains of the Andes.
Escape the bustle of modern civilization as you retreat and rejuvenate in isolated camping destinations each night.
Follow the natural peaks and falls of two gorgeous valleys where creeks, streams, and waterfalls flow.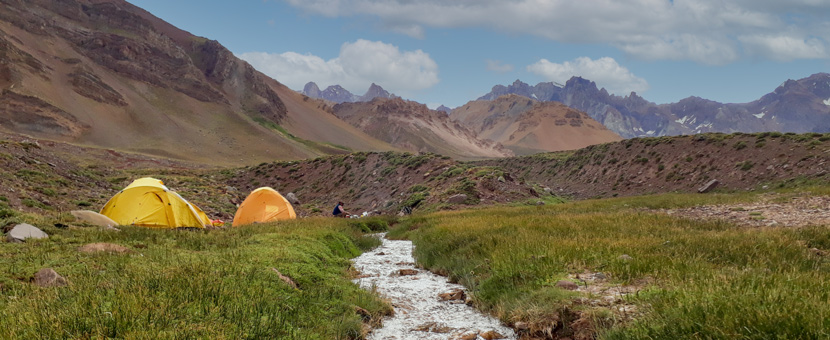 Mount Penitentes Circuit Trek Itinerary
Day 0

Arrival in Mendoza

It is recommended for you to arrive in Mendoza, Argentina, a day early to prepare for the tour. The guides will meet with you to make sure you have everything you need for the trek.
Overnight Location: Hotel in Mendoza (not included or pre-arranged)
Distance: None
Meals: None
Day 1

Hike in Aconcagua Provincial Park

Your guide will meet you in the morning to collect you and the group and head to Penitentes Village. Spend your first day of this tour acclimating to the area with a 4-hour hike.

Aconcagua Provincial Park, located near Mendoza, consists of vast mountain landscapes, including the Andes' tallest peak, Mount Aconcagua. The area suits hikers, climbers, skiers, and other thrill-seekers who crave remote adventure. You'll spend the night in a mountain shelter in Penitentes Village.
Overnight Location: Refugio in Penitentes Village
Distance: 4 hours, 150m of ascent
Meals: Lunch, dinner
Day 2

Hike to Aconcagua Base Camp

Gather with your group for a hearty breakfast before heading into the wilderness.

During today's 6-hour trek, you'll climb to spots offering epic vistas of the surrounding snow-capped peaks. Nothing like a walk in this park to make you feel small! Set up camp and enjoy the peaceful evening in this unique remote destination. You'll sleep under the stars at the base of Mount Aconcagua.
Overnight Location: Camping at Mount Aconcagua Base Camp (3,267m / 10,718')
Distance: 6 hours, 326m of ascent
Meals: Breakfast, lunch, dinner
Day 3

Traverse Serrata Pass (4,000m)

After breakfast, prepare to reach the highest point on the trek: Serrata Pass at 4,000m/13,123 ft. Hiking to this pass is challenging, but the effort will be worth it once you reach the top. Bask in your rewarding views of Mount Aconcagua. Take some time to admire these breathtaking views—and take some pictures, of course—before descending into the Tupungato Valley.

Your guide will lead you to a remote campsite to rest for the night.
Overnight Location: Camping along the route (3,270m / 10,728')
Distance: 6–8 hours, 724m of ascent, 730m of descent
Meals: Breakfast, lunch, dinner
Day 4

Hike through Quebrada Arroyo Blanco Valley

Wake up immersed in the outdoors and meet your group for breakfast. Today's hike is relatively flat and involves a few river crossings. A splash of water will be welcome after 4 days in the backcountry! The trail winds through the Quebrada Arroyo Blanco Valley, replete with fairytale scenes of waterfalls in lush green forests.

At the end of the valley, you'll make it to Refugio Blanco to set up camp for the night.
Overnight Location: Camping at Refugio Blanco (3,375m / 11,072')
Distance: 6 hours, 105m of ascent
Meals: Breakfast, lunch, dinner
Day 5

Explore Quebrada del Tupungato Valley and Departure

Finish the circuit trek with an 8 km hike through the Quebrada del Tupungato Valley. From here, you'll see views of the fourth-highest volcano in the world, Mount Tupungato, at 6,570m/21,555 ft. Enjoy this sparsely populated region of the Andes as you hike towards the Chilean border to complete the journey.

You'll receive a return transfer to Mendoza and then say adios to your group.
Overnight Location: None
Distance: 4 hours, 8 km
Meals: Breakfast

Book Now
Mount Penitentes Circuit Trek Price and Dates
This guided tour in Chile and Argentina is run as a custom tour for your group and the price per person is fixed.
The best time to travel to Chile and Argentina for trekking is from November to March when the weather tends to be most agreeable.
Private Guided Mount Penitentes Circuit Trek
Have your own private tour with just your group! Prices below are per person:
Guided groups of 1-12: $760 USD per person
Book Now
Accommodation on the Mount Penitentes Circuit Trek
During this tour, you will stay in mountain shelters called refugios with basic amenities and camp in high-end, fully-equipped North Face tents.
In some cases, the accommodation listed below may need to be substituted for other comparable accommodations.
Single Rooms and Solo Travellers
There is no single occupancy supplement available on this trip. There is no extra charge for staying in a solo tent and single rooms in Rifugios are not available.
Hotels on Standard Tour
Refugio in Penitentes Village
Tucked away in Penitentes Village in the beautiful Andean mountains, this refuge provides a cozy shelter.
Rest easy each night in North Face's V25 tent with solar panels, lights, and a 12v charger. You'll be cozy and warm in this fully-equipped mountain shelter.
What's Included in the Mount Penitentes Circuit Trek?
Meals
All 4 breakfasts, 4 lunches, and 4 dinners are included.
Accommodations
Accommodation for 4 nights is included in the tour. Note that your hotel the night before the tour begins is not included and you will need to select and book a room in Mendoza on your own. Please reach out if you desire any assistance with this.
Transportation during the Tour
Transport for your luggage by mule is included throughout the trek. Roundtrip private transportation from your hotel in Mendoza is also included. Airport transfers can be booked as a supplement.
Also Included
Transport of equipment on mules, up to 12 kg per person
Complete shared camping equipment (tents, stoves, etc.)
Dining tent with tables, chairs, and tableware
First aid equipment
Guide services
Not included
Personal equipment (sleeping bags and sleeping pad)
Flights
Travel insurance
Anything not mentioned as included
Personal expenses
Rescue expenses if needed
Optional Extras
Extra night in Mendoza, Argentina
Airport pickup and drop off
Frequently Asked Questions about Mount Penitentes Circuit Trek
Andes Vertical is a boutique adventure tour operator based in Mendoza, Argentina, founded in 2005. With a focus on sharing the best of this part of the Andes, Andes Vertical specializes in mountaineering, trekking, and horseback adventures in the stunning Andes outside Mendoza. Explore a less-visited part of the Andes, and see why this part of Argentina and Chile are becoming more popular.
Learn More
Is this tour for me?
We rate this tour as a 4/5. You should be comfortable hiking for up to 8 hours daily on moderate terrain at high elevations and camping with very basic accommodations. Fit hikers will be able to get the most out of this tour.
Ask a Question
Got any questions regarding the tour? Interested in promotions for groups or want to customize this tour to fit your needs? We are here to help you!
Ask a question
SALE! Well, not yet.
Let me know when this trip goes on sale.
Notify me