Take a guided overnight adventure on Mount Triglav to climb Slovenia's tallest mountain
Take one of Slovenia's most classic hikes on this two-day guided adventure. The Mount Triglav Guided Trek has you hiking the tallest mountain in Slovenia in two days, with a night spent on the mountainside in one of the mountain huts.
An expert guide will lead you up the mountain and will help you through the via ferrata section to reach Triglav's summit. You'll enjoy incredible scenic views of the Julian Alps as you hike and will discover stunning alpine lakes and valleys along your route. This is the perfect tour for hikers who are looking for an introduction to backpacking and climbing in a spectacular setting.
Highlights of the Mount Triglav Guided Trek
Hike in the spectacular Julian Alps as you complete one of Slovenia's most iconic climbs.
Visit Lake Bled and discover the incredible beauty of this lakeside town and its magical island.
Climb to the summit of Mount Triglav using the exciting via ferrata course.
Experience a quintessential mountain hut stay during your overnight hiking adventure.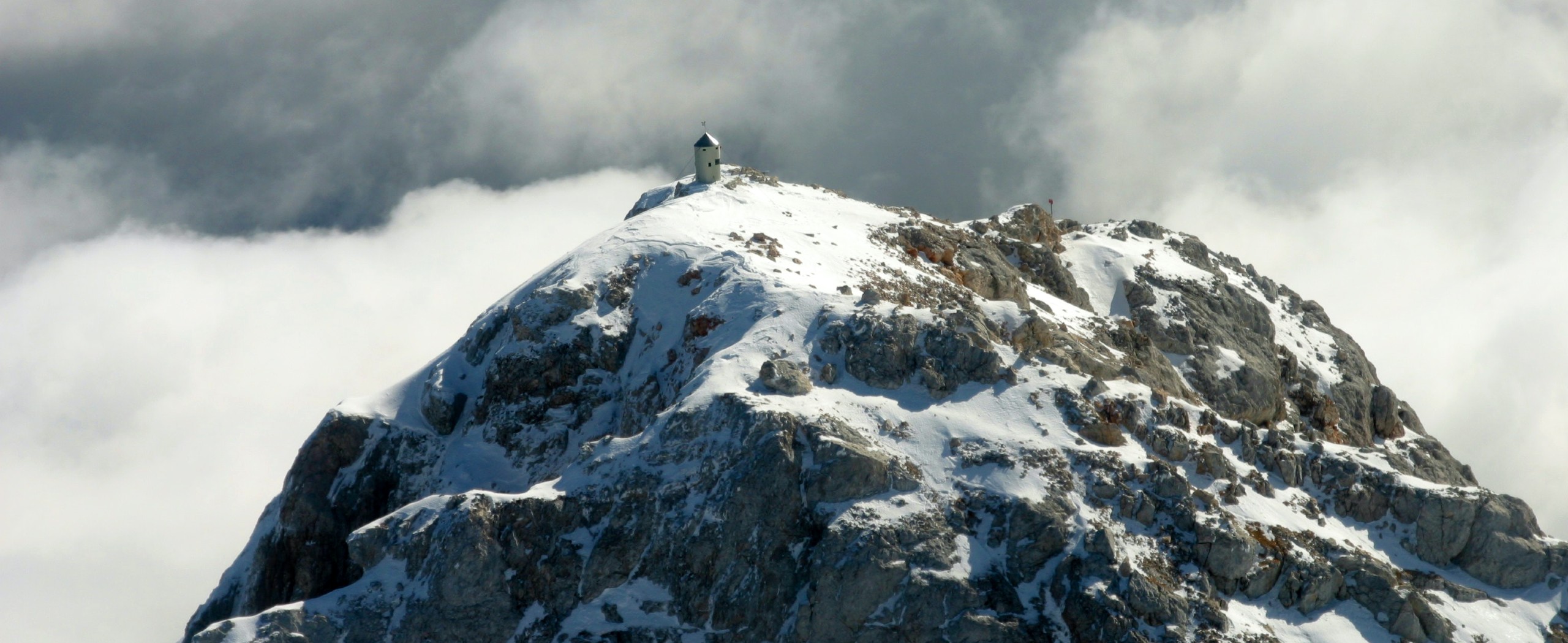 Mount Triglav Guided Trek Itinerary
Day 1

Hike Up Scenic Mt Triglav

Meet your guide in Bled and take the transfer to the start of your hike. Spend the day taking in the incredible scenery as you hike up Mount Triglav, the highest mountain in Slovenia. Your route is subject to change but you'll likely be stopping just below the summit on your first day.
Overnight Location: Mountain hut on Triglav (not included)
Distance: 6-8 hours, 1950m elevation gain
Meals: None
Day 2

Via Ferrata and Return to Bled

To complete the final ascent to the rocky pinnacle of Triglav, you'll climb with the help of the via ferrata course. Your guide will help you navigate the ropes and ladders to the top where you'll enjoy incredible views of the Julian Alps.

After soaking it all in and snapping some photos, you'll begin your descent through the scenic valleys and past beautiful alpine lakes to the valley where you'll meet the transfer to return you to Bled.
Overnight Location: None
Distance: 6-8 hours
Meals: None

Book Now
Mount Triglav Guided Trek Price and Dates
This guided hiking tour of Mount Triglav is run as a private tour for your group and the price per person is fixed. The minimum group size on this tour is 3 people, but solo travellers can request to join existing groups.

The guided private tours are available for groups of 3 and more. Couples have an option to book this tour for this same price, however, they would be joining an existing group, instead of having the tour private.

Prices below are per person:
Private Guided Traveller (group of 3 and more): $275 USD per person
Book Now
Accommodation on the Mount Triglav Guided Trek
The accommodation is based in a mountain hut. You'll spend a night in a rustic dormitory-style room and enjoying delicious homemade meals during your stay. There are no showers, but there are shared washroom facilities. Please note that the cost of the accommodations is not included in the tour price and you should expect to pay around $50 USD (including dinner and breakfast) per person.
In some cases, the accommodation listed below may need to be substituted for other comparable accommodations.
Single Rooms and Solo Travellers
The accommodations have shared dorm-style rooms. Single occupancy rooms are not available. Solo travellers can request to join confirmed groups upon request.
Hotels on Standard Tour
Mountain Hut on Mount Triglav
Sleep in a rustic mountain hut along your route up Mount Triglav. Please note the cost of your accommodations is not included in the tour price.
What's Included in the Mount Triglav Guided Trek?
Meals
There are no meals included. You can purchase a half-board package in advance for 45 EUR per person which includes tourist tax. Beer, coffee, and bottled water are available to purchase at the mountain hut.
Accommodations
During this trip, you'll need to spend one night at a mountain hut on Mount Triglav. The accommodations for 1 night are not included and can be paid for upon arrival for 45 EUR per person, which includes a d bed in a dormitory room, breakfast and dinner.
Accommodations before and after the tour in Bled or Ljubljana are not included but can be added as a supplement.
Transportation during the Tour
Transportation for you and your luggage is included between Bled and the hiking trail. You will be responsible for carrying your luggage during your trek.
Also Included
Expert English speaking guide
Introductory meeting in Bled on Day 1
Maps with marked routes
Rental of via ferrata climbing equipment including helmet, harness, and via ferrata set
Rental of hiking equipment, including hiking poles, backpack and a simple rain jacket
Bottled water at the start of the tour
24/7 support services
Tourist tax and VAT
Not included
Flights
Airport transfers
Mountain hut accommodation and half-board ($50 USD)
Travel insurance
Meals, drinks, or snacks not previously mentioned
Single-use sheets at mountain huts ($25 USD per set)
Personal expenses
Park entrance fees
Gratuities for tour guides or other staff if desired
Optional Extras
Additional nights before or after the tour
Single-use sheets ($25 USD per set)
Rental of hiking equipment, including hiking poles, backpack and a simple rain jacket
Optional activities or excursions
Frequently Asked Questions about Mount Triglav Guided Trek
Life Adventures has been running unique adventure tours in Slovenia and Croatia since 1998.
With a young, energetic team behind the scenes, Life Adventures creates unforgettable
journeys for all kinds of travellers. They began with the simple desire to show the beauty of
Slovenia and Croatia to everyone, and now, they've offered amazing adventure tours to
countless travellers.
Stand in the sunshine in the Alps, hike through emerald green valleys, or paddle down rushing
rivers. However you want to explore, Life Adventures has the expertise needed to run an
engaging, hassle-free holiday that you'll never forget!
Learn More
Is this tour for me?
We rate this tour as a 3/5. This tour is recommended for intermediate-level hikers who are comfortable with steep and uneven terrain. While you'll only hike for two days, the trail is steep and you will need to carry your pack. The final ascent to the summit is on a via ferrata course, which is a protected climbing section where you'll be attached to ropes. This trek is not recommended for people with a fear of heights.
Ask a Question
Got any questions regarding the tour? Interested in promotions for groups or want to customize this tour to fit your needs? We are here to help you!
Ask a question