Explore the best of North Macedonia and Albania on this 8-day cycling tour
Do you want to explore two gorgeous lakes, Balkan culture in small villages, protected nature, and Albanian and North Macedonian food and wine? And do you want to do all that on two wheels? Read on to see what this incredible 8-day cycling tour in North Macedonia and Albania has to offer.
This tour starts and ends in Ohrid, North Macedonia. During the first half of the trip, you will become acquainted with Lake Ohrid, which straddles North Macedonia and Albania. Then you'll traverse over to Lake Prespa. Ride around and between these two lakes, making several cultural stops to visit museums, monuments, and religious artifacts and compounds. Cycling around this region will open your mind to these unique countries that have only recently declared independence (Albania in 1912; North Macedonia in 1991), but the culture beyond their independence shines through. Your local guide is at your disposal if you have questions about the region.
You will learn about the history and traditions of North Macedonia and Albania, and witness why so much of this area is under national protection and conservation. The route will take you through Galichica National Park and Prespa National Park, guaranteeing the views from your bike will be of untouched and incredible wilderness. You ride through agricultural lands as well, and you'll have the chance to engage with the farmers and learn about their local traditions and products.
If lakeside vistas, charming villages, and unique gastronomy and culture appeal to you, and you want this experience on a bike, consider this 8-day cycling tour of North Macedonia and Albania. A cycling tour is a fantastic way to explore this area of the Balkan Peninsula.
Highlights of the North Macedonia and Albania Cycling Tour
Cycle around two pristine lakes, each surrounded by countless villages and hamlets to explore and engage with locals.
Spend an evening strolling the cobblestone streets of Korca, Albania, and indulge in its coffee culture.
Revel in untouched and protected natural landscapes as you ride through Galichica National Park and Prespa National Park.
Rest and rejuvenate each evening in comfortable hotels and cozy guesthouses, enjoying Balkan hospitality and gastronomy—especially the local wine.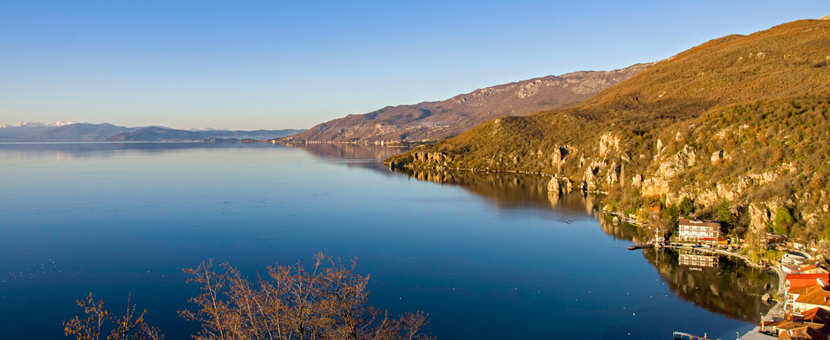 North Macedonia and Albania Cycling Tour Itinerary
Day 1

Arrival in Skopje

Welcome to North Macedonia! Your guide will meet you at the airport in Skopje and accompany you to the lakeside town of Ohrid. Once you've settled in, your guide will prepare you for the week ahead with maps, GPS and SIM card, and an overview of the itinerary. Ohrid is a fascinating cultural hub of North Macedonia, and it sits on a beautiful lake. Feel free to explore if you arrive early and have some time to kill before dinner. Get a good night's sleep for an early start tomorrow.
Overnight Location: Hotel in Ohrid
Distance: None
Meals: Dinner
Day 2

Bike Tour of Ohrid and Ride to Radozda

After an early breakfast, take a guided bike tour of the city accompanied by your guide who can explain the area's history and daily life as you cruise around the picturesque town. The group will depart Ohrid and follow Lake Ohrid's perimeter towards Radozda, the day's final destination near the Albanian border. On the way, you'll pass several villages and make a few cultural stops. The first stop is Struga to check out the Nezlobinski museum and a grand Bazar. Continue around the lake for another break in Kalista, where religious monuments like the monastery complex and the iconic Black Madonna statue are the main attractions. Ride about 6 km until reaching tonight's accommodation in Radozda.
Overnight Location: Hotel in Radozda
Distance: 2-3 hours, 16 km, 179 m of ascent
Meals: Breakfast, Lunch, Dinner
Day 3

Cross into Albania

After breakfast, you'll cycle across the border into Albania. Panoramic views abound as you look back at Lake Ohrid and Galichica National Park. Today's route brings you past several hamlets where you can get acquainted with Albanian daily practices and traditions. The road descends towards Lin, a small fishing village built on a grassy peninsula surrounded by farmland. Take a break here before getting back on your back for the push to Pogradec. Spend the late afternoon and evening exploring Pogradec as you please: check out the former Albanian ruler Erven Hoxha's residence with your guide for a history lesson. On a lighter note, you'll view the springs of the River Drin. Tonight's a great night for a stroll along the lakeshore, or a glass of Albanian wine under the stars. Sleep tight in Pogradec and rest your legs for a more challenging day tomorrow.
Overnight Location: Hotel in Pogradec
Distance: 3-5 hours, 42 km, 604 m of ascent
Meals: Breakfast, Lunch, Dinner
Day 4

Ride through Albanian Farmlands to Korca

Your legs will work today as you climb towards the elevated farmlands as you head south of Lake Ohrid. Today, you'll stop in some farming villages and engage with the local farmers to learn about their traditional methods and crops, and sample some products. When you arrive in Korca, settle into your hotel for a quick break before heading out to the town on foot for a guided city walk. Korca is a charming town with a Paris-like ambiance thanks to its café culture and cobblestone streets. Visit Albania's largest Orthodox church, and be prepared to snap a bunch of photos—it's gorgeous! Enjoy a traditional Albanian dinner accompanied by tasty Albanian wine or local Korca beer.
Overnight Location: Hotel in Korca
Distance: 5-6 hours, 57 km, 541 m of ascent
Meals: Breakfast, Lunch, Dinner
Day 5

Pedal to Prespa Lake

Hop on your bike after breakfast and head east towards the second lake of this tour: Prespa Lake. Located in Prespa National Park, today's route runs through untouched and preserved natural beauty. Admire the mountains in the distance and the vivid contrast of tan grasslands surrounding the blue lake. You'll spend the night on the shore of Lake Prespa in a cozy guesthouse in Zrnovsko.
Overnight Location: Guesthouse in Zrnovsko
Distance: 3 hours, 30 km, 360 m of ascent
Meals: Breakfast, Lunch, Dinner
Day 6

Bike to Brajcino

Fuel up on a hearty breakfast because today's route is the longest of the tour, but arguably the most beautiful as well. Riding along the western side of Lake Prespa, which passes through the Ohrid–Prespa Transboundary Biosphere Reserve that was created to protect the fragile ecosystems in the area. From the route, the views include a glimpse at Pelister National Park on the other side of the lake and many small villages. Cross the North Macedonian border for the final stretch to Brajcino, where you can settle into your accommodation. Have a short stroll of this enchanting town with its medieval stone architecture among a stunning natural setting of rolling green hills. After dinner, hit the pillow for some well-deserved rest.
Overnight Location: Hotel in Brajcino
Distance: 5 hours, 46 km, 568 m of ascent
Meals: Breakfast, Lunch, Dinner
Day 7

Return to Ohrid

It's your last full day of the tour! Wake up well-rested and get a transfer to the starting point for today's ride. If you want the 12 km ascent challenge, the group can decide to wake up earlier to ride instead of being driven. At 1,600 m / 5,249 ft, the descent towards Lake Ohrid begins. You'll have a break in the cute village of Trpejca on the east side of the lake where the water looks crystal clear when the sun's out. Head north along the lake's perimeter until you reach Ohrid. Settle into the hotel then spend your final night in North Macedonia strolling and shopping for some Balkan souvenirs.
Overnight Location: Hotel in Ohrid
Distance: 3 hours, 36 km, 230 m of ascent
Meals: Breakfast, Lunch, Dinner
Day 8

Farewell

Enjoy a final breakfast with your cycling crew discussing your highlights of the past week. You'll have a transfer to Skopje Airport once you're packed and ready to go.
Overnight Location: None
Distance: None
Meals: Breakfast

Book Now
North Macedonia and Albania Cycling Tour Price and Dates
This guided tour in North Macedonia and Albania is always run as a custom tour for your group only and the price always depends on the number of people in your group.
The best time to travel to North Macedonia and Albania for cycling is from mid-April to September.
Private Guided North Macedonia and Albania Cycling Tour
Have your own private tour with just your group! Prices below are per person:
Guided Groups of 2-3: $1,895 USD
Guided Groups of 4-5: $1,395 USD
Guided Groups of 6+: $1,150 USD
Book Now
Accommodation on North Macedonia and Albania Cycling Tour
The hotels on this trip are 3- and 4-star. You will also stay in guesthouses for 3 nights. Rooms are double occupancy, and single travelers will pay a supplement.
In some cases, the accommodation listed below may need to be substituted for other comparable accommodations.
Single Rooms and Solo Travelers
You can pay a supplement of $225 USD to have a private room in a hotel while traveling with your group. Contact us and we can try and match single travelers up, where possible.
Hotels on Standard Tour
City Palace Hotel in Ohrid
This hotel is located at the heart of Ohrid – just steps away from the town center, facing the beautiful marina.
Vila Radozda Guesthouse in Radozda Village
Family-friendly guesthouse with great amenities and wonderful location, overlooking the Lake Ohrid.
Millennium Hotel in Pogradec
This comfortable hotel with a big garden, overlooking the Lake Pogradec, is a great choice for your holiday in Pogradec.
This stylish and comfortable hotel has spacious and clean rooms, numerous great amenities and even the Spa!
Zrnovsko Guesthouse in Zrnovsko Village
Explore this lovely village while staying in a comfortable guesthouse with friendly owners and cozy rooms.
Stara Cesma Guesthouse in Brajcino Village
Small, lovely, family-run guesthouse is surrounded by stunning views of the surrounding mountain peaks and beautiful Prespa Lake.
City Palace Hotel in Ohrid
This hotel is located at the heart of Ohrid – just steps away from the town center, facing the beautiful marina.
What's included in the North Macedonia and Albania Cycling Tour?
Meals
All 7 breakfasts, 6 lunches, and 7 dinners are included.
Accommodations
Accommodation for 7 nights is included in the tour.
Transportation during the Tour
Transport for your luggage is included throughout the tour. Airport transfers are also included.
Also Included
English-speaking guide services
Map of North Macedonia, Ohrid, and Skopje
Not included
Bike rental
Flights
Insurance
All entrance fees at sites (average €2 per site)
Visas and vaccinations
Anything not mentioned as "Included"
Personal expenses and tips
Optional Extras
Extra night in Skopje
Bike rental
Optional activities like cooking class and farm visits
Bike rental:

IDEAL Moovic 28" - $25 USD per day
IDEAL Cityrun 28" - $25 USD per day
X-Caliber 9 - Trek Bicycle - $25 USD per day
CUBE Analog black'n green - $25 USD per day
Frequently Asked Questions about North Macedonia and Albania Cycling Tour
At Experience Balkan, it's all about providing exceptional service. Based in Ohrid, Macedonia, Experience Balkan are committed to providing travel services of the highest quality, and have earned the highest possible licensing as a result.
Experience Balkan was established in 2017 and has since fostered impressive diversity both within their team and in their offerings. They aim to narrow the gap between different people and promote harmony and collectivity through travel.
Experience Balkan offers hiking, trekking, mountain biking, snowshoeing, and ski touring adventures in the Balkan countries. Their greatest joy is providing new experiences to happy clients.
Learn More
Is this tour for me?
We rate this tour as a 3 / 5. You should be comfortable cycling with moderate elevation gain and distances up to 70 km daily.
Local Guide
Ask a Question
Got any questions regarding the tour? Interested in promotions for groups or want to customize this tour to fit your needs? We are here to help you!
Ask a question
SALE! Well, not yet.
Let me know when this trip goes on sale.
Notify me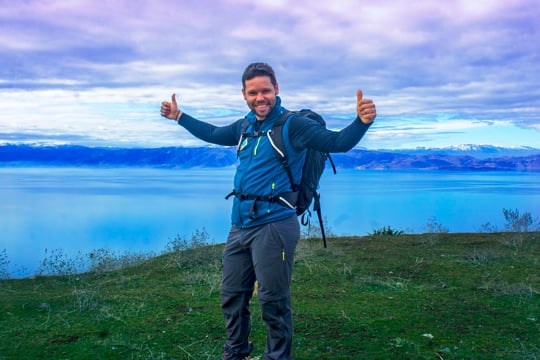 Dimitri
Ohrid, North Macedonia
Dimitri has been a certified mountain guide since 2010. He started out as a cultural and mountain guide and holds several different certifications. Dimitri loves meeting new people and seeing the look on their faces when they reach mountain peaks. Besides mountaineering, Dimitri loves to be on the water and enjoys sailing and paragliding over the local lakes.
Q & A
Q:

What is your #1 travel destination?

A:

I love the Dolomites in the Italian Alps. I really want to return!

Q:

What has been the most challenging adventure you've done?

A:

My most challenging adventure was climbing Cinque Torri (Five Towers) of Punta Fiames. Climbing the Three Peaks of Lavaredo was also extremely difficult. Both of these were in the Dolomites.

Q:

What do your guests like most about the trips you lead?

A:

Because some of our tours are multi-country, a lot of travellers love that they get to visit more than one country in a tour. Also, since Macedonia is a lesser-explored destination, they are surprised by the beautiful places they get to see.