Discover North Macedonia Albania and Montenegro on this 10-day cycling tour
On this 10-day cycling tour, you will see the highlights of North Macedonia, Albania, and Montenegro. If you are curious about the Balkan peninsula and are an avid cyclist, check out this phenomenal journey!
Spend the first portion of the trip in North Macedonia, a country that claimed independence in 1991, and has a fascinating history beyond that. You'll have a guided cycle tour of Skopje, the capital, and enjoy many traditional dinners with your group. Matka Canyon, a stunning region, lies close to Skopje, so you'll ride from the city into the canyon with a break near Vrelo Cave for a boat exploration into the deepest underwater cave in Europe. Cycle within Mavrovo National Park to discover its pristine lakes and sweeping views of grassy, rocky hills around you. Your guide will keep you apprised of the religious and cultural relevance of all the sights you pass.
Once you head into Albania, you'll notice a different kind of typical structure as you ride through the villages. Albania is a majority Muslim country, so rather than the churches you saw in North Macedonia, you'll begin to notice the gorgeous domes of mosques and hear the call to prayer five times each day. The terrain in Albania varies as you move from the inland regions towards the coast. You'll hit the largest lake in the Balkans and head north into Montenegro.
You spend the last few days of the tour in Montenegro near the coast of the Adriatic Sea. Ride along the Adriatic Highway to reach Kotor and revel in the beauty of one of the most scenic road sections of the tour. Wander the streets of Kotor on your last night, soaking up the Mediterranean-meets-medieval vibes of this seaside city.
This 10-day cycling tour includes a wide range of terrain and cultures—it's jam-packed! If you want to experience cycling through mountains in North Macedonia, then riding along the coast in Albania and Montenegro, you've found your tour. Oh, and you can always top off each night with a shot of rakija, the local potent brandy distilled from fermented fruit.
Highlights of the Cycling North Macedonia, Albania and Montenegro
Ride into Barmash Pass at 1,159 m / 3,802 ft and have lunch in Erseke, the highest town in Albania at 1,020 m / 3,346 ft.
Relax and rejuvenate in the thermal pools among Lengarica Canyon in the evening sun.
Visit Gjirokaster, known as "the town of one thousand steps," a UNESCO-protected stop on your tour.
Cycle along the most scenic road in the Balkans: the Adriatic Highway with sea views to the west and mountain views to the right—and a gentle breeze to cool you down.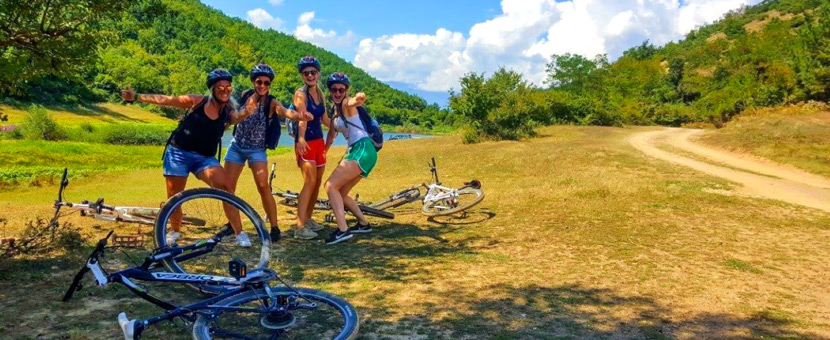 Cycling North Macedonia, Albania, Montenegro Tour Itinerary
Day 1

Skopje City Tour

Welcome to North Macedonia! When you arrive at the airport, your guide will meet you and bring you to your accommodation in Skopje centre to settle in. You'll try your bike right away with a cycle tour of Skopje once everyone in your group has arrived. A quick history lesson from your guide will give context to the sights you see on this quick jaunt around the capital city. Known as the epicentre of politics, culture, economics, and academia, Skopje has much to admire. Enjoy a group dinner, and get acquainted with your adventure crew. Rest up for an unforgettable adventure in the days ahead!
Overnight Location: Hotel in Skopje
Distance: None
Meals: Dinner
Day 2

Cycle to Matka Canyon

Fuel up on a hearty breakfast to prepare for a big day. Leaving directly from the hotel on your bike, you'll first head along the Vardar River towards the base of Mount Vodno, on top of which stands the Millennium Cross. Continue along the route, passing by several villages built among forested and rocky terrain until reaching Matka Canyon. Admire its natural beauty with large, steep rockfaces coming out of a pristine blue-green river. Take a break at the canyon for a boat excursion to Cave Vrelo, one of Europe's deepest underwater caves. You'll have transportation waiting to take you to Mavrovo National Park at the end of the day, where you'll have dinner and get a good night's sleep among nature.
Overnight Location: Mountain Hut in Mavrovo
Distance: 5 hours, 46 km, 395 m of ascent
Meals: Breakfast, Lunch, Dinner
Day 3

Mavrovo National Park & Ride to Lake Ohrid

Enjoy your breakfast with unspoiled mountain views. On today's big ride you'll cover a lot of ground, leaving directly from the accommodation. Follow the perimeter of the artificial Mavrovo Lake along an incredibly scenic road lined with massive rock formations, river views, and centuries-old monasteries. Break the ride up with a stop in Debar, a town that sits next to a lake of the same name, Lake Debar. Sip a coffee for some extra fuel or try the local drink boza—fermented corn juice. With a little extra energy from your stop in Debar, keep riding towards Struga in the northern part of Lake Ohrid. Rest your legs for the remainder of the journey to Ohrid in your private transport. Have dinner in Ohrid and settle into your hotel in this UNESCO-protected lakeside town.
Overnight Location: Hotel in Ohrid
Distance: 6 hours, 53 km, 560 m of ascent
Meals: Breakfast, Lunch, Dinner
Day 4

Transfer to Albania & Bike to Korca

After breakfast, it's time to head to the next country on the itinerary. You'll receive a transfer to the Albanian border and start riding your bike on a wide path to Pogradec. The views surrounding you will be of Lake Ohrid, which straddles the border of North Macedonia and Albania. En route, you'll notice remnants of the area's communist history. Follow the flow of the Black Drin River and pause at some natural springs. Continue to climb a bit until the road levels out on the way to Korca, where you'll have dinner and a comfortable bed to rest.
Overnight Location: Hotel in Korca
Distance: 6-7 hours, 57 km, 540 m of ascent
Meals: Breakfast, Lunch, Dinner
Day 5

Cycle through the Grammoz Mountains

Fuel up on breakfast and strong coffee—you'll endure some ascending today among the Grammoz Mountains. Ride up through Barmash Pass at 1,159 m / 3,802 ft with a short descent to your lunch spot in Erseke, the highest town in Albania at 1,020 m / 3,346 ft. You'll be awarded epic views as you bike through rocky peaks and wildflower-covered plateaus. The Vjosa River runs through today's route, which winds through an immense gorge. Then, what goes up must come down! It's time to descend one of the most scenic sections of the entire tour, eventually landing in Carshove and continuing along the river to a few other villages where you can stop for a snack or a shot of rakija to celebrate the completion of that ride. In the evening, you'll visit the thermal pools and stunning surroundings of Lengarica Canyon. You'll spend the night in the village of Benje.
Overnight Location: Hotel in Benje
Distance: 5-6 hours, 42 km, 843 m of ascent
Meals: Breakfast, Lunch, Dinner
Day 6

Explore Gjirokaster

Today's ride will take you through various Albanian terrain from jagged peaks to deep gorges and open plains. Along the way, visit Gjirokaster, known for its cultural heritage and museums, and one of the most charming towns in Albania. One thousand steps lead to the right of the town, which we will explore after settling into the hotel in the afternoon. Take a guided tour through the old town, which UNESCO recognizes as a heritage site. This town, perched on a slope, feels medieval with its cobblestone streets and abundance of traditional structures, namely the citadel hugging the cliffside. Sip on some Albanian wine or try some local dishes like pashaqofte, a meatball soup, before settling in for sleep.
Overnight Location: Hotel in Gjirokaster
Distance: 6 hours, 50 km, 525 m of ascent
Meals: Breakfast, Lunch, Dinner
Day 7

Transfer across Albania

Eat breakfast leisurely, knowing you have a rest day today. After you finish your meal, you'll be transferred to your destination for the night in Albania with a few cultural stops along the tour. First, you'll stop in Berat, a town protected by UNESCO and known for its magical Byzantine-era buildings. Continue in the car to the capital city Tirana for a walking sightseeing tour, noting evidence of the country's communist period. You'll end the day in Shkodra—a historically relevant town situated near the largest lake in the Balkans, Lake Skadar, which straddles the Montenegrin border. Enjoy a traditional dinner and rest up for tomorrow's ride.
Overnight Location: Hotel in Shkodra
Distance: 6 hours, 49 km, 654 m of ascent
Meals: Breakfast, Lunch, Dinner
Day 8

Ride into Montenegro

After breakfast, you will head into the final country on this itinerary, Montenegro. Ride along a paved road to the city of Ulcinj for a short visit, admiring the views of the Adriatic Sea and welcoming the breeze. Continue riding for another 30 km north with sea views to your left and hilly views to your right until reaching Bar, a pertinent port town on the coast. Enjoy a lovely Montenegrin dinner, stroll the cobblestone walkways, and settle into your hotel to rest.
Overnight Location: Hotel in Bar
Distance: 5-6 hours, 39 km, 920 m of ascent
Meals: Breakfast, Lunch, Dinner
Day 9

Cycle the Adriatic Highway to Kotor

On your final day of this cycling tour, you'll ride one of the most scenic routes in the Balkans. The road is known as the Adriatic Highway, and for a good reason—it hugs the Adriatic Sea coastline for almost the entire route. You'll appreciate the wind in your hair as you climb and descend along this road heading north from Bar to Kotor. Once you reach Kotor, you'll check in to your hotel then meet the group to go on a locally-guided city walk of the old town, a UNESCO World Heritage site. Meander the magical streets as you soak up your last night of this adventure tour.
Overnight Location: Hotel in Kotor
Distance: 5-6 hours, 44 km, 443 m of ascent
Meals: Breakfast, Lunch, Dinner
Day 10

Farewell

Enjoy one last meal with your new pals and pack up to head home. You'll get a transfer to Podgorica Airport when it's time for your flight.
Overnight Location: None
Distance: None
Meals: Breakfast

Book Now
Cycling North Macedonia, Albania and Montenegro Tour Price and Dates
This guided tour in North Macedonia, Albania, and Montenegro is always run as a custom tour for your group only and the price always depends on the number of people in your group.
The best time to travel to North Macedonia, Albania, and Montenegro for cycling is from mid-April to September.
The prices below are per person:
Guided Groups of 2-3: $4,050 USD
Guided Groups of 4-5: $2,750 USD
Guided Groups of 6+: $2,275 USD
Book Now
Accommodation on the Cycling North Macedonia, Albania and Montenegro Tour
The hotels on this trip are 3- and 4-star. Rooms are double occupancy, and single travelers will pay a supplement.
In some cases, the accommodation listed below may need to be substituted for other comparable accommodations.
Single Rooms and Solo Travelers
You can pay a supplement of $275 USD to have a private room in a hotel while traveling with your group. Contact us and we can try and match single travelers up, where possible.
Hotels on Standard Tour
What's included in the Cycling North Macedonia, Albania and Montenegro Tour?
Meals
9 breakfasts, 8 lunches, and 9 dinners are included.
Accommodations
All 9 nights are included in the tour.
Transportation during the Tour
Transport for you and your luggage is included throughout the tour, including the airport transfers. While riding, your luggage will be transported to the accommodations. In case of emergencies or technical difficulties, or if you need a break, an assistance vehicle will be available (but not permanently available to hop in whenever you want).
Also Included
English-speaking guide services
Map of North Macedonia, Ohrid, and Skopje
Not included
Bike rental and equipment
Flights
Insurance
All entrance fees at sites (average €2 per site)
Visas and vaccinations
Anything not mentioned as "Included"
Personal expenses
Optional Extras
Extra night in Skopje, North Macedonia
Extra night in Kotor, Montenegro
Optional activities
Bike rental:

IDEAL Moovic 28": $25 USD per day
IDEAL Cityrun 28": $25 USD per day
X-Caliber 9 - Trek Bicycle: $25 USD per day
CUBE Analog black'n green: $25 USD per day
Frequently Asked Questions about Cycling North Macedonia, Albania and Montenegro
At Experience Balkan, it's all about providing exceptional service. Based in Ohrid, Macedonia, Experience Balkan are committed to providing travel services of the highest quality, and have earned the highest possible licensing as a result.
Experience Balkan was established in 2017 and has since fostered impressive diversity both within their team and in their offerings. They aim to narrow the gap between different people and promote harmony and collectivity through travel.
Experience Balkan offers hiking, trekking, mountain biking, snowshoeing, and ski touring adventures in the Balkan countries. Their greatest joy is providing new experiences to happy clients.
Learn More
Is this tour for me?
We rate this tour as a 3 / 5, just about a 4/5 difficulty. You should be comfortable with cycling on moderately difficult terrain up to 75 km daily.
Local Guide
Ask a Question
Got any questions regarding the tour? Interested in promotions for groups or want to customize this tour to fit your needs? We are here to help you!
Ask a question
SALE! Well, not yet.
Let me know when this trip goes on sale.
Notify me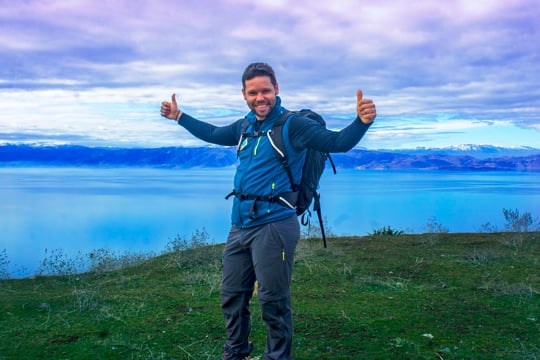 Dimitri
Ohrid, North Macedonia
Dimitri has been a certified mountain guide since 2010. He started out as a cultural and mountain guide and holds several different certifications. Dimitri loves meeting new people and seeing the look on their faces when they reach mountain peaks. Besides mountaineering, Dimitri loves to be on the water and enjoys sailing and paragliding over the local lakes.
Q & A
Q:

What is your #1 travel destination?

A:

I love the Dolomites in the Italian Alps. I really want to return!

Q:

What has been the most challenging adventure you've done?

A:

My most challenging adventure was climbing Cinque Torri (Five Towers) of Punta Fiames. Climbing the Three Peaks of Lavaredo was also extremely difficult. Both of these were in the Dolomites.

Q:

What do your guests like most about the trips you lead?

A:

Because some of our tours are multi-country, a lot of travellers love that they get to visit more than one country in a tour. Also, since Macedonia is a lesser-explored destination, they are surprised by the beautiful places they get to see.