Immerse yourself in the North Macedonian wilderness on this 7-day guided adventure
Truly experience the wilderness of North Macedonia on this 7-day multisport adventure tour. Get acquainted with this unique country through its hiking trails, lakes, cuisine, and stories from your local guide. And the most magical part: spend two nights camping in a private, remote lakeside location.
During your seven days in North Macedonia, you'll experience daily life in the cities and explore one of the country's stunning national parks. Starting in Ohrid, a UNESCO-recognized town next to a lake, you'll get a feel for North Macedonian culture as you wander the old town and try some local cuisine. Visit a few villages around Lake Ohrid and take a cooking class with a local family.
On Days 4 and 5, you'll embark on a boat to a private camping spot on Lake Ohrid's shores, where you'll spend two days uninterrupted in the wilderness. Learn to cast a fishing net and watch the process of preparing fish for a stew that you'll eat the following night. Enjoy a mesmerizing campfire under the stars and fall asleep to the sounds of nature around your tent. On the final days of the tour, you'll keep exploring the lake by visiting the nearby diving centre. Jump in to explore life underwater or just stay on the shore and observe the views.
Spend a fantastic week immersed in North Macedonian culture on this multisport tour. If you want a sense of adventure and variety and only have a week to fit it in, check out this tour!
Highlights of the North Macedonia Multisport Tour
Cast a fish net at sunset and check your haul the next morning after camping on the shores of Lake Ohrid.
Hike through old North Macedonian villages and engage with the elderly locals.
Taste local flavours of cheese, wine, and the strong liqueur rakija (that'll put hair on your chest!).
Camp in a stunning private spot and enjoy two nights around a campfire, under the stars, next to the lake.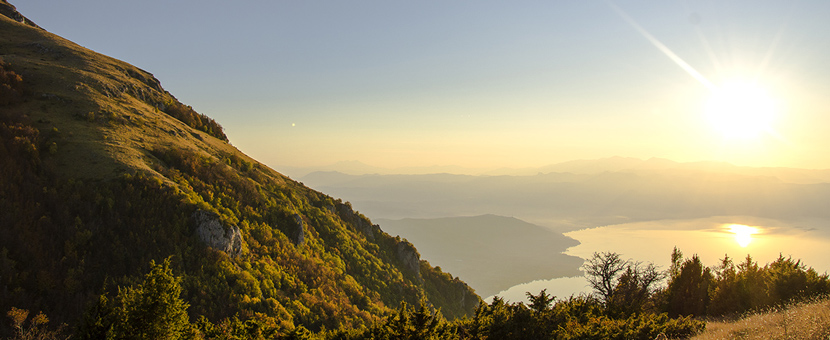 North Macedonia Multisport Tour Itinerary
Day 1

Arrival in Skopje Airport

Welcome to North Macedonia! Your guide will meet you at the airport, and you'll be transferred to Ohrid to settle into your hotel. Spend the afternoon on a guided walking tour of this UNESCO-protected lakeside city. Visit the old centre and walk up to viewpoints that offer stunning views of Lake Ohrid. Have dinner with your group trying your first tastes of North Macedonian cuisine—try some lake fish dishes! Rest up in your hotel for a big week of adventure ahead.
Overnight Location: Hotel in Ohrid
Distance: None
Meals: Dinner
Day 2

Hike Around Lake Ohrid and Cooking Class in Elsani

Enjoy a traditional North Macedonian breakfast, hop in your private transfer to Velestovo, and begin a lovely hike through the old villages around Lake Ohrid. You'll get acquainted with the area, walking through abandoned stone houses, engaging with locals, and never tiring Lake Ohrid's views. Once you reach Elsani, you'll meet a lovely family who will offer a cooking class. Return to Ohrid or stay the night in Elsani.
Overnight Location: Guesthouse in Elsani
Distance: 4 hours, 5.8km, 736 m of ascent, 330 m of descent
Meals: Breakfast, Dinner
Day 3

Jeep / ATV in Galichica National Park and Boat Ride on Drim River

After breakfast, you'll leave directly from your accommodation and get in either a Jeep or an ATV for a tour through Galichica National Park. Ride through the wild terrain of low shrubbery and rocks and into higher altitudes with hidden lakes among the mountains. Stop for a traditional lunch in Asangjura, where you'll taste local products like cheese, wine, and the local spirit rakija, a potent brandy derived from fermented fruit. After lunch, head back on the motor vehicles and expect some epic lake views—you'll see Lake Ohrid and neighbouring Lake Prespa, which straddles North Macedonia, Albania, and Greece. The Jeep/ATV tour will end at the St. Naum Monastery complex to wander its ancient walls and peek at lake views through the old stone windows. The afternoon will be spent in a boat navigating the waters of the Black Drim River, visiting the natural springs en route. Return to Ohrid for dinner and rest.
Overnight Location: Hotel in Ohrid
Distance: Flexible
Meals: Breakfast, Lunch, Dinner
Day 4

Boat Ride to Private Camping Spot on Lake Ohrid

In the morning after breakfast, the group will pack up and head out into the wild. You'll spend the next two nights camping away from civilization and technology. Disconnect and recharge! Your guide and captain will bring you to a private beach to set up your camp. Around sunset, take the boat into the lake and cast your nets in the pristine waters. The evening is yours to enjoy the serenity of your surroundings. Swim under the stars, and huddle around a fire with your crew. Take a moment to connect with nature during this unique time away from your busy life.
Overnight Location: Camping
Distance: Flexible
Meals: Breakfast, Dinner
Day 5

Kayaking Around Lake Ohrid

Get an early start waking up with the sun and head out with your captain to check the fishnets you cast the night before. With any luck, you caught a decent haul. Return to the campsite and learn the process of cleaning and preparing the fish to cook a traditional fish stew—help out, if you want! After a non-fish breakfast, rent a kayak to explore Lake Ohrid at your own speed. When you return for a freshly-caught fish dinner, crack open some local wine and rakija and party around the campfire under the stars for your final night in this isolated camping spot. What happens here, stays here!
Overnight Location: Camping
Distance: Flexible
Meals: Breakfast, Dinner
Day 6

Diving in Lake Ohrid and Farewell Night

Break down the campsite after breakfast and sail toward Ohrid. On the way, you'll stop at the Amfora Diving Centre. Explore the underwater world of Lake Ohrid with your guide and your crew. If you want to stay above water, you can learn about the history of the area from the locals. Continue to Ohrid to make some lasting memories with a traditional North Macedonian night with your group.
Overnight Location: Hotel in Ohrid
Distance: Flexible
Meals: Breakfast, Dinner
Day 7

Farewell

Enjoy a final breakfast with your multisport crew chatting about your favourite memories from the past week. You'll receive a transfer to Skopje Airport according to your flight time.
Overnight Location: None
Distance: None
Meals: Breakfast

Book Now
North Macedonia Multisport Tour Price and Dates
This guided tour in North Macedonia is always run as a custom tour for your group only and the price always depends on the number of people in your group.
The best time to travel to North Macedonia for this multisport adventure is from mid-April to September.
Private Guided North Macedonia Multisport Tour
Have your own private tour with just your group! Prices below are per person:
Guided Groups of 2-3: $1,850 USD
Guided Groups of 4-5: $1,325 USD
Guided Groups of 6+: $1,095 USD
Book Now
Accommodation on the North Macedonia Multisport Tour
The hotels on this trip are 3- and 4-star. You will spend one night in a guesthouse and two nights camping in the wilderness. Rooms are double occupancy, and single travelers will pay a supplement.
In some cases, the accommodation listed below may need to be substituted for other comparable accommodations.
Single Rooms and Solo Travelers
You can pay a supplement of $125 USD to have a private room in a hotel while traveling with your group. Contact us and we can try and match single travelers up, where possible.
Hotels on Standard Tour
City Palace Hotel in Ohrid
This hotel is located at the heart of Ohrid – just steps away from the town center, facing the beautiful marina.
Shoposki Guesthouse in Elshani Village
Beautiful guesthouse on top of the hill with a huge garden and stunning views over the Lake Ohrid.
City Palace Hotel in Ohrid
This hotel is located at the heart of Ohrid – just steps away from the town center, facing the beautiful marina.
Camping along the route in North Macedonia
Sleep under the starts in beautiful locations along the route.
City Palace Hotel in Ohrid
This hotel is located at the heart of Ohrid – just steps away from the town center, facing the beautiful marina.
What's included in the North Macedonia Multisport Tour?
Meals
6 breakfasts, 1 lunch, and 6 dinners are included.
Accommodations
All 6 nights are included in the tour.
Transportation during the Tour
Transport for you and your luggage is included throughout the tour, including the airport transfers.
Also Included
English-speaking guide services
Participation fees for every attraction
Map of North Macedonia, Ohrid, and Skopje
Not included
Flights
Insurance
All entrance fees at sites (average €2 per site)
Visas and vaccinations
Anything not mentioned as "Included"
Personal expenses
Optional Extras
Extra night in Skopje
Optional activities
Frequently Asked Questions about North Macedonia Multisport Tour
At Experience Balkan, it's all about providing exceptional service. Based in Ohrid, Macedonia, Experience Balkan are committed to providing travel services of the highest quality, and have earned the highest possible licensing as a result.
Experience Balkan was established in 2017 and has since fostered impressive diversity both within their team and in their offerings. They aim to narrow the gap between different people and promote harmony and collectivity through travel.
Experience Balkan offers hiking, trekking, mountain biking, snowshoeing, and ski touring adventures in the Balkan countries. Their greatest joy is providing new experiences to happy clients.
Learn More
Is this tour for me?
We rate this tour as a 2 / 5. You should be comfortable doing leisure activities for up to 5 hours daily.
Local Guide
Ask a Question
Got any questions regarding the tour? Interested in promotions for groups or want to customize this tour to fit your needs? We are here to help you!
Ask a question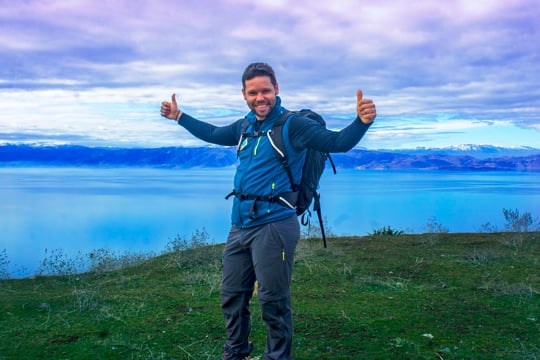 Dimitri
Ohrid, North Macedonia
Dimitri has been a certified mountain guide since 2010. He started out as a cultural and mountain guide and holds several different certifications. Dimitri loves meeting new people and seeing the look on their faces when they reach mountain peaks. Besides mountaineering, Dimitri loves to be on the water and enjoys sailing and paragliding over the local lakes.
Q & A
Q:

What is your #1 travel destination?

A:

I love the Dolomites in the Italian Alps. I really want to return!

Q:

What has been the most challenging adventure you've done?

A:

My most challenging adventure was climbing Cinque Torri (Five Towers) of Punta Fiames. Climbing the Three Peaks of Lavaredo was also extremely difficult. Both of these were in the Dolomites.

Q:

What do your guests like most about the trips you lead?

A:

Because some of our tours are multi-country, a lot of travellers love that they get to visit more than one country in a tour. Also, since Macedonia is a lesser-explored destination, they are surprised by the beautiful places they get to see.