Discover the rich history of Jordan and its Bedouin traditions
The Petra and Wadi Rum Sightseeing Tour is short, but each day is jam-packed with cultural activities. Starting in Jerusalem, you will be transferred across the Jordanian border and into vast desert landscapes. Stop at a couple of wonderful sites on the way to the Bedouin campsite near Petra, including Jerash and Amman (the capital of Jordan). You'll spend each night under the stars in the traditional carpeted tents of the Bedouins—this is one of the highlights of the tour.
If you want a snapshot of Jordan's highlights, this tour gives it to you. From morning until night on Day 2, you will explore the ancient Lost City of Petra, a historical hub that dates back over 3000 years. Wander its wonderful sandstone buildings in awe. On the third day, you'll get an adrenaline-pumping ride in a 4x4 Jeep across the dunes of Wadi Rum, also known as the Valley of the Moon. All your meals and transportation are included on the tour, allowing you to sit back and enjoy. Fill your days well on the Petra and Wadi Rum Tour in Jordan.
Highlights of the Petra & Wadi Rum Sightseeing Tour
Walk among the fascinating sandstone architecture that comprises the 3000-year-old city of Petra.
Traverse the Judean desert to visit Jerash, a well-preserved ancient Roman town with fantastic ruins that will make you feel like a gladiator.
Sample the local fare like the sweet knafeh, a pastry soaked in syrup and topped with cheese and nuts.
Experience the magical Bedouin lifestyle of sleeping in carpeted tents and gathering around the fire under the stars listening to their traditional tunes.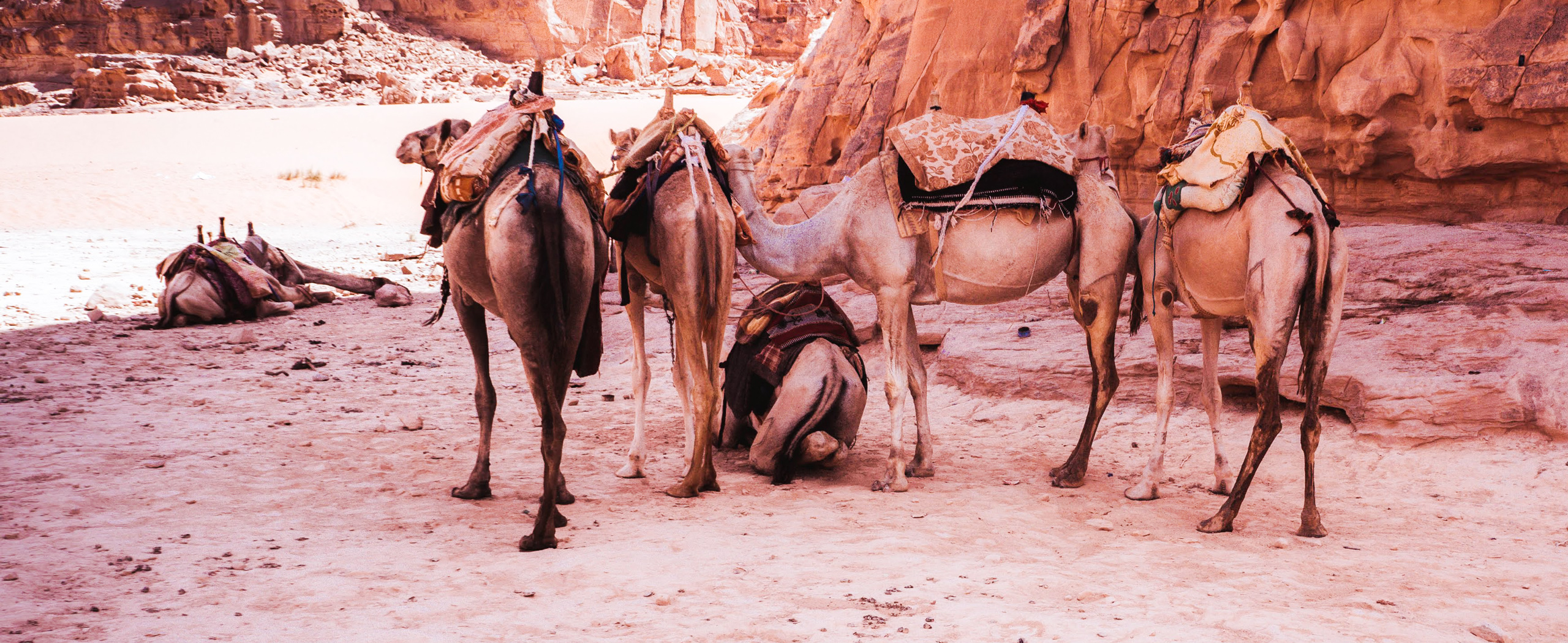 Petra and Wadi Rum Sightseeing Tour Itinerary
Day 1

Jerusalem, Jerash, and Amman

In the early morning, you'll be picked up by your guide from your accommodation in Jerusalem and head for the Jordanian border. Cross into the Judean desert and reach Jerash for a visit to this ancient Roman city with ruins dating back 4000 years.

Have lunch in Jerash, then continue through Jordan's capital Amman and stop to visit the Royal Palace and the King Hussein National Mosque. The last stop will be the Bedouin campsite, where you'll enjoy a traditional dinner, stargazing, and tea-drinking around a fire, then getting a good night's sleep.
Overnight Location: Bedouin campsite
Meals: Lunch, dinner
Day 2

Full Day to Explore Petra

Wake up to a fresh breakfast and hop on a bus to spend the day in Petra. In the morning, you'll get a guided tour of this ancient city, now an archaeological site, carved into the red sandstone landscape.

Take a lunch break at a nearby restaurant, then return to Petra for free time in the afternoon. Savour each moment that you spend here—it's one of the Seven Wonders of the World. Return for another night at the Bedouin camp under the stars.
Overnight Location: Bedouin campsite
Meals: Breakfast, lunch, dinner
Day 3

4x4 Jeep Tour of Wadi Rum

After your Bedouin breakfast, you'll head into the vast desert of Wadi Rum, also known as the Valley of the Moon for its extraterrestrial scenery of red rocks, rose sand, and out-of-this-world geographic formations. Have lunch here, then head to the border to drive to Jerusalem for arrival in the evening.

Your tour ends in Jerusalem, and you can head off with memories of a jam-packed tour in Jordan.
Overnight Location: None
Meals: Breakfast, lunch

Book Now
Petra and Wadi Rum Sightseeing Tour Price and Dates
This guided tour in Jordan is run as a fixed departure tour and the price depends on the type of room you prefer.
Note that some sites may be closed or visiting times shortened on holidays like Ramadan.
The price below is per person.

Price per person sharing a double tent: $625 USD
Note: Departures are available most Tuesdays, Fridays, and Sundays during the available months.
Book Now
Accommodation on the Petra and Wadi Rum Sightseeing Tour
This tour is based in a Bedouin campsite near Petra. You will have a comfortable bed in a tent or hut with two or more beds. If you are travelling alone, you may have to share a room with someone of the same gender, depending on the size of the group.
In some cases, the accommodation listed below may need to be substituted for other comparable accommodations.
Single Rooms and Solo Travellers
You can pay a supplement to have a private tent (please enquire for the pricing).
Hotels on Standard Tour
Bedouin Campsite near Petra
Immerse in Bedouin culture in this campsite near Petra with traditional huts to sleep in. You will receive authentic Bedouin hospitality, including meals, tea, and music around a fire.
What's included in the Petra and Wadi Rum Sightseeing Tour?
Meals
2 breakfasts, 3 lunches, and 2 dinners are included.
Accommodations
Accommodation for 2 nights is included in the tour. Accommodations before or after the tour are not included but can be added as a supplement.
Transportation during the Tour
Transportation for you and your luggage is included from pick-up at your hotel in Jerusalem, to all sites, and return to Jerusalem at the end of the tour. Arrival and departure transfers are not included.
Also Included
English-speaking guide for the entire tour
Entrance fees
4x4 Jeep tour in Wadi Rum
Custom-made travel app for phone or tablet
Not included
Border tax (payable in cash only, ILS, USD, or EUR)
Jordanian exit fee (10 JOD, payable in JOD cash only)
Arrival and departure transfers
Travel insurance
Drinks
Visas if required
Flights to Israel
Anything not mentioned as included
Optional Extras
Extra nights in any accommodation
Room upgrade (hotel option available)
Frequently Asked Questions about Petra & Wadi Rum Sightseeing Tour
Abraham Tours offers off-the-beaten-track tours in Egypt, Israel, the West Bank, and Jordan. With deep knowledge of the top destinations and lesser-known gems alike, Abraham crafts itineraries for the guided or self-guided traveller that aim to both show the best of the destination and offer an authentic adventure. With a commitment to serving travellers of all backgrounds, their tours offer historical, cultural, and natural enrichment to anyone interested in learning more about their corner of the globe.
Whether you're dreaming of bustling Cairo or the far-flung deserts or something in between, Abraham Tours is ready to help you craft the tour of a lifetime.
Learn More
Is this tour for me?
We rate this tour as a 1/5. You should be comfortable walking around Petra, but you will spend a lot of this tour in a vehicle. You should also be comfortable sleeping in the Bedouin campsite with basic facilities.
Ask a Question
Got any questions regarding the tour? Interested in promotions for groups or want to customize this tour to fit your needs? We are here to help you!
Ask a question