Hit the slopes at the best ski resorts in BC with your local guide on this adventure
Are you ready for the ski adventure of a lifetime? The Powder Highway in the Canadian Rockies is home to world-class ski resorts, and on this tour, you will get a sampling of what they have to offer. The Powder Highway Campervan Ski Tour suits beginners to experts, but having some skiing experience will be an asset so you can easily follow your guides to secret powder stashes in the best resorts in BC.
Does this sound interesting but not quite the right fit? Luckily for you, this tour is totally customizable. First of all, you can do this as a 7-day experience rather than 9 if you don't have the time. If you have your own campervan, you'll get a significant discount if you'd rather not use the rental campervan. And, if you're already an avid skier, you might have a ski pass—you'll get a discount when you use your own.
Additionally, this tour is totally COVID-friendly. You drive alone or with your private group, and you can practice physical distancing whenever the group congregates outside for a campfire. The guides and you will follow local health and safety precautions, like wearing a mask and sanitizing regularly. This is the perfect way to make the most of Canada's best skiing this winter!
Highlights of the Powder Highway Campervan Ski Tour
Ski North America's longest vertical drop at Revelstoke Mountain Resort—goodbye, comfort zone!
Be brave and attempt a run on Canada's steepest ski terrain at Kicking Horse Mountain Resort in Golden.
Sample some of the best restaurants and cafes in the charming mountain towns of Fernie, Nelson, Revelstoke, and Golden.
Relax! Soak in natural hot springs after long days of carving lines on the slopes.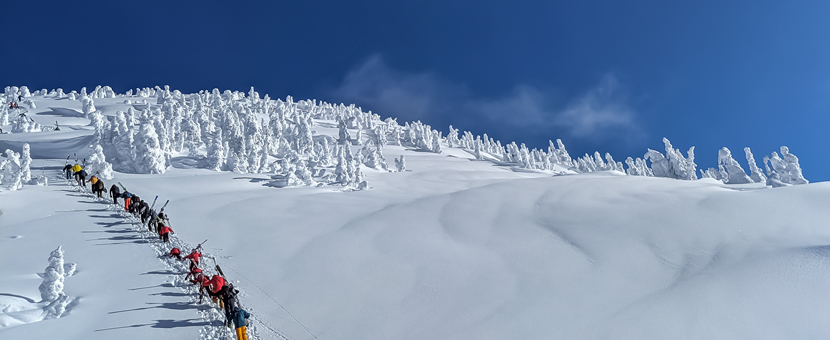 Powder Highway Campervan Ski Tour Itinerary
Day 1

Pick up Campervan and Drive to Fernie, BC

You have arrived! Meet your guide and crew at the RV centre in Calgary, Alberta, to pick up your home on wheels for this epic ski tour.

After a brief discussion on the adventure ahead, you'll hit the road and drive to Fernie, BC, along a scenic stretch of highway. Enjoy dinner together, then stop by the grocery and liquor stores to stock up on a few things before parking at home base for the next couple of nights. Get some rest and prepare to hit some fresh pow tomorrow!
Overnight Location: Campervan in Fernie
Meals: None
Day 2

Ski Fernie's 5 Alpine Bowls

Rise early in this winter wonderland at the base of the ski resort. Before heading to the mountain, make a quick stop at a local café for fuel, then it's time to dust off your ski gear.

The group will stick together for the first few runs so the guides can gauge the group's level and decide how to break up the day. You may split into groups of similar levels or stick together. Enjoy the day fully as you attempt to cover the entire mountain before heading to the campervans for a nightcap and well-earned sleep.
Overnight Location: Campervan in Fernie
Meals: None
Day 3

Explore Fernie Alpine

You got familiar with the mountain yesterday, so you can spend this morning exploring more remote corners of this awesome resort following your expert local guide. Find some untouched lines and ski out of your comfort zone!

After finishing up in Fernie, the group will convoy for a couple of hours to Nelson to park for the night.
Overnight Location: Campervan in Nelson
Meals: None
Day 4

Ski Day at Whitewater Ski Resort

Have breakfast in one of Nelson's many charming cafes before heading to the slopes of Whitewater Ski Resort. This resort is renowned for its "coldsmoke" powder—so fluffy and light that it feels and looks like smoke.

Don't miss out on having lunch at the resort: Whitewater is also famous for its menu and best-selling cookbooks. After enjoying a huge day in the fluffy snow, treat yourself to a dip in nearby hot springs to relax your muscles. Head back to your cozy campervan for après and some rest.
Overnight Location: Campervan in Nelson
Meals: None
Day 5

Whitewater Resort Tree Skiing

Rise and shine to head to the slopes again, this time to explore the terrain among the trees. Your guide will lead you to serene and spacious areas. You'll feel like it's just you and the trees.

Finish up the ski day, then rev the campervans for a beautiful drive to Revelstoke. If the group is up for it, you'll stop en route for a relaxing dip in some natural hot springs.
Overnight Location: Campervan in Revelstoke
Meals: None
Day 6

Explore Revelstoke Mountain Resort

Fuel up on a hearty breakfast for a challenging day. Revelstoke Mountain Resort will test your leg strength for sure! With various terrain on the mountain, today is an adventure all on its own, with tons of open areas, tree pockets, alpine bowls, and amazing snow. Your guide knows the best spots that will make your experience on this mountain the best it can be.

After the unforgettable ski day, the group will sample some of the tastiest food in Revelstoke, a charming mountain town with a hip vibe.
Overnight Location: Campervan in Revelstoke
Meals: None
Day 7

Ski Revelstoke's Powder Bowls

One day isn't enough—enjoy another full day exploring the wild corners of Revelstoke Mountain Resort. Return to your favourite runs, or head off with your guide to some hiking terrain and secret spots.

Celebrate your week by trying some of Revy's best restaurants, then head to the van for a good night's sleep.
Overnight Location: Campervan in Revelstoke
Meals: None
Day 8

Kicking Horse Mountain Resort in Golden, BC

Your last full day of the tour has arrived, and it's going to be an epic one! Get an early start to drive the incredible stretch of Highway 1 between Revelstoke and Golden through Roger's Pass. Arrive at the mountain just in time for sunrise, seeing the peaks lit up in glorious shades of pink, which sets the magical tone for today's adventure.

Today's a leg burner as you hit the steepest slopes in Canada. For an extra challenge, hike up Terminator Peak for insane views and untouched snow. Finish off the day and convoy to a beautiful camping spot amid the Rockies for your final night. Cheers!
Overnight Location: Campervan in Golden
Meals: None
Day 9

Drive through Yoho and Banff National Parks

Well, that's it! Wake up and enjoy a hot coffee in Golden before driving through some of Canada's most iconic scenery through Yoho and Banff National Parks.

If the time allows it, the group will stop in Banff for a tasty lunch before returning the rolling homes to the RV centre in Calgary. Bid your goodbyes to your tightly-bonded crew and head home with a full heart (and probably sore legs!).
Overnight Location: None
Meals: None

Book Now
Powder Highway Campervan Ski Tour Price and Dates
This guided ski/snowboard tour in Canada is run as a group tour on set dates and the price depends on the specific options you choose for the tour. Note that cohorts will be kept together for health and safety, and you will not be required to share accommodations with those outside of your bubble.
The best time to travel to Canada for skiing is mid-December to mid-April. This tour is available in March, which tends to be an excellent month for snow.
Please inquire about rates for groups larger than 2. The tour can accommodate up to 24 guests in a maximum of 12 RVs. Please let us know if you have an IKON or Epic pass as you can save $80 per lift ticket. You can also opt for 7-day tour.
Tour starts and ends in Calgary.

Guided Single Travellers: $2,795 USD per person for 9-day tour, $2,325 USD for 7-day tour
Guided Groups of 2: $2,050 USD per person for 9-day tour, $1,725 USD for 7-day tour
Bring your own campervan: $1,395 USD per person for 9-day tour, $1,295 USD per person for 7-day tour
Book Now
Accommodation on the Powder Highway Campervan Ski Tour
This tour is based in a campervan. The rental campervan comes with a propane heater and is winterized to –30°C. You'll have warm blankets, running water, a toilet and a hot shower inside. Options for single, double, triple, and quadruple occupancy can be arranged. If you have your own campervan, you are welcome to use it on this tour.
In some cases, the accommodation listed below may need to be substituted for other comparable accommodations.
Single Rooms and Solo Travelers
Because of COVID restrictions relevant to the tour, you will not be matched up with other solo travellers. Each traveller will either have their own van if travelling alone or share with their immediate group if travelling together.
Hotels on Standard Tour
Your campervan is your home on wheels. It has running water, a toilet, and a hot shower. It's winterized to –30°C with cozy blankets and a propane heater.
What's Included in the Powder Highway Campervan Ski Tour?
Meals
Meals are not included.
Accommodations
Accommodation for 8 nights is included.
Transportation during the Tour
You will drive a rental campervan (or your own campervan) during the tour to transport yourself and your luggage. Transfers to the RV centre in Calgary are not included at the beginning and end of the tour.
Also Included
Local guides for the entire tour (6:1 ratio)
Lift tickets at 4–5 ski resorts
Hot springs entry fees
Nightly camping fees
Park entry fees
Not included
Personal meals and alcohol
Gas for campervan
Campervan rental insurance and any damage/incidental fees
Travel and medical insurance with evacuation coverage
Personal expenses and gratuities
Flights to and from Calgary
Anything not mentioned as "included"
GST (5%)
Optional Extras
Extra nights in Calgary before or after the tour
Gear rentals or lessons
Frequently Asked Questions about Powder Highway Campervan Ski Tour
Fresh Adventures is an outdoor tour company that navigates explorations through the rugged, stunning terrain spanning western Canada. With an emphasis on customer care, Fresh Adventures promises to depart on an expedition, with a highly skilled guide, no matter how many people have signed up, while also ensuring tour participants have top-notch equipment.
Learn More
Is this tour for me?
We rate this tour as a 3 / 5. You should be comfortable skiing or snowboarding for several days consecutively, but you'll be able to tailor the difficulty of some runs to your ability and energy. It is recommended that you be an intermediate skier/snowboarder or better to get the most out of this tour.
Ask a Question
Got any questions regarding the tour? Interested in promotions for groups or want to customize this tour to fit your needs? We are here to help you!
Ask a question