Explore Borneo's Sarawak Rainforest by biking, walking and kayaking
Borneo offers exceptional hiking, cycling, and kayaking, and the Sarawak Rainforest Multisport Tour lets you enjoy all three!
This exciting tour brings you into the heart of local villages, deep into the rainforest, and out onto stunning shoreline. On the Sarawak Rainforest Multisport Tour, you'll hike to multi-tiered waterfalls in the Sarawak rainforest, stopping to swim in jungle pools and eat lunch prepared with fresh bamboo.
Cycle deep into nature reserves where curious orangutans peer down at you from the trees and paddle a kayak along the wide river as bats whoosh out of their caves. The Sarawak Rainforest Multisport Tour gets you in touch with local culture, welcoming you into traditional tribal longhouses, historic restaurants and coffee shops, and sacred religious sites atop mountains.
Don't miss your chance to experience all that Borneo offers on the Sarawak Rainforest Multisport Tour!
Highlights of the Sarawak Rainforest Multisport Tour
Hike past waterfall after waterfall in the jungle, stopping to swim in perfectly clear natural pools.
Cycle into nature reserves where orangutans and other animals play in the trees.
Kayak down lazy rivers, passing caves filled with bats and unique rock formations.
Sunbathe on pristine beaches and swim in the warm ocean between rides and treks.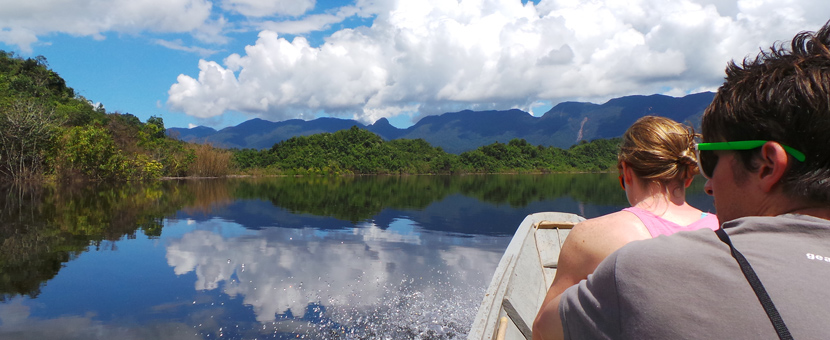 Trek, Pedal, and Paddle in the Sarawak Rainforest Itinerary
Day 1

Arrival in Kuching, Heritage Trail Cycling

You made it to Sarawak! Take some time to settle into your hotel in the old town of Kuching before setting off to start your first cycling trip. You'll meet with your group and tour leader, get fitted for your bike, and then depart down the Heritage Trail of the White Rajah, passing colonial buildings and the waterfront jetty on the way. You'll cruise through the bustling main bazaar before crossing the river on a sampan ferry. After the ride, you'll be treated to a sunset dinner on the banks of the Sarawak River.
Overnight Location: Hotel in Kuching
Distance: 12 km
Meals: Dinner
Day 2

Annah Rais Longhouse

Today, you'll be transferred to the Semenggoh Nature Reserve to spot orangutans in the trees while they feed and play. Now that's a way to start the day! Then, it's off along the wonderful Penrissen Range, where you'll cycle next to pepper farms and rice fields. You'll spend some time in a peaceful Bidayuh Longhouse and then dive into a delicious homemade dinner of bamboo chicken and wild jungle vegetables.
Overnight Location: Homestay in Kuching
Distance: 34 km
Meals: Lunch, Dinner
Day 3

Waterfall Trek

Day 3 starts with a private transfer to the Bengoh Dam Jetty, where a half-hour ferry ride across the calm lake gives you wonderful views of the mountains. On the other side, begin a hike up to a homestay with a perfect view of the lake down below. After quickly checking in, you'll head back out towards a series of incredible waterfalls. The water is crystal-clear and the surrounding jungle is alive with activity! Enjoy a swim, sunbathe on the rocks, and enjoy a jungle picnic before heading back down, passing through pepper farms. The owners here will show you how pepper is harvested before you head back to the homestay for dinner overlooking the lake.
Overnight Location: Homestay in Kuching
Distance: 2.5 hours, 5 km, 600 m elevation gain
Meals: Breakfast, Lunch, Dinner
Day 4

Kayaking and Ride to Siniawan

Start the next part of your tour of the Sarawak rainforest with a boat ride and a quick ride to the starting point of your kayak trip. You'll float down a pristine stretch of a Sarawak River tributary, passing by hidden waterfalls and fascinating limestone features. Then, you'll hop onto the bike for a ride through impressive limestone landscape and into massive caves filled with bats. Your trip ends in the historical village of Siniawan.
Overnight Location: Hostel in Siniawan
Distance: 7 km kayak and 37 km cycle
Meals: Breakfast, Lunch, Dinner
Day 5

Ride to Kubah National Park

Today, enjoy a traditional noodle-based breakfast in a historic coffee shop before a packed day of riding. You'll push your bike across a suspension bridge, take a ferry, and ride through a jungle stream just to get started! You also have the option of climbing Mount Singai, which is regarded as the birthplace of Christianity among the Bidayuh community. You can learn about the area's history at the summit pilgrimage centre, enjoy a picnic lunch, and then head via bike to Kubah National Park. Here, a BBQ spread awaits you! After you're full, you have the option of heading out with a guide to explore the jungle at night- all the nocturnal creatures, sounds, and sights. If the jungle at night isn't your cup of tea, you can spend some extra time getting cozy in the jungle cabin.
Overnight Location: Cabin in Kubah National Park
Distance: 3km hike, 400m elevation gain, cycling 43 km
Meals: Breakfast, Lunch, Dinner
Day 6

Hike to Matang Wildlife Centre

Day 6 of your tour of Borneo is an exciting one. You'll start with a hike down the Gunung Serapi Road, which leads you to the Matang Wildlife Centre, where animals are rehabilitated prior to release. You'll be hiking alongside stunning waterfalls, exotic plants like orchids and endemic palms, and even the carnivorous pitcher plant. Steer clear! If you're lucky you'll run into bearded pigs, black hornbills, and mouse deer. Your trek through the jungle ends at a flowing stream near the refuge.
Overnight Location: Lodge in Matang Wildlife Centre
Distance: 6.5km, 280m elevation gain
Meals: Breakfast, Lunch, Dinner
Day 7

Ride to Damai Beach

A trip to Borneo wouldn't be complete without a visit to the beach! Today you'll ride along a stunning mangrove trail to the coast, where views of Mount Santubong dominate. Enjoy a seafood lunch before finishing the ride to Damai Beach, where warm blue waters and soft sand welcome you. Spend as much time here and at the adjacent resort as you like!
Overnight Location: Resort in Kuching
Distance: 57 km
Meals: Breakfast, Lunch, Dinner
Day 8

Goodbye, Borneo!

All too soon, it's time to head home. Enjoy breakfast before you're transferred to the airport.
Overnight Location: None
Distance: None
Meals: Breakfast

Book Now
Sarawak Rainforest Multisport Tour Price and Dates
Pricing for this guided tour of Borneo depends on whether you choose to join an existing group on a specific date or if you prefer a custom tour for your group only.
The best time to travel to Borneo for the Sarawak Rainforest Multisport Tour is February, March, June, November, or December. Borneo's dry season is from March through October, so note that tours during other parts of the year may be particularly rainy.
Private Guided Sarawak Rainforest Multisport Tour
Have your own private tour with just your group! Please contact us with your preferred date and the number of people in your group and we will create the itinerary just for you.
Dates and Prices to Join a Group Tour on the Sarawak Rainforest Multisport Tour
Make new friends by joining a group tour! Prices below are per person.
Accommodation on the Sarawak Rainforest Multisport Tour
This tour is based in hotels, homestays, and hostels. The lodges offer pleasant rooms with great locations. Rooms are double occupancy, and single travellers will pay a supplement.
In some cases, accommodation listed below may need to be substituted for other, comparable accommodations.
Single Rooms and Solo Travelers
You can pay a supplement of $175 USD to have a private room in a hotel. Contact us and we can try and match single travellers up where possible.
Hotels on Standard Tour
Basaga Hotel in Kuching ★★★
The Basage Hotel offers air conditioning, free Wi-Fi, a pool, and free bottled water. The rooms are simple but comfortable.
Annah Rais Homestay in Kuching
This unique Bidayuh Tribe longhouse lodge housed 80 families. It's a unique peek into local culture and traditional living.
Homestay in the Highlands
Stay in cozy and authentic homestay in the very heart of Sarawak Rainforest.
Siniawan Heritage Hotel in Siniawan
This lovely hotel offers an accommodation in spacious and clean rooms, as well as tasty local food.
Cabin in Kubah National Park
There's nothing like sleeping in the heart of the jungle! The rooms here are simple and comfortable.
Matang Wildlife Centre in Kuching
The rooms in the accommodation here are spartan, but you'll be immersed right in the heart of the wildlife centre.
Permai Rainforest Resort ★★★
This retreat enjoys fabulous views, immediate proximity to the beach, and fun amenities like bicycle rentals.
What's Included in the Trek, Pedal, and Paddle in the Sarawak Rainforest Tour?
Meals
6 breakfasts, 6 lunches, and 7 dinners are included
Accommodations
Accommodation for 7 nights is included
Transportation during the Tour
This tour includes all the transfers during the tour, as well as airport pick-up and drop-off.
Also Included
English-speaking guide
Bike Rental
Entrance fees to national parks and historical sites
Not included
Travel insurance
Lunches and dinners or drinks and snacks not previously mentioned
Tourist taxes
Personal equipment
Optional Extras
Any additional nights before or after tour
Frequently Asked Questions about Sarawak Rainforest Multisport Tour
Paradesa Borneo is a boutique adventure tour operator in Borneo, allowing guests to explore the rural areas and natural wilderness of Borneo. Their tours go off the beaten path, showcasing the best of Borneo's beauty.
Paradesa prefers to take you away from well-trodden tourist attractions and into the incredible natural world. They focus on responsible and sustainable travel in all endeavors.
Paradesa has cultivated meaningful relationships with locals, supporting their environmental initiatives and using their tours to contribute to the local economy. These partnerships make for amazing cultural exchanges and exceptional authenticity in their adventures.
Learn More
Is this tour for me?
We rate this tour as a 3 / 5. You will hike and/or cycle every day in addition to other activities. Basic fitness and comfortability with hiking and cycling excursions is recommended.
Local Guide
Ask a Question
Got any questions regarding the tour? Interested in promotions for groups or want to customize this tour to fit your needs? We are here to help you!
Ask a question
SALE! Well, not yet.
Let me know when this trip goes on sale.
Notify me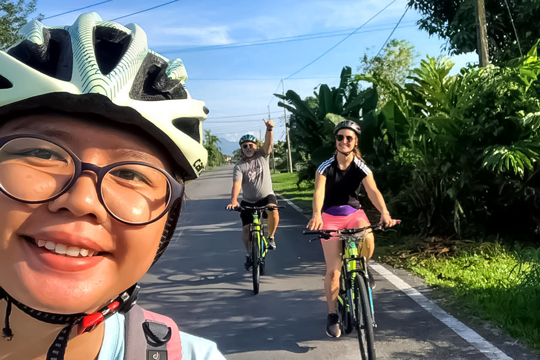 Delilah
Kuching, Malaysia
Delilah is a favourite in Paradesa's TripAdvisor reviews, welcoming guests with warmth and humour. She has been guiding since 2018 and loves every day of her work. Delilah most loves sharing the heritage and culture of Borneo, as well as taking guests to hidden places normally only visited by locals.
Q & A
Q:

What is your favourite trip to do and why?

A:

Longhouse trips! As a member of the tribe myself, I'm able to share and show the ways of my people in depth. Guests get to see the real deal: how they eat, how they live, how they work, their beliefs. It's a firsthand experience.

Q:

What are guests most surprised about when visiting Borneo?

A:

Very friendly locals who always say hello even if you are a complete stranger. That, and how fluent the locals are in English! Also, the fact that Kuching is so clean, even with all that urban hustle and bustle going on.

Q:

What has your most unforgettable experience while guiding been?

A:

Taking care of an 80+ year old rider on one of our 14-day cycling holidays. The routes are challenging, and he finished the whole thing without faltering. I have such great respect for that man.