Spend 10 mesmerizing days walking the magical West Highland Way
The West Highland Way is one of the premier walks in the whole of the UK. This self-guided walking tour along the West Highland Way allows you to walk through some of Scotland's best scenery.
Walk amid staggering mountains and hills cascading in stark green, punctuated by tranquil lochs that are scattered across the magnificent scenery along this self-guided West Highland walking tour. The West Highland Way is the longest footpath in Scotland, stretching for 94 miles (151km), and connects the Central Lowlands with the Highlands. As you walk, you'll traverse heather-strewn moors, pass through gently sloping glens (the Scottish term for a narrow valley), and climb on to imposing rocky ridges. Enter a magical world of resplendent nature that wouldn't look out of place in a fantasy film.
On the self-guided West Highland Way walking tour, you can expect to see some of Scotland's most famous highlights, including the Devil's Staircase and the largest lake in Scotland: Loch Lomond. Once you reach Fort William, top off your trek by climbing Ben Nevis, the highest peak in the UK!
The thought of embarking on a self-guided tour through Scotland's ever-so-famous Highlands may sound daunting, but, although it's remote, it's well travelled and the route is well-signed. There's no better introduction to the majesty of the Scottish wilderness!
Loch Lomond
Scotland's largest lake, Loch Lomond is often regarded as the gateway to the Scottish Highlands. Stretching for 23 miles (37km) and dotted with 22 islands, Loch Lomond is incredibly picturesque, set in some of Scotland's finest scenery. With forested hills rising up from the water, craggy peaks tracing the horizon, and an abundance of wildlife in and around the lake, it's easy to understand why Loch Lomond is such a popular destination.
The lake sits at the heart of Loch Lomond and the Trossachs National Park, Scotland's oldest national park and a haven for birds and other wildlife. There are plenty of outdoor activities on offer here, from sailing, canoeing, kayaking and paddle boarding out on the lake, to hiking, cycling, rock climbing and trail running in the hills. Loch Lomond is surrounded by some of the most iconic mountains in the Trossachs, including the beautiful Ben Lomond. The peaks here may not be the highest in Scotland, but they are incredibly beautiful, and offer a wonderful way to experience the majesty and splendor of the Highlands.
Ben Nevis
King of all Scottish mountains, Ben Nevis stands at an elevation of 1345m (4412ft) above sea level, making it the highest peak in the UK. Climbing Ben Nevis is a bucket list activity for hikers with an adventurous spirit, and although you don't need to be an experienced mountaineer, it's a tough challenge that shouldn't be taken lightly. However, all the effort is made worthwhile by the incredible views you'll have along the way and at the summit – you'll feel like you're on top of the world.
The origin of the name 'Ben Nevis' is somewhat disputed – it's commonly thought to mean 'venomous mountain', but others believe it may signify something like 'mountain with its head in the clouds'. Both names are entirely appropriate – this epic mountain has a dark side, casting a long shadow over the surrounding peaks and valleys. On the other hand, the thrill you'll experience when you reach the summit is a pure delight, with magnificent views and a real sense of achievement at having conquered the highest peak in the UK.
The Devil's Staircase
The infamous Devil's Staircase is a highlight of the West Highland Way, a steep, zigzagging path that takes walkers up the spectacular ridge of Aonach Eagach. Offering fabulous views over Glencoe, the imposing path looks trickier than it actually is, and walkers usually get a real thrill when they finally reach the top, with a remarkable vista, including Ben Nevis, from the pass.
The path gets its name from the 18th century soldiers who used the path to carry supplies as part of a major road-building program. The twisting, steep route was so challenging that they joked that it could only have been made by the devil. Indeed, over the 19th and 20th centuries, the Devil's Staircase would occasionally claim a life, as workers at the Blackwater Dam returned from a late night at the local pub and slipped on the treacherous rocks. Today, it's a much-loved piece of local history and one of the most popular sections of the West Highland Way.
Highlights of the Self-guided West Highland Way Walking Tour
Discover Loch Lomond, the largest loch in Scotland, which offers spectacular views from afar and up close.
Have the option of climbing the highest peak in the British Isles—Ben Nevis—after reaching the finish line of West Highland Way.
Zigzag to the top of Devil's Staircase, where a rewarding view of the iconic Buachaille Etive Mor awaits.
Enjoy additional activities amid the expedition, such as a stop at Glengoyne Distillery and a cruise along Loch Lomond.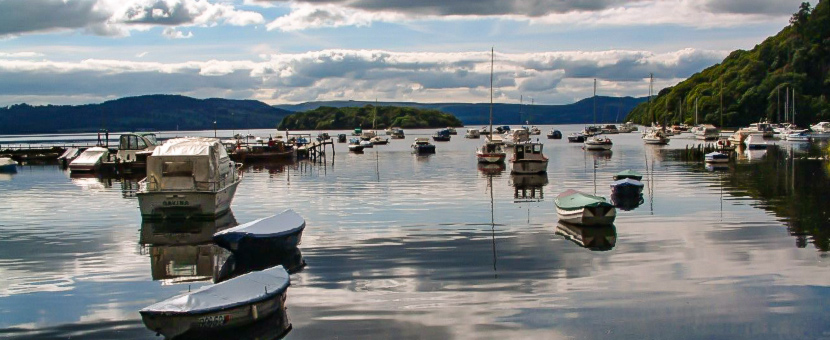 Self-guided West Highland Way Walking Tour Itinerary
Day 1

Milngavie

Arrive in Milngavie, a suburb in Glasgow, check into your hotel and spend the night preparing for the magical 151 km trek ahead.
Overnight Location: Hotel in Milngavie
Distance: None
Meals: None
Day 2

Drymen & Visit to Glengoyne Distillery

Your bags will get picked up at 8 am today. Enjoy a delicious breakfast before starting your 19 km journey from Milngavie to Drymen. Relax knowing that today's expedition has you following a rather flat path. Let the small lochs and rivers peppering this trail act as a preview for the spectacle awaiting you past Drymen. In the middle of your walk, enjoy a midday lunch visit at the Glengoyne Distillery.
Overnight Location: Hotel in Drymen
Distance: 19 km
Meals: Breakfast
Day 3

Walk to Rowardennan & Loch Lomond Cruise

Get ready to encounter an extravaganza of jaw-dropping scenery. Wander through forested groves and moorland before walking up Conic Hill. Admire Loch Lomond glistening below before reaching Balmaha. Spend the rest of the trek walking along the shores of Loch Lomond. Enjoy either a midday cruise along Loch Lomond from Balmaha or from Rowardennan in the evening. Recharge in Rowardennan overnight.
Overnight Location: Hotel in Rowardennan
Distance: 22 km
Meals: Breakfast
Day 4

Walk to Inverarnan

Today's trek along West Highland Way poses as the most difficult, so be sure to consume a hearty breakfast before lacing up your shoes. Let the view of Loch Lomond—visible throughout most of today's journey—inspire you to continue trekking. Cross through some stunning pockets of woodland en route. Expect to meander over a lot of rugged areas. Spend the night relaxing at your hotel in Inverarnan.
Overnight Location: Hotel in Inverarnan
Distance: 22 km
Meals: Breakfast
Day 5

Walk to Tyndrum

Say goodbye to views of Loch Lomond and enter a magical world that boosts of fantasy-like elements and out-of-this-world scenery. After enjoying breakfast, tie up your laces and prepare for a stunning journey ahead, one that will have you twisting through glens and towering mountainous views. Follow River Falloch and snag a peek of the Falls of Falloch. Connect with River Fillan before stumbling upon St Fillan's Priory, where ruins lay. Then, River Cononish will lead you to Tyndrum. Check into your hotel and relax.
Overnight Location: Hotel in Tyndrum
Distance: 20 km
Meals: Breakfast
Day 6

Walk to Kingshouse

The trek from Tyndrum to Kingshouse marks the longest day in the West Highland and Ben Nevis Tour, but it also takes you to the start of the Highlands. Expect to experience an array of terrain—military road, glens—en route to the Bridge of Orchy before the woods swallow you and guide you to a steep climb, which leads to a lovely viewpoint. After a short descent unveils the Inveroran Hotel, continue your walk along Rannoch Moor and marvel at Scotland's most renowned mountain: Buachaille Etive Mor. Reflect on your long but rewarding day at your hotel in Kingshouse.
Overnight Location: Hotel in Kingshouse
Distance: 30.5 km
Meals: Breakfast
Day 7

Walk to Kinlochleven

Munch on breakfast before embarking on the shortest trek thus far! The journey may be shorter today, but it will have you twisting to the top of the Devil's Staircase (550m of elevation), where you can soak in the highest point of the West Highlands Way. Bask in the satisfying view of the Buachaille Etive Mor and the Mamores mountain range. Walk through moorland until you reach Kinlochleven. Check into your hotel and rest.
Overnight Location: Hotel in Kinlochleven
Distance: 15 km
Meals: Breakfast
Day 8

Walk to Fort William

Head out for your last day on West Highland Way. Start the expedition with a steep climb before the terrain levels out and takes you across the glen, woodland, and forested spots. Notice the views of Loch Leven and the largest summit in the U.K: Ben Nevis. Feel free to go on a slight detour just before Fort William for a chance to check out the ruins of a fort in Glen Nevis. Celebrate your feat in the evening in Fort William.
Overnight Location: Hotel in Fort William
Distance: 22.5 km
Meals: Breakfast
Day 9

Ben Nevis

Spend some time mulling over your options for the day: check out the Ben Nevis Distillery, walk the Great Glen Way to Gailrochy, visit the U.K's most remote railway station, meander Loch Ossian, enjoy a ride aboard the Jacobite steam train, or you can hike up Ben Nevis, where an abandoned observatory and unparalleled views of the mountains blanketing the valley equate to a rewarding experience. There are a variety of routes, including the Mountain Track, which is the most ideal route for beginners (or tired trekkers). Keep in mind that the summit is 1,344m above sea level.
Overnight Location: Hotel in Fort William
Distance: 17 km
Meals: Breakfast
Day 10

Departure day

Reflect on your wonderful journey on the West Highland Way. Most guests return via train to Glasgow or Edinburgh.
Overnight Location: None
Distance: None
Meals: Breakfast

Book Now
Self-guided West Highland Way Walking Tour Price and Dates
This self-guided walking tour in Scotland is always run as a custom tour for your group only and the price is fixed per person staying in a double room. Single rooms are also possible on request for an extra charge. Please note, that booking this tour on short notice might increase the tour price, as the accommodation options here are limited and on high demand.
The best time to travel Scotland for this trek is from mid-April to the end of October.
Private Self-guided West Highland Way Walking Tour
Have your own private tour with just your group! Prices below are per person:
Price per person staying in a double room $1,375 USD
Book Now
Accommodation on Self-guided West Highland Way Walking Tour
This tour includes the accommodation in cozy guest houses and hotels. Each room offers modern amenities that will help to elevate your level of comfort after a long day of hiking. Expect to stay in a room with another member of the tour or upgrade to single occupancy for an additional fee.
Note that specific accommodation may vary based on availability but will be substituted with accommodations of a similar standard.
Single Rooms and Solo Travelers
Single rooms for this tour are on request, and the price depends on the season, availability and the number of days left until your travel. Please inquire to find out more.
Hotels on Standard Tour
What's included in the Self-guided West Highland Way Walking Tour?
Meals
9 breakfasts are included.
Accommodations
Accommodations for 9 nights along the tour are included.
Transportation during the Tour
Transport for your luggage is included from the second day of the tour to baggage drop-off in Fort William on day 8. You must make a way to the start of the trail yourself.
Also Included
Detailed route guide
Climb to Ben Nevis
Glengoyne Distillery visit on day 2
Cruise Loch Lomond on day 3
Taxes
Not included
All meals except Breakfast
Guide services
Insurance
Transport
Personal expenses
Anything not stated as 'included'
Optional Extras
Train ticket to/from Glasgow or Edinburgh
Extra night before or after the tour
Alternatives to Ben Nevis climb on day 9:

Walk the Great Glen Way to Gairloch
Visit the Ben Nevis Distillery
Visit to Corrour and walk around Loch Ossian
Jacobite Train to Mallaig
Frequently Asked Questions about Self-guided West Highland Way Walking Tour
EasyWays is a boutique adventure tour operator, specializing in self-guided walking tours in Scotland and Northern England. They are founded on the close attention to detail that comes from knowing Scotland inside and out. With extensive knowledge of the country and the people, they can advise accurately on each walking tour to choose the right adventure for their clients.
EasyWays can also offer classic Scottish experiences to complement their walking tours, including distillery visits, Highland Games tickets, and visits to cultural and historical places of significance.
EasyWays has also expanded into Spain and Italy to offer more walking tours than ever before.
Learn More
Is this tour for me?
We rate this tour as a 4 / 5 due to the one very long day. You will be walking around 22 km daily, with one very long day of 30.5 km walk.
Local Guide
Ask a Question
Got any questions regarding the tour? Interested in promotions for groups or want to customize this tour to fit your needs? We are here to help you!
Ask a question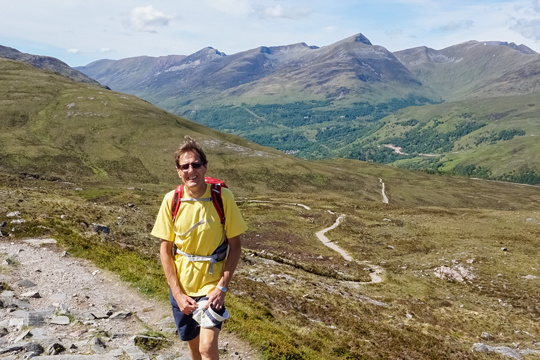 Q & A
Q:

What are guests most surprised about when visiting Scotland?

A:

Overseas clients are already aware of the fantastic scenery, but I feel they are bowled over by the friendliness and ease of conversation with the locals.

Q:

What is one experience anyone visiting Scotland should have?

A:

So many to choose from, but a walk through the vastness of Glencoe and out over the Devil's Staircase.

Q:

What is the most challenging trip you've taken?

A:

Taking a group through Tuscany on the Via Francigena to end at Siena at the time of the Palio, the famous horse ride through the city.