Hike and drive your way through South Korea's most epic natural and cultural landscapes
Hike in South Korea's finest national parks and explore its fascinating cultural landmarks as you embark on a day 10-day guided hiking and cultural tour spanning several provinces and regions.
The 10-Day Seoul to Seoraksan Hiking Tour provides the perfect opportunity to experience the best of South Korea's natural landscapes while also getting a feel for its rich culture and ancient traditions. You'll lace up your boots for challenging days of hiking interspersed with scenic drives and cultural sightseeing on foot. Immersed in South Korea's culture, you'll explore its sacred temples, fascinating museums, and bustling street markets.
As well as experiencing the breathtaking landscapes of South Korea's scenic national parks (including several mighty peaks), you'll also explore vibrant cities like Seoul, and small traditional villages like Hahoemaeul, giving you a feel for both big-city and small-town life in South Korea.
See the best of South Korea's natural and cultural landscapes. Strike the perfect balance between exploring on foot and in a vehicle, on the 10-Day Seoul to Seoraksan Hiking Tour.
Highlights of the 10-Day Seoul to Seoraksan Hiking Tour
Immerse yourself in fascinating history with guided visits to the country's best museums and cultural monuments.
Hike the forests, peaks, valleys, and waterfalls of four spectacular national parks.
Discover both big-city and rural life in South Korea as you explore the country's metropolises and traditional folk villages.
Experience unique cultural excursions like a paper-making workshop and visit to a folk museum in Andong.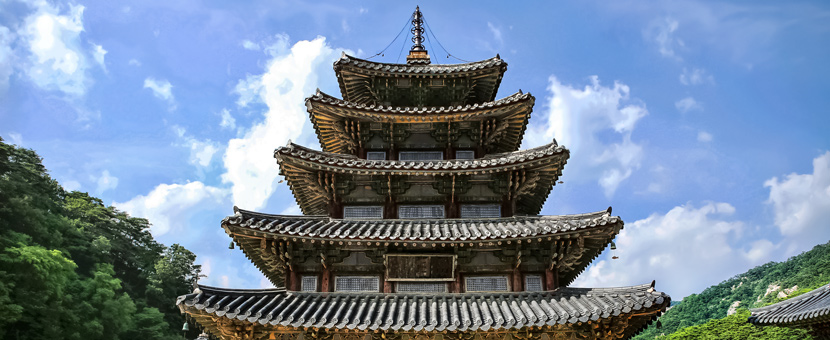 10-Day Seoul to Seoraksan Hiking Tour Itinerary
Day 1

Arrival

Welcome to Seoul, the heart of South Korea!

You'll be met at the airport by your friendly tour guide with a transfer to your first accommodations to follow. Soak up those first impressions of Seoul as you make your way from the airport to your comfortable hotel through the vibrant city.
Overnight Location: Hotel in Seoul
Distance: None
Meals: None
Day 2

Explore the Heart of South Korea: Seoul

Known as the political, cultural, and economic hub of South Korea, Seoul is often referred to as the nation's heartbeat. Today you'll embark on an exciting tour of Seoul, driving through several of its districts where you'll explore the charismatic city's historical and cultural highlights on foot.

Peruse the pedestrian-friendly Gwanghwamum Plaza and later, take a trip back in time with a visit to the impressive Gyeongbokgung Palace, where you'll find yourself immersed in the colourful history of the capital.

Next is a visit to the National Folk Museum of South Korea, where you'll learn more about the country's rich culture before soaking up the vibes (and snacks) at a traditional Korean street market. The bustling Gwangjang Market dates back to 1905 and is currently home to over 5000 individual vendors!
Overnight Location: Hotel in Wonju
Distance: None
Meals: Breakfast
Day 3

Birobong Peak, Ipseoksa Temple and Gosu Cave

Today's exciting itinerary marks your first day of Hiking in South Korea. You'll set out from the Guryong Visitors Center to tackle the Birobong Peak (1,288m/4,225ft). A spectacular stretch of trail unfolds this morning through a scenic valley, leading you to the majestic Seryom Falls. Stop to snap some epic photos here before continuing on a steep ascent as you press on towards the summit. As you complete the challenge, you'll enjoy breathtaking vistas of the surrounding mountains and valleys as your reward.

Next, you'll descend to Hyangnobong Samgeori and on to the Hwanggol Visitors Center. On the way, stop at the Ipseoksa Temple, where a seated Buddha statue lords over the complex. Once in the gorgeous city of Danyang, further highlights include the Dodam Sambong rocks and the Gosu Cave, known as the most beautiful limestone cave in South Korea, dating back nearly 400 million years.

The day ends with a scenic cruise to Cheongpung, where you'll find tonight's accommodations. You'll no doubt rest well here tonight after an exhilarating day of exploring on foot!
Overnight Location: Hotel in Cheongpung
Distance: 6 hours, 9.8km
Meals: Breakfast
Day 4

Peaks, Temples, and Buddhist Ceremony

This morning you'll set out on a transfer from Cheongpyung to the Hwabuk Visitors Center in Saongnisan National Park. Today you'll tackle the Munjangdae Second Course, an exhilarating hike of the Munjangdae Peak (1,033m/3,389ft). Navigating a challenging rocky trail alongside scenic springs and cascades, you'll reach the flat rock summit of Munjangdae, where breathtaking views of the park unfold in all directions.

Up next, you'll enjoy a scenic stretch of trail through woodlands until you reach the Beopjusa Temple, dating back to 553. Stand in awe of the colossal golden Buddha that dazzles as it towers high above the temple and its 5-story wooden pagoda.

Be sure to treat yourself to the Four Buddhist Instrument Ceremony while here, a profoundly moving traditional experience that you won't want to miss.
Overnight Location: Hotel in Songnisan
Distance: 6 hours, 9.7km
Meals: Breakfast
Day 5

Hahoemaeul Village and Andong

This morning you'll transfer to Andong! Known as a stronghold of Confucianism, Andong is home to a plethora of interesting sites and experiences.

Visit Hahomaeul Village, a UNESCO World Heritage Site dating back to the 15th-century, where you'll find remarkably well-preserved traditional Korean houses. Enjoy this fascinating encounter with history as you explore the village's narrow alleys, soaking up its boundless rustic charm.

While in Andong, you'll be invited to participate in a traditional paper-making workshop before topping off the day with a visit to the Andong Folk Museum. Here you'll be made privy to traditional Confucian culture as you explore a variety of fascinating exhibits.
Overnight Location: Hotel in Andong
Distance: None
Meals: Breakfast
Day 6

Hike the Yuilsa Course

The day kicks off with a visit to the Dosan Seowon, established in 1574 in memory of Yi Hwang, the Confucian-shrine academy is an exciting complex to explore.

Up next, you'll hike the Yuilsa Course through lovely woods peppered with beautiful alpine plants and wildflowers. The trail comes to an end as you reach the Taebaek Coal Museum, where you'll have the chance to learn about South Korea's once-booming coal mining operation based in the highland town of Taebaek.

A final transfer to your accommodations in Jeongseon marks the end of today's adventure.
Overnight Location: Hotel in Jeongseon
Distance: 4 hours, 7.5km
Meals: Breakfast
Day 7

Drive the Misan Valley and Chill at Naksan Beach

After several jam-packed days, today is an opportunity to take it easy and enjoy some slower-paced activities!

Driving through the beautiful Misan Valley, you'll pass charming rural villages and working farms as you make your way down to Yangyang, where you'll note a stark departure from a rural landscape to a vibrant city landscape. Once in Yangyang, you'll enjoy a pleasant afternoon basking on the sandy shores of Naksan Beach.

Back on the road, you'll take a short ride to Seoraksan National Park, featuring a myriad of remarkable scenery, including rugged cliffs and peaks, thundering waterfalls and several scenic valleys.
Overnight Location: Hotel in Seoraksan
Distance: None
Meals: Breakfast
Day 8

Hiking in Seoraksan National Park

Today you'll have the opportunity to explore the Seoraksan National Park, where you'll be greeted at the entrance by a towering bronze Unification Buddha.

Several hikes are available in the park today, each varying in length and difficulty.

Some of the Seoraksan National Park highlights include Seoaksan Peak (1,708m/5,603ft), Geumgang Cave, Gyejoam Hermitage, Biryong Waterfall, and the cable car to the Gwongeumseong.

No matter how you decide to tackle the Seoraksan National Park, today is sure to be adventure-filled and gratifying!
Overnight Location: Hotel in Seoraksan National Park
Distance: Flexible
Meals: Breakfast
Day 9

Visit the Unification Observatory and the DMZ Museum

Today you'll travel by vehicle to the most northern tip of the east coast of South Korea, enjoying pastoral scenery as you make your way to the Unification Observatory. Established in 1983, the observatory invites you to learn about the divisions and subsequent hope for unification between North and South Korea.

Driving along the road that separates the two countries at odds, you'll note the tank traps that flank your path as you spot the infamous border that divides north from south in the distance. Your proximity to North Korea will allow you to witness its soldiers patrolling the beach and nearby islands, an experience equally eerie and fascinating.

Later, you'll have the chance to visit the DMZ Museum where you'll learn further details of the complex conflict between North and South Korea and the paramount importance of the DMZ (demilitarized zone).
Overnight Location: Hotel in Seoul
Distance: None
Meals: Breakfast
Day 10

Departures

Following breakfast, your fascinating discovery of South Korea comes to an end. Check out and take a transfer to return to the airport, saying farewell to your tour guide and the country you've come to know and love over the past 10 days!
Overnight Location: None
Distance: None
Meals: Breakfast

Book Now
10-Day Seoul to Seoraksan Hiking Tour Dates and Prices
This guided tour of South Korea is run as a custom tour for your group and the price depends on the number of participants. The minimum group size is 3 people.

Prices below are per person, sharing a double or a triple tour:
Guided groups of 3: $4,790 USD
Guided groups of 4: $3,875 USD
Guided groups of 5-7: $3,425 USD
Guided groups of 8+: on request
Book Now
Accommodation on the 10-Day Seoul to Seoraksan Hiking Tour
This tour is based in 3-star and 4-star hotels. The hotels offer pleasant private rooms with ensuite bathrooms and basic amenities.
In some cases, accommodation listed below may need to be substituted for other comparable accommodations.
Single Rooms and Solo Travellers
Rooms are double occupancy. You can pay a supplement of $771 USD to have a private room in a hotel where possible. Single traveller supplements do not apply as the minimum group size is 3 people.
Hotels on Standard Tour
3-star and 4-star hotels in South Korea
The accommodation on this tour will range from 3-star to 4-star hotels in a variety of locations as you travel across different provinces and regions of South Korea.
What's included in the 10-Day Seoul to Seoraksan Hiking Tour?
Meals
9 breakfasts are included.
Accommodations
Accommodations for 9 nights are included.
Transportation during the Tour
All transportation during the tour is included on a private vehicle basis, including airport transfers and all necessary luggage transfers between accommodations during the tour.
Also Included
English-speaking guide
All entrance fees to excursions mentioned in the itinerary
Not included
Flights to and from South Korea
Visas if required
Travel insurance
Tourist taxes if applicable
Meals or drinks and snacks not previously mentioned
Fees not mentioned as included
Optional Extras
Activities and excursions unless otherwise mentioned as included
Single room supplements
Any additional nights before or after the tour
Frequently Asked Questions about 10-Day Seoul to Seoraksan Hiking Tour
EXODUS DMC offers a full spectrum of services to travellers in South Korea. They have been offering quality service to travellers from all walks of life for two decades and have established a track record of excellent service.
With 20 years of experience, extensive local knowledge, plenty of resources, a strong network, and lasting connections to a wide variety of local suppliers, EXODUS is committed to bringing travellers top-quality service and extraordinary value.
Exploring Korea with EXODUS DMC is not just rewarding, but also easy, as they're constantly at your beck and call while you travel. They strive for your total satisfaction and offer unbeatable quality in all that they do.
Learn More
Is this tour for me?
We rate this tour a 2/5. Days of hiking are interspersed with cultural sightseeing walks as well as drives. You should be comfortable hiking for up to 6 hours a day on sometimes hilly and mountainous terrain, however, there are options to customize the difficulty and length of some of the hikes on this tour and you will only hike on 4 days of the tour.
Ask a Question
Got any questions regarding the tour? Interested in promotions for groups or want to customize this tour to fit your needs? We are here to help you!
Ask a question