Experience 8 days of exciting hiking in Slovenia's Julian Alps with a guide
This guided, 8-day hiking tour through Slovenia's Julian Alps is a perfect way to discover Slovenia. It is the ultimate tour for all nature lovers who would like a mix of serious hiking and fun on crystal clear rivers and lakes, get to know the vibrant city of Ljubljana and savour authentic Slovenian food & wine.
Begin the tour in the capital city of Ljubljana, then take in the breathtaking beauty of the Slovenian Alps as you hike from hut to hut for the first three nights (each hut is fully equipped so no need to bring extra gear).
From your hut-to-hut hiking, descend from the mountains and explore the beauty of the stunning Bohinj and Bled Lakes, before continuing to the valley of the emerald Soca River. Here you will climb another fantastic peak, enjoy the rugged landscape of the Julian Alps & discover the hidden secrets of the Soca valley. Along the way, you'll have a chance to do white water rafting, kayaking or canyoning!
Finally, continue south and visit the historic town of Kobarid and finish the tour between the rolling wine hills of Goriska Brda with some first-class local food & wine.
Highlights Of Slovenian Alps Hiking Tour
Enjoy the Slovenian Alps hospitality in the fully equipped mountain huts.
Explore the numerous waters through swim or adventure in the Bled and Bohinj regions.
Discover the historic town of Kobarid, famous for the battle of Caporetto documented in Ernest Hemingway's "A Farewell to Arms."
Experience the best of Slovenian wine and food in Goriska Brda, Slovenian wine country.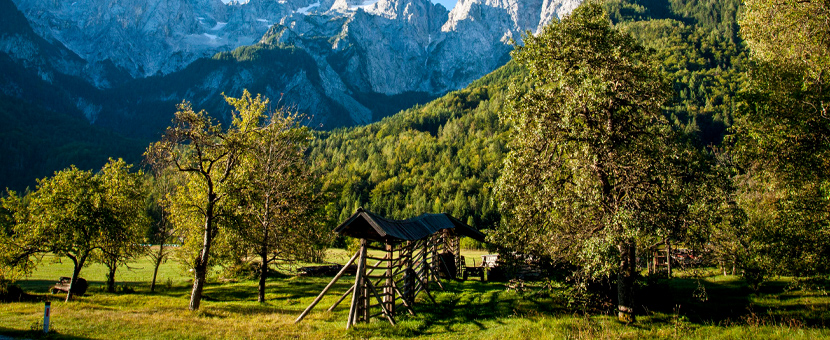 Slovenian Alps Hiking Tour Itinerary
Day 1

Visiting Ljubljana

The tour begins in the capital city, where you will meet your guide and the others on the tour over a welcome drink. After going through the details of the trip, you will have the evening at a lovely hotel in Ljubljana and the chance to explore the vibrant city where the old world meets new.
Overnight Location: Ljubljana
Distance: N/A
Meals: None
Day 2

Trekking in Triglav National Park

Following a transfer to Lake Bohinj, you will begin your trek through the Julian Alps into Triglav National Park. After 10 km and an elevation gain of 900 m, you will arrive at the first of two mountain huts. This hut is situated at the base of Mount Triglav and is fully equipped. A meal and bedding will be provided so there is no need to bring much except any essentials such as a change of clothes and toiletries. (It is important to note that luggage transfer is not possible to the mountain huts, but will be waiting for you at the hotel on the 4th day). Once at the hut there is the option to climb an additional 2,000 m peak which allows for stunning views of the Julian Alps and Triglav National Park.
Overnight Location: Mountain Hut in Triglav National park
Distance: 6 hours, 10 km, 900m of ascent, 250m of descent
Meals: Breakfast, Lunch, Dinner
Day 3

Trekking through the Valley of the 7 Lakes

This is the longest and hardest day of the whole trip, covering 14 km and an elevation gain of 700 m. Explore stunning alpine scenery and the option to ascend an additional peak with an additional 250 m elevation gain. Then descend to the Valley of the 7 Lakes. Hiking through this valley is like hiking through geological history, your knowledgeable guide will share plentiful information about the region and you may even come across some fossils in the rocks. The day ends at an another fully equipped mountain hut, with a simple but delicious local dinner and a comfortable place to sleep.
Overnight Location: Mountain Hut in Triglav National park
Distance: 7 hours, 14km, 700m of ascent, 750m of descent
Meals: Breakfast, Dinner
Day 4

Lake Bohinj

Today you will begin your hike down from some of the highest peaks in the Julian Alps and make your way to alpine pastures. Once there you will be treated to a traditional lunch made from local products. Following lunch you will make your way to Lake Bohinj and enjoy a swim in its crystal-clear waters, followed by an evening at either Hotel Jezero or Hotel Astoria Bled. Both of which provide an evening oasis with good food, a serene environment, and options for spa services.
Overnight Location: Hotel in Bohinj
Distance: 4 hours, 10 km, 200 m of ascent, 800 m of descent
Meals: Breakfast, Lunch
Day 5

Lake Bled, Vrsic, Bovec

After several days of Alpine hiking, today will begin with a van transport to Lake Bled where you will have the options to tour the island, hike up to the scenic viewpoint or simply relax at the lakeside. The day will continue with a scenic mountain drive up Vrsic mountain pass, where you will have the opportunity to do another hike and once again enjoy the beauty of being in the Julian Alps. The day ends in Bovec at either Hotel Mangart or Hotel Alp.
Overnight Location: Hotel in Bovec
Distance: 4-5 hours, 10 km, 650 m of ascent, 650 m of descent
Meals: Breakfast, Lunch
Day 6

Climbing Mt. Mangert, Bovec, and exploring the Soca Valley

Today begins with a summit of Mt. Mangert, on the border of Slovenia and Italy. It is the third highest peak in Slovenia and offers amazing views into both countries. After a delicious lunch, the afternoon will be spent exploring hidden gems throughout the Soca Valley. This could include an optional river kayaking, rafting, zip-lining and evening canyoning (all at additional cost).
Overnight Location: Hotel in Bovec
Distance: 5 hours, 8km, 650 m of ascent, 650 m of descent
Meals: Breakfast, Lunch
Day 7

Kobarid and The Vineyards

The final travel day will include a stop in the historic town of Kobarid, then a walk through the beautiful Soca valley and a lunch from the local cuisine. The day continues to Slovenian wine country, in Goriska Brda. Goriska Brda is a hidden gem in Slovenia, appearing suddenly after cresting a hill the countryside looks and feels the Mediterranean but without the crowds of the more well-known wine regions. The afternoon is a delight of the senses, tasting more local cuisine and wines, as well as touring the beautiful countryside. The evening ends with a celebratory dinner.
Overnight Location: Hotel in Goriska Brda
Distance: 7 hours, 14 km, 700 m of ascent, 750 m of descent
Meals: Breakfast, Lunch, Dinner
Day 8

Farewell

Today begins with a breakfast and a farewell. From here you are free to continue your travels on your own or you may have joined the optional 1-day addition which includes the Skocjan Caves, vineyards, and Piran.
Overnight Location: None
Distance: None
Meals: Breakfast

Book Now
Slovenian Alps Hiking Tour Price and Dates
This guided trek to the Julian Alps is run as a group tour, however, this tour can also be arranged as a private tour (please contact us with your preferred dates and group size to get your quote).
Prices below are per person:
Accommodation on Slovenian Alps Hiking Tour
This tour has a mix of Accommodation from hotels to mountain huts.
The hotels provide a wonderful place to relax and rejuvenate at the end of a busy day touring Slovenia. The hotels are a 3* minimum and have wonderful dining options along with amenities such as spa or sauna and can be considered a luxurious rest stop. Price is based on double occupancy; however single rooms are available for a single supplement fee.
For two nights you will stay in fully equipped mountain hut while hiking in Triglav National Park. The huts provide rooms or 4, 6, or 12 occupancy and single occupancy is not available. They offer food, drink, and beds with blankets including 'single-use' bed sheets. *We recommend bringing your own sleeping bag liner.
Single Rooms and Solo Travelers
You can pay a supplement of $250 USD to have a private room while staying in a hotel. Contact us and we can try and match single travelers up, where possible.
Hotels on Standard Tour
City Hotel Ljubljana, Ljubljana ★★★
A comfortable hotel in the heart of Ljubljana, you are surrounded by both history and modern amenities. The castle is a short walk from the hotel, as well as shops and cafes and nightlife.
Actual huts to be determined depending on the weather at the time of the trip. All huts are rooms of 4, 6, or 12 and single occupancy is not available.
A beautiful hotel, boasting many amenities such as a restaurant, fitness center, bowling alley, tennis courts, hot tub, and sauna. A perfect way to relax after a long day exploring.
Hotel Mangart in Bovec ★★★
Hotel Mangart in Bovec is a beautiful 3-star hotel located in the Julian Alps. Contemporary rooms feature mountain and valley views with complimentary breakfast and other amenities such as a spa and children's playground.
Hotel San Martin is an eco-friendly resort offering modern rooms as well as suites and family rooms. With amenities such as a wellness center, salt room, and sauna it is a great place to end your tour of Slovenia.
What's included in the Slovenian Alps Hiking Tour?
Meals
7 breakfasts, 5 lunches, 3 dinners are included.
Accommodations
Accommodations for 7 nights along the tour are included.
Transportation during the Tour
Transport for you and your luggage is included. However, on days 2 and 3 your luggage can't be delivered to mountain huts. Airport transfers and getting to the starting point of the trip are not included.
Also Included
An English-speaking mountain guide throughout the trip.
Support van
Welcome drink in Ljubljana
Not included
Airport transfers
Getting to the starting point of the trip
Drinks
Personal expenses
Travel insurance
Tips
Anything not stated as included
Not included
Optional excursion to Piran and Skocjan Caves - $125 USD per person
Frequently Asked Questions about Discover Slovenian Alps Hiking Tour
Slotrips loves creating travel experiences in Slovenia. They're passionate about what their country has to offer and they thrive on positive feedback from their guests. Slotrips specializes in hiking and biking tours not just in Slovenia, but also in neighboring countries. They are a top-rated agency and have been since shortly after their creation in 2007.
Slotrips started as a hobby at the hands of a passionate Slovenian named Miha. Initially, the agency was just a wealth of travel information. Eventually, this was converted into a full-service travel agency.
Travelling from hidden corners of the country to stunning natural sites, Slotrips turned their passion into their mission, and they're always searching for new opportunities to offer travellers. Each trip begins with a thorough discussion of the client's wants and needs to design a personalized trip sure to impress.
Learn More
Is this tour for me?
We rate this tour as a 3 / 5. You should have good fitness and have hiked similar distances before.
Local Guide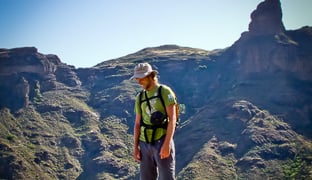 Ask a Question
Got any questions regarding the tour? Interested in promotions for groups or want to customize this tour to fit your needs? We are here to help you!
Ask a question