Have a winter adventure in the Quebec wilderness and then warm up on sunny beaches
Sometimes it's hard to decide if you want to spend your vacation enjoying your favourite winter sports or visiting someplace warm for some much-needed vitamin D. The Snow and Sand Escape itinerary was designed so that you don't have to choose! Take a winter wilderness getaway and then unwind in the sun on this unforgettable trip.
Start your holiday with three days in Duhamel at a cozy log cabin retreat. Take advantage of all the winter activities available from the lodge and go on a snowmobiling and dog sledding excursion for a quintessential Canadian wilderness experience. Then you'll trade Quebec's snow for Miami's sun and spend some time at a beachfront Miami Beach hotel. After all your activity up north and the energy at Miami Beach, you'll move one more time to discover the tranquillity of the Bahamas, where impossible blue water and pure white sand beaches welcome you. This tour combines three countries, two climates, and endless experiences to create a holiday you'll never forget!
Highlights of the Snow and Sand Escape
Surround yourself in a winter wonderland at a log cabin in the Outaouais wilderness.
Enjoy a snowmobile excursion, a dog sled adventure, and other winter activities in nature.
Discover the dynamic city of Miami, where you can enjoy great food, nightlife, and beautiful beaches.
Relax on the pristine white beaches of Great Abaco Island in the Bahamas and learn to live the island life.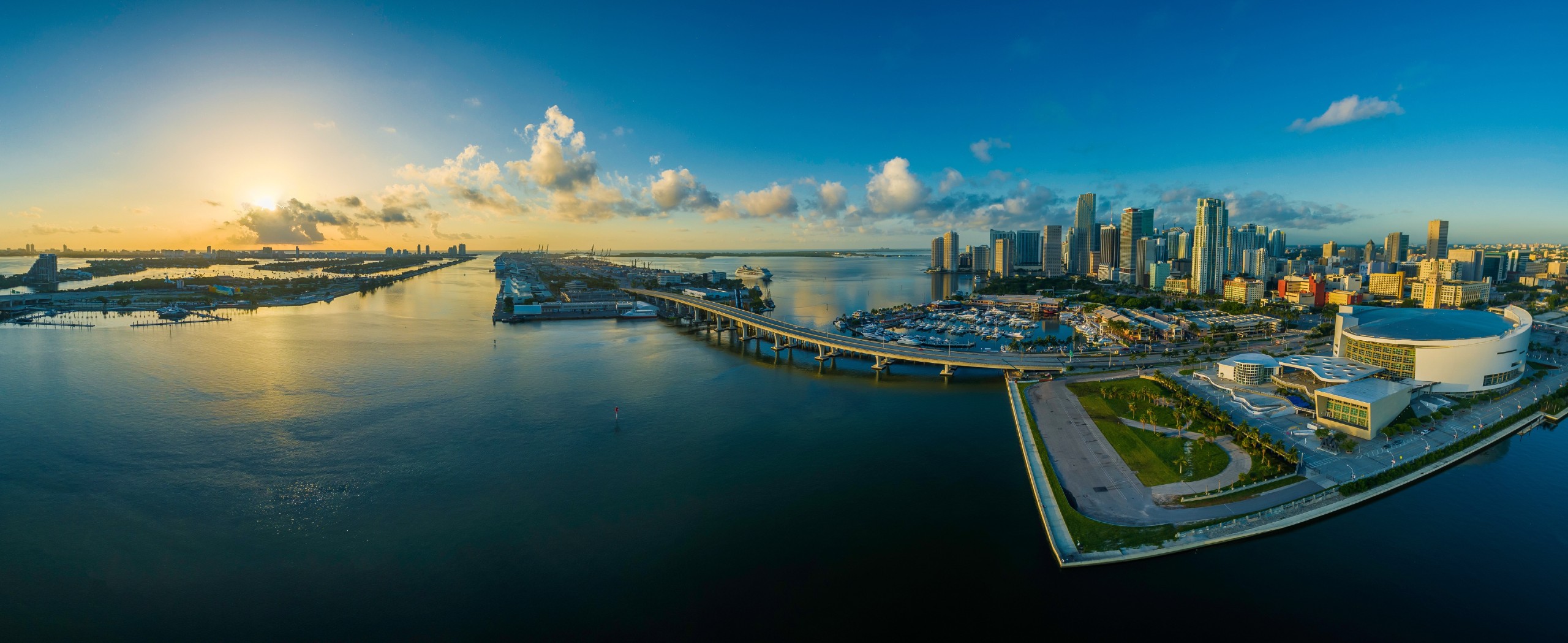 Snow and Sand Escape Itinerary
Day 1

Travel to Your Wilderness Retreat

When you arrive in Montreal, you'll meet your transfer and journey to Duhamel. Here you'll find your welcoming log cabin accommodations in beautiful Outaouais. Enjoy dinner at the lodge and explore your wild new surroundings!
Overnight Location: Wilderness Lodge in Duhamel
Meals: Dinner
Day 2

Snowmobiling Adventure

Start your day with an exhilarating snowmobile ride through the snowy wilderness. You'll get a taste of this popular Canadian pastime on a half-day ride around Duhamel.

Spend the afternoon enjoying any of the complementary activities at the lodge or relax and watch the snow fall with a hot beverage.
Overnight Location: Wilderness Lodge in Duhamel
Meals: Breakfast, dinner
Day 3

Dog Sled Expedition

Today your travels through the Duhamel woods will be very different than yesterday's! The sled dog guide will introduce you to the team of adorable dogs who will be powering today's adventure. After an introductory lesson, you'll climb aboard a dog sled and let your team pull you across the trails.
Overnight Location: Wilderness Lodge in Duhamel
Meals: Breakfast, dinner
Day 4

Return to the City

You'll have time to get outside this morning or visit the nearby spa before you'll take your transfer to Montreal. Enjoy a walk through the charming snow-covered streets of Old Montreal and have dinner in one of the many fantastic local restaurants.
Overnight Location: Hotel in Montreal
Meals: Breakfast
Day 5

Say Goodbye to the Snow

This morning you'll pack your winter clothes away and get ready to say goodbye to the snow. A private transfer will bring you to the airport so you can catch your flight to Miami. The warm Florida air will greet you in Miami, and when you land you can pick up your rental car and head to your Miami Beach hotel.
Overnight Location: Hotel in Miami Beach
Meals: None
Day 6

Explore Miami

During your stay in Miami, your itinerary is completely flexible, and you have full use of your rental car to explore this lively destination. Visit downtown to discover the unique Miami architecture, food, and culture. Or, find a spot on the beach and plunk yourself down for some rays. If you're feeling adventurous, snorkelling and scuba diving are available.
Overnight Location: Hotel in Miami Beach
Meals: None
Day 7

Enjoy the Miami Sun and Sand

If you spend yesterday sightseeing, today would be a great day to spend on the beach. Take advantage of the miles of magnificent beach and for a stroll or just bask in the sun. When you're taking a refreshing dip in the ocean it will be hard to imagine that it was only a few days ago that you were dog sledding through the snow!
Overnight Location: Hotel in Miami Beach
Meals: None
Day 8

Jet to the Islands

After a few days at the lively Miami beaches, it's time for a change of pace! Drop your car rental off at the airport and take your flight to Great Abaco Island in the Bahamas. You have the next four days to enjoy the Bahamian sunshine from your beachfront hotel.
Overnight Location: Hotel in Great Abaco Island
Meals: None
Day 9

Free Day in Abaco

This morning you'll wake up and find yourself on an island paradise. The Bahamas are well known for turquoise water and white sandy beaches that are all yours to explore. Relax in the sun or take advantage of any of the hotel's activities.
Overnight Location: Hotel in Great Abaco Island
Meals: None
Day 10

Free Day in Abaco

The Abaco Islands are known as the boating capital of the Bahamas. Book a boat excursion to discover all the secret coves and secluded beaches that are only accessible by water. You can also take it easy and watch the waves lap at the beach while you enjoy a cold drink from your lounge chair!
Overnight Location: Hotel in Great Abaco Island
Meals: None
Day 11

Free Day in Abaco

The crystal waters of the islands are perfect for snorkelling and diving if you're in the mood for an underwater adventure. Visit one of the many local restaurants for a fresh seafood dinner, and make sure to try the Bahamian specialty of conch salad!
Overnight Location: Hotel in Great Abaco Island
Meals: None
Day 12

Final Day in the Bahamas

Today your tour ends and it's time to return to the airport to catch your flight home. Bon voyage!
Overnight Location: None
Meals: None

Book Now
Snow and Sand Escape Price and Dates
This partially-guided tour of Quebec, Miami, and the Bahamas is run as private tour for your group only, and the price per person depends on how many people are in your group.

Prices below are per person:
Groups of 2+: $3,525 USD per person
Book Now
Accommodation on the Snow and Sand Escape
This tour is based in hotels. Hotels on this trip are 3 and 4-star in unbeatable locations. You'll enjoy a log cabin retreat in the wilderness and then seaside locations in Miami and the Bahamas.
In some cases, the accommodation listed below may need to be substituted for other comparable accommodations.
Single Rooms and Solo Travellers
Rooms are double occupancy. Single rooms, including those for solo travellers, are by request only and may incur an additional fee.
Hotels on Standard Tour
Escape to the wilderness and explore Duhamel from your cozy log cabin accommodations.
Stay in a standard 3-star hotel in a great location. Walk around downtown, Old Montreal, Mile End, and Plateau Mont-Royal to peek into city life in different areas.
Your Miami hotel is perfectly situated on gorgeous Miami Beach for relaxing days in the sun.
Hotel in Great Abaco Island
Watch the sunset over the sparkling seas from your hotel after you've spent the day in Bahamian paradise.
What's Included in the Snow and Sand Escape?
Meals
3 breakfasts and 3 dinners are included during your stay in Duhamel.
Accommodations
Accommodations for 11 nights are included. Accommodations before the tour in Montreal and after the tour in Great Abaco or Nassau are not included but can be added as a supplement.
Transportation during the Tour
Round trip transportation is provided from Montreal to Duhamel. No other airport transfers are included. Class B vehicle rental in Miami is included too.
Also Included
Half-day snowmobiling excursions (self-guided)
Half-day dog sledding excursion (guided)
Standard car rental with basic insurance in Miami
Canadian taxes
US taxes
Class B vehicle rental in Miami
Not included
Flights to and from Montreal
Flights from Montreal to Miami
Flights from Miami to Great Abaco Island
Flights from Great Abaco Island
Meals, drinks, or snacks not previously mentioned
Visas if required
Travel insurance
Personal expenses
Optional activities
Entrance fees to parks
Gratuities for tour guides or other staff if desired
Fuel
Optional Extras
Additional nights before or after the tour
Single occupancy
Optional activities or excursions:

Snowshoe tour (3 hours)
½ Ice Fishing excursion
Frequently Asked Questions about Snow and Sand Escape
In the two decades since Toundra Voyages Inc. was founded in 1998, the company has become North America's go-to travel agency in customized independent and group tourism.
Tounda takes a flexible, responsive approach to developing adventure travel tours. By listening to the wants and wishes of travellers, they've been able to create memorable, affordable tours complemented by impeccable service.
Toundra's mission is to create and organize tailor-made travel. They select, adapt, and personalize travel experiences in North America for each and every guest, ensuring your adventure is one you'll never forget.
Meeting your expectations is just the beginning of what Toundra aims to accomplish. Exceeding them by providing exceptional experiences in beautiful North America is their standard, and their track record of knockout customer service and customized tour planning speaks for itself.
Learn More
Is this tour for me?
We rate this tour as a 1/5. This tour has a flexible itinerary that allows you to choose your winter activities so that you can tailor them to your fitness level.
Ask a Question
Got any questions regarding the tour? Interested in promotions for groups or want to customize this tour to fit your needs? We are here to help you!
Ask a question