Spend 11 days on a Catholic pilgrimage of South Korea's holy grounds on this guided tour
The South Korea Catholic Pilgrimage Tour is a unique adventure that invites you to experience the cultural landscapes of South Korea through the lens of Catholicism. The 11-day guided pilgrimage will introduce you to the country's most significant Catholic landmarks as you embark on a mesmerizing journey of its churches and holy grounds.
The pilgrimage begins in Seoul, where you'll discover the roots of Catholicism with a visit to the Myeongdon Cathedral, the first-ever Roman Catholic parish in South Korea. Unlike many other famous pilgrimages, you'll be travelling primarily in a private vehicle, allowing you to cover great distances and experience several regions over the course of 11 days.
Explore South Korean culture during immersive visits to temples, palaces, and museums, complimenting your exploration of Catholicism in South Korea with an exploration of Buddhism and mainstream South Korean culture.
Whether you're embarking on a spiritual journey or are just interested in studying a significant world religion, the South Korea Catholic Pilgrimage is a unique opportunity to experience this fascinating country and some of its lesser-known highlights!
Highlights of the South Korea Catholic Pilgrimage Tour
Start and end your pilgrimage in the capital city of Seoul, where you'll discover the birthplace of Catholicism in South Korea.
Explore South Korea's Catholic "holy grounds" from Saenamteo to Mirinae.
Immerse yourself in rich cultural experiences as you visit churches, museums, temples, and fortresses.
Come to understand the essence of Catholicism in South Korea from ancient times to the present day.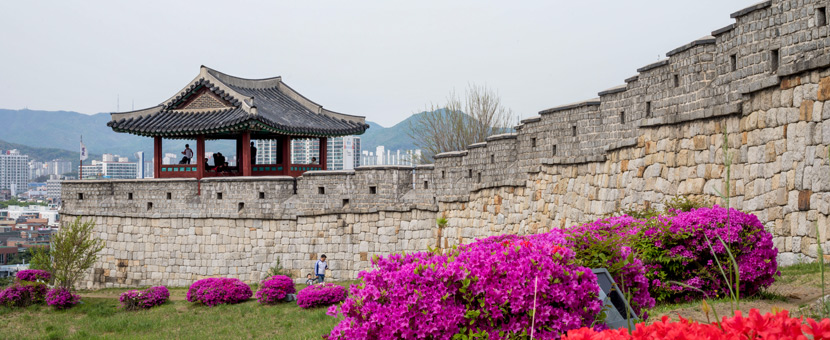 South Korea Catholic Pilgrimage Tour Itinerary
Day 1

Arrival

Your Catholic Pilgrimage of South Korea begins in the vivacious capital city of Seoul.

Arrive at the Incheon International Airport, where your tour guide will greet you. A private transfer will then take you to your first hotel in Seoul.
Overnight Location: Hotel in Seoul
Meals: None
Day 2

Visit the First Roman Catholic Parish Church in South Korea

Catholicism in South Korea has an arduous past, as its early years were marked primarily by persecution and martyrdom. Today you'll have the opportunity to visit the very first Roman Catholic parish church in South Korea, the Myeongdon Cathedral in Seoul, a fitting start to your Catholic pilgrimage!

Later in the day, you'll make your way to the Saenamteo Holy Ground, where several critical South Korean catholic figureheads were martyred in the 19th century.

Your exploration of Seoul continues with visits to Gwanghwamun Plaza, Gyeongbokgung Palace, the National Folk Museum of Korea, and the colourful Insadong District.

With your appetite well worked up, finish off the day at the Gwangjang Market, seeking out some tasty Korean snacks from the nearly 5000 vendors that call this bustling street market home!
Overnight Location: Hotel in Seoul
Meals: Breakfast
Day 3

Discover the Birthplace of Catholicism in South Korea

This morning you'll say farewell to Seoul (for now), as you drive to Gwanju. Here you'll visit the Cheonjinam Temple, where Korean Catholicism was born in the year 1780.

Your spiritual journey continues as you set back out on the road, heading to Baeron Holy Ground, an area of immense spiritual significance when it came to the spreading of Catholicism across the country.

Later, you'll visit the Yeonpung Martyrs Shrine, where you'll learn about an early Catholic settlement and the persecution they endured. The day ends as you arrive at your accommodations in Suanbo.
Overnight Location: Hotel in Suanbo
Meals: Breakfast
Day 4

Drive to Gyeongju via Andong

This morning you'll hit the road with your sights set on Andong. Known as a stronghold of Confucianism, Andong is full of unique cultural experiences, both fascinating and informative.

Your time in Andong begins with a visit to Hahoemaeul Village, a spectacular UNESCO World Heritage Site dating back to the 15th century, providing visitors with a glimpse into South Korea's cultural heritage. Explore several traditional Korean houses as you navigate the village's narrow streets and alleys, brimming with rustic charm.

This afternoon you'll continue to Gyeongju, the ancient capital of Silla. Gyeongju is often referred to as a "museum without walls," and tomorrow you'll find out why!
Overnight Location: Hotel in Gyeongju
Meals: Breakfast
Day 5

Explore Gyeongju

Today's itinerary is dedicated to exploring the fascinating coastal city of Gyeongju! Home to several ancient temples, royal tombs, stone pagodas and fortress ruins, this city is the perfect place to spend a full day exploring.

Explore the sacred Seokguram grotto, a UNESCO World Heritage Site where a serene stone Buddha dating back to the 8th century lords over the temple complex.

Up next, you'll visit the main Bulguksa Temple and its impressive gates and symbolic bridges before heading to the Gyeongju National Museum and the Donggung Palace and Wolji Pond.

The day wraps up with a stroll through the Seongdong Market, where you'll experience another traditional Korean street market.
Overnight Location: Hotel in Gyeongju
Meals: Breakfast
Day 6

Oryundae Martyrs Shrine and the UN Memorial Cemetery

Today you'll make your way to South Korea's second-largest city, Busan, a vibrant coastal city bordered by ocean on one side and mountains on the other.

Your exploration of Busan begins with a visit to the Oryundae Martyrs Shrine. Here you'll find a martyrs cathedral as well as a fascinating museum featuring the history of Catholicism in South Korea.

Next, you'll learn about the Korean War and pay tribute to the 2,300 soldiers that lost their lives at the UN Memorial Cemetery.

Busan's highlights continue as you visit the Yongdusan Park, Gwangbokro Street, BIFF Square, and the Jagalchi Fish Market.
Overnight Location: Hotel in Busan
Meals: Breakfast
Day 7

Visit the Okbong Catholic Church

Today's journey has you travelling from Busan to Gwanju, via Jinju, Gokseong, and Naju.

The main highlight of today will be a visit to the Okbong Catholic Church in Jinju. The church, built in 1911, served as a Catholic center and was affiliated with Masan Cathedral.
Overnight Location: Hotel in Gwanju
Meals: Breakfast
Day 8

Church, Village, and Museum Visits

Heading to Jeonju this morning, you'll have a chance to appreciate South Korea's rich cultural and artistic heritage as you explore the Jeonju Hankok Village, a well-preserved ancient Korean housing complex.

Next, you'll visit the stunning Jeondong Catholic Church, where you'll marvel at the Byzantine and Romanesque-inspired architectural design.

On to Buyeo, you'll find a fascinating melting pot of Baekje culture! Explore the county and its UNESCO World Heritage Sites, like the Jeongrimsa Temple and its 5-story stone pagoda.

Later, you'll learn about brilliant Baekje culture as you explore archeological relics at the Buyeo National Museum.
Overnight Location: Hotel in Buyeo
Meals: Breakfast
Day 9

Visit Holy Grounds

Today is dedicated to visiting several holy grounds as you make your way from Buyeo to Suwon, via Boryeong, Haemi, Dangjiin, and Anseong.

Highlights include the Hongju Holy Ground, Haemi Fortress and Holy Ground, Solmoe Holy Ground, and Mirinae Holy Ground.
Overnight Location: Hotel in Suwon
Meals: Breakfast
Day 10

Return to Seoul

Before departing from Suwon, you'll start the day with a visit to another UNESCO World Heritage Site, Hwaseong Fortress, dating back to the 18th century. The 50-structure complex is acknowledged as the best of its kind in South Korea. Enjoy a short walking tour here before hitting the road for Seoul.

Once in Seoul, you'll have a free afternoon to explore at your leisure!
Overnight Location: Hotel in Seoul
Meals: Breakfast
Day 11

Departure

It's time to say farewell this morning as your Catholic pilgrimage in South Korea comes to an end. A private transfer will take you to the airport to depart.
Overnight Location: None
Meals: Breakfast

Book Now
South Korea Catholic Pilgrimage Tour Price and Dates
This guided tour in South Korea is run as a custom tour for your group and the price depends on the number of participants. Note that in larger groups you can enjoy one participant free.

Prices below are per person sharing a double or a triple room:
Guided groups of 4: $4,150 USD
Guided groups of 5-7: $3,725 USD
Guided groups of 8+: on request
Book Now
Accommodation on the South Korea Catholic Pilgrimage Tour
This tour is based in 3-star and 4-star hotels. The hotels offer pleasant private rooms with ensuite bathrooms and either basic or modern amenities.
In some cases, accommodation listed below may need to be substituted for other, comparable accommodations.
Single Rooms and Solo Travellers
Rooms are double occupancy. You can pay a supplement of $925 USD to have a private room in a hotel where possible. The minimum group size on this tour is 4 people.
Hotels on Standard Tour
3-star and 4-star hotels in South Korea
The accommodation on this tour will range from 3-star to 4-star hotels in a variety of locations as you travel across different provinces and regions of South Korea.
What's Included in the South Korea Catholic Pilgrimage Tour?
Meals
10 breakfasts are included on this tour.
Accommodations
Accommodations for 10 nights are included on this tour. Accommodations before or after the tour in South Korea are not included.
Transportation during the Tour
All transportation during the tour is included on a private vehicle basis, including airport transfers and all necessary luggage transfers between hotels during the tour.
Also Included
English-speaking guide
All entrance fees to excursions mentioned in the itinerary
Not included
Flights to and from South Korea
Visas if required
Travel insurance
Tourist taxes if applicable
Meals or drinks and snacks not previously mentioned
Fees not mentioned as included
Optional Extras
Activities and excursions unless otherwise mentioned as included
Single room upgrades
Any additional nights before or after the tour
Frequently Asked Questions about South Korea Catholic Pilgrimage Tour
EXODUS DMC offers a full spectrum of services to travellers in South Korea. They have been offering quality service to travellers from all walks of life for two decades and have established a track record of excellent service.
With 20 years of experience, extensive local knowledge, plenty of resources, a strong network, and lasting connections to a wide variety of local suppliers, EXODUS is committed to bringing travellers top-quality service and extraordinary value.
Exploring Korea with EXODUS DMC is not just rewarding, but also easy, as they're constantly at your beck and call while you travel. They strive for your total satisfaction and offer unbeatable quality in all that they do.
Learn More
Is this tour for me?
We rate this tour as a 1/5. You will spend a considerable amount of time exploring on foot, but the walking is not particularly strenuous and long distances are covered by vehicle.
Ask a Question
Got any questions regarding the tour? Interested in promotions for groups or want to customize this tour to fit your needs? We are here to help you!
Ask a question