Experience the best highlights of hiking in Slovenia on this 8-day guided adventure
Slovenia is still a bit of an undiscovered place to visit, and this 8-day guided walking tour is one of the best ways to experience the history, culture, and natural beauty of Slovenia.
This hiking tour is ideal for everyone who loves nature and easy and pleasant walks. Enjoy the beautiful Slovenian landscape, tackling trails of low technical difficulty and avoiding steep ascents or rugged descents.
Along the way, visit some stunning viewpoints of the Julian Alps, walk by beautiful lakes and along turquoise rivers, marvel at high limestone peaks, get to know the mysterious underworld of Karst and have a relaxed sunset walk on the Adriatic coast. Do you like mountains, nature and are fit enough to do easy 4-hour walks? This is your tour in Slovenia! You will love it!
Highlights Of The Best Walks In Slovenia Tour
Explore the vibrant capital city of Ljubljana.
Discover the beauty of the Soca River and relax in its numerous pools.
Experience Slovenian cuisine, a collision of all its neighbors: Italy, Austria, Hungary, and Croatia.
Tour the incredible Skocjan Caves, name a world heritage site in 1986.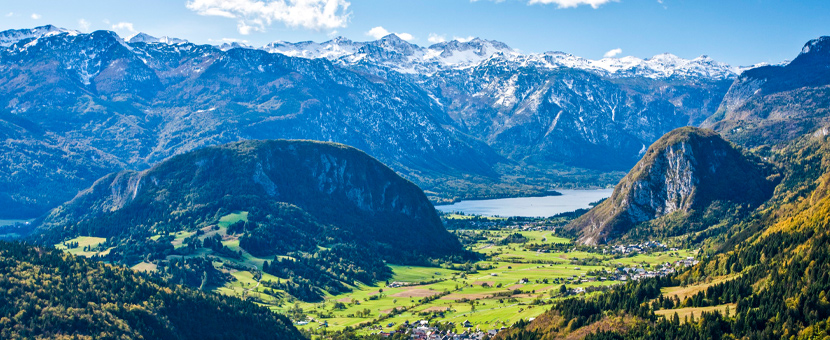 The Best Walks In Slovenia Tour Itinerary
Day 1

Ljubljana

Meet your guide and the rest of the group in the evening. Over a welcome drink the guide will get the group acquainted and go over the trips itinerary. Stay the night in Ljubljana at City Hotel.
Overnight Location: Hotel in Ljubljana
Distance: None
Meals: None
Day 2

Velika Planina

The day will be spent just north of Ljubljana at the 'Big Meadow,' aka Velika Planina. Here you will be guided on a walk around the beautiful landscape and learn about the alpine architecture and culture. You will stop at one of the oldest huts to speak with a local shepherd about the way of life in an alpine meadow and later will be treated to a home cooked lunch before returning for another evening in Ljubljana.
Overnight Location: Hotel in Ljubljana
Distance: 4 hours, 12 km, 350 m of ascent
Meals: Breakfast, Lunch
Day 3

Lake Bohinj and Bled

The day begins with a trip to the Lake Bohinj area, where you will walk through local villages and along beautiful streams and gorges. Following lunch, the day will continue with a transfer to Lake Bled where you can choose to take a walk up to a viewpoint or relax along the lakeside before spending the evening at the beautiful Hotel Astoria in Bled.
Overnight Location: Hotel in Bled
Distance: 4 hours, 14 km, 400 m of ascent
Meals: Breakfast, Lunch
Day 4

Pokljuka Plateau

Today will be spent in Triglav National Park hiking through the Pokljuka forest to reach the plateau, providing views to the peaks of Slovenia and the Bohinj Valley. The evening will be spent relaxing in Bled.
Overnight Location: Hotel in Bled
Distance: 5 hours, 10 km, 700 m of ascent
Meals: Breakfast, Lunch
Day 5

Pericnik Waterfall, Vrsic Mountain Pass and The Russian Road

The day will begin with a visit to Pericnik Waterfall, one of the highest in Slovenia, and where you can actually walk behind the falls. This will be followed by a trip up the 'Russian Road' to the highest mountain pass in Slovenia - Vrsic Mountain Pass. Originally built for military in the early 19th century, it now leads to one of the best starting points for summiting peaks in the Julian Alps. The day will end at the Hotel Mangart in Bovec.
Overnight Location: Hotel in Bovec
Distance: 4 hours, 10 km, 400 m of ascent
Meals: Breakfast, Lunch
Day 6

Soca Valley, WWI and Hidden Swimming Spots

Another trip into Triglav National Park, this time to explore the stunning Soca Valley. Walking along the Soca River will bring you to many hidden swimming spots and you will have a chance to take a dip in the emerald waters of the Soca River while learning about the history of the area and the influence of WWI. The day will end back at the Hotel Mangart in Bovec.
Overnight Location: Hotel in Bovec
Distance: 4 hours, 12 km, 250 m of ascent
Meals: Breakfast, Lunch
Day 7

Skocjan Caves, Vineyards, Piran

This day will begin by exploring the Skocjan Caves, a UNESCO World Heritage site. From there you will travel to the vineyards of Karst to experience local cuisine and wines. The day will end touring around the coastal town of Piran and watching the sunset on the Adriatic from Hotel Tartini.
Overnight Location: Hotel in Piran
Distance: 3 hours, 7 km, 150 m of ascent
Meals: Breakfast, Lunch
Day 8

Farewell

The end of the trip begins with a breakfast together and then the goodbyes.
Overnight Location: None
Distance: None
Meals: Breakfast

Book Now
The Best Walks In Slovenia Tour Price and Dates
This guided tour in Slovenia is run as a group tour, however, this tour can also be arranged as a private tour (please contact us with your preferred dates and group size to get your quote).
Prices below are per person:
Accommodation on The Best Walks In Slovenia Tour
This tour is based in Hotels. The hotels on this tour provide a wonderful place to relax and rejuvenate at the end of a busy day touring Slovenia. The hotels are all 3* minimum and have wonderful dining options along with amenities such as spa or sauna and can be considered a luxurious rest stop. Price is based on double occupancy; however single rooms are available for a single supplement fee.
Single Rooms and Solo Travelers
You can pay a supplement of $325 USD (in September it's $375 USD) to have a private room in a hotel. Contact us and we can try and match single travelers up, where possible.
Hotels on Standard Tour
What's included in The Best Walks In Slovenia Tour?
Meals
7 breakfasts and 6 lunches are included.
Accommodations
Accommodations for 7 nights along the tour are included.
Transportation during the Tour
The transport includes all the transfers mentioned in the itinerary in a van of up to 8 people (or 2 vans if there are more than 8 people). The price does NOT include airport transfer at the beginning (to Ljubljana) or at the end of the trip (from Piran).
Also Included
An English-speaking mountain guide throughout the trip
Wine tasting (day 7)
Skocjan Caves entrance fee
Welcome drink in Ljubljana
Not included
Flights to and from Slovenia
Transfer to the starting point of the trip
Drinks
Dinners
Personal expenses
Travel insurance
Tips
Anything not stated as included
Frequently Asked Questions about The Best Walks in Slovenia
Slotrips loves creating travel experiences in Slovenia. They're passionate about what their country has to offer and they thrive on positive feedback from their guests. Slotrips specializes in hiking and biking tours not just in Slovenia, but also in neighboring countries. They are a top-rated agency and have been since shortly after their creation in 2007.
Slotrips started as a hobby at the hands of a passionate Slovenian named Miha. Initially, the agency was just a wealth of travel information. Eventually, this was converted into a full-service travel agency.
Travelling from hidden corners of the country to stunning natural sites, Slotrips turned their passion into their mission, and they're always searching for new opportunities to offer travellers. Each trip begins with a thorough discussion of the client's wants and needs to design a personalized trip sure to impress.
Learn More
Is this tour for me?
We rate this tour as a 2 / 5. You should be able to walk 4 hours a day.
Local Guide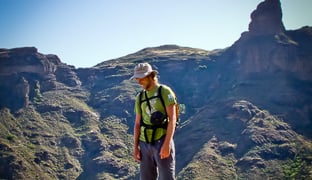 Ask a Question
Got any questions regarding the tour? Interested in promotions for groups or want to customize this tour to fit your needs? We are here to help you!
Ask a question