Experience the wonders of Patagonia on this 9-day guided adventure trek
This Patagonian exploration is a mix of hiking treks and driving exploration that takes you on a 9-day quest through some of the most remote and beautiful parts of Torres del Paine National Park and visits Ushuaia and Tierra del Fuego National Park.
You'll take the road through Patagonian steppes, experience guided hiking adventures through Torres del Paine and Tierra del Fuego National Parks and explore Ushuaia: the southernmost city in the world. Along the way, you'll witness the majesty of nature and the unique sights of Argentina and Chile. Experience the raw power of glaciers, the towering heights of granite spires, and see where the mountains of the south fall into the sea at the very bottom of the world!
Highlights of the Torres del Paine and Ushuaia Trekking
Journey beside the rim of Lake Grey and witness the stunning valley wrought over eons by the crushing power of the Grey Glacier.
Revel in the sight of icebergs floating in Patagonian lakes, where they sit frigid below the mountain crags that pierce the clouds over the glacier.
Experience the icy majesty of the Towers and the Horns as you trek below the peaks in Torres del Paine National Park.
Explore the Ushuaia, the southernmost city in South America.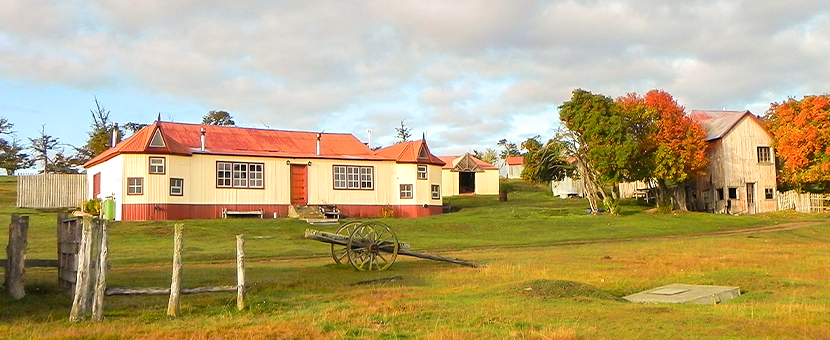 Torres del Paine and Ushuaia Guided Trekking Adventure Itinerary
Day 1

Arriving in El Calafate

Welcome to South America! You will be met at the El Calafate airport and taken to town for check-in at your accommodation. The rest of the day is at your leisure for exploring the El Calafate.
Overnight Location: Hosteria Hainen, El Calafate
Distance: N/A
Meals: None
Day 2

Transfer to Torres del Paine National Park

Embark on a scenic journey across the Patagonian steppes! You'll see portions of the historic Route 40 (Ruta 40) as you skirt the peaks of Sierra de los Baguales to make your way to Torres del Paine National Park.

You'll cross the Argentinian/Chilean border near Cancha Carrera and begin the last phase of the trip into the National Park. On the approach to the park, you'll get a chance to glimpse some famous mountains: Paine Grande, the Horns, Admiral Nieto, and the Towers. Upon entering the park proper you'll go for a short 1-2 hour jaunt to whet your appetite for the upcoming hiking adventure and to familiarize yourself with the local landscape, flora, and fauna. After you're finished exploring, hop back in the bus for a quick trip to fully-serviced your campsite.
Overnight Location: Campsite in Torres del Paine National Park
Distance: 6 hours driving, 2 hours walking
Meals: Breakfast, Box Lunch, Dinner
Day 3

Hike to Paine Towers

Start with an uphill warmup hike to reach the valley carved by the Ascencio River. Once inside the narrow valley, you'll follow a gentle downhill slope to Refugio Chileno Lodge. Continuing on from there, you'll trek by the riverside enjoying the sights as it runs through a beech forest. A final push will bring you up the ridge and to the Towers Viewpoint where you'll have a commanding view of a glacier-formed lagoon pierced by three massive towers rising 1000 meters from the glacier. It's a sight sure to steal your breath away, if you have any left from the hike!
Overnight Location: Campsite in Torres del Paine National Park
Distance: 8 hours
Meals: Breakfast, Box Lunch, Dinner
Day 4

Cross Lake Pehoe via Catamarán and hike to French Valley

A brief, hour-long drive will bring you to Port Pudeto where you'll find a catamarán ready to ferry you across Lake Pehoe and into French Valley. Once you reach the shore, you'll have a moment to drop any unneeded items at your tent before continuing on your guided hiking adventure beginning on the French Valley trail. As the trail progresses, you'll follow the edge of the south slopes of the Paine Grand and skirt around Lake Skottsberg. You'll climb and descend as the trail wends along until you reach the hanging bridge spanning the French River. From there you'll experience the jaw-dropping view of Paine Grande's south-east face as the peak rises 2700 meters into the sky. Turning now to the east, take a moment to admire the Horns sending their striped, craggy bulk into the clouds. We'll continue from there on to Italian Camp and stop for lunch and photos from the several viewpoints before returning to camp for the night.
Overnight Location: Campsite, Torres del Paine National Park
Distance: 1 hour drive, boat ride, 5-6 hour hike
Meals: Breakfast, Box Lunch, Dinner
Day 5

Hike from Pehoe Valley to Grey Valley

Grey valley was carved by Grey glacier and sweeps 60 km from the Patagonian ice field ending in Lake Grey where the glacier begins to break apart into icebergs of stunning azure. Today, you'll be hiking along the edge of the lake following the western slopes of Paine Grande and taking you to some of the most coveted views in the park. Continue your guided trek to the main viewpoint with stunning views of the lake, the blue icebergs clustering at the edge of Grey glacier, and the mountains piercing the clouds in the distance. After your return, you'll take a boat across Lake Pehoe and then continue on to the fishing village of Puerto Natales.
Overnight Location: Hostal Francis Drake, Puerto Natales
Distance: 4 hour hike, boat ride
Meals: Breakfast, Box Lunch
Day 6

Scenic Drive and Ferry Ride to Estancia Las Hijas

Your adventure today will be mostly from a seat as you drive across some of the best scenery in Patagonia. It's a long day, but a great trip! You'll head for the historic Strait of Magellan where you'll board a ferry and cross. From there, you'll continue through Tierra del Fuego and cross the border back into Argentina via Paso San Sebastián. A couple more hours will bring you to the cattle ranch Estancia Las Hijas where you'll get to experience classic Patagonian dining with a delicious lamb BBQ before bedding down for the night.
Overnight Location: Bed in Refuge, Estancia Las Hijas
Distance: Driving all day
Meals: Breakfast, Box Lunch, Dinner
Day 7

Drive to Ushuaia and Tierra Del Fuego National Park

After breakfast, you'll have a chance to explore the estancia (cattle ranch) and then by mid-morning you'll be off again south through Patagonia to Lake Fagnano. From there you'll journey to Ushuaia, the world's southernmost city! After pausing in the city, you'll continue on that afternoon to Tierra del Fuego National Park in the afternoon.
Overnight Location: Lodge, Tierra del Fuego National Park
Distance: Driving all day
Meals: Breakfast, Box Lunch
Day 8

Boat Trip across Beagle Channel

In the morning you'll walk down to the Ushuaia pier where you'll find the boat ready to take you across the historic Beagle Channel. You'll visit Alicia Island and have the opportunity to watch a sea lion colony, then off to the Island of Birds where you'll be able to watch the cormorants fishing and view the Lighthouse Les Eclaireurs built in 1919. You'll return to port in the afternoon and be treated to western views of the Darwin mountains and northern views of the Andes towering above Ushuaia.
Overnight Location: Hotel Los Naranjo, Ushuaia
Distance: N/A
Meals: Breakfast
Day 9

Departure

You'll have the morning to further explore Ushuaia and take in the sights and history of the place. In the afternoon you'll be taken to the Ushuaia airport for your flight home.
Overnight Location: None
Distance: None
Meals: Breakfast

Book Now
Torres del Paine and Ushuaia Guided Trekking Adventure Price and Dates
This guided walking tour to Torres del Paine and Ushuaia is run as a fixed-departure tour where you'd be joining a group, however, custom private tours can be organized for those willing to travel with their group only (please contact us with your preferred date and the number of people in your group and we will create the itinerary just for you).

The prices below are per person sharing a double or a triple room, however, there are some alternative options (please refer to Accommodation for more information).
Accommodation on Torres del Paine and Ushuaia Guided Trekking Adventure
This tour is based in Lodges, Fully serviced Campsites, and 1 night Bed in Refuge.
The Full Camps are already set up upon arrival each day and will be outfitted with comfortable igloo-style tents that can sleep 1 or 2 travelers. Inside you'll find an insulation mat and sleeping bags. The camp also features a large tent for dining, a kitchen tent, chairs or benches, tables, and a complete set of table/kitchenware.
Single Rooms and Solo Travelers
If you are a solo traveller willing to join a tour, here are your options:
If you want to have a private room during the trip (where possible) – the supplement is $390 USD per person.
If you don't mind sharing the living space and are willing to stay in dormitory rooms to cut the costs, the price of the tour would be deducted by $120 USD. Please note, that the accommodation for dormitory-type of rooms is different than the one listed below.
If you are willing to share a double room with another hiker, please let us know and we can try to match the solo travellers up where possible.
Please note, that the same pricing applies to people travelling with a group, but willing to stay in different type of accommodation.
Hotels on Standard Tour
Hosteria Hainen in El Calafate
Stay in a cozy lodge in El Calafate near Argentinean Lake with stunning views of the surrounding Andes Mountains.
Full campsites in Torres del Paine
Enjoy sleeping under the stars in Patagonia in these fully-serviced campsites. The camps are setup for you, and include tent, sleeping mat and sleeping bag.
Hostal Francis Drake, Puerto Natales
Stay in comfortable freshly renovated hotel in Puerto Natales with beautiful views of the lake nearby. The rooms are spacious and clean and the owners are very friendly!
Estancia Las Hijas, refuge in Tierra del Fuego
Stay in dormitory type of room in authentic refuge in Tierra del Fuego. Estancia Las Hijas is a wonderful refuge with friendly owners and homey atmosphere.
Lodge in Tierra del Fuego
Stay in lodges in Tierra del Fuego.
Hotel Los Naranjos in Ushuaia
This beautiful boutique hotel is right on the main street, but just outside all the buzz. The rooms a cozy and full of atmosphere!
What's included in the Torres del Paine and Ushuaia Guided Trekking Adventure?
Meals
8 breakfasts, 6 box lunches, 4 dinners
Accommodations
Accommodations for 1 night Bed in Refuge, 3 nights in Full Camps, and 4 nights in Lodges.
Transportation during the Tour
Transportation is included for you and your luggage from El Calafate airport to the El Calafate Lodge. Transportation to each new Lodge or Full Camp is also included, as well as transportation to each listed tour destination. Additionally, there will be 2 Boat trips across Lake Pehoe and 1 across Beagle channel.
Also Included
Arrival reception service
Bilingual tour leader during all days for groups of 6 or bigger, bilingual guides for activities and trekking guides for trekking days regardless the size of the group
Mountain guides while trekking in the park
Private and regular bus transit as needed
Not included
Entrance fees to National Parks
Medical and life insurance
Tips
Drinks and beverages
Flights or airport taxes
Port tax at Ushuaia
Optional excursions.
Services not explicitly stated
Optional Extras
Optional excursion recommended to Estancia Harberton to see the Penguin Colony on day 8
Frequently Asked Questions about Torres del Paine and Ushuaia Trekking
Camino Abierto was founded in 1993 and have focused on adventure travel in Patagonia. With offices in both El Chalten and Buenos Aires, Camino Abierto offers tours throughout Patagonia, including to Ushuaia and Torres del Paine in Chile.
Learn More
Is this tour for me?
We rate the difficulty for this tour as a 3 / 5. Includes hiking durations up to 8 hours with frequent elevation changes.
Ask a Question
Got any questions regarding the tour? Interested in promotions for groups or want to customize this tour to fit your needs? We are here to help you!
Ask a question