Ride 15 days across Borneo from Sarawak to Brunei
Ride through two countries, perform eight international crossings, and clock 1,300km of riding on the incredible 15-Day Trans-Borneo Road Bike tour!
The 15-Day Trans-Borneo Road Bike tour is a pioneering journey, providing you with an epic challenge and unforgettable tour of Borneo. You'll ride through mangroves and rubber tree plantations, flying past paddy fields and miles of coastline. Rest in idyllic fishing villages and beachside resorts, enjoying the sunset across the horizon. Three different national parks beckon, each with their own treasures to find. Ride past rivers full of dolphins, explore deep caves of bats, and spot sea turtles in the ocean water.
The 15-Day Trans-Borneo Road Bike tour will take you through two countries with 8 international border crossings, riding into the shimmering capital city of Brunei. Then, you'll ascend high into the mountains to reach base camp of Mount Kinabalu, the second-highest peak in Southeast Asia.
The 15-Day Trans-Borneo Road Bike tour is a once in a lifetime riding journey through the best of Borneo.
Highlights of the 15-Day Trans-Borneo Road Bike Tour
Ride through Borneo's most incredible national parks, including Kinabalu and Niah Cave.
Encounter local wildlife like Irrawaddy dolphins, proboscis monkeys, and sea turtles.
Cycle high into the mountains, reaching base camp at Mount Kinabalu, southeast Asia's second-highest peak.
Rest in beachside fishing villages and welcoming local homestays, learning local traditions.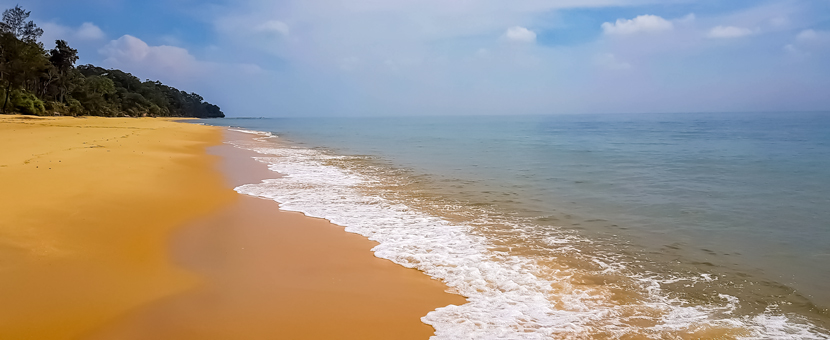 15-Day Trans-Borneo Road Bike Itinerary
Day 1

Arrival in Kuching

Welcome to Borneo! Once you drop your bags at the hotel, you'll have a quick trip briefing with the group before a tasty seafood dinner.
Overnight Location: Hotel in Kuching
Distance: None
Meals: Dinner
Day 2

Ride to Maludam

Your first day of cycling eases you into it with a mostly flat ride along the beautiful coast. You'll ride through mangrove forests, paddy fields, and rubber tree plantations. Once you hit 45km, it's time for a break at a local cafe. Then, you'll cross several rivers on the way to Kampung Hilir Maludam, a charming and sleepy Malay fishing village. Here, you'll set up your things at the homestay before riding on a boat to the Maludam National Park. This little-visited treasure is home to proboscis monkeys, which are quite the sight! Then, you'll dine with your local hosts before settling in for the night.
Overnight Location: Homestay in Maludam
Distance: 133km, 141m elevation gain
Meals: Breakfast, Lunch, Dinner
Day 3

Maludam to Sarikei

How are the legs feeling after your first big ride? After breakfast, you'll cycle out along a pretty coastal road, hopping on the ferry to ride to Pusa. Here, local bread and coffee await. After your break, you'll ride past more rubber and palm plantations on a mostly flat road. You'll be riding into the heartland of the Iban tribe, passing their traditional longhouses and unique birdhouses made to harvest swiftlet bird nests. Finally, you'll arrive at your hotel for the night, where you can relax for the remainder of the evening.
Overnight Location: Hotel in Sarikei
Distance: 124km, 576m elevation gain
Meals: Breakfast, Lunch, Dinner
Day 4

Cycle to Mukah

The next leg of your cycling adventure in Borneo is a bit morning-heavy, with a big ride first thing in the morning. This allows you to enjoy time in Sibu, the "gateway to Central Sarawak." It has a famous market, where you can stroll past 1200 stalls selling exotic fruits, crafts, and jungle produce. Grab yourself a snack of mapua noodles or kongpia meat buns before a speedboat ride to Dalat. The local Melanau tribe is welcoming, and you'll pass by their longhouses as you cruise. Once back on land, ride past colourful villages to a local seaside resort, where you can freshen up before hitting the town with your group.
Overnight Location: Hotel in Mukah
Distance: 113km, 326m elevation gain
Meals: Breakfast, Lunch, Dinner
Day 5

Mukah to Bintulu

Day 5 begins with breakfast before cruising on your bikes along the coast to Bintulu. You'll pass by several towns on the way, stopping in at their markets to rest and enjoy the scenery. Then, cycle along undulating hills to the dock where you'll hop in a speedboat towards Similajau National Park. Spend the afternoon off the bike finding sea turtles, crocodiles, and dolphins. There's an optional transfer to a remote golden-sand beach, which we highly recommend for any sun-lover. Then, you'll spend the evening in the national park chalet.
Overnight Location: Hotel in Similajau National Park
Distance: 138km, 280m elevation gain
Meals: Breakfast, Lunch, Dinner
Day 6

Cycle to Niah

After breakfast, head towards northern Borneo along the picturesque coastline. You'll ride over a few rolling hills before stopping for lunch in Samalaju. The rest of the ride flows through plantations, villages, and fields. Upon entering Niah Cave National Park, you're guaranteed to be awestruck by the lush forest, spooky caves, and fascinating rock formations. Before settling in for the night, you can head out to town and enjoy a local dinner with the group.
Overnight Location: Hotel in Niah National Park
Distance: 136km, 717m elevation gain
Meals: Breakfast, Lunch, Dinner
Day 7

Niah to Miri

Before leaving the national park, spend the morning exploring on foot. It's one of the most important archaeological sites in the world and soon to be declared a UNESCO World Heritage site. The local birds are plentiful and chatty, the cave paintings are incredible, and the rainforest is alive with action. In the afternoon, hop back in the saddle for a ride along gradual hills to the resort city of Miri, where a foot reflexology centre can help relax you after a big week of riding.
Overnight Location: Hotel in Miri
Distance: 85km, 365m elevation gain
Meals: Breakfast, Lunch, Dinner
Day 8

Rest day in Miri

Take today off from riding, exploring Miri on foot after breakfast. It was an oil boom city, with plenty of interesting corners to find. If you'd prefer to explore underwater, there's an opportunity to arrange a scuba tour. Those wanting to get out of the city but stay on land can take a day trip to one of the nearby national parks. So many choices! Whatever you end up doing, you're free to spend the day as you like and choose your own spots for lunch and dinner.
Overnight Location: Hotel in Miri
Distance: None
Meals: Breakfast
Day 9

Cycle to Bandar Seri Begawan

Begin the day early to beat the traffic out of Miri. Today you'll actually bid Sarawak goodbye as you cross the border into Brunei, a tiny nation with impressively-designed government buildings, perfect beaches, and a diverse rainforest. Cycle into the capital, Bandar Seri Begawan, using a quieter back road. Hop off the bike and check into your hotel before setting off on foot to explore the Old Town, dominated by the impressive gold-clad Omar Ali Saifuddin Mosque, a magnificent sight. Then, you can stop along Kampong Ayer, a colourful village on the water, before grabbing a seat at dinner.
Overnight Location: Hotel in Bandar Seri Begawan
Distance: 153km, 768m elevation gain
Meals: Breakfast, Lunch, Dinner
Day 10

Ride to Lawas

This morning, you'll depart from the city along farm roads flanked by paddy fields. You'll actually cross over the border back into Malaysia, and then back into Brunei, and then finally back into Malaysia. Busy day! Enjoy lunch in Limbang, a charming town with a busy market. This town is the most diverse in Sarawak, with Bruneian, Malay, Iban, Kedayan, and more people hailing from all over. After lunch, set off on your bike and get your passport stamped again as you cycle to Lawas, the northernmost town in Sarawak. Spend some time cleaning up at the hotel before a delicious seafood meal to end the day.
Overnight Location: Hotel in Lawas
Distance: 136km, 1401m elevation gain
Meals: Breakfast, Lunch, Dinner
Day 11

Lawas to Tenom

Hope your legs are feeling up to a challenge, because today has some serious elevation gain ahead! You'll enter the state of Sabah to cross the Crocker Range, which divides the western plains and coast from the other side of Sabah. The range ends south of the splendid Mount Kinabalu. The mountain scenery will hopefully inspire you to keep pedaling as you gain elevation towards the peak of today's ride. Thankfully, downhill riding follows and it's much more relaxing on the way to the hotel. The coffee made in the area surrounding Tenom is famously wonderful, so you'll spend some time sampling brews at an old-school coffee house before the end of the day.
Overnight Location: Hotel in Tenom
Distance: 119km, 1854m elevation gain
Meals: Breakfast, Lunch, Dinner
Day 12

Ride to Tambunan

Enjoy breakfast with a cup of local coffee before hopping on the saddle and heading off towards Keningau, where lunch awaits. The ride is beautiful, with mountains framing your view and rolling hills alongside you. After a lunch of local Bak Tuk Teh (pork in hot, savoury herbal broth), set off towards Tambunan. The ride takes you through a terraced valley of paddy fields, passing farms and villages. Unwind at the hotel in preparation for a big ride tomorrow.
Overnight Location: Hotel in Tambunan
Distance: 95km, 1440m elevation gain
Meals: Breakfast, Lunch, Dinner
Day 13

Cycle to Kundasang

After breakfast, set off towards the basecamp of Mount Kinabalu, the tallest peak in Southeast Asia. It'll be a tough ride, but it's so worth it at the end! The views along the way and once you make it to base camp are fantastic. The area surrounding base camp is a major producer of local vegetables and fruit, so make sure you try some local strawberries and tomatoes at dinner. Then, check into a mountain resort with a view of Mount Kinabalu to relax for the remainder of the evening.
Overnight Location: Hotel in Kundasang
Distance: 78km, 2050m elevation gain
Meals: Breakfast, Lunch, Dinner
Day 14

Kundasang to Kota Kinabalu

The last full day of your cross-Borneo cycling tour begins with a quick ride to Kinabalu Park, which provides access to Mount Kinabalu. Stop by the stunning botanical gardens, recognized by UNESCO as one of the most important biological sites in the world with over 4500 species of plants and animals calling it home. Then, stop in at Nabalu Market for a snack or a souvenir. Finally, it's time to hop back on the bike and head towards Kota Kinabalu. The road is all downhill for 1500 metres, but make sure you take the winding descent carefully. After checking into your hotel, it's time to stroll along the waterfront and find a bar to kick back at. A final dinner celebrates your journey and bids the group farewell.
Overnight Location: Hotel in Kota Kinabalu
Distance: 60km, 964m elevation gain
Meals: Breakfast, Lunch, Dinner
Day 15

Goodbye, Borneo!

The tour concludes with a final breakfast before heading to the airport. Safe travels!
Overnight Location: None
Distance: None
Meals: Breakfast

Book Now
15-Day Trans-Borneo Road Bike Price and Dates
This guided cycling tour of Borneo is run as a fixed-departure tour where you'd be joining a group, however, custom private tours can be organized for those willing to travel with their group only (please contact us with your preferred date and the number of people in your group and we will create the itinerary just for you).

Prices below are per person sharing a double or a triple room:
Accommodation on the 15-Day Trans-Borneo Road Bike Tour
This tour is based in 2, 3, and 4-star hotels and local homestays. The lodges offer unique rooms with great locations. Rooms are double occupancy, and single travellers will pay a supplement.
In some cases, the accommodation listed below may need to be substituted for other, comparable accommodations.
Single Rooms and Solo Travelers
You can pay a supplement of $550 USD to have a private room in a hotel. Contact us and we can try and match single travellers up where possible.
Hotels on Standard Tour
The Marian Boutique Lodging House in Kuching ★★
The Marian is a pretty hotel offering a pool, free Wi-Fi, air conditioning, and nice views of Kuching.
Maludam Homestay in Maludam
This homestay is run by warm, friendly hosts who cook delicious local food.
Oriental Evermore Hotel in Sarikei ★★★
Oriental Evermore offers comfortable, clean, upscale rooms with free Wi-Fi, breakfast, and laundry services.
Kingwood Resort Mukah ★★★
This seaside hotel has a great pool, a coffee shop, and quick beach access. The rooms are clean, and some have ocean views.
Chalet in Similajau National Park
The chalets here are rustic and comfortable, and the park itself is a treat to explore.
Chalet in Niah National Park
This unique national park is a great place to spend the night, and the rooms in this chalet are well-equipped.
Miri Pullman Hotel in Miri ★★★★
The Miri Pullman Hotel is clean and chic, has excellent service, and offers a stunning riverfront pool.
Brunei Hotel in Bandar Seri Begawan
This hotel feels like a little slice of paradise, with direct beach access, a pool, air conditioning, and a nice restaurant.
Seri Malaysia Lawas in Lawas ★★★
Seri Malaysia Lawas offers an outdoor pool, a relaxing garden, free Wi-Fi, and room service.
Yit Foh Coffee Park in Tenom ★★★
This hotel offers comfortable rooms with verandahs, a tasty breakfast, and very kind staff.
Padi View Resthouse in Tambunan ★★
The Padi View Resthouse offers free Wi-Fi, simple rooms, and a great location.
Kinabalu Pine Resort in Kundasang ★★
This resort has beautiful views and great proximity to local attractions. The rooms are cozy and the staff helpful.
Dreamtel Hotel in Kota Kinabalu ★★★
This hotel is chic, clean, and well-equipped. The restaurant is nice and the hotel is within walking distance to several points of interest.
What's Included in the 15-Day Trans-Borneo Road Bike Tour?
Meals
14 breakfasts, 13 lunches, and 14 dinners are included. Drinks and snacks each day are included too.
Accommodations
Accommodation for 14 nights is included.
Transportation during the Tour
Personal and luggage transfer during the tour is included, as well as airport transfers.
Also Included
English-speaking guide
Entrance fees to national parks and historical sites
Support vehicle
Rain poncho if needed
Not included
Travel insurance
Travel to and from Kuching
Lunches and dinners or drinks and snacks not previously mentioned
Tourist taxes if applicable
Personal equipment
Optional Extras
Single room supplements
Solo traveller supplements
Any additional nights before or after tour
Frequently Asked Questions about 15-Day Trans-Borneo Road Bike Tour
Paradesa Borneo is a boutique adventure tour operator in Borneo, allowing guests to explore the rural areas and natural wilderness of Borneo. Their tours go off the beaten path, showcasing the best of Borneo's beauty.
Paradesa prefers to take you away from well-trodden tourist attractions and into the incredible natural world. They focus on responsible and sustainable travel in all endeavors.
Paradesa has cultivated meaningful relationships with locals, supporting their environmental initiatives and using their tours to contribute to the local economy. These partnerships make for amazing cultural exchanges and exceptional authenticity in their adventures.
Learn More
Is this tour for me?
We rate this tour as a 5 / 5. There are some big days, and you will cycle approximately 1300km over the duration of the tour along both paved roads and off-road trails. You should be fit and comfortable on a bike, used to cycling over 100km's in a day.
Local Guide
Ask a Question
Got any questions regarding the tour? Interested in promotions for groups or want to customize this tour to fit your needs? We are here to help you!
Ask a question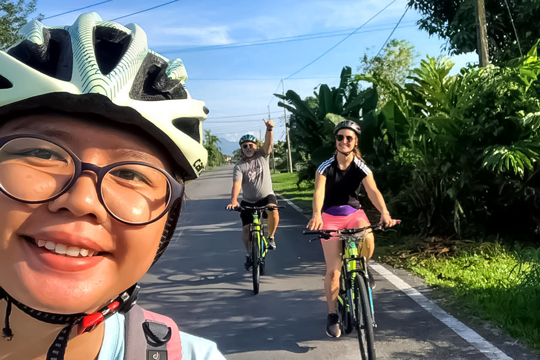 Delilah
Kuching, Malaysia
Delilah is a favourite in Paradesa's TripAdvisor reviews, welcoming guests with warmth and humour. She has been guiding since 2018 and loves every day of her work. Delilah most loves sharing the heritage and culture of Borneo, as well as taking guests to hidden places normally only visited by locals.
Q & A
Q:

What is your favourite trip to do and why?

A:

Longhouse trips! As a member of the tribe myself, I'm able to share and show the ways of my people in depth. Guests get to see the real deal: how they eat, how they live, how they work, their beliefs. It's a firsthand experience.

Q:

What are guests most surprised about when visiting Borneo?

A:

Very friendly locals who always say hello even if you are a complete stranger. That, and how fluent the locals are in English! Also, the fact that Kuching is so clean, even with all that urban hustle and bustle going on.

Q:

What has your most unforgettable experience while guiding been?

A:

Taking care of an 80+ year old rider on one of our 14-day cycling holidays. The routes are challenging, and he finished the whole thing without faltering. I have such great respect for that man.