Find Borneo's wildlife while cycling the Malaysian coast
Few places on earth have the incredible wildlife that Borneo boasts! Explore the wild side of this island by bike on the incredible Ultimate Borneo Wildlife Bike Safari.
The Ultimate Borneo Wildlife Bike Safari is an unforgettable cycling experience that takes you to the perfect ocean, vibrant jungle, and charming villages of Borneo to find wildlife.
Ride past the legendary rock spires of Bako National Park, watching flocks of migratory birds take to the skies. Ride in a boat over crocodile waters to Santubong National Park, where frogs sing in the waterfalls. The Ultimate Borneo Wildlife Bike Safari takes you to Satang Island, where you'll don your snorkelling mask and swim alongside newly-hatched sea turtles. Ride into Matang National Park, where rehabilitated orangutans smile at you from the trees.
A luxurious oceanside resort in Sematan beckons you with dinners of fresh seafood, and the unbelievable sunsets over white sand beaches will lull you to sleep. The Ultimate Borneo Wildlife Bike Safari is a fantastic way to see the biodiversity of Borneo, so don't miss out!
Highlights of the Ultimate 9-Day Borneo Wildlife Bike Safari
Cycle along coastline, near mountains, through charming villages, and into the jungle.
Find wildlife including orangutans, hornbills, sea turtles, deer, and more in national parks and while snorkelling.
Relax after rides on coastal resorts, eating fresh local seafood and watching the sunset.
Explore the jungle at night, finding vibrant orchids and frogs of every colour.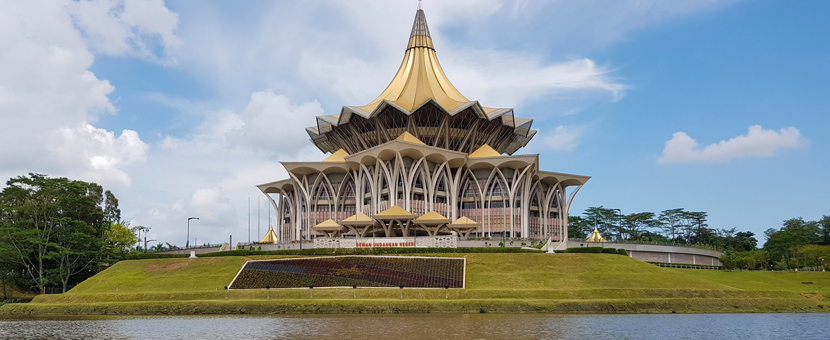 Ultimate Borneo Wildlife Safari Itinerary
Day 1

Arrival in Kuching, Heritage Trail ride

You made it to Borneo! You'll have some time to settle in your hotel before meeting your group and guide for the first adventure of your Borneo cycling tour. You'll pedal off through the vibrant main square of the old part of the city, getting a chance to peruse the Main Bazaar for snacks or souvenirs. Cross the river on a sampan ferry steered with oars to reach Fort Margherita, built by Charles Brooke in 1879 and named after his wife. Don't worry, those cannons aren't loaded anymore! Then, it's off for a relaxing sunset dinner on the bank of the Sarawak River.
Overnight Location: Hotel in Kuching
Distance: 12 km
Meals: Dinner
Day 2

Ride to Bako National Park

Day 2 begins with a ride to the gorgeous Bako National Park. On the way, you'll ride through the quaint fishing village of Kampong Muara Tebas, where a tasty seafood lunch awaits. Spend some time exploring the neat, century-old temple perched over Bako Bay. Once you reach Bako, you've got a full day of trekking and wildlife finding ahead! Your guide will help you find proboscis monkeys, wild birds, and fascinating plant species. Keep an eye out for the park's signature rock formations on the beach. Then, you can enjoy another evening trek into the park to find nocturnal animals before settling into bed.
Overnight Location: Lodge in Bako National Park
Distance: 32 km
Meals: Lunch, Dinner
Day 3

Boat ride to Santubong National Park

Two boat trips? We're getting spoiled on this trip! Today, your tour of Borneo continues towards the beautiful Mount Santubong. Keep an eye out for migratory birds along the coast. You'll get comfortable at the jungle resort, which overlooks the beach. Grab lunch before heading to the Santubong waterfall, where you can don your swimsuit and enjoy the cool water. You'll then jet off on the boat through the nearby mangroves to find animals and exotic birds.
Overnight Location: Resort in Permai Rainforest
Distance: None
Meals: Breakfast, Lunch, Dinner
Day 4

Cycle to Kubah National Park

The next leg of your cycling tour of Borneo starts with an early morning breakfast next to the beach before hopping on the bike to head towards Kubah National Park. You'll ride through lush mangrove forests along the way that teem with animals. Once you make it to the park, enjoy lunch before setting off to hike the waterfalls nearby. You'll see stunning wild orchids of every colour, Bornean frogs, and other creatures. Enjoy a dip in the water before heading back to the park chalet for dinner. Feel free to take a night walk along the jungle river to find some night-dwelling animals, or just enjoy relaxing at the lodge.
Overnight Location: Lodge in Kubah National Park
Distance: 43 km
Meals: Breakfast, Lunch, Dinner
Day 5

Boat ride & cycle to Orangutan Sanctuary

After breakfast, head out towards the South China Sea to begin your boat ride to Talang-Satang National Park. Along the way, you can stop at the turtle hatchery to learn about local conservation work and see adorable baby sea turtles. On the island, spend some time soaking up the sun on the white sand beach and snorkeling in the warm waves. After a beach picnic, you'll hop on the bike for a ride to Matang Wildlife Center. Here, you can get up close to orangutans, sun bears, Sambar deer, and hornbills. Another night jungle walk awaits for the bold after dinner.
Overnight Location: Lodge in Matang Wildlife Center
Distance: 29 km
Meals: Lunch, Dinner
Day 6

Ride to Gunung Gading National Park

The next leg of your cycling adventure through Borneo follows the coastline to the Sampadi River. Along the way you'll pass remote beaches, peat swamp forest, and many species of local birds. Once you get to the river, you and your bike will cross on a neat car ferry to continue riding on the other side. You'll stop in Lundu for lunch with an ocean view, and then ride the last leg to Gunung Gading National Park. You might be able to spot (hopefully not smell) a blooming Rafflesia, the largest and smelliest flower in the world. The ride ends at a pretty oceanside resort, where you can spend the evening cooling off in the pool with sunset views over the beach.
Overnight Location: Resort in Lundu
Distance: 64 km
Meals: Breakfast, Lunch, Dinner
Day 7

Ride to Sematan

Day 7 begins with breakfast near the pool before you'll depart along the seaside. You'll cycle to Sematan, a lovely town with a busy fish market. Enjoy lunch by a waterfall before your final cycling stretch along a stunning white sand beach to tonight's oceanside resort. You'll enjoy dinner while the sun sets over the water.
Overnight Location: Resort in Sematan
Distance: 36 km
Meals: Breakfast, Lunch, Dinner
Day 8

Transfer to Kuching

Today, enjoy the beautiful beach before it's time to be transferred back to Kuching. A generous seafood dinner awaits to celebrate the end of your journey.
Overnight Location: Hotel in Kuching
Distance: None
Meals: Breakfast, Lunch, Dinner
Day 9

Goodbye, Borneo!

All too soon, it's time to head home. Enjoy a final breakfast before your transfer to the airport in Kuching. Safe travels!
Overnight Location: None
Distance: None
Meals: Breakfast

Book Now
Ultimate Borneo Wildlife Bike Safari Price and Dates
Pricing for this guided cycling tour of Borneo depends on whether you choose to join an existing group on a specific date or if you prefer a custom tour for your group only.
The Ultimate Borneo Wildlife Bike Safari tour is available in March, April, June, August, and September. All of these months fall in Borneo's dry season, so you can ride without worrying too much about getting rained on.
Private Guided Ultimate Borneo Wildlife Bike Safari tour
Have your own private tour with just your group! Please contact us with your preferred date and the number of people in your group and we will create the itinerary just for you.
Join a Group Tour on the Ultimate Borneo Wildlife Bike Safari Tour
Have your own private tour with just your group! Prices below are per person:
Accommodation on the Ultimate Borneo Wildlife Bike Safari Tour
This tour is based in 3-star hotels, national park lodges, and resorts. The lodges offer unique rooms with great locations. Rooms are double occupancy, and single travellers will pay a supplement.
In some cases, the accommodation listed below may need to be substituted for other, comparable accommodations.
Single Rooms and Solo Travelers
You can pay a supplement of $295 USD have a private room in a hotel. Contact us and we can try and match single travellers up where possible.
Hotels on Standard Tour
What's Included in the Ultimate Borneo Wildlife Bike Safari Tour?
Meals
6 breakfasts, 7 lunches, and 8 dinners are included.
Accommodations
Accommodation for 8 nights is included.
Transportation during the Tour
Personal and luggage transfer during the tour is included, as well as airport transfers.
Also Included
English-speaking guide
Entrance fees to national parks and historical sites
Support vehicle on cycling sections
Bike rentals, including helmet
Rain poncho if needed
Not included
Travel insurance
Travel to and from Kuching
Lunches and dinners or drinks and snacks not previously mentioned
Tourist taxes if applicable
Personal equipment
Optional Extras
Any additional nights before or after tour
Bike rental: $150 USD per person
Frequently Asked Questions about Ultimate 9-Day Borneo Wildlife Bike Safari
Paradesa Borneo is a boutique adventure tour operator in Borneo, allowing guests to explore the rural areas and natural wilderness of Borneo. Their tours go off the beaten path, showcasing the best of Borneo's beauty.
Paradesa prefers to take you away from well-trodden tourist attractions and into the incredible natural world. They focus on responsible and sustainable travel in all endeavors.
Paradesa has cultivated meaningful relationships with locals, supporting their environmental initiatives and using their tours to contribute to the local economy. These partnerships make for amazing cultural exchanges and exceptional authenticity in their adventures.
Learn More
Is this tour for me?
We rate this tour as a 3 / 5. You will cycle between about 30 and 60 kilometres per day along both paved roads and off-road trails. You should be reasonably fit and comfortable on a bike to get the most out of this tour.
Local Guide
Ask a Question
Got any questions regarding the tour? Interested in promotions for groups or want to customize this tour to fit your needs? We are here to help you!
Ask a question
SALE! Well, not yet.
Let me know when this trip goes on sale.
Notify me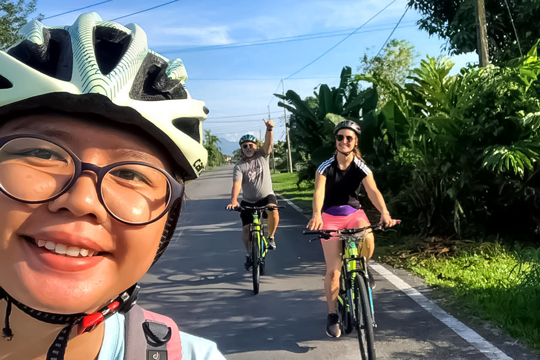 Delilah
Kuching, Malaysia
Delilah is a favourite in Paradesa's TripAdvisor reviews, welcoming guests with warmth and humour. She has been guiding since 2018 and loves every day of her work. Delilah most loves sharing the heritage and culture of Borneo, as well as taking guests to hidden places normally only visited by locals.
Q & A
Q:

What is your favourite trip to do and why?

A:

Longhouse trips! As a member of the tribe myself, I'm able to share and show the ways of my people in depth. Guests get to see the real deal: how they eat, how they live, how they work, their beliefs. It's a firsthand experience.

Q:

What are guests most surprised about when visiting Borneo?

A:

Very friendly locals who always say hello even if you are a complete stranger. That, and how fluent the locals are in English! Also, the fact that Kuching is so clean, even with all that urban hustle and bustle going on.

Q:

What has your most unforgettable experience while guiding been?

A:

Taking care of an 80+ year old rider on one of our 14-day cycling holidays. The routes are challenging, and he finished the whole thing without faltering. I have such great respect for that man.