Experience a 7-day self-guided pilgrimage on Italy's Via Francigena route
A journey on the Via Francigena is like traveling back in time, and this self-guided routes takes you from Viterbo to Rome. Walk between lovely historic villages and through scenic Lazio countryside before reaching the incomparable city of Rome. This tour along the Via Francigena combines history, culture, nature, adventure, tradition, and great food into one amazing experience.
Discover why pilgrims and tourists from around the world are drawn to walk the historic and scenic Via Francigena through the Italian countryside, ending at St. Peter's Square in Vatican City, nestled in the heart of Rome. Surround yourself with art, culture, architecture and history as you explore small villages and medieval towns along the way.
The Lazio countryside and the Veio Nature Park are full of beautiful panoramic vistas to inspire and encourage you along your journey. Enjoy a refreshing dip in the Monte Gelato waterfalls near the village of Monterosi. Your self-guided walking tour on the Via Francigena lets you set the pace and explore freely without worrying about details such as accommodations or luggage transfers. This tour is the perfect way to explore Italy, so don't miss it!
Via Francigena
Known as "The road that comes from France," the Via Francigena is an ancient road and pilgrimage route that connected the city of Canterbury in England to Rome and the Apulia region in Italy. Here, pilgrims would gain access to the ports that would take them across the Mediterranean from Europe to the Holy Land. The name Via Francigena was first mentioned in writing in 867CE; however, other names, such as "The Lombard Way" and "The Frankish Route" were likely used earlier.
The route differs from earlier Roman Era roads, in that the Via Francigena was not a single paved road with mile markers. Instead, the route represents a general throughway that changed over the course of centuries based on various political, economic, and religious factors. The Via Francigena also relied largely on religious sites for its direction, connecting abbeys along the pilgrimage route rather than cities, as was the custom with Roman roads.
Highlights of the Via Francigena from Viterbo to Rome
Visit well-preserved medieval towns such as Sutri, Vetralla, and Formello.
Experience the natural beauty of Veio Natural Park and the Lazio countryside.
Enjoy world-famous Italian art, history, culture, and cuisine in rural villages and major cities alike.
Complete your journey in the spectacular St. Peter's Square beside St. Peter's Basilica in Vatican City.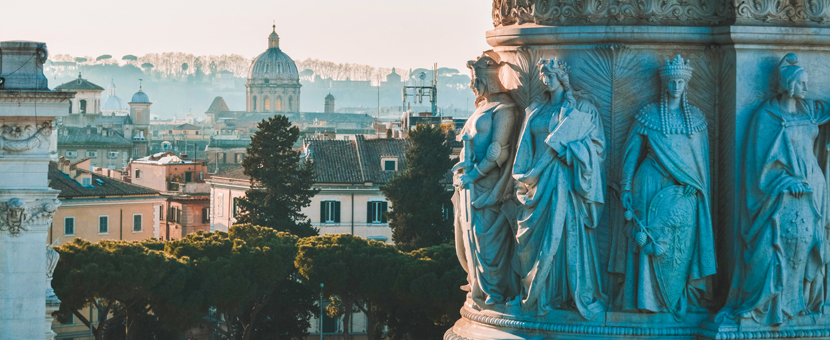 Via Francigena from Viterbo to Rome Tour Itinerary
Day 1

Arrive in Viterbo

Arrive in Viterbo today and check in to your hotel. If time permits, explore Viterbo, which is one of central Italy's best-preserved medieval cities. The first papal conclave took place here and the Palazzo dei Papi (Papal Palace). Visit Viterbo's oldest church, Santa Maria Nuova, from the 11th Century, as well as the important Cathedral of St. Lorenzo, which was built on an ancient temple to the pagan god Hercules. For dinner, enjoy a typical Tuscan dish such as acquacotta for a delicious start to your tour.
Overnight Location: Hotel Tuscia in Viterbo
Distance: None
Meals: None
Day 2

Walk to Vetralla

Begin your walk today in Viterbo with a warm up segment of only 16 km to reach Vetralla. Vetralla has been famous since antiquity for its public thermal baths and you're sure to enjoy your visit to this rural medieval village. Nearby are the lovely Lake Vico and Monte Fogliano mountain (965 m / 3,166 ft). You can also visit the Church of San Francesco, the neoclassical Duomo, and the Palazzo Comunale during your time in Vetralla. When it's time for dinner, be sure to try a local delicacy such as fettuccine with a porcini mushroom sauce or pappardelle with bolognese sauce. Add an aperitif and a starter of local bread dipped in local oil.
Overnight Location: Alberga da Benedetta in Vetralla
Distance: 16 km
Meals: Breakfast, Dinner
Day 3

Walk to Sutri

As you leave Vetralla, walk through an area of magnificent natural beauty, including a magical forest of oak and hazelnut trees. When you arrive at Sutri, entering the medieval town through its fortified walls is like stepping back in time. The Italian Touring Club (TCI) has awarded this village an orange flag of excellence due to its incredible preservation of the town's history. There is much to see here, and depending on how much time you have available, you may want to visit the Charlemagne Castle, the Roman amphitheater, the frescoes of the Madonna del Parto church, or the tombs of the Roman necropolis.
Overnight Location: Hotel Agriturismo Montefosco in Sutri
Distance: 24 km
Meals: Breakfast, Dinner
Day 4

Walk to Campagnano

Immerse yourself in nature today as you walk through the beautiful Lazio countryside. Near Monterosi Village, you'll find a lake covered with water lilies. Continue along the path to the incredible Monte Gelato waterfalls. Rest here in this idyllic location and take a refreshing dip in the clear waters before resuming your walk. Enter the Veio Nature Park and walk along the banks of the river until you reach the hilltop village of Campagnano. Spend the night here after a day saturated with overwhelming natural beauty.
Overnight Location: Hotel Da Righetto in Campagnano
Distance: 27 km
Meals: Breakfast, Dinner
Day 5

Walk to Isola Farnese

Make your way from Campagnano to the small village of Isola Farnese along a path through Veio Nature Park that rewards your efforts with stunning panoramic views. You'll see a medieval church called the Madonna del Sorbo Sanctuary, which gets its name from the beautiful valley it is nestled in. The route passes through yet another medieval village called Formello before finally arriving in Isola Farnese. Notice the medieval castle here from the 13th Century. Spend a peaceful night in this remote location that gets its name from its isolated position between two valleys.
Overnight Location: Hotel Tempio di Apollo in Isola Farnese
Distance: 22 km
Meals: Breakfast, Dinner
Day 6

Walk to Rome

Complete your journey today with an amazing walk from Isola Farnese to the incomparable city of Rome. Leave the tranquility of the rural countryside behind as you enter the suburbs of this massive city. Make your way through the ancient streets full of modern traffic to arrive in Vatican City. The Via Francigena officially ends in the spectacular St. Peter's Square beside the world-renowned St. Peter's Basilica. Rome is a magnificent city, full of many famous attractions such as the Colosseum, the Pantheon, and a plethora of beautiful fountains and squares. Rome attracts visitors from around the world with its history, art, architecture, and cuisine. If you'd like to fully experience this rich city, consider extending your tour to stay longer and explore on your own.
Overnight Location: Hotel Trastevere in Rome
Distance: 19 km
Meals: Breakfast
Day 7

Departure Day

Sadly, your walking tour on the Via Francigena from Viterbo to Rome has come to an end. Unless you have opted to extend your stay in Rome, check out of your hotel after breakfast and begin your onward travels. Have a wonderful journey!
Overnight Location: None
Distance: None
Meals: Breakfast

Book Now
Via Francigena from Viterbo to Rome Tour Price and Dates
This self-guided walking tour to Santiago de Compostela is always run as a private tour for your group only. The price always depends on the number of people sharing a room.

Prices below are per person:
Price per person staying in single room: $850 USD
Price per person staying in double room: $695 USD
Price per person staying in triple room: $625 USD
Book Now
Accommodation on Via de la Plata Pilgrimage Tour
This tour is based in 2- and 3-star hotels which offer modern conveniences that can make this trip more comfortable. Rooms may have fireplaces or access to amenities such as hot tubs, steam rooms, or private decks to lounge on. Rooms are double occupancy, and single travelers will pay a supplement.
In some cases, accommodation listed below may need to be substituted for other, comparable accommodations.
Single Rooms and Solo Travelers
You can pay a supplement of $175 USD to have a private room in a hotel. Contact us and we can try and match single travelers up, where possible.
Hotels on Standard Tour
What's included in the Via Francigena from Viterbo to Rome Tour?
Meals
6 breakfasts and 4 dinners are included.
Accommodations
Accommodations for 6 nights along the tour are included.
Transportation during the Tour
Luggage transfers for this tour are included but no transportation is included.
Also Included
24/7 phone assistance
Pilgrim passport
Walking notes
Not included
Guide services
Insurance
Personal expenses
Transport
Optional Extras
Extra night in Viterbo before the tour
Extra night in Rome after the tour
Frequently Asked Questions about Via Francigena from Viterbo to Rome
Galiwonders is a specialist tour operator, focusing on pilgrimages along the Camino de Santiago in Spain and Portugal as well as the Via Francigena in Italy. They offer adaptable tours to suit a variety of client needs and focus on truly taking care of their guests.
The tour guides are local experts, living and working right along the Camino. They have visited each hotel and restaurant they recommend, ensuring each is up to standard.
Galiwonders offers constant contact with their guests, ensuring all concerns or questions are addressed immediately so you can relax and enjoy your trip.
Learn More
Is this tour for me?
We rate this tour as a 3 / 5, though it is a hard 3/5, due to one day with a distance of 27 km (17 miles). You should be able to walk 20+ km (12 miles) and be comfortable pushing that distance on a couple of the days on this tour.
Local Guide
Ask a Question
Got any questions regarding the tour? Interested in promotions for groups or want to customize this tour to fit your needs? We are here to help you!
Ask a question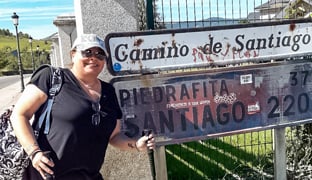 Margot
Santiago de Compostela, Spain
Margot is a new guide with Galiwonders, and loves sharing her pride in her home region of Galicia with visitors. She enjoys sharing the history, stories, legends, and unknown information with tourists to connect them deeply with the region they're in.
Q & A
Q:

What is your favourite trip to lead and why?

A:

Any trip around Galicia. Fortunately, I have had the chance to travel far and wide, I've visited many counties, many cities, all beautiful and with something special, but I guess the saying "the heart is where home is" is applicable to me.

Q:

What are guests most surprised about in visiting your country?

A:

Tourists usually have a preconceived idea of what Spain is like, and when they are here they are surprised to see that how they thought it was had no similarity to that notion. I find this is especially true with Galicia. The most common ide they have is that it's all Flamenco, bulls and polka dot dresses. That is just in Andalucia, and in Madrid, for tourists. Each region has its own unique traditions and folk culture.

Q:

What is one experience anybody visiting your country should do?

A:

El Camino de Santiago. It does not matter what religion you belong to. It is the sentiment, the relaxation, the feeling of wholeness one senses while on the Way. It's the goal of accomplishing a pilgrimage for whatever the reason one may have, reaching the end of the road where all roads meet. Along the way you make friends with people from all over the world, the group gets larger and larger, some speak Spanish, others French, others English, even Chinese. It's a wonderful multiracial group, and once you all reach Plaza do Obradoiro in Santiago de Compostela, you all embrace. Everyone's jumping and laughing with sore, bruised feet and sweaty clothes for having accomplished the challenge, feeling so good and wondering why the rest of the world does not embrace this experience.