Indulge in an unforgettable 10-day cycling journey in northern Vietnam
There's no other way to say this: this is the trip of a lifetime. If you've been curious about Vietnam and interested in cycling around a country, this tour is the top choice. Spend 10 phenomenal days cycling around northern Vietnam, viewing its highlights and learning what makes it unique.
Begin in Hanoi, where French colonialism and Vietnamese tradition collide in beautiful chaos. The buzz of this city is palpable, and that's not just because they have a whole street dedicated to coffee!
Spend the first two days getting acquainted with this enchanting place, walking around Hoan Kiem Lake, and visiting the main attractions. Don't forget to sip some bia hoi (fresh beer) on the popular Beer Corner—just pull up a plastic chair like everyone else and get your draught.
On Day 3, your cycling journey begins as you set out towards the Mai Chau Valley, an area that looks like a dinosaur may saunter around a mountain corner at any moment. You will cycle through breathtaking landscapes of limestone mountains covered in moss, rice paddies as far as you can see, and farmers among them with the iconic triangular hats.
After a couple of days pedaling through stunning nature reserves and Cuc Phuong National Park, you will head to the coast to embark on an overnight cruise in the UNESCO World Heritage Site of Halong Bay. This overnight journey will open your eyes to a magnificent world of majestic pillars coming out of the vivid sea, and don't miss the sunset and sunrise from your boat!
Cycle-touring Vietnam is, hands down, one of the best ways to experience this country. Treat yourself to this guided cycling tour with full local support and an incredible detailed itinerary for you to the best parts of northern Vietnam efficiently and comfortably.
Highlights of the Cycling Hanoi to Halong Bay Tour
Pedal through endless idyllic terraced rice paddies dotted with grazing water buffalo.
Visit stunning nature reserves, some of which are UNESCO World Heritage Sites.
Treat yourself to the delectable Vietnamese cuisine as you cycle through this vibrant country.
Relax on board a ship in Halong Bay, sipping bia hoi (fresh beer), watching an epic sunset over the massive limestone pillars jutting out of the sea.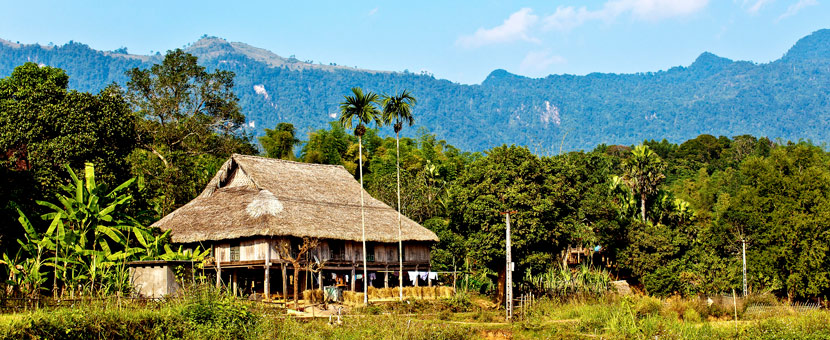 Cycling Hanoi to Halong Bay Tour
Day 1

Arrival in Hanoi

Welcome to Vietnam! Your group will meet at the hotel in the afternoon for a briefing from your local Vietnamese guide. Settle into your hotel room then depart for an evening walking tour of Vietnam's charming capital city. With many alleyways and adorable haunts to admire, you'll get an excellent introduction to colonial influences blended with native traditions in this lovely city. Take a moment to admire the central Hoan Kiem Lake, which acts as the capital's heart. Return to your hotel for your first night—and be careful crossing the street!
Overnight Location: Hotel in Hanoi
Distance: None
Meals: Dinner
Day 2

City Tour of Hanoi

Hanoi is a charming mix of colonial architecture and Vietnamese tradition. Today after breakfast, you'll discover its highlights like the Temple of Literature inside the country's oldest universities. Then, wander through the Old Quarter's narrow streets packed with eclectic crafts and goods for sale. Return to the hotel after lunch and pick your trusty bicycle for the rest of the week and hear the details from your guide about the exciting week of riding ahead. Get a good night's sleep in Hanoi—maybe go out for a drink on one of the many plastic chairs and tables that line the streets at night and feel like a local.
Overnight Location: Hotel in Hanoi
Distance: None
Meals: Breakfast, Lunch, Dinner
Day 3

Cycle Thung Khe Pass to Mai Chau

Your first day of cycling will bring a challenge, but the effort is worth the reward. You receive transport to the starting point to avoid cycling on the highway. Start climbing through lush green mountains and over the incredible Thung Khe pass with magical views of Hoa Binh Lake. Stop at a waterfall for a refreshing dip, then continue towards Mai Chau situated in a beautiful green valley. This authentic village is populated with the Vietnamese Thai minority. You'll spend the night with a homestay family here, allowing you to engage with the locals and learn about their traditions. Get a good night's sleep after a challenging day of riding.
Overnight Location: Hotel in Mai Chau
Distance: 4–6 hours, 40–70 km, 320 m of ascent, 560 m of descent
Meals: Breakfast, Lunch, Dinner
Day 4

Explore Mai Chau Valley

Fuel up on breakfast and a delicious Vietnamese iced coffee, ca phe sua da. You have the whole day to explore Mai Chau and the small villages in the surrounding valley. Aside from the region's natural magnificence, it is packed with northern Vietnamese culture and traditions. Stop in one of the many villages to say hello, have a snack, and listen to the locals' stories. The area is breathtaking, and riding a bike around is one of the best ways to admire it. See the vivid green terraced rice paddies, bamboo stilt houses dotting huge grass fields, all while surrounded by karst mountains and lush foliage. Return to your hotel in Mai Chau for the night.
Overnight Location: Hotel in Mai Chau
Distance: 5 hours, 50 km, 550 m of ascent, 550 m of descent
Meals: Breakfast, Lunch, Dinner
Day 5

Ride to Pu Luong National Park

Once you finish breakfast, hop on your bike to descend deeper into the gorgeous Mai Chau Valley. Enjoy the quintessential Vietnamese landscapes as you make your way to Pu Luong National Park. Once here, you'll witness the phenomenal limestone pillars comprising the landscape before you. Keep watch for the variety of foliage here—over 1000 plant species are listed for the area. Spend the night in a traditional, yet luxurious, stilt house near the park.
Overnight Location: Hotel in Pu Luong Retreat
Distance: 5–6 hours, 50 km, 170 m of ascent, 750 m of descent
Meals: Breakfast, Lunch, Dinner
Day 6

Van Long Nature Reserve + Cycle to Ninh Binh

Get a short break for your legs in a private transfer to today's cycling route in Cau Tram. You'll pedal through fragrant plantations for the morning until stopping for lunch in a local eatery. Visit the serenity of Van Long Nature Reserve in the afternoon and ride into Ninh Binh province. Stunning limestone pillars and rivers abound in this naturally splendid area. Take a boat ride down one of the shallow rivers with a guide who will likely be wearing an iconic triangular hat for sun protection. Enjoy the peaceful journey on the water, admiring the sky's reflection in the water, making the landscapes look as if they were painted. Once the boat ride comes to an end, get on your bike to ride to your hotel in Ninh Binh for the night.
Overnight Location: Hotel in Ninh Binh
Distance: 5 hours, 50 km, minimal elevation gain
Meals: Breakfast, Lunch, Dinner
Day 7

Cycle Tour Cuc Phuong National Park

Today, you'll receive a transfer in the morning to the Dinh Le Temple to start your route. Ride through the picturesque areas of Trang An and Tam Coc, and stop here for lunch. The afternoon will be devoted to exploring the tremendous Cuc Phuong National Park—if you want to immerse yourself in nature, now is your chance! Cycle through truly stunning jungle landscapes replete with cascading waterfalls, rivers, giant trees for a shady exploration, and even some cheeky monkeys. The native Muong people remain living near the park—consider purchasing some souvenirs from them to support their work in preserving their traditions and culture. Once your park tour is complete, take a private transfer to the hotel in Ninh Binh.
Overnight Location: Hotel in Ninh Binh
Distance: 6 hours, 60 km, 218 m of ascent, 225 m of descent
Meals: Breakfast, Lunch, Dinner
Day 8

Boat Cruise in Halong Bay + Overnight Aboard

Enjoy your breakfast in Ninh Binh, and hop on your bike for a short ride this morning. Riding through the Thai Binh province, you end up at Haiphong, a large port city on Pacific Ocean. Leave your bike behind for a day as you embark on a cruise around the famous Halong Bay. You will be blown away by the splendor of this place. The idyllic location comprises 1,900 limestone islands only accessible by boat and uninhabitable—it's no wonder it has earned a spot as a UNESCO World Heritage Site. You'll have plenty of time to enjoy the views spending the night on the boat. Lunch and dinner will consist of freshly-caught seafood, the latter accompanied by an unparalleled view of the sunset from the boat's upper deck. Onboard, you'll get a chance to watch an evening fishing session before you settle into your cabin for the night.
Overnight Location: Overnight on Boat in Halong Bay
Distance: 3 hours, 30 km, minimal elevation gain
Meals: Breakfast, Lunch, Dinner
Day 9

Morning Cruise in Halong Bay + Return to Hanoi

Don't miss your chance this morning to witness the sunrise over the vivid waters of Halong Bay. Your guide will navigate through the bay in the morning and return you to a port to disembark. You'll then enjoy a ride to Hanoi, arriving in the afternoon with free time to shop for final souvenirs before a group farewell dinner.
Overnight Location: Hotel in Hanoi
Distance: None
Meals: Breakfast, Dinner
Day 10

Farewell

Indulge in a final ca phe sua da (Vietnamese iced coffee) with breakfast. Make your own way either to the airport or your next destination on your adventure in Vietnam.
Overnight Location: None
Distance: None
Meals: Breakfast

Book Now
Cycling Hanoi to Halong Bay Tour Price and Dates
This guided tour in Vietnam is always run as a fixed-departure tour, therefore the prices are fixed. Standard prices are per person staying in a double or twin room; however, single rooms are available for a surcharge.
The best time to travel to Vietnam for hiking and biking is from October to March, as well as April and May (hot season), and June to August (green season with occasional rains).
Dates and prices to join a group on Cycling Hanoi to Halong Bay Tour
Make new friends by joining a guided group for this tour! Prices below are per person staying in a double room:
Accommodation on Cycling Hanoi to Halong Bay Tour
This tour is based in 3- and 4-star hotels with modern amenities that make this trip more comfortable. You will also spend one night aboard a ship in Halong Bay. Rooms are double occupancy, and single travelers will pay a supplement.
In some cases, the accommodation listed below may need to be substituted for other comparable accommodations.
Single Rooms and Solo Travelers
You can pay a supplement of $295 USD to have a private room in a hotel while traveling with your group. Contact us and we can try and match single travelers up, where possible.
Hotels on Standard Tour
What's included in the Cycling Hanoi to Halong Bay Tour?
Meals
9 breakfasts, 7 lunches, and 9 dinners are included.
Accommodations
Accommodation for 9 nights is included in the tour.
Transportation during the Tour
Transport for your luggage is included throughout the tour. A support vehicle will be available on cycling days in case of an emergency.
Also Included
Bicycle + helmet on cycling days
Entrance and sightseeing fees
Boat rental for Halong Bay cruise
Local English-speaking guides
Snacks and water on cycling days
Not included
Meals and drinks not mentioned in itinerary
Flights
Insurance
Visa fees upon arrival in Vietnam
Anything not mentioned as "Included"
Tips + personal expenses
Optional Extras
Frequently Asked Questions about Cycling Hanoi to Halong Bay Tour
Easia Active is a subsidiary of Easia Travel, a boutique tour operator based in South-East Asia, and dedicated to sharing the best active adventures in Vietnam, Laos, Cambodia, Myanmar and Thailand. Easia Travel was founded in 2000 in Vietnam, with a vision to "Make Asia Easy for You!" by allowing guests to experience the best of Asia. Find great hiking, cycling and other active adventures in SE Asia with Easia Active.
Learn More
Is this tour for me?
We rate this tour as a 3 / 5. You should be comfortable riding a bicycle for up to 6 hours daily on moderate terrain.
Ask a Question
Got any questions regarding the tour? Interested in promotions for groups or want to customize this tour to fit your needs? We are here to help you!
Ask a question
SALE! Well, not yet.
Let me know when this trip goes on sale.
Notify me