Visit the iconic national parks of the Southwestern USA on a winter road trip
The southwestern United States is a spectacular area of contrasting landscapes, from the rugged Pacific coast and glittering cities to the wild canyons of Utah's Colour Country. The Winter in the American West Self-drive Tour is an unreal self-guided road trip through some of the most beautiful landscapes of the southwest, from the coast to the desert.
During the winter months, you'll be able to enjoy spots like the Grand Canyon, and Zion National Park without the crowds of people. Travel on parts of route 66 and the Pacific Coast Highway to experience two of America's most famous road trip highways. You'll also have time to explore LA, Las Vegas, San Diego, and Phoenix in between your adventures in nature. You'll love the incredible scenery, and amazing cities included on this epic road trip that truly shows off the best of the southwest.
Highlights of the Winter in the American West Self-drive Tour
Visit sunny California for a bit of vitamin D with stops in Los Angeles and San Diego.
Enjoy fewer crowds and stunning snowy landscapes as you visit iconic western national parks during the winter.
Discover the laidback artistic atmosphere and dramatic landscapes of Sedona and Phoenix.
See incredible canyons and colours of Antelope and Bryce canyons and Zion National Park.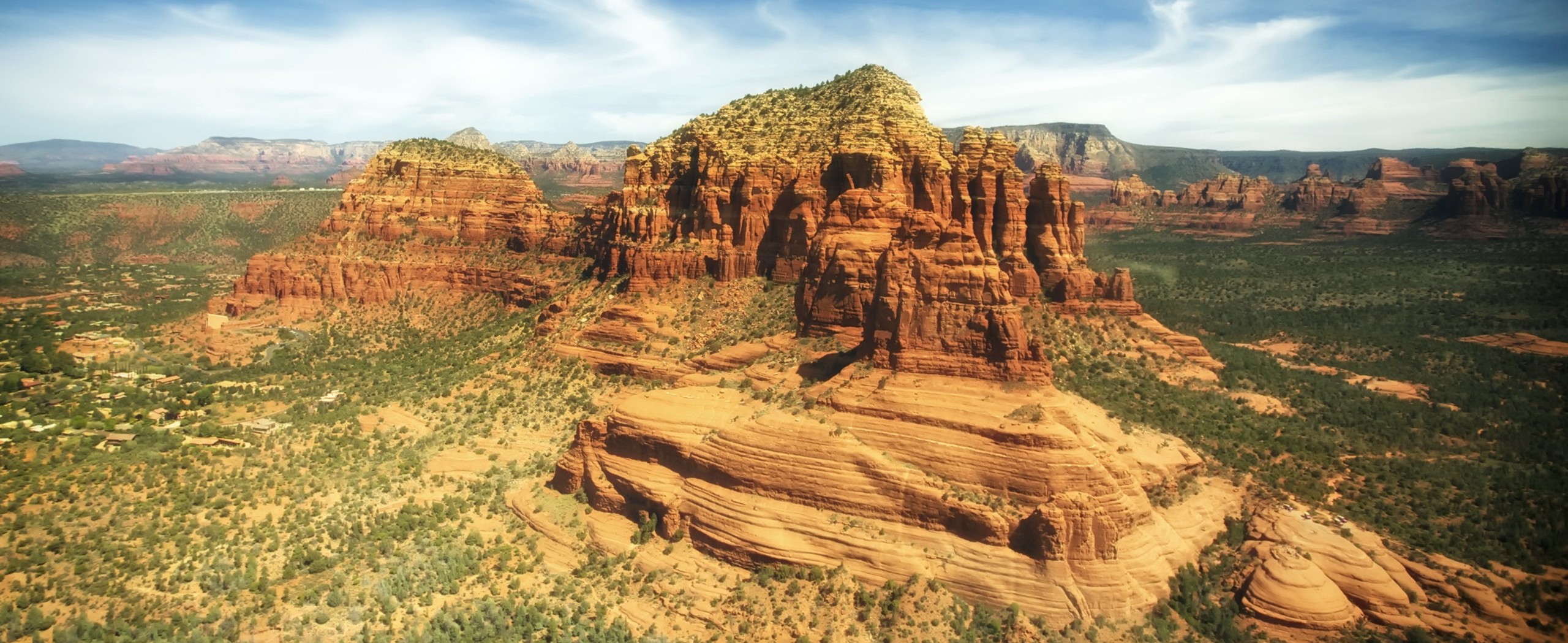 Winter in the American West Self-drive Tour Itinerary
Day 1

Arrive in Los Angeles

When you arrive in Los Angeles, you can pick up your rental vehicle from the airport and start exploring the city right away. Cruise down Rodeo Drive and visit the Walk of Fame and the Hollywood sign for a few iconic photos. You can take in the fantastic views from the Griffith Park Observatory or visit Santa Monica Pier and Venice Beach- nothing welcomes you to La like walking beachside along streets lined with pastel buildings.
Overnight Location: Hotel in Los Angeles
Distance: None
Meals: None
Day 2

Road Trip to the Desert

In the morning you'll hit the road and start your drive into the desert. You'll travel through mountains, valleys, rolling sand dunes, and coloured canyons on your way to Death Valley. Take a hike up the Mesquite Flat Sand dunes near Stove Pipe Wells to explore the unique and beautiful landscapes.
Overnight Location: Hotel in Death Valley
Distance: 267 miles
Meals: None
Day 3

Explore on Your Way to Las Vegas

Take your time on your drive to Las Vegas, discovering the pink, yellow, and green rocks at Artist Palette, then visit the Badwater Salt Flats which are the lowest point in the US. It feels like an alien planet in the middle of the flats!

Take a hike to view the rock formations in the Devil's Golf Course and take in the views of the park from Dante's View. When you arrive in Las Vegas you'll want to explore the opulent hotels and casinos that line the famous Vegas strip.
Overnight Location: Hotel in Las Vegas
Distance: 140 miles
Meals: None
Day 4

Discover the Canyons and Rock Formations of Zion

In the morning you'll drive to Zion National Park and spend the day exploring the spectacular canyons and fairy chimneys that make this area so fascinating.

From the Zion Canyon Scenic Drive, you can take some of the trails to visit the slot canyons. The Riverside Walk goes to the bottom of the Narrow Canyon, or the Hidden Canyon trail will take you to the beautiful Emerald Pools.

At the end of the day, you'll drive to Mount Carmel to find your hotel and possibly the local herd of bison.
Overnight Location: Hotel in Mount Carmel
Distance: 175 miles
Meals: None
Day 5

Snowshoe in Bryce Canyon National Park

As you drive towards Bryce Canyon, you'll notice the beautiful contrast between the colourful rock peeking out of the sparkling snow. You can rent a pair of snowshoes to explore the trails that wind through the hoodoo rock formations or go for a hike. You can also book a guided hike with a park ranger when you arrive.
Overnight Location: Hotel in Bryce
Distance: 67 miles
Meals: None
Day 6

Visit Lake Powell

Early risers may want to go for a sunrise hike, however, the views from Sunrise and Inspiration Point are beautiful any time of day. Then you'll head to Glen Canyon to visit the spectacular Lake Powell, where you can relax and take in the quiet scenery. Go for a hike to Horseshoe Bend and admire the spectacular view of the Colorado River snaking through sheer canyon walls.

End another beautiful day with a breathtaking sunset that you can watch from Wawheap Viewpoint before heading to your hotel in Page.
Overnight Location: Hotel in Page
Distance: 145 miles
Meals: None
Day 7

Explore Antelope Canyon

In the morning you'll take a guided tour of Antelope Canyon, a spectacular natural formation made of brilliantly coloured sienna cathedrals, arches, and narrow passages that have formed over thousands of years. Expect today to be breathtaking!

After your explorations in Antelope, you'll visit another Navajo site in Monument Valley. Here you'll find massive red and orange rock formations rising above the valley floor. The park closes early during the winter months so you may have just enough time to watch the sunset behind the monoliths before you head to your hotel.
Overnight Location: Hotel in Kayenta
Distance: 130 miles
Meals: None
Day 8

Visit Monument Valley and the Grand Canyon

Start today with a scenic drive to explore Monument Valley. You'll visit some of the iconic rock formations including Elephant Butte, Three Sisters, and Camel Butte. Stop at John Ford Point and Artist Point to take the perfect souvenir photos. If the weather and roads are bad, you can opt to take a guided tour before you drive to the Grand Canyon.

Take the Desert View drive for amazing views of the Colorado River and Cedar Canyon. If you arrive with enough time you can hike part of the Rim Trail that follows the dramatic edge of the canyon.
Overnight Location: Hotel in Grand Canyon
Distance: 180 miles
Meals: None
Day 9

Drive Historic Route 66 and Visit Sedona

Spend the morning exploring some Grand Canyon trails! You can also rent fat bikes and ride over the ice and snow to discover more of the canyon. From here, you'll drive south to Sedona, stopping in Flagstaff to see some of the historic hotels that still line the famous Route 66.

When you arrive in Sedona you can stroll through the Tlaquepaque, an artist's village with Mexican influence. Visit Red Rock State Park for some leisurely hikes and then end your day at Red Rock Crossing to watch the sunset over Cathedral Rock, where the view over the dramatic desert landscape is one you'll never forget.
Overnight Location: Hotel in Sedona
Distance: 81 miles
Meals: None
Day 10

Explore Phoenix and Scottsdale

This morning you can visit Montezuma Castle National Monument, which is an amazingly preserved Native American cave site. Then you can start your drive to Phoenix, where you'll be met with beautiful mountains and sunshine! When you're in town you can visit the Roosevelt Row Art District to wander the eclectic shops, or the Heard Museum to learn about the First Nations who are indigenous to this region.

Next, you can head to Papago Park and take a hike on one of the trails that lead to Hole-in-the-Rock and the Desert Botanical Garden. You can hike Camelback Mountain for an amazing view of the city or visit the shops and restaurants of Scottsdale's historic district.
Overnight Location: Hotel in Phoenix
Distance: 116 miles
Meals: None
Day 11

Road Trip to the Coast

Today you'll have a long drive ahead of you as you journey to the coast. On your way, you can stop at Yuma, the gateway to Mexico on the Arizona and California border.

Once you make it to the ocean, take a moment to enjoy the coastal sea air and the San Diego sunshine when you arrive. Stretch your legs on a walk in Little Italy to browse the cafes, craft breweries, shops, and galleries.
Overnight Location: Hotel in San Diego
Distance: 355 miles
Meals: None
Day 12

Drive the Famous Highway to LA

Go for a beautiful morning walk in Balboa Park, or visit the Old Town San Diego State Historic Park to get a glimpse of 19th-century life. Visit Coronado Island or Pacific Beach to spend some time near the water before you start your drive upstate.

You'll take the Coast Highway and Highway 1 for a scenic drive along the seaside. When you arrive in LA you can get settled into your hotel and then go out and explore. Perhaps enjoy a visit to the lively restaurants and amusement park on Santa Monica Pier, then a walk along the beautiful beach!
Overnight Location: Hotel in Los Angeles
Distance: 124 miles
Meals: None
Day 13

Explore Los Angeles

Today you have unending choices for how to spend the day. You could visit Disney Land or Universal Studios, or take a tour of one of the Hollywood studios. You can also take a drive to Beverly Hills or enjoy an oceanside meal in Malibu. Tonight, you can celebrate an amazing trip with dinner out at one of LA's amazing restaurants.
Overnight Location: Hotel in Los Angeles
Distance: None
Meals: None
Day 14

Tour Finishes in LA

Today your tour ends after you check out. You can return your car rental at the airport before you begin your onward journey.
Overnight Location: None
Distance: None
Meals: None

Book Now
Winter in the American West Self-drive Tour Price and Dates
This self-guided driving tour of the American Southwest is run as private tour for your group only, and the price per person depends on how many people are in your group.

Prices below are per person:
Self-guided groups of 2+: $3,615 USD per person
Book Now
Accommodation on the Winter in the American West Self-drive Tour
This tour is based in standard hotels. Hotels on this trip will be 3-star with modern conveniences and great locations along your route. Rooms are clean and comfortable.
In some cases, the accommodation listed below may need to be substituted for other comparable accommodations.
Single Rooms and Solo Travellers
Rooms are double occupancy. Single rooms, including those for solo travellers, are by request and may incur an additional fee.
Hotels on Standard Tour
Enjoy your first night of the tour in Los Angeles from the comfort of your hotel.
Retire after a day of revelling in Death Valley at a 3-star lodge.
Las Vegas is calling! In this city that never sleeps, you'll be glad for a comfortable place to crash after you're done sightseeing.
Make yourself at home in Mount Carmel in a well-equipped hotel.
Bryce Canyon is unbelievable, and you'll be given a comfortable place to rest after your day or hiking and exploring.
There is so much to see around Page, and you can flick through all your photos at the end of the day from the comfort of your room.
After a day of driving and exploring, rest your head in Kayenta in a welcoming hotel.
There's no equal to the Grand Canyon, and you'll be able to rehash your memories of the day from your nearby hotel all night long.
Sedona is simply spectacular, and your home base here will be close to all of the action.
In bustling Phoenix, you're never far away from restaurants and shopping.
Your nicely-located hotel in San Diego puts you close to the ocean and all the action.
Enjoy your first night of the tour in Los Angeles from the comfort of your hotel.
What's Included in the Winter in the American West Self-drive Tour?
Meals
There are no meals included in this tour.
Accommodations
Accommodations for 13 nights are included. Accommodations before and after the tour in Los Angeles are not included but can be added as a supplement.
Transportation during the Tour
This is a self-drive tour, so you'll be provided with a rental vehicle for the duration of the itinerary.
Also Included
Standard vehicle rental, Category B
Canadian taxes
24/7 access to helpline
Not included
Flights
Meals, drinks, or snacks not previously mentioned
Travel insurance
Visas if required
Personal expenses
Optional activities
Entrance fees to national parks
Gratuities for tour guides or other staff if desired
Vehicle Insurance
Fuel
Optional Extras
Additional nights before or after the tour
Single occupancy
Optional activities or excursions
Frequently Asked Questions about Winter in the American West Self-drive Tour
In the two decades since Toundra Voyages Inc. was founded in 1998, the company has become North America's go-to travel agency in customized independent and group tourism.
Tounda takes a flexible, responsive approach to developing adventure travel tours. By listening to the wants and wishes of travellers, they've been able to create memorable, affordable tours complemented by impeccable service.
Toundra's mission is to create and organize tailor-made travel. They select, adapt, and personalize travel experiences in North America for each and every guest, ensuring your adventure is one you'll never forget.
Meeting your expectations is just the beginning of what Toundra aims to accomplish. Exceeding them by providing exceptional experiences in beautiful North America is their standard, and their track record of knockout customer service and customized tour planning speaks for itself.
Learn More
Is this tour for me?
We rate this tour as a 1/5. This tour has a flexible itinerary that allows you to choose how you want to spend your time. You'll select your own hikes and activities so that you can tailor them to your fitness level.
Ask a Question
Got any questions regarding the tour? Interested in promotions for groups or want to customize this tour to fit your needs? We are here to help you!
Ask a question