Follow the path of the gold rush on a road trip in the majestic north
The Yukon and Alaska Self-Drive Tour promises to be an unforgettable experience. Take a road expedition into the vast northern wilderness. Spend 14 days following the historic Klondike route while you hike and explore the unbelievable landscapes.
This itinerary brings you from Whitehorse, Yukon, to the scenic coastal town of Skagway, Alaska. You'll have plenty of time to hike and enjoy the impressive glaciers and mountains as you travel back into Canada. Your drive includes the famous Top of the World Highway that crosses the remarkable mountain ranges that are the gateway to Dawson City. Finish your tour soaking up the atmosphere in the historic gold rush town of Dawson City. Spend your tour reveling in the stunning panorama that is the northern wilderness, driving at your own pace, and hiking wherever you want.
Highlights of the Yukon and Alaska Self-Drive Tour
Hike in striking mountains and wild northern landscapes as you follow the Klondike route.
Drive the historic and breathtaking Top of the World Highway.
Watch for wildlife like caribou, Dall sheep, bears, and whales during your exploration of the north.
Lose yourself in nature by staying in wilderness lodges and secluded cabins along your route.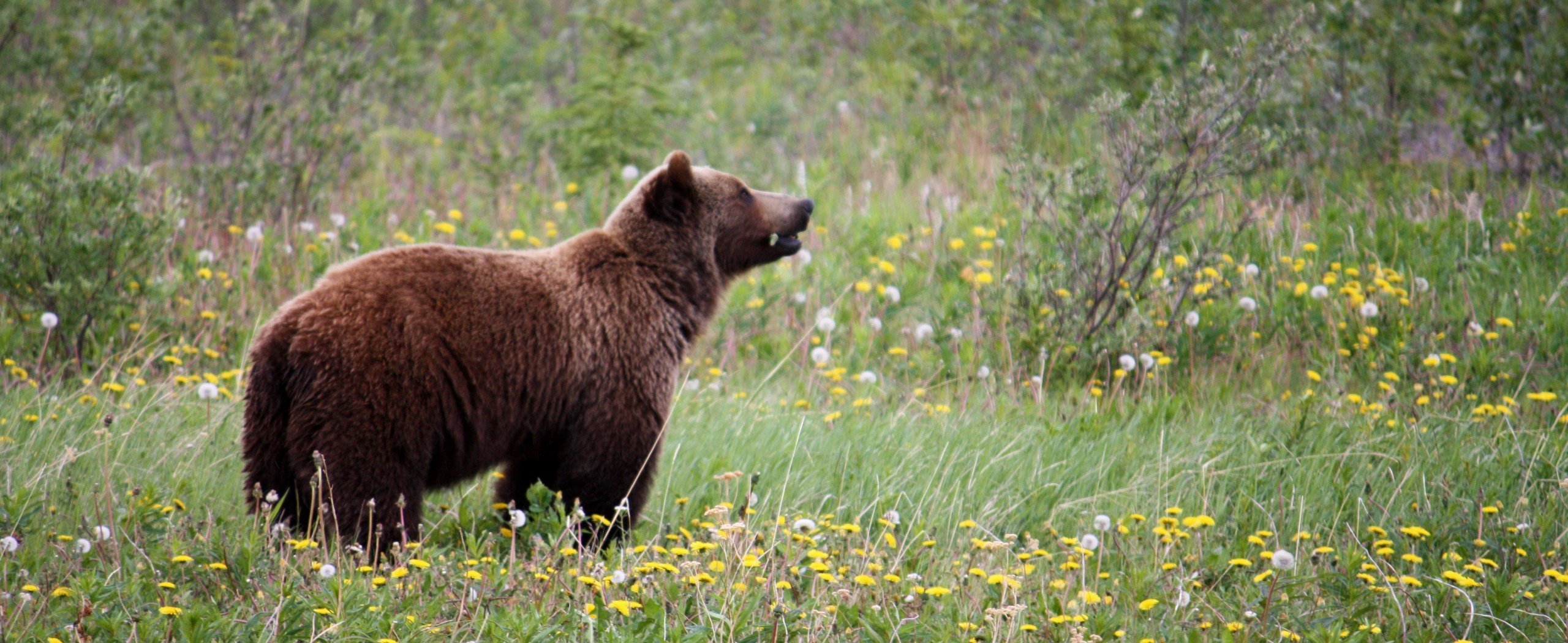 Yukon and Alaska Self-Drive Tour Itinerary
Day 1

Arrival in Whitehorse

Collect your rental vehicle from the Whitehorse Airport when you arrive. Breathe in the fresh northern air as you head to your hotel to get settled. Spend the evening exploring Whitehorse at your leisure.
Overnight Location: Hotel in Whitehorse
Distance: None
Meals: None
Day 2

Discover Historic Whitehorse

Whitehorse is full of cultural and historical museums and sites, including the Whitehorse Train Station, the Ernie Tweed House, and the SS Klondike dawn boat. You can get an introduction to the northern wildlife by visiting the animals being rehabilitated at the Yukon Wildlife Preserve. Visit the Takhini Hot Springs for a relaxing dip in the warm mineral waters.

As you leave the city, you may want to take a short walk at Miles Canyon for a beautiful view of the Yukon River. Tonight, you'll take the South Klondike Highway to a wilderness lodge, where you'll be staying.
Overnight Location: Lodge near Whitehorse
Distance: None
Meals: Dinner
Day 3

Emerald or Lewes Lake Hikes

This morning, you'll wake up to the peaceful sounds of the northern wilderness and enjoy a leisurely breakfast before starting your day. The turquoise waters of Emerald Lake will entice you to take a walk along its shores. Many other hikes are nearer to the lodge, including a short one to Lake Lewes. Y

You can also spend the day relaxing and enjoying the views from the outdoor whirlpool.
Overnight Location: Lodge near Whitehorse
Distance: None
Meals: Breakfast, Dinner
Day 4

Discover the Delights on the Way to Skagway

After your restful time at the wilderness lodge, it's time to get on the road and start the journey to Skagway. Visit the famous totem poles in Carcross and the oldest general store in the Yukon. You'll also find a tiny desert along your route, at just under two square kilometers—the world's smallest!

Take your time driving the scenic route to Skagway, Alaska. When you arrive, you'll want to visit the Gold Rush Cemetery, which is hidden in the rainforest.
Overnight Location: Hotel in Skagway
Distance: 176km
Meals: Breakfast
Day 5

Explore Alaska from Sea to Sky

Skagway offers a charming gold rush main street with spectacular views of the surrounding mountains. It is also the gateway to some tremendous adventures. You can book a boat tour that takes you to Juneau to go whale watching and visit some spectacular glacial fjords. For train aficionados, you can get a ticket for the vintage train that takes the White Pass and Yukon Route. This scenic ride follows the historic Klondike route and leads you through mountains, glaciers, waterfalls, and more on the way to the White Pass summit.
Overnight Location: Hotel in Skagway
Distance: None
Meals: None
Day 6

Hike in Chilkat State Park

After breakfast, you'll board the ferry to Haines and drive to Chilkat State Park. This is a great place to look for wildlife as the local salmon population attracts seals, porpoises, whales, and bears to the area.

You can take a few hikes that navigate the beautiful inlet, but the most spectacular one is the Mount Riley Trail. This hike takes you through the forests to coastal lookouts with breathtaking panoramic views of the Chilkoot and Chilkat Inlets.
Overnight Location: Hotel in Haines
Distance: 32km
Meals: None
Day 7

Hiking in Haines

You have the whole day to explore the many fantastic trails between Haines and Haines Junction on the Canadian side of the border. Choose the Dezadeash River Trail to hike along the river through forests and swamplands or the Kokanee Trail that opens onto Kathleen Lake.

Another great option is the Rocky Glacier Trail, which is an interpretive trail that you can follow to learn about glaciers. End your day with a relaxing soak in the whirlpool at the wilderness lodge, where you'll spend the next two nights.
Overnight Location: Lodge in Haines
Distance: 240km
Meals: None
Day 8

Mountains and Glaciers of Kluane

Today, you'll explore the spectacular Kluane National Park. Hikers of all skill levels will find a trail to love among some of Canada's highest mountains. Whether you take some short strolls or a serious mountaineering challenge, you'll be astounded by the scenery. You can also take a sightseeing flight over the Kluane Glacier for a once-in-a-lifetime experience.
Overnight Location: Lodge in Haines
Distance: None
Meals: None
Day 9

History and Wildlife in Burwash Landing

Your route today leads you to Beaver Creek. On the way, be sure to look out for Dall sheep on the mountains. You may also want to stop and visit the Kluane Museum of Natural History in Burwash Landing to learn about the local wildlife and the region's First Nations history.

Tonight, you'll sleep in a cozy cabin in Beaver Creek.
Overnight Location: Cabin in Beaver Creek
Distance: 291km
Meals: None
Day 10

Travel the Top of the World

Today, you have a long drive on a mostly gravel road ahead of you, but it will be unforgettable! The Top of the World Highway takes you through peaks and ridges with breathtaking views at every turn as you cross the mountain ranges between Alaska and the Yukon. You'll enter Canada and the most northerly border crossing at Little Gold and Poker Creek. Make a unique pitstop in Chicken, population 7.

The route ends at the Yukon River, where you'll board a ferry to reach Dawson City.
Overnight Location: Hotel in Dawson City
Distance: 450km
Meals: None
Day 11

Catch Gold Rush Fever in Dawson City

When you wake up, you'll feel as though you've journeyed back in time to the late 1800s. Wander the wooden boardwalks of the frontier town and visit the museum and other historic sites. You can also further immerse yourself in the Dawson City experience by panning for gold at Bonanza Creek.

Take a hike up Midnight Dome for panoramic views of the city and beyond. End your day with casino games or the cancan review at the historic saloon.
Overnight Location: Hotel in Dawson City
Distance: None
Meals: None
Day 12

Visit Tombstone Territorial Park

Take a drive north of the city to visit Tombstone Territorial Park. This beautiful, untouched landscape will captivate you as you hike one of the many trails that weave through the peaks and tundra of the park. As you explore this native territory, you'll notice the presence of the prominent First Nations culture.
Overnight Location: Hotel in Dawson City
Distance: 40km
Meals: None
Day 13

Road Through the Wild to Whitehorse

As you take the Klondike Highway back to Whitehorse, you'll follow the same road used in 1902 to reach the gold mines. Drive through total wilderness as you cross through the mountains, forests, and rivers on your way back to the city.
Overnight Location: Hotel in Whitehorse
Distance: 533km
Meals: None
Day 14

Tour Concludes

Spend a final morning in Whitehorse and drop your rental vehicle off at the airport in time to catch your flight home.
Overnight Location: None
Distance: None
Meals: None

Book Now
Yukon and Alaska Self-Drive Tour Price and Dates
This self-guided tour of Alaska and the Yukon is run as private tour for your group only, and the price per person depends on how many people are in your group.

Prices below are per person:
Groups of 2+: $2,850 USD per person
Book Now
Accommodation on the Yukon and Alaska Self-Drive Tour
This tour is based on hotel accommodations. Your stays will be in standard 3-star hotels, wilderness lodges, and cabins along your route that have been specially selected to immerse you in your surroundings.
In some cases, the accommodation listed below may need to be substituted for other comparable accommodations.
Single Rooms and Solo Travellers
Rooms are double occupancy. Single rooms, including those for solo travellers, are by request.
Hotels on Standard Tour
Stay in downtown Whitehorse in a modern luxury hotel. While you're not out exploring the city or viewing the Northern Lights, you can soak in the rooftop hot tub.
Wilderness Lodge near Whitehorse
The wilderness lodge outside of Whitehorse is surrounded by trails and lakes for you to explore.
Spend time amid the history of the Klondike Gold Rush. This small town sees nearly a million tourists each year who come for the epic scenery and breathtaking train rides.
Haines sits nestled in a deep fjord with snow-capped peaks all around. Enjoy the quaint and artsy vibes of this tiny seaside town sandwiched by the Chilkoot and Chilkat Inlets.
Wilderness Lodge in Haines
Fall asleep to the tranquil sounds of nature at a wilderness lodge nestled in Alaska's spectacular mountains.
Enjoy the solitude of a quiet cabin in the woods near Beaver Creek.
Fall in love with this town as soon as you drive in. Its palpable mix of arts, culture, wilderness, and history keeps visitors coming back.
Stay in downtown Whitehorse in a modern luxury hotel. While you're not out exploring the city or viewing the Northern Lights, you can soak in the rooftop hot tub.
What's Included in the Yukon and Alaska Self-Drive Tour?
Meals
2 breakfasts and 2 dinners are included during your stay at the wilderness lodge near Whitehorse. Other meals are not included.
Accommodations
Accommodations for 13 nights are included. Accommodations before and after the tour in Whitehorse are not included but can be added as a supplement.
Transportation during the Tour
This is a self-drive tour, and you'll be provided with a rental vehicle for the duration of the itinerary.
Also Included
Standard vehicle rental (Category F)
Canadian taxes
American taxes
24/7 access to helpline
Not included
Travel insurance
Flights to and from Whitehorse
Personal expenses
Optional activities
Meals, drinks, or snacks not previously mentioned
Entrance fees to national parks
Gratuities for tour guides or other staff if desired
Vehicle insurance
Ferry between Skagway and Haines
Fuel
Optional Extras
Additional nights before or after the tour
Single occupancy upgrades
Optional activities or excursions:

Admission to Yukon Wildlife Preserve
White Pass Summit tour from Skagway
Mine visit and gold panning in Dawson City
Guided excursion in Tombstone Park
Ascent to Midnight Dome Summit
Frequently Asked Questions about Yukon and Alaska Self-Drive Tour
In the two decades since Toundra Voyages Inc. was founded in 1998, the company has become North America's go-to travel agency in customized independent and group tourism.
Tounda takes a flexible, responsive approach to developing adventure travel tours. By listening to the wants and wishes of travellers, they've been able to create memorable, affordable tours complemented by impeccable service.
Toundra's mission is to create and organize tailor-made travel. They select, adapt, and personalize travel experiences in North America for each and every guest, ensuring your adventure is one you'll never forget.
Meeting your expectations is just the beginning of what Toundra aims to accomplish. Exceeding them by providing exceptional experiences in beautiful North America is their standard, and their track record of knockout customer service and customized tour planning speaks for itself.
Learn More
Is this tour for me?
We rate this tour as a 1/5. The itinerary is self-guided, and you are free to choose how to spend your days to customize the difficulty to your fitness level.
Ask a Question
Got any questions regarding the tour? Interested in promotions for groups or want to customize this tour to fit your needs? We are here to help you!
Ask a question