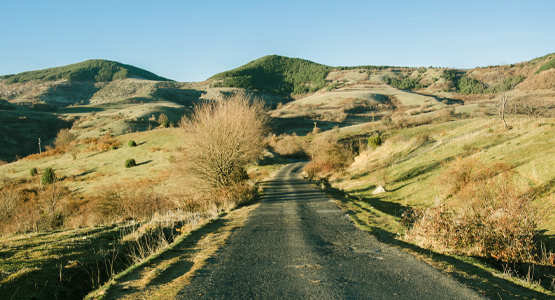 Booking one of these Bulgaria tours will give you an experience combining culture, nature, and history that you'll think about for years afterward. Bulgaria lies at the confluence of ancient trade routes between Africa, Asia, and Europe, and its culture reflects all of this. Rural and remote mountain villages are extremely colorful and home to some of the kindest people that you'll ever meet. Ancient monasteries dot the country, and as you hike or bike past them, you'll wonder how they were constructed so long ago.
Bulgaria is an outdoor lover's paradise. Most of the country is hilly or mountainous, cut by rivers and glaciers. In summer months, you can trek through Bulgaria's many mountains, staying at cozy huts and inns along the way, admiring the flowers and scenery. When snow covers the landscape, a whole new world opens with snowshoeing tours. Cyclists will also find numerous rides of all flavors, either on blacktop through the countryside or in the mountains on dirt roads. No matter which activity you're looking for or the season you're available to travel, Bulgaria has an adventure for you!
Read More
Guided Bulgaria Tours
Friendly, professional guides are lining up to share their guided Bulgaria tours. When you book a guided tour of Bulgaria, these experts will take the stress out of planning an international trip. All you need to do is tell them what you'd like to participate in and when, and they'll take care of the rest!
From the time you arrive in Bulgaria to the time you leave, these guides will be by your side. They'll point out all of the interesting, obscure information not found in guidebooks, introduce you to friendly locals, and take you to the best restaurants. All transportation and lodging will be taken care of for you, so all you need to do is enjoy your holiday! A guided tour of Bulgaria is perfect for first-time international travelers or travelers who want someone else to take care of the difficult planning.
Self-Guided Bulgaria Tours
Self-guided Bulgaria tours are also an option and might be one that you prefer over the guided tours. If you'd rather have a little more privacy on your holiday, extra freedom for detours, or want to avoid group tours, check out one of the self-guided tours.
When you book a self-guided tour of Bulgaria, these guides and travel professionals will still take care of all of the planning for you. They'll build an itinerary, arrange transportation, recommend great places to eat, and provide you with inside information about some of the activities you'll be doing. The itineraries typically leave some flexibility for you to explore on your own if desired. And if you need any help, all you need to do is place a call and assistance will be right there for you.
Bulgaria Hiking Tours
Despite this country's small size, there are a surprising number of Bulgaria hiking tours to choose from year-round. The Bulgarian mountains are a picturesque location for trekking, either on a guided tour or self-guided tour. You may choose to camp in tents or stay at cozy inns every night, and no matter what you do, you're going to be in awe of Bulgaria's beautiful mountains year-round.
Hikers of all ages and abilities usually choose the Pirin and Rila mountains for their Bulgaria hiking tour. These beautiful mountains contain the tallest peaks in the Balkan Peninsula, old monasteries, and rural villages. A weeklong trekking tour through these mountains will take you past turquoise glacial lakes, pristine mountain meadows, and provide viewing opportunities for all sorts of wildlife. Several different routes are based in these mountains.
The Bulgarian mountains do get some good snow in the winter, and this is when you can see an entirely different side of Bulgaria. One popular weeklong snowshoeing tour through Vitosha Nature Park also passes through the Pirin and Rila mountains, walking from hut to hut and passing beautiful mountain villages. Experience the tranquility of these ancient forests blanketed in snow and see Bulgaria's tallest waterfall in the winter.
Bulgaria Cycling Tours
Bulgaria cycling tours have long been drawing bicyclists of all types to this country. Quiet roads through the countryside and rural villages make for pleasant road biking, and spectacular terrain makes for challenging yet rewarding mountain biking.
One road cycling tour that combines the best of Bulgaria is a tour of this country's magnificent monasteries. Over the period of a week, you'll cycle from one monastery to another, presented with inspiring architecture and history. Between each monastery, you'll pass old-growth forests, lush meadows, and picturesque villages.
The mountain bikers will find several great trails in the Vitosha, Rila, and Rhodope mountains on a mix of dirt roads, singletrack, and some asphalt. A tour through the Rhodope Mountains is sure to please adventure travelers with all sorts of interests. This week-long tour rides alongside rushing rivers, through remote villages with fascinating, unique cultures, and old forests, with plenty of wildlife mixed in. Strange rock formations, deep gorges, and enormous caves are other highlights along this route.
Scenery in Bulgaria
Bulgaria is known as a land of contrasts. It's at the convergence of the subtropical and temperate climate zones, which is evident throughout this small country. The major mountain range in Bulgaria is the Balkan Mountains, which cut through the middle of the country. The mountains give way to rolling plains and river basins on both the north and south sides of the mountain range. Additional mountain ranges, the Rhodope mountains to the south and the Vitosha and Rila mountains to the west, account for Bulgaria's distinctive terrain. The Rila mountains are home to the highest peak on the Balkan Peninsula, Musala Mountain, at nearly 9,600 feet. These mountains are often covered in snow during the winter months, but summer sees an explosion of beautiful flowers and wildlife. All three of Bulgaria's national parks are found in these mountain environments and may be enjoyed year-round.
Best Tours in Bulgaria
Read More
Destinations