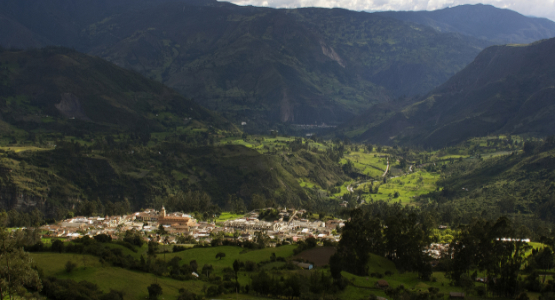 Adventure travel is relatively new to Colombia, and you can find your own experience by looking at any of these Colombia tours. Colombia is an incredibly colorful country with rich culture, rugged mountains, and great food. The country borders both the Caribbean and Pacific Ocean, with a landscape extending up into cloud forests and down into the Amazon basin.
Cyclists especially enjoy Colombia, thanks to the challenging climbs, fast downhills, and a culture that celebrates cycling. Several top cyclists hail from Colombia, and you'll learn why while you're here. But it's not just cycling that tourists come to Colombia for. You can trek through coastal nature reserves, explore the Amazon by boat, and walk the streets of ancient stone cities high up in the mountain jungles.
You can't tour anywhere in Colombia without noticing the aroma of coffee and delicious food in the air. Many operators combine adventure travel with tours of coffee plantations and cooking classes, where you're sure to learn something that you can bring back to your kitchen at home. The culture, food, and adventure make Colombia an ideal location for off-the-beaten-path travel.
Read More
Guided Colombia Tours
Guided Colombia tours are perfect for wary travelers. Whether it's your first time traveling to a foreign country, your first time to South America or you prefer the comfort of being accompanied by a local guide, guided tours are the perfect option for you. These expert guides make your safety their number one priority, whilst making sure you have an experience you won't forget. Aside from safety, these guides are a source of knowledge that you won't get from any guidebook. If you prefer, they can take you to places off the beaten track, frequented only by locals, or they can show you all the major postcard locations as well. Having those options is one of the primary benefits of hiring a guide.
Self-guided Colombia Tours
If you'd like a more private experience, book any of these self-guided Colombia tours. Booking a self-guided tour will give you the advantage of having a local plan your trip, while also having the privacy and freedom of traveling on your own. Knowledgeable guides will take care of transportation and lodging for you while offering the best suggestions for local cuisine. They'll recommend ideal attractions and activities that suit your tastes, offer up some local knowledge, and then set you loose!
Colombia Hiking Tours
Distinct geographical zones offer a variety of Colombia hiking tours for every kind of adventurer. Spend a day walking around Cartagena or spend a week hiking Colombia's "coffee triangle" – it's all up to you! Here are some ideas for Colombia hiking tours.
One of the most memorable hiking tours you can do in Colombia is the multi-day trek to the Lost City. This ancient metropolis lies high up in the Sierra Nevada de Santa Marta mountains and is surrounded by a UNESCO Biosphere Reserve. It's only accessible by helicopter or a four-day trek with a guide, ensuring crowds of tourists won't swarm you. Hike through the dense jungle along glacier-fed streams, interacting with various local tribes along the way, before arriving at this 1,400-year-old stone city. In addition to the archeological treasures, you'll also find a variety of mammals and birds endemic to the region.
Colombia's Amazon basin also offers adventurous hiking tours that will leave you feeling like an old-time explorer. A trek through the Amazon will expose you to fascinating indigenous cultures, beautiful rivers, and wildlife. Take a boat deep into the jungle, hike through the rainforest, and spend the night at a remote lodge. Or, if you prefer a more modern hiking experience, there are plenty of hiking tours near the coastal city of Cartagena and up in the mountains in the beautiful hillside city of Medellín.
Colombia Cycling Tours
Colombia cycling tours run the gamut from the most physically-challenging ride of your life to peaceful road rides along the coast. It all depends on how much physical demand you're willing to exert, or if you'd rather just cruise.
Alto de Letras is the longest cycling climb in the world at over 80km and gaining nearly 4,000m, a bucket-list item for every serious cyclist. The reward? An unforgettable experience through colonial cities, tours of coffee farms, and views of snow-covered mountain ranges. Cycling tours that include Letras will consist of at least one week of cycling in a country that loves the sport. Colombians love cycling so much that Bogotá closes many of its streets to autos, making it a safe and enjoyable way for cyclists to see the city.
If that kind of elevation climb isn't your idea of a fun ride, you can tour the valleys in between the Andean peaks instead, where world-famous Colombian coffee is grown on scenic farms. These cycling tours are full of rolling hills, fun descents on winding roads, cozy haciendas each night, and amazing coffee in colorful towns. All cycling tours include luggage transfers and experienced guides.
Scenery in Colombia
The scenery in Colombia runs from one extreme to the other, and you can experience all of it on your holiday. Colombia has beautiful tropical beaches on both sides of the isthmus of Panama, running along the length of the Caribbean and Pacific coasts. Beautiful rainforests border the beach areas in many of these locations. As you venture inland, you'll quickly climb into the snow-capped Andes, where you'll find volcanoes and shrinking glaciers. Descending the snowy Andes to the south, you'll end up in the Amazon basin, home to beautiful rivers, jungle, and wildlife. If you travel north from the Andes, you'll end up in another extreme, in the arid region of the Guajira Peninsula. Throughout all of these regions, you'll find brilliantly colored homes, beautiful people, and fascinating history.
Best Tours in Colombia
Read More
Destinations